College Football Playoff Rankings Reactions: Alabama Overrated, Oklahoma Underestimated in First Top 25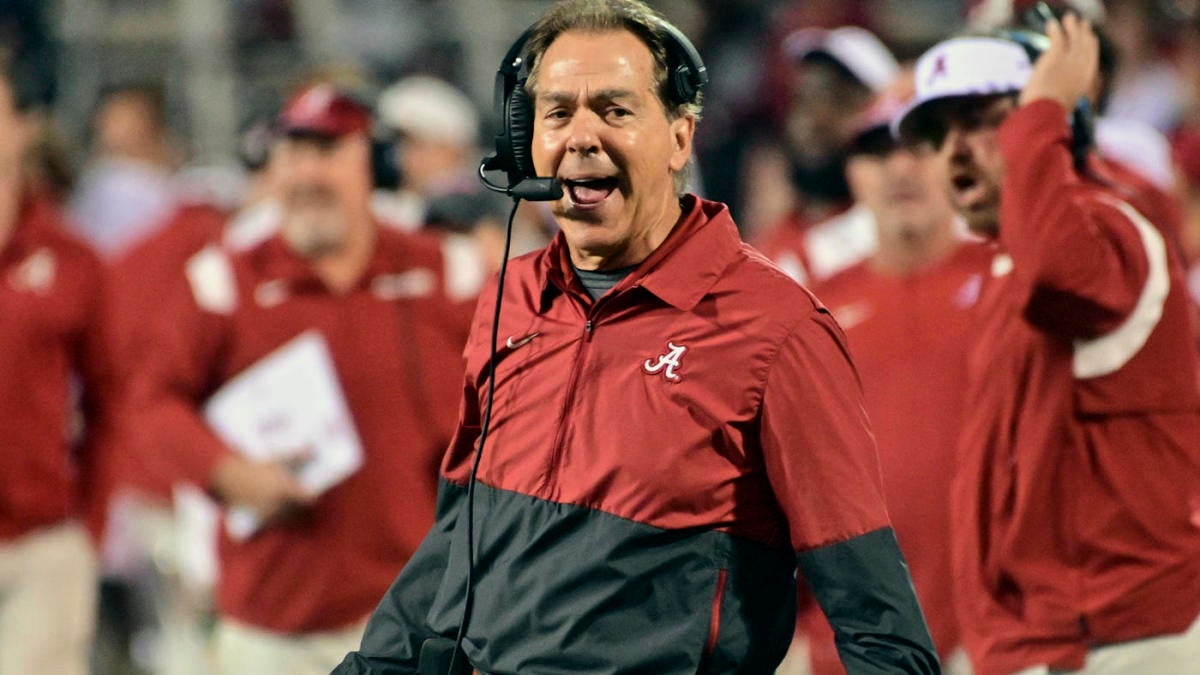 The first edition of the College Football Playoff Ranking was unveiled Tuesday night and it was arguably one of the hardest versions to predict. To no one's surprise, Georgia fell in the No. 1 spot, while Alabama, Michigan State and Oregon—which sit one spot ahead of No. 5 Ohio State, proving that head-to-head results matter—rounded out the top four.
Cincinnati became the highest-ranked Group of Five team in CFP history at number 6, which will no doubt be a big target for the remainder of the season. But the fact that they are four places behind their AP Top 25 placement is definitely not going to sit well with the Bearcats
So where did the committee miss the mark? Here are the overrated and underrated teams in the first College Football Playoff Ranking of the 2021 season.
Overrated — No. 2 Alabama
So… we're back on the eye test, aren't we? Look, Alabama may be the second best team in the nation based on talent, but resume and results matter. Well, at least they should.
The truth is, Alabama's two top-25 wins over Mississippi State and Ole Miss are solid, but the loss to number 14 Texas A&M should negate at least one of those. The Tide narrowly escaped the clutches of a very mediocre Florida squad and went into the fourth quarter against Tennessee with just one score.
Michigan State just knocked out the seventh team in the nation (Michigan) and has looked like a complete team all year. Oregon has a top-five win over Ohio state on the books. Yes, the Pac-12 is terrible, but a road win against a top five team should be more important than the committee suggests.
Alabama is No. 2 for its brand. It could become the second best team in the country in a month and still win the national title. But it doesn't deserve to be there straight away.
Underrated — No. 8 Oklahoma
No team outside of Georgia has proven to be a complete football team. Still, it looks like the Sooners aren't getting any love because of style points, despite coach Lincoln Riley fixing the glitch. Well, at least one of them.
Caleb Williams has replaced Spencer Rattler – the preseason favorite to win the Heisman Trophy – after Rattler's inconsistencies at the start of the season. Williams has provided a spark and the Sooners look a lot more like a playoff team now than they did in September. If September's style points matter, great. But Oklahoma has tackled an urgent problem, solved it, and did so without loss. Last I checked, gains and losses would matter, especially if you put Oklahoma's in context.
Want more college football in your life? Listen below andsubscribe to the Cover 3 College Football podcastfor instant analysis of the first College Football Playoff rankings this season.
Overrated — The Big Ten West
Head-to-head results clearly matter as Wisconsin is above Iowa, but one of those teams — or Minnesota — should even be considered. Not at this moment. Iowa's offensive flaws are irreparable, Wisconsin has three losses and Minnesota lost to Bowling Green. These three are in while UTSA, Houston, SMU, Louisiana and Coastal Carolina are not? New. There isn't a sales job in the world that would make me buy that kind of crap.
It's almost as if… and listen to me… the committee is trying to support the Big Ten as much as possible so that one of its powers can find its way in. Just a thought.
Undervalued — UTSA
The Roadrunners are 8-0 and ranked No. 16 by the AP Top and No. 18 by the Coaches Poll. Why? The immaculate record, for example, but also the recognition of a program that deserves at least a small spotlight. No, other than the win on the road in Memphis, there's no reason to be impressed with the schedule.
But why does it matter? There is no realistic scenario that would lead UTSA to make it to the CFP, and only the strangest of landscapes would lead it to get the group of five in the New Year's Six. Committee members aren't supposed to look ahead and rank teams based on what they've already accomplished. However, they are still humans. They know what kind of history — or lack thereof — UTSA has as a program.
Give the Road Runners a little credit, even if you don't really mean it. An unfair "bless your heart" is all I ask. UTSA can (and could) use this season's success as a recruiting tool, and a top-25 ranking is something it deserves.
Sources
2/ https://www.cbssports.com/college-football/news/college-football-playoff-rankings-reactions-alabama-overrated-oklahoma-underrated-in-first-top-25/
The mention sources can contact us to remove/changing this article
What Are The Main Benefits Of Comparing Car Insurance Quotes Online
LOS ANGELES, CA / ACCESSWIRE / June 24, 2020, / Compare-autoinsurance.Org has launched a new blog post that presents the main benefits of comparing multiple car insurance quotes. For more info and free online quotes, please visit https://compare-autoinsurance.Org/the-advantages-of-comparing-prices-with-car-insurance-quotes-online/ The modern society has numerous technological advantages. One important advantage is the speed at which information is sent and received. With the help of the internet, the shopping habits of many persons have drastically changed. The car insurance industry hasn't remained untouched by these changes. On the internet, drivers can compare insurance prices and find out which sellers have the best offers. View photos The advantages of comparing online car insurance quotes are the following: Online quotes can be obtained from anywhere and at any time. Unlike physical insurance agencies, websites don't have a specific schedule and they are available at any time. Drivers that have busy working schedules, can compare quotes from anywhere and at any time, even at midnight. Multiple choices. Almost all insurance providers, no matter if they are well-known brands or just local insurers, have an online presence. Online quotes will allow policyholders the chance to discover multiple insurance companies and check their prices. Drivers are no longer required to get quotes from just a few known insurance companies. Also, local and regional insurers can provide lower insurance rates for the same services. Accurate insurance estimates. Online quotes can only be accurate if the customers provide accurate and real info about their car models and driving history. Lying about past driving incidents can make the price estimates to be lower, but when dealing with an insurance company lying to them is useless. Usually, insurance companies will do research about a potential customer before granting him coverage. Online quotes can be sorted easily. Although drivers are recommended to not choose a policy just based on its price, drivers can easily sort quotes by insurance price. Using brokerage websites will allow drivers to get quotes from multiple insurers, thus making the comparison faster and easier. For additional info, money-saving tips, and free car insurance quotes, visit https://compare-autoinsurance.Org/ Compare-autoinsurance.Org is an online provider of life, home, health, and auto insurance quotes. This website is unique because it does not simply stick to one kind of insurance provider, but brings the clients the best deals from many different online insurance carriers. In this way, clients have access to offers from multiple carriers all in one place: this website. On this site, customers have access to quotes for insurance plans from various agencies, such as local or nationwide agencies, brand names insurance companies, etc. "Online quotes can easily help drivers obtain better car insurance deals. All they have to do is to complete an online form with accurate and real info, then compare prices", said Russell Rabichev, Marketing Director of Internet Marketing Company. CONTACT: Company Name: Internet Marketing CompanyPerson for contact Name: Gurgu CPhone Number: (818) 359-3898Email: [email protected]: https://compare-autoinsurance.Org/ SOURCE: Compare-autoinsurance.Org View source version on accesswire.Com:https://www.Accesswire.Com/595055/What-Are-The-Main-Benefits-Of-Comparing-Car-Insurance-Quotes-Online View photos
to request, modification Contact us at Here or [email protected]