Eddie George embraces life as a college football coach with the goal of taking the state of Tennessee to new heights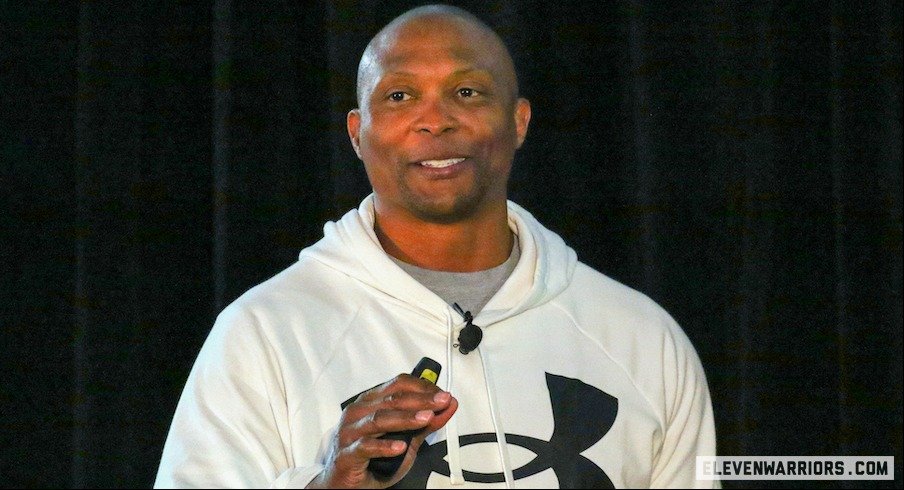 When Tennessee president Glenda Glover called Eddie George early last year and asked him to become the college's head football coach, he initially thought the idea was ridiculous.
After all, George had never coached before on any level. He had played football at the highest level, winning the Ohio State Heisman Trophy and running more than 10,000 yards in the NFL, but after retiring in 2005, George had switched from football to pursue other ventures.
George started a landscape architecture firm and a wealth management firm. He taught classes at the Ohio States Fisher College of Business. He spent much of his free time on the golf course. He even acted on Broadway and in TV shows and movies, and he had high ambitions for what he could achieve as an actor.
I would be the first to win a HEGOT. That's an Emmy, Tony, Oscar, Grammy, and I wanted to be the first to win a Heisman, Emmy, Grammy, Oscar, Tony, George said.
So George was resistant when Tennessee State started recruiting him to take over its football program. He wasn't sure if he could actually be a head coach, and wondered why the State of Tennessee would want a bus with no experience.
I'm like, this is why you guys lose. This is why you lost in the last 10 years. You've won nine games in the past three years because of these kinds of decisions, George recalled during his presentation at the Ohio States Coaching Clinic in April.
But Glover and Tennessee State athletic director Mikki Allen didn't take no for an answer, as they firmly believed George was the right man for the job. And George's perspective started to change when he talked to his wife about the possibility.
I said, Tamara, listen to this stupid idea. Glenda Glover had the audacity to ask me to be the next Tennessee State head coach knowing damn well I've never coached a day in my life. I'm on Broadway, I do my wealth management, I'm on the golf course, I go to (his son) Eriqs games, all these things that I do in my life, and she asks me to do this. I said, isn't that a stupid idea? And my wife says, why not? George remembered. She says, Well, maybe she sees something in you that you don't see in yourself.
After pondering the opportunity for the next few weeks, during which he had conversations with the likes of Pittsburgh Steelers coach Mike Tomlin, who assured him he was capable of becoming head coach, George decided to take the job, realizing that his wide variety of life experiences had prepared him to become a coach, even if he hadn't really been.
I started thinking about all the things I've done so far. All the things I have achieved in football. All the things I've been through as an actor for the past 15 years and thinking, well, how is this all coming together? And I started to get excited, George said. I started thinking about all the things I can do as a coach for these kids, given my experience both on and off the football field.
As an actor, the best thing you can do is learn to listen. So I could listen to the kids, listen to what they're going through, listen to what's really needed. From a business perspective I have built companies. I have the EDGE Group, landscape architecture firm that I started. My wealth management company and I have partners. So I was thinking about assistant coaches that could come up with that I could finally work with. And the educational side, the teaching, teaching kids financial literacy, stuff after the game, putting your brand into something much bigger than you could ever imagine. And I started to get really excited.
A year later, George feels like he is exactly where he should be.
Since I've been on this for a year now, it's kind of sunk in that this is my path, George told reporters after his presentation at the clinic. Every day that I wake up is a new opportunity to get better, to be a great mentor to these young men and to really develop and influence young lives through football, the game I know and what I love.
It's been a learning curve. I mean, listening to the plays and all the nomenclature and terms, it's like picking up Shakespeare for the first time. It takes a while to get used to it again. But ultimately, my goal is to develop these young men, support our coaches, really increase Tennessee State's footprint in a significant way, and enjoy doing it. I loved it.
Although George said he didn't know my bastard's elbow when he became Tennessee States head coach, a role he started less than five months before the first game of the season, he led the Tigers to a 5-6 record in his first years on the court, an improvement from their previous three seasons under previous head coach Rod Reed.
George's former Ohio State teammate, Pepe Pearson, who has coached since 2004 and is now the Tennessee States coach, said George is more natural about coaching than he lets on.
He has natural leadership skills, he has the charisma you need, he will always and forever be a good public relations guy, Pearson said. So much of it has come easily to him, and he is a quick study. So he's learned a lot in a year and I think the momentum for him going forward will be great.
As George begins to settle into his new role, he sets his goals high. Although Tennessee State has not won more than seven games in a season in the past eight years, he believes his program is capable of great things. George, Glover and Allen have a shared vision of the state of Tennessee making the leap from the FCS level to the FBS; right now he's working on building the foundation to eventually make that happen.
We see how things are done here in the state of Ohio and at Notre Dame, it's done in great detail, it's first-class personified. And we can certainly do that in Tennessee State, within our budget, George said. It's just being aware of that, it's intentional with that. And it constantly preaches: Hey, this is our lifestyle. This is what we are doing from this point on.
George says his goal is to recruit players of the same caliber as Ohio state and other major programs. And he's not afraid to compete against those programs. Tennessee State recently scheduled a game against Notre Dame for the 2023 season, and George said he spoke with Ohio State athletic director Gene Smith during the week of the coaches clinic about the possibility of Tennessee State going up against Ohio State. play, although he admitted he liked to wait a while. few years before that game after seeing all the talent the Buckeyes have now.
If you want to be the best, you have to play the best, George said. My motto is I play you anytime and anywhere. So that's what I live by and that's what we're going to do.
As George strives to take Tennessee State to new heights, he draws on his Ohio State experiences as a blueprint of what an elite college football program looks like.
Everything I do here in Tennessee State plays into my Ohio State experience, George said. From the discipline to the little things to the efficient use of our time to even the sayings and the corny little quotes the coaches use, the coaching language, I never thought I'd ever say it.
Ultimately, my goal is to develop these young men, support our coaches, really increase Tennessee State's footprint in a significant way, and enjoy doing it. I loved it. Eddie George on coaching at Tennessee State
George and his assistant coaches had the opportunity to check out multiple Ohio State practices during the week they were in Columbus for the coaches clinic, and George is grateful to Ryan Day for giving them the opportunity to spend some time around the Buckeyes. spend and learn from Ohio states coaches. But while he's taken the opportunity to learn from Day and try to emulate much of what Ohio State is already doing in Tennessee State, he's also not trying to be exactly like Day or any other coach.
I find my sea legs. I do things that are authentic to me. I'm not trying to be Ryan Day, I'm not trying to be Jim Tressel, I'm trying to be myself, George said. I get influence from those guys in terms of how they go about things, but in the end I trust my instincts. And I will fail. I will probably continue to fail. But those are lessons for me to learn and get better.
Pearson is confident that George will turn out to be the coach Tennessee State hired him.
Eddie is the right man to take charge, Pearson said. He has a great vision that we are all trying to implement. And I think we're definitely on the right track.
Sources
2/ https://www.elevenwarriors.com/ohio-state-football/2022/05/130879/eddie-george-embracing-life-as-a-college-football-coach-with-goal-of-taking-tennessee-state-to-new-heights
The mention sources can contact us to remove/changing this article
What Are The Main Benefits Of Comparing Car Insurance Quotes Online
LOS ANGELES, CA / ACCESSWIRE / June 24, 2020, / Compare-autoinsurance.Org has launched a new blog post that presents the main benefits of comparing multiple car insurance quotes. For more info and free online quotes, please visit https://compare-autoinsurance.Org/the-advantages-of-comparing-prices-with-car-insurance-quotes-online/ The modern society has numerous technological advantages. One important advantage is the speed at which information is sent and received. With the help of the internet, the shopping habits of many persons have drastically changed. The car insurance industry hasn't remained untouched by these changes. On the internet, drivers can compare insurance prices and find out which sellers have the best offers. View photos The advantages of comparing online car insurance quotes are the following: Online quotes can be obtained from anywhere and at any time. Unlike physical insurance agencies, websites don't have a specific schedule and they are available at any time. Drivers that have busy working schedules, can compare quotes from anywhere and at any time, even at midnight. Multiple choices. Almost all insurance providers, no matter if they are well-known brands or just local insurers, have an online presence. Online quotes will allow policyholders the chance to discover multiple insurance companies and check their prices. Drivers are no longer required to get quotes from just a few known insurance companies. Also, local and regional insurers can provide lower insurance rates for the same services. Accurate insurance estimates. Online quotes can only be accurate if the customers provide accurate and real info about their car models and driving history. Lying about past driving incidents can make the price estimates to be lower, but when dealing with an insurance company lying to them is useless. Usually, insurance companies will do research about a potential customer before granting him coverage. Online quotes can be sorted easily. Although drivers are recommended to not choose a policy just based on its price, drivers can easily sort quotes by insurance price. Using brokerage websites will allow drivers to get quotes from multiple insurers, thus making the comparison faster and easier. For additional info, money-saving tips, and free car insurance quotes, visit https://compare-autoinsurance.Org/ Compare-autoinsurance.Org is an online provider of life, home, health, and auto insurance quotes. This website is unique because it does not simply stick to one kind of insurance provider, but brings the clients the best deals from many different online insurance carriers. In this way, clients have access to offers from multiple carriers all in one place: this website. On this site, customers have access to quotes for insurance plans from various agencies, such as local or nationwide agencies, brand names insurance companies, etc. "Online quotes can easily help drivers obtain better car insurance deals. All they have to do is to complete an online form with accurate and real info, then compare prices", said Russell Rabichev, Marketing Director of Internet Marketing Company. CONTACT: Company Name: Internet Marketing CompanyPerson for contact Name: Gurgu CPhone Number: (818) 359-3898Email: [email protected]: https://compare-autoinsurance.Org/ SOURCE: Compare-autoinsurance.Org View source version on accesswire.Com:https://www.Accesswire.Com/595055/What-Are-The-Main-Benefits-Of-Comparing-Car-Insurance-Quotes-Online View photos
to request, modification Contact us at Here or [email protected]