Patrice Bergeron undecided on his hockey future after Bruins elimination in play-offs
Bruins

"It's too early now."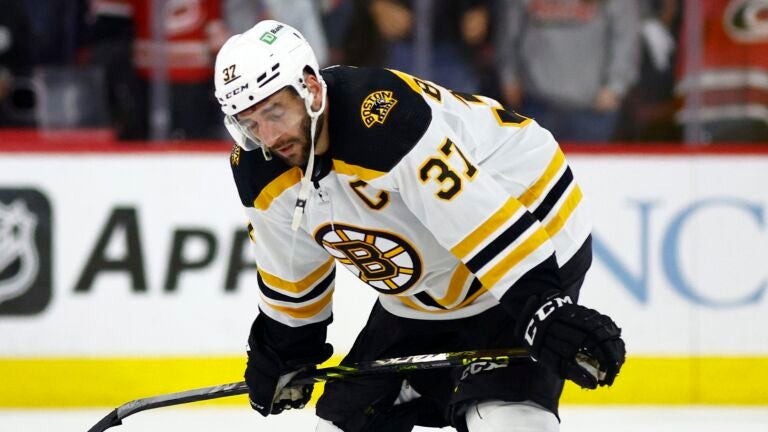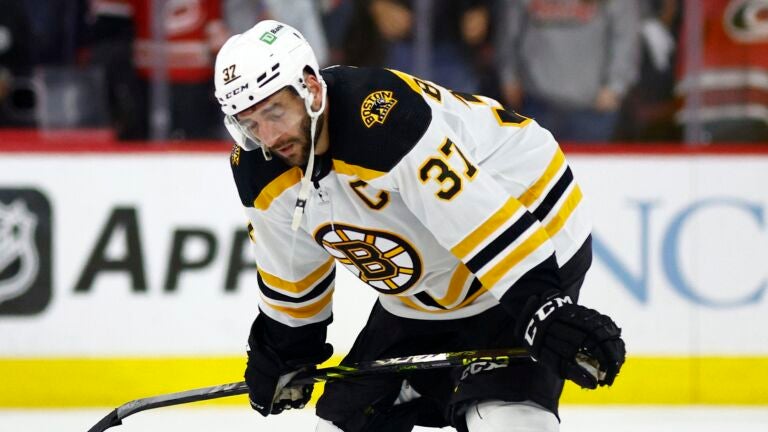 Bruins captain Patrice Bergeron was not ready to discuss his future in the moments following the season-ending Game 7 loss of the Bruins to the Hurricanes, which ended their season.
'No, it's too early now. Not after that – it's too fresh now," Bergeron said when asked if he decided to return next season. "It still sticks out from a hard-fought series and we came up short. I'll have to think about it, of course, but I'm not there right now."
Bergeron, who turns 37 in July, is in the final year of his contract. But rumors that he may be retiring have been circulating for much of the season.
After the game ended, Bergeron hugged every Bruins teammate as they entered the locker room.
"A moment to share with them and thank them for their daily struggle," Bergeron said on Saturday of the last moments on the ice. "It stings. It's not the feeling you want. That said, we did it together."
Bergeron is by far the longest serving Bruin, playing for the team since they drafted him in 2003.
Brad Marchand, who has played on the same line as Bergeron for much of the past 12 seasons, was emotional as he discussed his teammate's possible departure.
"He is the backbone of our team. Obviously most of our team. We want him to come back," said Marchand. "But whatever happens, he has earned the right to make whatever decision he wants and to take the time he needs. I think time will tell."
"That's a personal matter that he and his family are going to decide," Marchand added. "I clearly forced my case on him to come back. If he ever wanted to talk about it, that's up to him. But I wasn't going to pressure him."
Bruins coach Bruce Cassidy shared similar thoughts about the desire for Bergeron to return to Boston next season.
"I hope not," Cassidy said when asked if he had any idea if Saturday was Bergeron's last game with the Bruins. "He means so much to this franchise that we all want him back. But only he can answer that. I have no idea, I haven't discussed that with him. It's not my place in the middle of the season. He will make that decision take in the future."
Bergeron still plays at a high level. He played in his third All-Star game this season, scoring 25 goals, along with 40 assists. In the series against Carolina, Bergeron scored three goals and provided four assists, earning him one point per game.
As Bergeron's team begged him to stay, all he could think about was the loss to Carolina.
"It's always hard to say that when you come up short, but we fought," Bergeron said. "That's something we've been doing all year. We started off a little slow this year, this series was kind of the same, but we fought back and played the type of hockey we needed to move forward. But tonight we came up short and we clearly needed something more."
The Bruins trailed 3-1 for most of the last 30 minutes of the game. However, with the keeper drawn, David Pastrnak scored a goal with 21 seconds left to reduce the Hurricanes' lead to 3-2.
Bergeron won the ensuing faceoff and Boston had one last rush. Boston caused chaos in front of the net, with Bergeron getting a few shots to try and even the game. But Hurricanes goalkeeper Antti Raanta and the skaters before him made the necessary stops to prevent the game from going into extra time.
Bergeron thought his team had a chance there at the end, while reminiscing about the chances the Bruins had in Game 7.
"At that point you are one shot away," Bergeron said of the closing seconds. "I thought we could jump it and take the momentum back. We had some good shifts, some good looks – some good looks in the first one and those bounces, if they go your way it's another game. It's easy to say that now. Kudos to them. They played a great series, a great game. They are progressing."
Now Bergeron has his future to think about. Is he going to play hockey again next season, and if so, with the Bruins?
The answer to those questions is still unknown. What Bergeron does know is that he loves the young players of the Bruins.
"That's something I learned early in my career. It should actually be a cycle. When it's your turn, you have to give it back and do it," Bergeron said of being a leader. "We have some great young players who are open to listen, open to learn. You see the growth in those guys – [Charlie] McAvoy, [Brandon] Carlo, [Pastrnak] – it's impressive. It's great to see."
Get the latest sports news in Boston
Get updates on your favorite Boston teams straight from our newsroom to your inbox.
Sources
2/ https://www.boston.com/sports/boston-bruins/2022/05/14/patrice-bergeron-return-retirement-free-agency-bruins-hurricanes-game-7/
The mention sources can contact us to remove/changing this article
What Are The Main Benefits Of Comparing Car Insurance Quotes Online
LOS ANGELES, CA / ACCESSWIRE / June 24, 2020, / Compare-autoinsurance.Org has launched a new blog post that presents the main benefits of comparing multiple car insurance quotes. For more info and free online quotes, please visit https://compare-autoinsurance.Org/the-advantages-of-comparing-prices-with-car-insurance-quotes-online/ The modern society has numerous technological advantages. One important advantage is the speed at which information is sent and received. With the help of the internet, the shopping habits of many persons have drastically changed. The car insurance industry hasn't remained untouched by these changes. On the internet, drivers can compare insurance prices and find out which sellers have the best offers. View photos The advantages of comparing online car insurance quotes are the following: Online quotes can be obtained from anywhere and at any time. Unlike physical insurance agencies, websites don't have a specific schedule and they are available at any time. Drivers that have busy working schedules, can compare quotes from anywhere and at any time, even at midnight. Multiple choices. Almost all insurance providers, no matter if they are well-known brands or just local insurers, have an online presence. Online quotes will allow policyholders the chance to discover multiple insurance companies and check their prices. Drivers are no longer required to get quotes from just a few known insurance companies. Also, local and regional insurers can provide lower insurance rates for the same services. Accurate insurance estimates. Online quotes can only be accurate if the customers provide accurate and real info about their car models and driving history. Lying about past driving incidents can make the price estimates to be lower, but when dealing with an insurance company lying to them is useless. Usually, insurance companies will do research about a potential customer before granting him coverage. Online quotes can be sorted easily. Although drivers are recommended to not choose a policy just based on its price, drivers can easily sort quotes by insurance price. Using brokerage websites will allow drivers to get quotes from multiple insurers, thus making the comparison faster and easier. For additional info, money-saving tips, and free car insurance quotes, visit https://compare-autoinsurance.Org/ Compare-autoinsurance.Org is an online provider of life, home, health, and auto insurance quotes. This website is unique because it does not simply stick to one kind of insurance provider, but brings the clients the best deals from many different online insurance carriers. In this way, clients have access to offers from multiple carriers all in one place: this website. On this site, customers have access to quotes for insurance plans from various agencies, such as local or nationwide agencies, brand names insurance companies, etc. "Online quotes can easily help drivers obtain better car insurance deals. All they have to do is to complete an online form with accurate and real info, then compare prices", said Russell Rabichev, Marketing Director of Internet Marketing Company. CONTACT: Company Name: Internet Marketing CompanyPerson for contact Name: Gurgu CPhone Number: (818) 359-3898Email: [email protected]: https://compare-autoinsurance.Org/ SOURCE: Compare-autoinsurance.Org View source version on accesswire.Com:https://www.Accesswire.Com/595055/What-Are-The-Main-Benefits-Of-Comparing-Car-Insurance-Quotes-Online View photos
to request, modification Contact us at Here or [email protected]