Governor Osun orders state-of-the-art table tennis building in Osogbo, praises Ayo Alabi – Latest Sports and Football News in Nigeria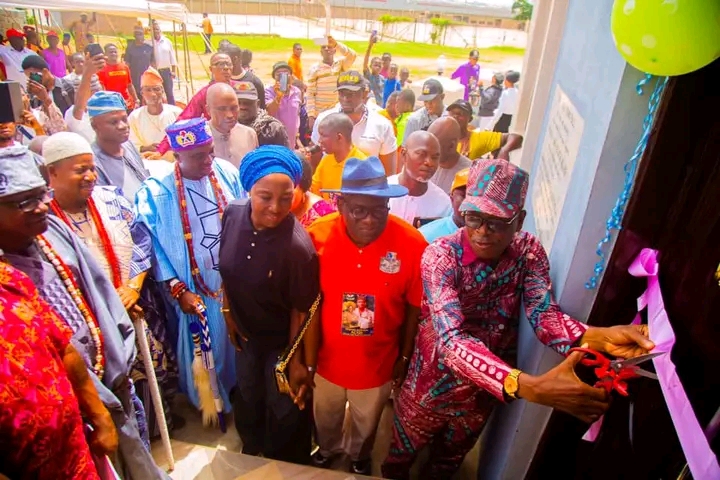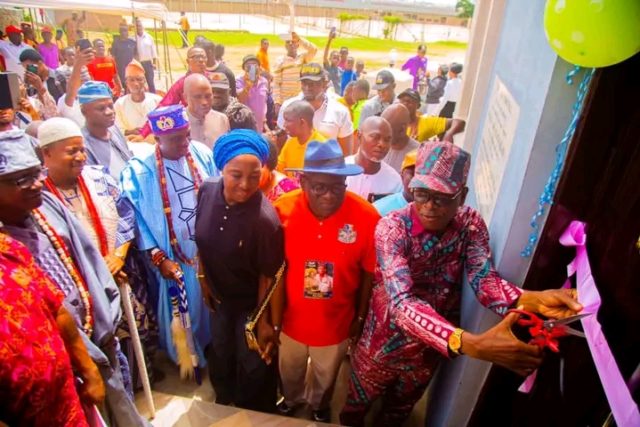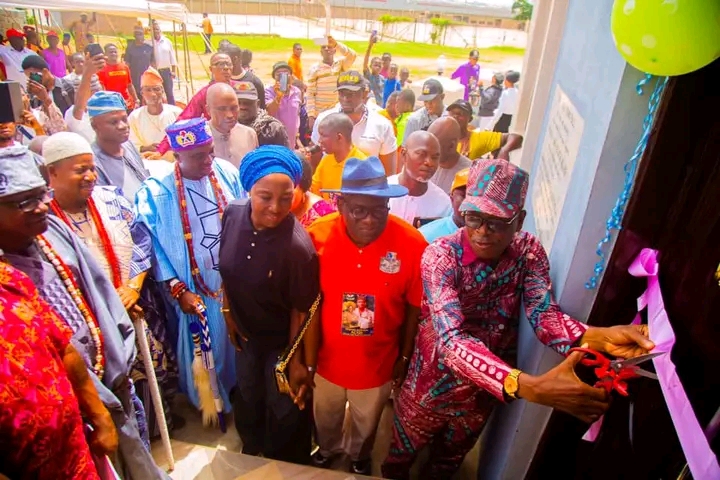 Osun State Governor Gboyega Oyetola has praised Osun State Table Tennis Association President Mr Ayo Alabi for building a state-of-the-art table tennis hall for use by Osun athletes, saying that the hall will encourage youth participation in will boost the game, the vibrant environment of the stadium and help take international table tennis champions out of the state.
Speaking this Saturday in Osogbo during the inauguration of Michael and Felicia Alabi Table Tennis Edifice, Oyetola urged other well-meaning citizens of the state to pursue this good gesture by Chief and Chief Ms. Ayo Alabi by exploring the possibilities that are provided by the stimulating environment of the state government to contribute their quota to the development of the state.
Represented by Secretary of the State Government (SSG), Prince Wole Oyebamiji, the Governor said: "Over the past three and a half years in office, this government has developed a rich culture from working with well-meaning members of this society to developing infrastructures that has positioned the state as one of the fastest growing tourism in the country. Judging by this increasing collaboration, I strongly believe that the inauguration of this hall will further help open new sports frontiers."
"This state-of-the-art table tennis hall by Michael and Felicia is a welcome addition to the galaxies of facilities our administration is putting together to raise the standard of sport in Nigeria. From the grounds of this hall, champions will be raised and careers nurtured, and every time they happen, the dreams of this great couple will be realized and Osun will be glorified.
Speaking about the current administration's sports development efforts, he said: "Our three-pronged strategic approach to sports development – discovery and nurturing of talents, development of sports infrastructure and rewards for outstanding performance and well-being of athletes and their coaches remains unwavering. the time we finish implementing these strategies, sports will be a huge factor in the courtesy of sectors to enhance Osun's image and bring in foreign exchange for the state.
In his welcome speech, Osun State Commissioner for Youth and Sports, Yemi Lawal, speaking through Special Adviser on Youth and Sports, Aremo Gboyega Adelabu, highlighted several efforts of the government in sports development and assured that the ministry will continue to employs and empowers Osun youth through sports and helps them reach the pinnacle of their careers.
In his comments, Osun State Table Tennis Association Chairman, Ayo Alabi appreciated Governor Gboyega Oyetola for approving the construction of the building on the Osogbo Township Stadium site, which he believes was an important milestone in his pursuit of promoting Osun's youth. to make it more productive. through sports.
"Our history in Osun is enriched with panache for growth, development and success. Today's achievement will bring an indigenous Osun who will reach local and international heights as we tried to assert ourselves in sports, especially table tennis. Therefore, Osun State table tennis has taken a giant step from just playing games to a successful entity to an important role in the lives of Osun youth with a passion for sports".
About his other plans, Alabi said: "Two months ago, my siblings and I hosted 17 states at our annual table tennis event in Otan Ayegbaju with more than 250 athletes participating, where more than 4 million money was given out in various categories. Next year we have decided to host the entire 36 states of the federation. Our government cannot do it alone, we need synergy to work together to move our state forward," explained the Otan Ayegbaju-born philanthropist.
There were goodwill messages from the King of Iragbiji, King Abdulrasheed Olabomi, the King of Otan Ayegbaju, King Lukman Ojo Fadipe, the Sooko Omoniyi of Ife, Dr. The Vice President of the Nigeria Table Tennis Federation (NTTF) Dr. Adesoji Tayo, Chairman of Boluwaduro Local Government Area, Hon. Akeem Tokede and Senator Ajibola Basiru all congratulating Mr. and Mrs. Akeem Tokede. Alabi and promised to support them in their efforts to put Osun on the global sports map.
The highlight of the program was the inauguration and official opening of the hall by Prince Wole Oyebamiji, who engaged a renowned international award-winning journalist, Elder Tunde Fagbenle, in a novelty game. The event also included cultural exhibition and exhibition competitions of Osun table tennis athletes.
Also attending the program were the Governor's Senior Special Assistant for Sports Development, Mr. Vincent Akinbami, Acting Permanent Secretary, Ministry of Youth and Sports, Ms. Taiwo Oladunjoye, Director of Sports, Mr. Layi Adesiyan, General Director, Osun State Sports Council, mr. Rotimi Dunmoye, Director of Coaches and Training Ademola Daini, wife and older brother of Mr. Alabi, Alhaja Temitayo and Mr. Yomi Alabi as well as members of Ibadan Tennis Club, Osogbo Sports Club, Osun State Table Tennis Association among others.
Sources
2/ https://www.sports247.ng/osun-governor-commissions-ultra-modern-table-tennis-edifice-in-osogbo-commends-ayo-alabi/
The mention sources can contact us to remove/changing this article
What Are The Main Benefits Of Comparing Car Insurance Quotes Online
LOS ANGELES, CA / ACCESSWIRE / June 24, 2020, / Compare-autoinsurance.Org has launched a new blog post that presents the main benefits of comparing multiple car insurance quotes. For more info and free online quotes, please visit https://compare-autoinsurance.Org/the-advantages-of-comparing-prices-with-car-insurance-quotes-online/ The modern society has numerous technological advantages. One important advantage is the speed at which information is sent and received. With the help of the internet, the shopping habits of many persons have drastically changed. The car insurance industry hasn't remained untouched by these changes. On the internet, drivers can compare insurance prices and find out which sellers have the best offers. View photos The advantages of comparing online car insurance quotes are the following: Online quotes can be obtained from anywhere and at any time. Unlike physical insurance agencies, websites don't have a specific schedule and they are available at any time. Drivers that have busy working schedules, can compare quotes from anywhere and at any time, even at midnight. Multiple choices. Almost all insurance providers, no matter if they are well-known brands or just local insurers, have an online presence. Online quotes will allow policyholders the chance to discover multiple insurance companies and check their prices. Drivers are no longer required to get quotes from just a few known insurance companies. Also, local and regional insurers can provide lower insurance rates for the same services. Accurate insurance estimates. Online quotes can only be accurate if the customers provide accurate and real info about their car models and driving history. Lying about past driving incidents can make the price estimates to be lower, but when dealing with an insurance company lying to them is useless. Usually, insurance companies will do research about a potential customer before granting him coverage. Online quotes can be sorted easily. Although drivers are recommended to not choose a policy just based on its price, drivers can easily sort quotes by insurance price. Using brokerage websites will allow drivers to get quotes from multiple insurers, thus making the comparison faster and easier. For additional info, money-saving tips, and free car insurance quotes, visit https://compare-autoinsurance.Org/ Compare-autoinsurance.Org is an online provider of life, home, health, and auto insurance quotes. This website is unique because it does not simply stick to one kind of insurance provider, but brings the clients the best deals from many different online insurance carriers. In this way, clients have access to offers from multiple carriers all in one place: this website. On this site, customers have access to quotes for insurance plans from various agencies, such as local or nationwide agencies, brand names insurance companies, etc. "Online quotes can easily help drivers obtain better car insurance deals. All they have to do is to complete an online form with accurate and real info, then compare prices", said Russell Rabichev, Marketing Director of Internet Marketing Company. CONTACT: Company Name: Internet Marketing CompanyPerson for contact Name: Gurgu CPhone Number: (818) 359-3898Email: [email protected]: https://compare-autoinsurance.Org/ SOURCE: Compare-autoinsurance.Org View source version on accesswire.Com:https://www.Accesswire.Com/595055/What-Are-The-Main-Benefits-Of-Comparing-Car-Insurance-Quotes-Online View photos
to request, modification Contact us at Here or [email protected]