Two CWG singles gold 16 years apart an out of this world feel; Indian TT's future in good hands, says Sharath Kamal | Commonwealth Games 2022 News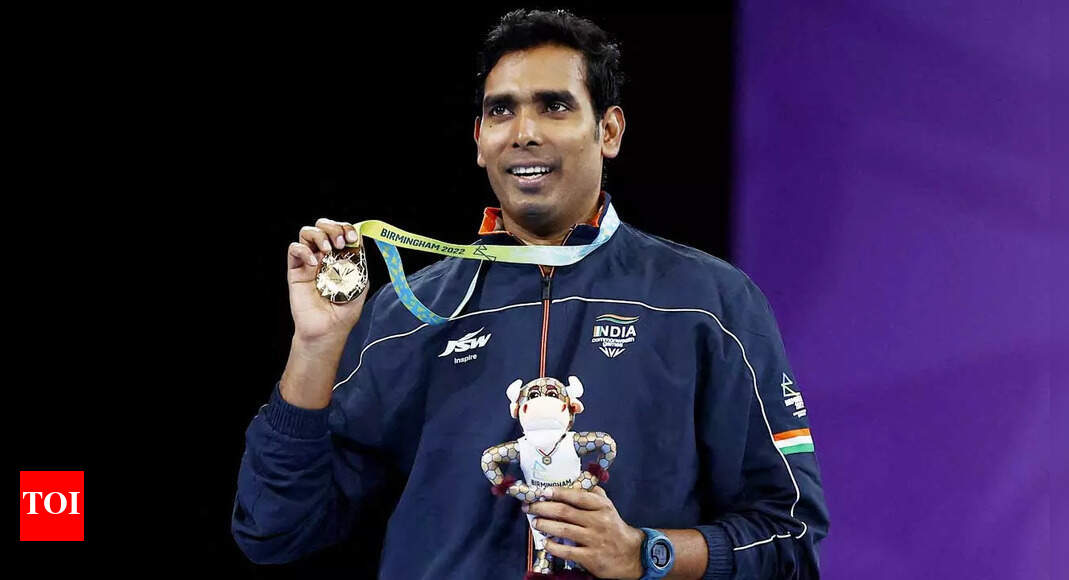 NEW DELHI: Before flying to Birmingham for the Commonwealth Games (CWG), Sharat Kamali had categorically said "I play my best table tennis at 40." By the time he returned home a fortnight later, Sharath had turned those words into an astonishing three golds and one silver, and the catch included the coveted win in men's singles — a feat he's unbelievable for. last achieved during his CWG debut, way back in 2006.
Sharat recently spoke with
TimesofIndia.com
about this and more.
To become the country's most successful athlete at the 2022 Commonwealth Games in what was his fifth appearance at the Games is an achievement based purely on resilience and process. And the fact that his younger teammates joined him on the podium — for the men's team gold, men's doubles silver (with Sathiyan Gnanasekaran) and the mixed double gold (with Sreeja Akula), speaks volumes about how Sharath not only took his own game to the next level, but also played a key role in helping others ascend with him.
How he keeps doing it year after year as he keeps raising the bar is something Sharath himself can answer best, and he did it in a way as precise as his forehand in this interview with
TimesofIndia.com.
Two CWG gold medals, 16 years apart, not many can do it…
It really is an alien feeling. It's a mammoth task to do it 16 years in a row. But if you look at my chart, I've always been there. It's not like the other times I lost in the first rounds or the second rounds. Of course I played the (CWG singles) final again (after 16 years), and I haven't had a singles final lately, but I've been there.
This time I wasn't sure if I would win a gold medal; but there was a chance i could do it because the players above me are the ones i had beaten (in the past), so i had a good chance against them. But at the same time (I knew) it will mainly be the performance on that particular day that will decide who will be the winner.
Sharath Kamal (AP Photo)
India defended the gold medal from the men's team, but you personally didn't have a good start to your campaign because you lost your match in the final against Singapore. Did it shock you?
No not really. At the end of the day it is the team competition and the team must win. It really doesn't matter. It's about building the team. The victory in the semi-final was also an important one. It gave me a lot of confidence that I beat Nigeria's top seeded player (Aruna Quadri). I knew I was on the right track. That match (defeat in the final) was a one-off. It can happen, but it didn't bother me.
A motivational interaction with Hon. PM @narendramodi ji yesterday at his home. Support fully extended https://t.co/WPTFiqWZhC

— Sharath Kamal OLY (@sharathkamal1) 1660452352000
It was an honorable meeting with the Minister of Sports Shri. @ianuragthakur ji! Thank you so much sir for giving your value https://t.co/EVVmED2XOI

— Sharath Kamal OLY (@sharathkamal1) 1660216961000
Winning the mixed doubles gold with Sreeja Akula must have been just as special…
Sreeja had a great tournament (CWG). The tournament has given her a lot of confidence. She was a completely different player from start to finish. The rise of Sreeja was clearly visible. In the mixed doubles category, we combined well, had a good relationship. We both individually had a good faith that showed on the table. It was very, very important that we could bring that form from singles to (mixed) doubles.
Sharath Kamal and Sreeja Akula (PTI photo)
Did you surprise yourself with a whopping three gold medals in Birmingham?
I never thought I would win three gold medals. I hoped I could win medals of any color. Winning 3-4 medals is what I was looking for. One or the other fell into place. We won the team gold, got a lot of confidence. That 'juggernauted' (us) in the doubles and individual categories.
What will you attribute this milestone achievement to?
It has a lot to do with peaking at the right time and gaining that confidence. It didn't happen overnight or all of a sudden, like we didn't know how we were doing it. That (sort of) happened in 2006. I don't know how it happened (then), it just happened. But this time there was a clear process of reaching a peak in time, with both body and mind working together and reaching the best level. In the end we came out with success.
A wonderful conclusion to the process at the Commonwealth Games. An honor to carry the flag through the tournament and https://t.co/NiVbNs49q6

— Sharath Kamal OLY (@sharathkamal1) 1660039926000
Do you mean to say that the 2006 Sharath was unbridled brilliance and 2022 is all about process and planning?
Yes a lot. It's just been that way. Many things were taken into account (this time), many things were under control. We were constantly working on some kind of schedule that we will have and tried to simulate that with back-to-back matches. It was almost in sync with the whole. So everything was very well planned.
Filled with gratitude and happiness at another Commonwealth Games, and my best too. Have won a gold medal in https://t.co/402lI66rpg

— Sharath Kamal OLY (@sharathkamal1) 165996984000
But your consistency has remained unmatched. Manika Batra had a dream 2018 CWG but couldn't hold that level in Birmingham. What is the secret behind Sharath Kamal doing it year after year?
By constantly adapting and getting out of the comfort zone, taking on a challenge and constantly working forward. I think there is a healthy internal competition where we try to push each other to get better. That is also something that helps me.
Sharath Kamal (photo from Reuters)
You already mentioned before you flew to Birmingham that the 2024 Olympics in Paris is an important part of your next set of goals. Have you thought about life beyond that point?
I'll stick to the game. The game is my identity. I haven't decided what exactly I'm going to do yet. But I will be there to help these children, guide them, build a structure or a system for the younger generation.
As you enter the twilight of your career leading up to the Paris Olympicshow sure are you of the generation that will take over?
I don't have to worry. It (the future of Indian TT) is in good hands. These guys will do better than what I did. As I said, there is a good bond, a good team spirit and at the same time there is good internal competition among us to keep pushing us all forward. These guys will do well. There is no doubt about it.
Sources
2/ https://timesofindia.indiatimes.com/sports/commonwealth-games-2022/sharath-kamal-two-cwg-singles-golds-16-years-apart-an-out-of-this-world-feeling-future-of-indian-tt-in-the-right-hands/articleshow/93586456.cms
The mention sources can contact us to remove/changing this article
What Are The Main Benefits Of Comparing Car Insurance Quotes Online
LOS ANGELES, CA / ACCESSWIRE / June 24, 2020, / Compare-autoinsurance.Org has launched a new blog post that presents the main benefits of comparing multiple car insurance quotes. For more info and free online quotes, please visit https://compare-autoinsurance.Org/the-advantages-of-comparing-prices-with-car-insurance-quotes-online/ The modern society has numerous technological advantages. One important advantage is the speed at which information is sent and received. With the help of the internet, the shopping habits of many persons have drastically changed. The car insurance industry hasn't remained untouched by these changes. On the internet, drivers can compare insurance prices and find out which sellers have the best offers. View photos The advantages of comparing online car insurance quotes are the following: Online quotes can be obtained from anywhere and at any time. Unlike physical insurance agencies, websites don't have a specific schedule and they are available at any time. Drivers that have busy working schedules, can compare quotes from anywhere and at any time, even at midnight. Multiple choices. Almost all insurance providers, no matter if they are well-known brands or just local insurers, have an online presence. Online quotes will allow policyholders the chance to discover multiple insurance companies and check their prices. Drivers are no longer required to get quotes from just a few known insurance companies. Also, local and regional insurers can provide lower insurance rates for the same services. Accurate insurance estimates. Online quotes can only be accurate if the customers provide accurate and real info about their car models and driving history. Lying about past driving incidents can make the price estimates to be lower, but when dealing with an insurance company lying to them is useless. Usually, insurance companies will do research about a potential customer before granting him coverage. Online quotes can be sorted easily. Although drivers are recommended to not choose a policy just based on its price, drivers can easily sort quotes by insurance price. Using brokerage websites will allow drivers to get quotes from multiple insurers, thus making the comparison faster and easier. For additional info, money-saving tips, and free car insurance quotes, visit https://compare-autoinsurance.Org/ Compare-autoinsurance.Org is an online provider of life, home, health, and auto insurance quotes. This website is unique because it does not simply stick to one kind of insurance provider, but brings the clients the best deals from many different online insurance carriers. In this way, clients have access to offers from multiple carriers all in one place: this website. On this site, customers have access to quotes for insurance plans from various agencies, such as local or nationwide agencies, brand names insurance companies, etc. "Online quotes can easily help drivers obtain better car insurance deals. All they have to do is to complete an online form with accurate and real info, then compare prices", said Russell Rabichev, Marketing Director of Internet Marketing Company. CONTACT: Company Name: Internet Marketing CompanyPerson for contact Name: Gurgu CPhone Number: (818) 359-3898Email: [email protected]: https://compare-autoinsurance.Org/ SOURCE: Compare-autoinsurance.Org View source version on accesswire.Com:https://www.Accesswire.Com/595055/What-Are-The-Main-Benefits-Of-Comparing-Car-Insurance-Quotes-Online View photos
to request, modification Contact us at Here or [email protected]