Steven Holtz, Michigan hockey team is doing better after suspected virus outbreak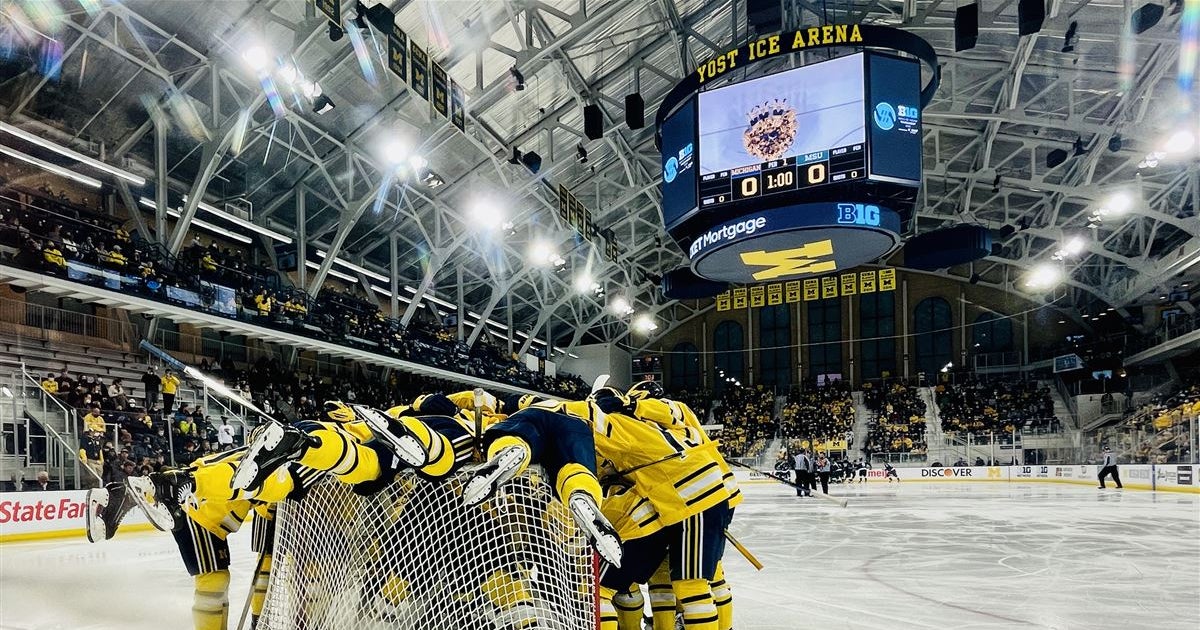 ANN ARBOR, Michigan — Michigan hockey player Steven Holtz is "doing better" and is recovering from an illness that landed him in the hospital, UM coach Brandon Naurato said this week.
Speaking Tuesday on the "Inside Michigan Hockey" radio show, Naurato said Holtz — who was hospitalized in an intensive care unit last week, according to a family member's social media post — had visited Yost Ice Arena's team.
"Holtzy stopped by the rink today," Naurato said. "It was great to see him and to see him doing better. He still has a little road to recovery, but he's smiling and talking and super positive to be around the guys."
Holtz was one of several Wolverines to miss last weekend's series opener against Minnesota with illness — likely adenovirus, according to a spokesman. Last Thursday's full list of illness-related absences was: defenseman Brendan Miles, forward TJ Hughes, defenseman Jacob Truscott, defenseman Steven Holtz, forward Nolan Moyle and forward Adam Fantilli.
According to Naurato, some players are still out, but as a whole, the health of the team is improving.
"Everyone else is slowly coming along," Naurato said. "A few guys are still coming out of the disease, so still light numbers in training. But overall much better than last week. It's been a crazy week."
The UM has been dealing with illness for some time now. Goaltender Erik Portillo missed a series against Penn State in early November, and several teammates, including Holtz, had been knocked out against Notre Dame two weekends ago.
According to Connor Earegood of The Michigan Daily, the Wolverines did not train last Tuesday, likely due to the breakout among the team. Against Minnesota last Thursday, two Wolverines made their collegiate debuts, including third-string netminder Tyler Shea – who dressed as a forward.
The program has largely declined to provide details about the virus outbreak, citing health privacy laws. In a post-game conversation with The Michigan Insider and other outlets, Naurato alluded to the difficulties of running a program through a crisis.
"Without going into details, the first call I got, I hope never to get again," he said last Thursday.
"I'll say one thing: Brian Brewster, Darryl Conway. The Michigan Medical Team, Michigan Hospital. I can't imagine this was a junior or minor pro team without the resources we have in Michigan. Therefore they are the leaders and the best. Everyone has come together and done a fantastic job taking care of these children."
Michigan hockey returns to the ice on November 25 against Harvard at Yost Ice Arena.
***
Not a VIP subscriber to The Michigan Insider? Sign up now and get access to everything TMI has on all things Michigan and access the #1 site on the Wolverines.
Want to get the latest Michigan news delivered straight to your email? Subscribe to the Michigan Insider newsletter here. It's free and a great way to get daily updates on Michigan football, basketball, baseball, recruiting and more delivered straight to your inbox
Sign up for FREE text alerts on The Michigan Insider to receive the latest news on commitments, resignations, transfers, injuries, coaching changes and more with our NEW text alert system available to all registered users and VIP subscribers. click here to become a FREE registered user and click here if you are already a VIP subscriber, then follow these directions to set up your SMS notifications.
Sources
2/ https://247sports.com/college/michigan/Article/Michigan-hockey-Steven-Holtz-health-update-Brandon-Naurato-interview-198339641/
The mention sources can contact us to remove/changing this article
What Are The Main Benefits Of Comparing Car Insurance Quotes Online
LOS ANGELES, CA / ACCESSWIRE / June 24, 2020, / Compare-autoinsurance.Org has launched a new blog post that presents the main benefits of comparing multiple car insurance quotes. For more info and free online quotes, please visit https://compare-autoinsurance.Org/the-advantages-of-comparing-prices-with-car-insurance-quotes-online/ The modern society has numerous technological advantages. One important advantage is the speed at which information is sent and received. With the help of the internet, the shopping habits of many persons have drastically changed. The car insurance industry hasn't remained untouched by these changes. On the internet, drivers can compare insurance prices and find out which sellers have the best offers. View photos The advantages of comparing online car insurance quotes are the following: Online quotes can be obtained from anywhere and at any time. Unlike physical insurance agencies, websites don't have a specific schedule and they are available at any time. Drivers that have busy working schedules, can compare quotes from anywhere and at any time, even at midnight. Multiple choices. Almost all insurance providers, no matter if they are well-known brands or just local insurers, have an online presence. Online quotes will allow policyholders the chance to discover multiple insurance companies and check their prices. Drivers are no longer required to get quotes from just a few known insurance companies. Also, local and regional insurers can provide lower insurance rates for the same services. Accurate insurance estimates. Online quotes can only be accurate if the customers provide accurate and real info about their car models and driving history. Lying about past driving incidents can make the price estimates to be lower, but when dealing with an insurance company lying to them is useless. Usually, insurance companies will do research about a potential customer before granting him coverage. Online quotes can be sorted easily. Although drivers are recommended to not choose a policy just based on its price, drivers can easily sort quotes by insurance price. Using brokerage websites will allow drivers to get quotes from multiple insurers, thus making the comparison faster and easier. For additional info, money-saving tips, and free car insurance quotes, visit https://compare-autoinsurance.Org/ Compare-autoinsurance.Org is an online provider of life, home, health, and auto insurance quotes. This website is unique because it does not simply stick to one kind of insurance provider, but brings the clients the best deals from many different online insurance carriers. In this way, clients have access to offers from multiple carriers all in one place: this website. On this site, customers have access to quotes for insurance plans from various agencies, such as local or nationwide agencies, brand names insurance companies, etc. "Online quotes can easily help drivers obtain better car insurance deals. All they have to do is to complete an online form with accurate and real info, then compare prices", said Russell Rabichev, Marketing Director of Internet Marketing Company. CONTACT: Company Name: Internet Marketing CompanyPerson for contact Name: Gurgu CPhone Number: (818) 359-3898Email: [email protected]: https://compare-autoinsurance.Org/ SOURCE: Compare-autoinsurance.Org View source version on accesswire.Com:https://www.Accesswire.Com/595055/What-Are-The-Main-Benefits-Of-Comparing-Car-Insurance-Quotes-Online View photos
to request, modification Contact us at Here or [email protected]