Candidates to replace Luke Fickell as head coach
Luke Fickell won more games at the University of Cincinnati than any other head football coach in the program's 135-season history.
Now Cincinnati Director of Athletics John Cunningham must find someone to replace him.
Luke Fickell introduced to Wisconsin:Luke Fickell came to Wisconsin, Cincinnati, to look for the next coach nationally
Fickell, who flirted with Michigan State in 2020 and whose name was associated with job openings at USC, LSU, Notre Dame and even Oklahoma last season, informed Cunningham Sunday morning and the Cincinnati players Sunday afternoon that he would be leaving to fill the vacancy. to take. Wisconsin. The badgers announced the lease about 15 minutes before Cunningham took the stage on Sunday night.
"I want to thank coach Fickell," said Cunningham. "I want to thank Amy (Fickell's wife). I want to thank all his family. I think I speak for all the Bearcats when I say we wish him nothing but the best. What he has done for this program in his time here "It was remarkable. It has made us extremely strong going forward in all aspects of our program. And of course, with the Big 12 right around the corner, this is a very desirable track with a lot of things going for us. A lot of it has to do with his leadership and his guidance."
With Cincinnati slated to leave the American Athletic Conference and join the Big 12 Conference on July 1, 2023, Cunningham knows he needs a new signing who will lead the Bearcats into a new era.
Cunningham said he and a search committee will "move fast" as they conduct a "nationwide search" that will include both external and internal candidates.
"We need someone who can recruit at a very high level," Cunningham said. "We need someone who understands and fully understands the NIL (name, image and likeness) space. That's going to be very, very important. We need someone who can build a great staff and someone who understands the level of play and the dynamic attacks and defenses you're going to see in the Big 12."
Here is our list of top candidates to replace Fickell, the three-time AAC Coach of the Year and the 2021 consensus National Coach of the Year:
Kerry Koombs, CIncinnati cornerbacks coach/special teams coordinator
Coombs will carry the interim tag while Cunningham searches for Fickell's replacement. But the 61-year-old Coombs could be the answer for the Bearcats. The former Ohio State defensive coordinator and Tennessee Titans assistant is more than familiar with the Cincinnati program and has a deep understanding of the recruiting path in and around Cincinnati, having been a successful head coach at his alma mater, Colerain High School . If Cunningham wants to stay close to home, there's no one closer than Coombs.
Mike Tressel, Cincinnati defensive coordinator
Tressel would be another familiar option for Cunningham. Tressel, who was handpicked by Fickell of Michigan State to replace Marcus Freeman when Freeman moved to Notre Dame after the 2020 season, knows the recruiting paths in the Midwest well. He also experienced the transformation of the Cincinnati program firsthand, having served as a Bearcats assistant under then-head coach Mark Dantonio from 2004-2006.
Jesse Minter, Michigan defense coordinator
Minter is one of the hottest names in college football. He inherited a Michigan defense that led the Wolverines to the College Football Playoff last season and restored it to a unit that will likely lead Michigan to a second consecutive playoff berth this year. The 39-year-old also knows the area and the program well. He is the son of former Cincinnati head coach Rick Minter (1994-2003), who was the winningest coach in the history of the Bearcats program before Fickell replaced him this season.
Deon Sanders, Jackson State head coach
While the 55-year-old Sanders would be a far cry from home for Cunningham, it would be a hit and miss for the program's recruiting efforts. Recent reports have linked the Pro Football Hall of Famer and Jackson's current head coach to the Colorado vacancy, but Cunningham could try to lure Sanders to Queen City, where he played for the Cincinnati Reds in the 1990s and 2000s, with the promise of updated facilities and an influx of resources with the impending move of the Big 12.
Kevin Wilson, Ohio State Offense Coordinator
Former Cincinnati athletic director MIke Bohn, who is now at USC, picked Fickell from Ohio State after the 2016 season. Cunningham could also dive into Columbus by bringing in Wilson. The 61-year-old coach spent several years as an assistant at the University of Miami before working his way up the ladder.
Urban Meyer, former Ohio State and Jacksonville Jaguars head coach and Cincinnati alumnus
This may be a chore, but it could be worth it for Cunningham. Meyer's son, Nate, played for Fickell in Cincinnati, while Meyer's sister is a vice-provost at the university. Meyer's resume on the field is as good as it gets, with three national championships to his credit at Ohio State and Florida. But the 58-year-old's resume off the field leaves a lot to be desired, to say the least. Meyer may be a non-starter for many college executives, but if Cunningham and Cincinnati president Neville G. Pinto wants a coach who wins and has ties to the Bearcats, Meyer is it.
There is no better leader than John Cunningham to lead the search for our next head football coach," said Pinto. momentum of our institution. The University of Cincinnati and this community have all the ingredients necessary for success, and I am confident that I will find a candidate who can make Cincinnati proud.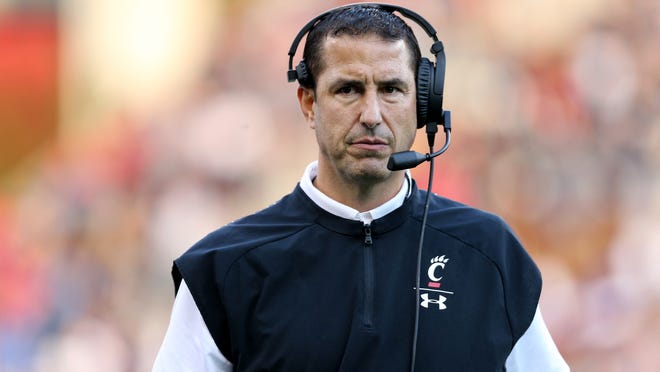 Sources
2/ https://www.cincinnati.com/story/sports/college/university-of-cincinnati/2022/11/28/john-cunningham-cincinnati-ad-nationwide-search-replacement-candidates-luke-fickell/69680412007/
The mention sources can contact us to remove/changing this article
What Are The Main Benefits Of Comparing Car Insurance Quotes Online
LOS ANGELES, CA / ACCESSWIRE / June 24, 2020, / Compare-autoinsurance.Org has launched a new blog post that presents the main benefits of comparing multiple car insurance quotes. For more info and free online quotes, please visit https://compare-autoinsurance.Org/the-advantages-of-comparing-prices-with-car-insurance-quotes-online/ The modern society has numerous technological advantages. One important advantage is the speed at which information is sent and received. With the help of the internet, the shopping habits of many persons have drastically changed. The car insurance industry hasn't remained untouched by these changes. On the internet, drivers can compare insurance prices and find out which sellers have the best offers. View photos The advantages of comparing online car insurance quotes are the following: Online quotes can be obtained from anywhere and at any time. Unlike physical insurance agencies, websites don't have a specific schedule and they are available at any time. Drivers that have busy working schedules, can compare quotes from anywhere and at any time, even at midnight. Multiple choices. Almost all insurance providers, no matter if they are well-known brands or just local insurers, have an online presence. Online quotes will allow policyholders the chance to discover multiple insurance companies and check their prices. Drivers are no longer required to get quotes from just a few known insurance companies. Also, local and regional insurers can provide lower insurance rates for the same services. Accurate insurance estimates. Online quotes can only be accurate if the customers provide accurate and real info about their car models and driving history. Lying about past driving incidents can make the price estimates to be lower, but when dealing with an insurance company lying to them is useless. Usually, insurance companies will do research about a potential customer before granting him coverage. Online quotes can be sorted easily. Although drivers are recommended to not choose a policy just based on its price, drivers can easily sort quotes by insurance price. Using brokerage websites will allow drivers to get quotes from multiple insurers, thus making the comparison faster and easier. For additional info, money-saving tips, and free car insurance quotes, visit https://compare-autoinsurance.Org/ Compare-autoinsurance.Org is an online provider of life, home, health, and auto insurance quotes. This website is unique because it does not simply stick to one kind of insurance provider, but brings the clients the best deals from many different online insurance carriers. In this way, clients have access to offers from multiple carriers all in one place: this website. On this site, customers have access to quotes for insurance plans from various agencies, such as local or nationwide agencies, brand names insurance companies, etc. "Online quotes can easily help drivers obtain better car insurance deals. All they have to do is to complete an online form with accurate and real info, then compare prices", said Russell Rabichev, Marketing Director of Internet Marketing Company. CONTACT: Company Name: Internet Marketing CompanyPerson for contact Name: Gurgu CPhone Number: (818) 359-3898Email: [email protected]: https://compare-autoinsurance.Org/ SOURCE: Compare-autoinsurance.Org View source version on accesswire.Com:https://www.Accesswire.Com/595055/What-Are-The-Main-Benefits-Of-Comparing-Car-Insurance-Quotes-Online View photos
to request, modification Contact us at Here or [email protected]