Luxizi Meng: Tennis is an indispensable part of my life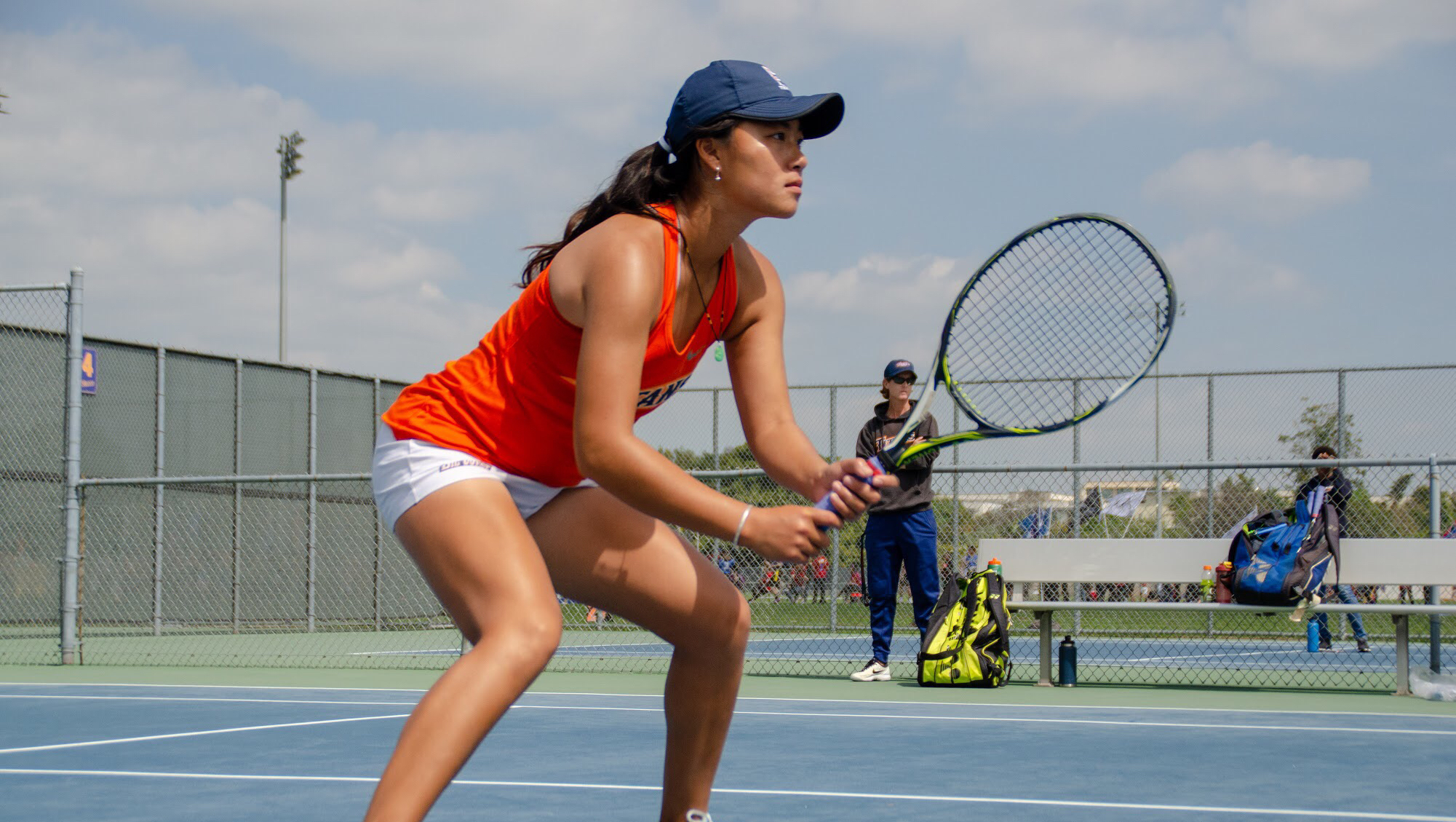 Luxizi Meng is standing on the bright green tennis court and holding her racket. The ball approaches. She bends her knees and swoosh! She hits the ball with a fluid motion and it bounces over the net. Her opponent sighs and says she is tired. Just a few more exercises and you'll be done, says Meng.
Meng, a new tennis coach at Xian Jiaotong-Liverpool University, has many successes to her name. She was a member of the China national tennis team and a National Collegiate Athletic Association (NCAA) Division One Student Athelete in the US. She played in competitions at the international level and toured the US.
Now she uses her talents to coach a new group of players to improve their skills at XJTLU's Physical Education Center.
Excel on the job
Beijing-born Meng has been playing tennis since he was seven. Growing up, she demonstrated her skills in numerous competitions, including the International Tennis Federation (ITF) World Tennis Tour Juniors.
In 2014, at the age of 16, she joined the China national team and received the highest sports award in China in 2016.
She was ranked 450th on the World Tennis Tour Juniors Rankings. As a teenager, I wanted nothing more than to become a professional tennis player, she says.
Meng quickly rose through the world rankings and caught the attention of US-based coaches.
I started getting emails from American universities asking if I wanted to play for their team on a full scholarship, she says. Before going to university, my life was all about tennis, but I was also interested in graphic design. So I decided to study advertising while playing tennis.
Her starting point was at the University of Texas at Arlington. She then transferred to California State University, Fullerton (Cal State Fullerton).
In addition to excelling on the field, Meng received a bachelor's degree in advertising and communications from Cal State Fullerton in 2019 and a master's degree in sports management from California State University, Long Beach in 2021.
She says her best moment with Cal State Fullerton was at the 2018 Big West Conference in Hawaii.
It was tough playing against Division One teams. The players are at the top of the league in the US. Many of them will become professional tennis players after graduation.
Every victory, no matter how small, was earned. You can feel the tension in the air throughout the game. But we did our best and played as a team.
We made it to the final and finished second. It was the best record of our university!
Meng playing in NCAA Division 1 Big West Conference Tournament in 2018
The power of role models
Meng says her former coach at Cal State Fullerton, Dianne Matias, has been a big influence on her. Matias won the 2016 Women's Tennis Big West Conference Coach of the Year.
Dianne is a tennis pro with a high world ranking and leads by example.
In year four, I sometimes had to wake up at five in the morning to work out. When I got to the court she was already there. The workouts were exhausting but worth it. I improved so much back then.
She cares about her players and wants the best for them. She's like family to me and we're still in touch, says Meng. Now that I am a coach myself, I can appreciate her leadership, character and style of coaching even more.
She sets high standards for herself and her players. As a head coach, she never stops practicing and always makes sure she is at her best. This is also what I'm working towards.
Meng's favorite tennis player is Li Na, the first Chinese woman to win the World Tennis Association (WTA) tour title in 2004 and two Grand Slam singles titles in 2011 and 2014.
I first met her when I was training for the national team. I was very nervous and excited! The second time I saw her play tennis in Paris, France.
I admire Li Na because she knows what she wants and goes for it. She is very determined not only in her tennis career but also in other aspects of her life such as female leadership and charity work.
Meng will play in NCAA Division 1 Big West Conference Tournament in 2019
Share the knowledge
Prior to joining XJTLU, Meng worked as an assistant coach at Cal State Fullerton and national team manager at China Golf Association.
In 2021, when I was looking for coaching opportunities, a friend of mine in the US recommended XJTLU.
I was immediately interested because I could coach in English and Chinese. XJTLU was a good fit as it is a university where my international background and bilingual skills would be appreciated.
Meng says her first impression of XJTLU is one of diversity.
Most of the teachers and staff have studied abroad and students have many extracurricular activities to participate in.
The working environment at XJTLU is very welcoming. My colleagues are fun to be around. We are about the same age and we all have sports experience, so we have a lot to talk about.
I think Suzhou is a beautiful city. My colleagues and I have visited many places such as Tianping Mountain. The landscape in Suzhou is very different from Beijing.
Meng says she enjoys coaching and wants to start her own tennis club one day.
I am so grateful for what tennis has given me. It taught me self-discipline, perseverance, team spirit and much more. It is an indispensable part of my life. I want to share my passion for tennis and the strategies and techniques I've learned.
By Xinmin Han
Edited by Patricia Pieterse
Photos courtesy of Luxizi Meng
Sources
2/ https://www.xjtlu.edu.cn/en/news/2023/03/luxizi-meng-tennis-is-an-indispensable-part-of-my-life
The mention sources can contact us to remove/changing this article
What Are The Main Benefits Of Comparing Car Insurance Quotes Online
LOS ANGELES, CA / ACCESSWIRE / June 24, 2020, / Compare-autoinsurance.Org has launched a new blog post that presents the main benefits of comparing multiple car insurance quotes. For more info and free online quotes, please visit https://compare-autoinsurance.Org/the-advantages-of-comparing-prices-with-car-insurance-quotes-online/ The modern society has numerous technological advantages. One important advantage is the speed at which information is sent and received. With the help of the internet, the shopping habits of many persons have drastically changed. The car insurance industry hasn't remained untouched by these changes. On the internet, drivers can compare insurance prices and find out which sellers have the best offers. View photos The advantages of comparing online car insurance quotes are the following: Online quotes can be obtained from anywhere and at any time. Unlike physical insurance agencies, websites don't have a specific schedule and they are available at any time. Drivers that have busy working schedules, can compare quotes from anywhere and at any time, even at midnight. Multiple choices. Almost all insurance providers, no matter if they are well-known brands or just local insurers, have an online presence. Online quotes will allow policyholders the chance to discover multiple insurance companies and check their prices. Drivers are no longer required to get quotes from just a few known insurance companies. Also, local and regional insurers can provide lower insurance rates for the same services. Accurate insurance estimates. Online quotes can only be accurate if the customers provide accurate and real info about their car models and driving history. Lying about past driving incidents can make the price estimates to be lower, but when dealing with an insurance company lying to them is useless. Usually, insurance companies will do research about a potential customer before granting him coverage. Online quotes can be sorted easily. Although drivers are recommended to not choose a policy just based on its price, drivers can easily sort quotes by insurance price. Using brokerage websites will allow drivers to get quotes from multiple insurers, thus making the comparison faster and easier. For additional info, money-saving tips, and free car insurance quotes, visit https://compare-autoinsurance.Org/ Compare-autoinsurance.Org is an online provider of life, home, health, and auto insurance quotes. This website is unique because it does not simply stick to one kind of insurance provider, but brings the clients the best deals from many different online insurance carriers. In this way, clients have access to offers from multiple carriers all in one place: this website. On this site, customers have access to quotes for insurance plans from various agencies, such as local or nationwide agencies, brand names insurance companies, etc. "Online quotes can easily help drivers obtain better car insurance deals. All they have to do is to complete an online form with accurate and real info, then compare prices", said Russell Rabichev, Marketing Director of Internet Marketing Company. CONTACT: Company Name: Internet Marketing CompanyPerson for contact Name: Gurgu CPhone Number: (818) 359-3898Email: [email protected]: https://compare-autoinsurance.Org/ SOURCE: Compare-autoinsurance.Org View source version on accesswire.Com:https://www.Accesswire.Com/595055/What-Are-The-Main-Benefits-Of-Comparing-Car-Insurance-Quotes-Online View photos
to request, modification Contact us at Here or [email protected]