I will ask Modi sahab to allow cricket to take place between the two countries': Shahid Afridi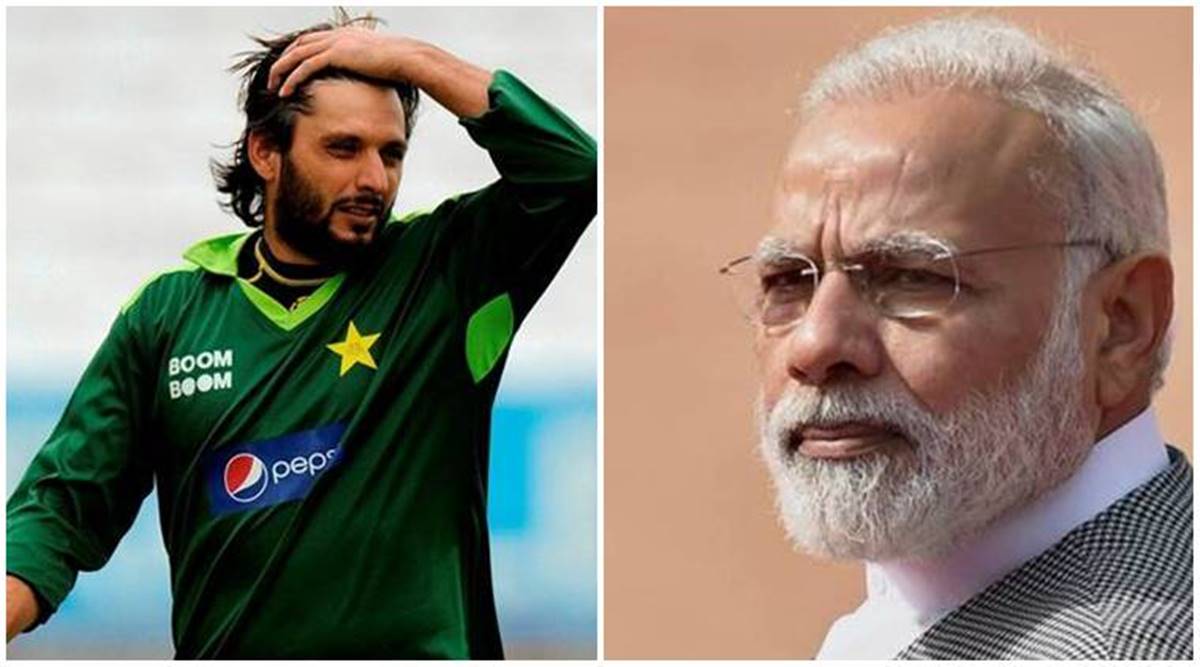 Former Pakistan captain Shahid Afridi has said that the Indian cricket board should show more responsibility as it is a very strong board and should strive to normalize the relationship between the two cricketing nations. He said he will ask Indian Prime Minister Narendra Modi to "make cricket happen".
"I will ask Modi sahab to allow cricket between the two countries," Afridi said on the sidelines of the Legends League Cricket (LLC) in Doha.
What can we do if we want to befriend someone and he won't talk to us? There is no doubt that the BCCI is a very strong board, but when you are strong you have more responsibility. You're not trying to make more enemies, you have to make friends. When you make more friends, you become stronger, Afridi said.
When asked if he believes that the PCB (the Pakistan Cricket Board) is weak, Afridi said, I wouldn't say weak, but some answers also came from the front (BCCI).
Afridi felt that cricket is the best diplomacy and that both teams should reinforce each other. He still has cordial relations with the Indian players. Recently former India player Suresh Raina batted me.
Afridi believed that cricket is the best diplomacy. (File)
I still have friends in the Indian team when we meet, we discuss, recently I met Raina and I asked for a bat, he gave me a bat, he says.
In a long interaction, Afridi kept pushing to spread the love. He recalled that during the 2005 series when Indian cricketers went out, no one took money from them.
The legendary great all-rounder said Pakistan has no concerns about safety as many international teams have toured safely in recent times.
Regarding the security issues in Pakistan, we have had a lot of international teams visiting lately. We also used to face security threats from India, but if there is permission from the government of both countries, the tour will go ahead. If the tour doesn't go ahead, we'll give those people a chance. All they want is for there to be no cricket between them, Afridi said.
India's Hardik Pandya, second from left, hugs Pakistan's Shadab Khan after India won the Asia Cup T20 cricket match. (AP photo)
Bilateral cricket ties between the two nations have not resumed after the 2008 Mumbai terrorist attack; the teams have since only met in a multinational tournament. Afridi said both boards should have regular discussions.
Last year, BCCI Secretary Jay Shah, who is also the chief of the Asian Cricket Council, had made public that the Indian team will not travel to Pakistan to play in the Asia Cup and the tournament will be held at a neutral venue. PCB objected to this, stating that ACC had not even informed them of the tournament's departure from their home and that the decision was made without consulting them. Since then, PCB has threatened to pull out of the 50 overs World Cup scheduled in India if the Asia Cup is played in another part of the cricketing world.
The reiteration that India is reluctant to travel to Pakistan was made at the board meeting of the Asian Cricket Council (ACC). (File)
The real thing is we never consult each other. Communication is most important. Politicians do the same, they argue. Nothing will be resolved until you sit together. It would have been better if India had come to Pakistan. We and our governments want better relations with each other, Afridi said.
PCB chairman Najam Sethi said on Saturday that the support of other members of the Asian Cricket Council (ACC) will be important in organizing the Asian Cup, but admitted that India, which wants the tournament to be held elsewhere, has a big affects the mainland. body.
It is important to see how other members (of ACC) view our position on the Asia Cup. What they think is important, but ultimately we have to realize how much influence the BCCI with its financial power has in world cricket, Sethi said at a press conference ahead of his departure to Dubai to attend ACC and ICC meetings.
I have been in contact with senior members of ACC. I have informed them of our problems and we will try to find honorable solutions to the problems, he added.
Sethi said that in addition to seeking legal advice, he had held informal consultations with the State Department and government officials on the matter.
I have held informal consultations and also taken the view of the government and this time we have also taken all the legal advice on what position to take in these meetings, Sethi said.
Sources
2/ https://indianexpress.com/article/sports/cricket/request-narendra-modi-to-let-india-vs-pakistan-cricket-happen-shahid-afridi-8508799/
The mention sources can contact us to remove/changing this article
What Are The Main Benefits Of Comparing Car Insurance Quotes Online
LOS ANGELES, CA / ACCESSWIRE / June 24, 2020, / Compare-autoinsurance.Org has launched a new blog post that presents the main benefits of comparing multiple car insurance quotes. For more info and free online quotes, please visit https://compare-autoinsurance.Org/the-advantages-of-comparing-prices-with-car-insurance-quotes-online/ The modern society has numerous technological advantages. One important advantage is the speed at which information is sent and received. With the help of the internet, the shopping habits of many persons have drastically changed. The car insurance industry hasn't remained untouched by these changes. On the internet, drivers can compare insurance prices and find out which sellers have the best offers. View photos The advantages of comparing online car insurance quotes are the following: Online quotes can be obtained from anywhere and at any time. Unlike physical insurance agencies, websites don't have a specific schedule and they are available at any time. Drivers that have busy working schedules, can compare quotes from anywhere and at any time, even at midnight. Multiple choices. Almost all insurance providers, no matter if they are well-known brands or just local insurers, have an online presence. Online quotes will allow policyholders the chance to discover multiple insurance companies and check their prices. Drivers are no longer required to get quotes from just a few known insurance companies. Also, local and regional insurers can provide lower insurance rates for the same services. Accurate insurance estimates. Online quotes can only be accurate if the customers provide accurate and real info about their car models and driving history. Lying about past driving incidents can make the price estimates to be lower, but when dealing with an insurance company lying to them is useless. Usually, insurance companies will do research about a potential customer before granting him coverage. Online quotes can be sorted easily. Although drivers are recommended to not choose a policy just based on its price, drivers can easily sort quotes by insurance price. Using brokerage websites will allow drivers to get quotes from multiple insurers, thus making the comparison faster and easier. For additional info, money-saving tips, and free car insurance quotes, visit https://compare-autoinsurance.Org/ Compare-autoinsurance.Org is an online provider of life, home, health, and auto insurance quotes. This website is unique because it does not simply stick to one kind of insurance provider, but brings the clients the best deals from many different online insurance carriers. In this way, clients have access to offers from multiple carriers all in one place: this website. On this site, customers have access to quotes for insurance plans from various agencies, such as local or nationwide agencies, brand names insurance companies, etc. "Online quotes can easily help drivers obtain better car insurance deals. All they have to do is to complete an online form with accurate and real info, then compare prices", said Russell Rabichev, Marketing Director of Internet Marketing Company. CONTACT: Company Name: Internet Marketing CompanyPerson for contact Name: Gurgu CPhone Number: (818) 359-3898Email: [email protected]: https://compare-autoinsurance.Org/ SOURCE: Compare-autoinsurance.Org View source version on accesswire.Com:https://www.Accesswire.Com/595055/What-Are-The-Main-Benefits-Of-Comparing-Car-Insurance-Quotes-Online View photos
to request, modification Contact us at Here or [email protected]