Women's Professional Hockey: Could It Work in Vancouver?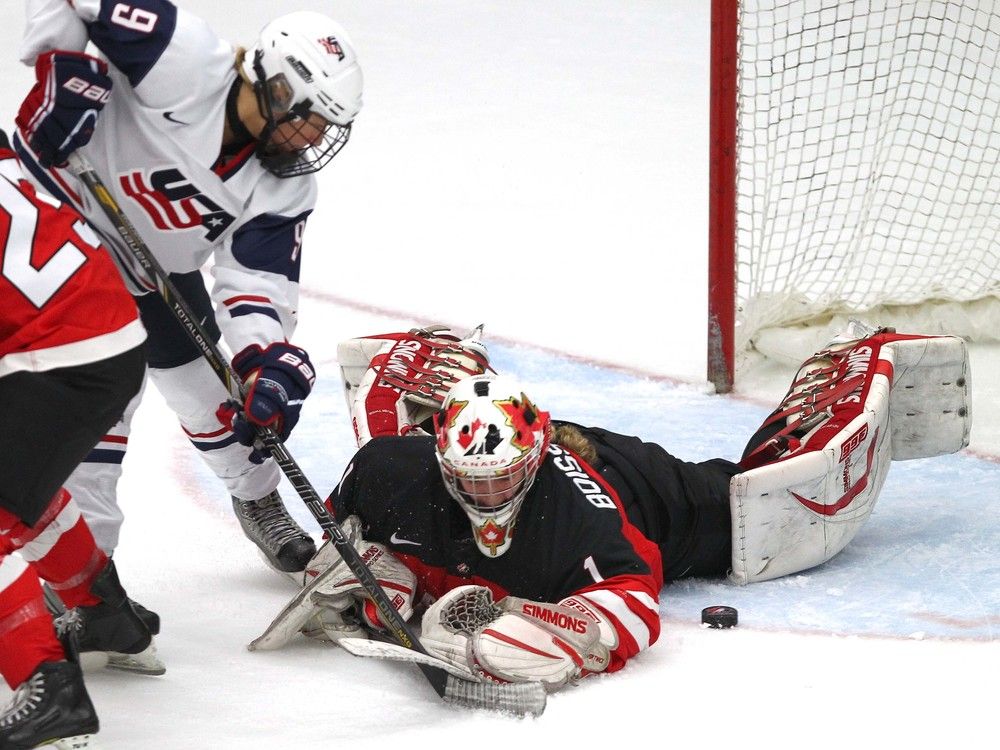 Aside from the question of who could be a local investor, there's the question of "which league should I join?"
Article content
There is little doubt about the will to make women's professional hockey work in North America.
Article content
But how much of that will is there in Vancouver?
Article content
Vancouver has a strong history of supporting women in sports. And 20 years ago there were efforts to bring pro women's hockey to Vancouver, with a team first called the Griffins, which retired in 2003, and then a second team called the Breakers.
What was once called the Western Women's Hockey League was even headquartered in the Lower Mainland at one point.
But as women's professional hockey has evolved into its current form with a seven-team circuit called the Premier Hockey Federation (PHF) based in Eastern North America and a rival group, centralized around the Professional Women's Hockey Players Association (PWHPA) , Vancouver is rarely, if ever, in the discussion anymore.
Article content
And as you talk to people about the women's game, geography is an issue, but even bigger than this, an obvious question arises: Who would be the champion for such a team in Vancouver? Minor league sports need owners who are willing to put their money into a venture, not because they really think they'll make a return, but simply because they believe in the project.
The Griffins were owned by Diane Nelson, a West Vancouver school principal.
The Breakers were financed by a pair of local businessmen, Gary Berman and Len Edmondson. Neither seems to be involved in hockey anymore.
Nelson told Postmedia in 2020 that she believes the ground is now more fertile for professional women's sports.
While I don't feel for a minute that the road would be without challenges today, I do know that I do feel that I may have had a little more success thanks to all the great collective work that has been done since 2003 when I couldn't fight the no longer struggle alone, she said.
Article content
The concept is there; a new owner can come from anywhere.
But there is no clear face at the moment.
It would be someone to build the moment, to create that buzz, an experienced Vancouver sports watcher told Postmedia. That was part of the 2030 Olympics challenge and unlike the 2010 bid, when you had Gordon Campbell or originally Glen Clark.
For a women's hockey team, I don't know who that would be.
Aside from the question of who could be a local investor, there is the question of which league should you join?
Spencer Gillis is a player agent for a number of players in the PHF and he is skeptical whether either league would look to Vancouver for expansion.
In my opinion, it's just too expensive, with the trip, he told Postmedia.
Article content
The PHF has seven teams, but they're all pretty close together.PWHPA, it looks like it might be a bit more widespread.
The PWHPA is expected to launch a six-team circuit next fall funded by Billie Jean King Enterprises and Los Angeles Dodgers owners Stan Kasten and Mark Walter.
It is expected that one of the teams will be in Los Angeles. Sportsnets Jeff Marek suggested earlier this year that the league would have four American teams and two Canadian teams.
If you have a team in LA, it would make sense to have a team from Western Canada, Gillis said.
But then you fly commercially, so those are high costs. I don't know how it will go. you could go to Calgary instead of Vancouver because of the Olympic hub there.
The PHF is the successor to the US-based National Women's Hockey League, while the PWHPA has an affiliation with the defunct Canadian Women's Hockey League (CWHL), which collapsed in 2019 after 12 years of play.
Article content
The CWHL never paid proper salaries, only bonuses. The NWHL, which now has teams in Montreal and Toronto as well as five U.S. teams, pays salaries, but PWHPA supporters argue their model is far from comprehensive or sustainable.
You have to play at the highest level. The expectation is that there is no weakness. It must be around the clock, explained Marlne Boissonnault, a 25-year-old goaltender from New Brunswick who has signed up with the PWHPA.
Boissonault was speaking ahead of the PWHPA-sponsored Scotiabank Girls HockeyFest, which took place in Burnaby earlier this month.
The people involved are so involved and united for that one cause. Everyone is very invested, she said.
This is about having insurance. Having consistent access to a locker room, to a training facility. We don't go small. You have to walk the conversation. You can't just throw away the word professional, there has to be infrastructure.
Article content
There are plenty of examples of how successful women's professional sports can be.
Last year, 91,000 fans watched as Spanish giant Barcelona challenged German powerhouse Wolfsburg in a Champions League women's football match. Italy's female teams draw regularly almost 40,000 fans to games.
All sports have the same values. We all want the same thing that we all want organized, Boissonault said.
Fans will come if women's pro hockey is done correctly, that's for sure. And when that happens, Boissonault knows there will be nothing but positive feedback.
When I first started I never had access to watch other girls play. There was only one other girl on my team, she remembered.
I want to give that visibility to the younger athlete, about fun and diversity.
Article content
Laura Misener and Erin Pearson: Hockey Canada needs to stop treating women and para hockey as an afterthought

New UBC research proposes to standardize concussions
---
Spring subscription sales: Our in-depth journalism is possible thanks to the support of our subscribers. For a limited time, you can get full online access to the Vancouver Sun and The Province, along with the National Post and 13 other Canadian news sites, for just $40 for a year or $1 a week for 52 weeks. Support our journalism by subscribing today: The Vancouver sun.
Sources
2/ https://theprovince.com/sports/hockey/professional-womens-hockey-could-it-work-in-vancouver
The mention sources can contact us to remove/changing this article
What Are The Main Benefits Of Comparing Car Insurance Quotes Online
LOS ANGELES, CA / ACCESSWIRE / June 24, 2020, / Compare-autoinsurance.Org has launched a new blog post that presents the main benefits of comparing multiple car insurance quotes. For more info and free online quotes, please visit https://compare-autoinsurance.Org/the-advantages-of-comparing-prices-with-car-insurance-quotes-online/ The modern society has numerous technological advantages. One important advantage is the speed at which information is sent and received. With the help of the internet, the shopping habits of many persons have drastically changed. The car insurance industry hasn't remained untouched by these changes. On the internet, drivers can compare insurance prices and find out which sellers have the best offers. View photos The advantages of comparing online car insurance quotes are the following: Online quotes can be obtained from anywhere and at any time. Unlike physical insurance agencies, websites don't have a specific schedule and they are available at any time. Drivers that have busy working schedules, can compare quotes from anywhere and at any time, even at midnight. Multiple choices. Almost all insurance providers, no matter if they are well-known brands or just local insurers, have an online presence. Online quotes will allow policyholders the chance to discover multiple insurance companies and check their prices. Drivers are no longer required to get quotes from just a few known insurance companies. Also, local and regional insurers can provide lower insurance rates for the same services. Accurate insurance estimates. Online quotes can only be accurate if the customers provide accurate and real info about their car models and driving history. Lying about past driving incidents can make the price estimates to be lower, but when dealing with an insurance company lying to them is useless. Usually, insurance companies will do research about a potential customer before granting him coverage. Online quotes can be sorted easily. Although drivers are recommended to not choose a policy just based on its price, drivers can easily sort quotes by insurance price. Using brokerage websites will allow drivers to get quotes from multiple insurers, thus making the comparison faster and easier. For additional info, money-saving tips, and free car insurance quotes, visit https://compare-autoinsurance.Org/ Compare-autoinsurance.Org is an online provider of life, home, health, and auto insurance quotes. This website is unique because it does not simply stick to one kind of insurance provider, but brings the clients the best deals from many different online insurance carriers. In this way, clients have access to offers from multiple carriers all in one place: this website. On this site, customers have access to quotes for insurance plans from various agencies, such as local or nationwide agencies, brand names insurance companies, etc. "Online quotes can easily help drivers obtain better car insurance deals. All they have to do is to complete an online form with accurate and real info, then compare prices", said Russell Rabichev, Marketing Director of Internet Marketing Company. CONTACT: Company Name: Internet Marketing CompanyPerson for contact Name: Gurgu CPhone Number: (818) 359-3898Email: [email protected]: https://compare-autoinsurance.Org/ SOURCE: Compare-autoinsurance.Org View source version on accesswire.Com:https://www.Accesswire.Com/595055/What-Are-The-Main-Benefits-Of-Comparing-Car-Insurance-Quotes-Online View photos
to request, modification Contact us at Here or [email protected]