Sid Hartman, former Minnesota sports columnist, dies at the age of 100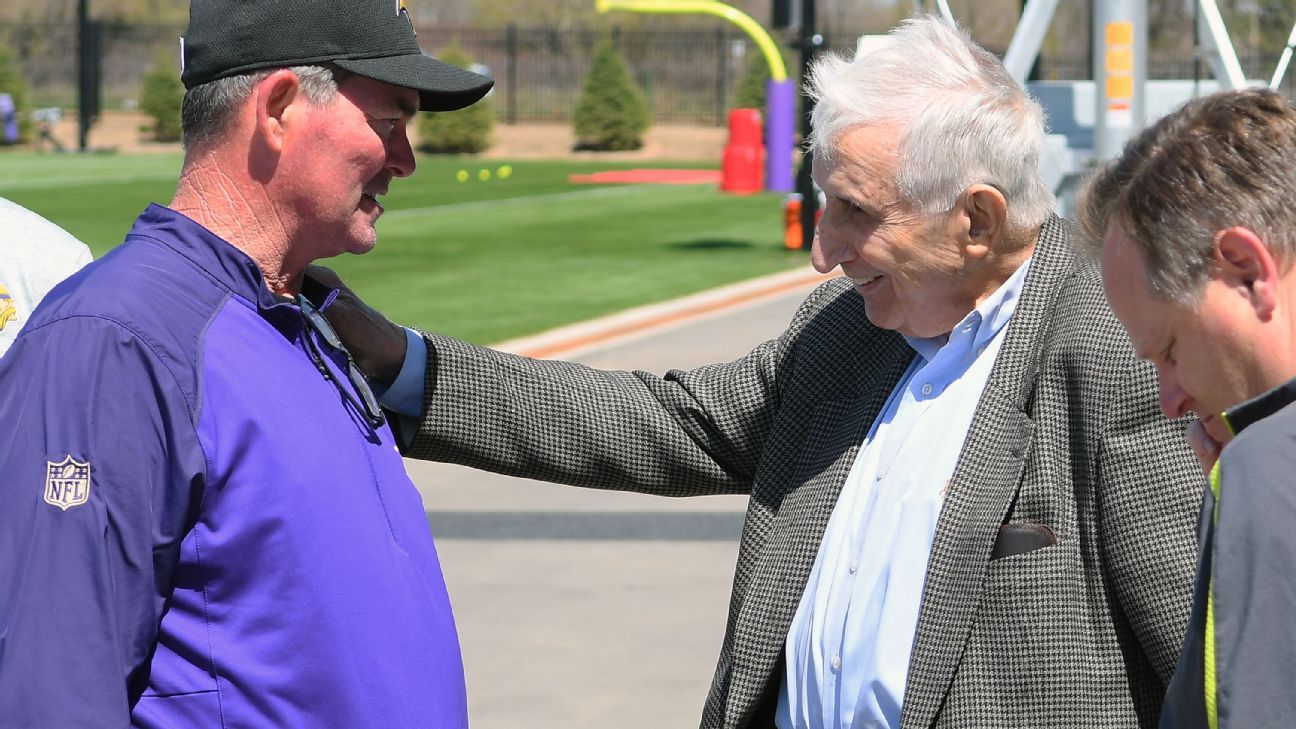 MINNEAPOLIS – Minnesota sports columnist and radio personality Sid Hartman, an old-school home team booster who once led the NBA's Minneapolis Lakers and achieved nearly as much fame as some of the athletes he covered, died Sunday. He was 100.
Hartman, whose first newspaper column was published in 1945, died surrounded by his family, Star Tribune sports editor Chris Carr said.
"It's a sad day," Carr told The Associated Press. "He's the Star Tribune in many ways, at least in the sports department. It speaks to his amazing life that he dies even at 100 and a half years old and we still can't believe it."
He kept his pace even after his 100th birthday party was canceled on March 15 due to the coronavirus pandemic. Hartman continued to write three columns a week for the Star Tribune at its centenary, four during the football season, and co-hosted a Sunday morning radio show on WCCO-AM in Minneapolis.
"I've taken the advice that if you love what you do, you never work a day of your life," Hartman wrote in his column on his 100th birthday. Even at 100 I can say that I still love what I do. . "
"Our hearts are broken with the news of Sid Hartman's death. It's nearly impossible to put into words what Sid meant to the sports world and Minnesota," the Minnesota Vikings said in a statement. He was an iconic sports figure, tenacious reporter and tireless advocate for his beloved state. His tenacity and work ethic were unmatched, but it was Sid's ability to nurture relationships that really set him apart. He was a confidant and a loyal friend. countless athletes and coaches across the country. "
Viking receiver Adam Thielen called Hartman a "Minnesota icon."
"I heard a story from him the other day, and he was clearly a big part of this organization and was always around, so we mourn during this time," said Thielen.
Hartman grew up poor on the rugged north side of Minneapolis, the son of a Russian immigrant father and Latvian mother who started selling newspapers on downtown street corners at the age of 9. He dropped out of high school in 10th grade on a news broadcast, picked up papers and left them in dropboxes.
In 1944, the circulation manager recommended Hartman for an internship at the sports desk of the old Minneapolis Times. A year later, he was in print with an overview of news and notes, a style he continued throughout his career. Hartman always called himself a reporter, not a writer. After the Times closed in 1948, Hartman joined the Minneapolis Tribune for his beloved University of Minnesota.
Former Vikings coach Bud Grant remembers attending college after World War II and meeting Hartman on Hartman's first day as a beatwriter. Grant and his wife became friends with Hartman, and when Grant announced his first retirement as a Viking coach in 1984, he only shared the scoop with Hartman.
"They said 'off the record,' and to Sid that was off the record. He's never broken a trust, with anyone I've ever known," Grant once said.
Hartman was a non-apologetic throwback to the days when the wall between sports writers and the teams and players they covered wasn't so defined. Colleagues referred to "Sid's Rules," which applied to Hartman and no one else. "It was kind of the Wild West, and Sid was the best gunfighter," said Dave Mona, Hartman's Sports Huddle co-host since the WCCO-AM radio program debuted in 1981.
The favorable coverage he provided to local sports teams gave Hartman unparalleled behind-the-scenes access to players, coaches and executives. He was given a free hand to roam where he wanted, when he wanted.
Hartman was instrumental in luring professional teams to Minnesota. In his autobiography 'Sid!' (Written in conjunction with fellow Star Tribune sports columnist Patrick Reusse), Hartman wrote that in 1947 he offered $ 15,000 to the owner of the National Basketball League's Detroit Gems for the franchise and then went to Detroit. to deliver the check. The team became the Minneapolis Lakers and Hartman was the de facto general manager. Led by great man George Mikan, the Lakers won the NBL Championship in their first season and five NBA championships. Hartman left the Lakers operation in 1957, and the team moved to Los Angeles in 1960.
He did all of this while continuing his newspaper work, an obvious conflict of interest by today's standards, but an accepted practice at the time.
Still, he always tried to outsmart other reporters for firsts. He was a familiar face at most games and news conferences, with a large, clunky, outdated tape recorder and a thick black book full of phone numbers. From George Steinbrenner to Bob Knight to Pete Carroll, Hartman's rolodex has long been a who's who of the sports world.
Hartman's signature gruff, slurred speech and malaprops made him a favorite of listeners, media colleagues, and the players and coaches he treated to impersonate. On the radio, Hartman sometimes hung up or punished callers – "geniuses," as Hartman called them – who expressed opinions that he disagreed with. Despite his reputation as a curmudgeon, Hartman was routinely approached by fans for autographs and always obliged them.
In 2010, on the occasion of his 90th birthday, a statute was unveiled on a corner outside Target Center, the home of the NBA's Minnesota Timberwolves, showing Hartman holding a radio microphone, oversized tape recorder and a Star Tribune underneath. holds his arm.
"RIP to the legend @SidHartman," tweeted Timberwolves center Karl-Anthony Towns.
RIP to the legend @SidHartman.

Karl-Anthony Towns (@KarlTowns) October 18, 2020
"Part of my job was to take him to the 80s. Sometimes it came quite easily and sometimes it didn't," said former Star Tribune editor Tim McGuire. "He was always too much of a booster, and he loved his Gophers. But he was always a journalist."
Hartman was also a frequent critic of women's athletics, which he thought cut spending on men's sports at the University of Minnesota. "It's archaic," former Star Tribune sports editor Glen Crevier said of Hartman's stance in 2009, "but at least he's not writing negatively about it anymore. He's just avoiding them."
Hartman's son, Chad, followed his father into sports coverage as a play-by-play announcer for the Timberwolves and a local talk show host.
When his column was published for its 100th birthday, the Star Tribune put its career byline at 21,149.
The Associated Press contributed to this report.
What Are The Main Benefits Of Comparing Car Insurance Quotes Online
LOS ANGELES, CA / ACCESSWIRE / June 24, 2020, / Compare-autoinsurance.Org has launched a new blog post that presents the main benefits of comparing multiple car insurance quotes. For more info and free online quotes, please visit https://compare-autoinsurance.Org/the-advantages-of-comparing-prices-with-car-insurance-quotes-online/ The modern society has numerous technological advantages. One important advantage is the speed at which information is sent and received. With the help of the internet, the shopping habits of many persons have drastically changed. The car insurance industry hasn't remained untouched by these changes. On the internet, drivers can compare insurance prices and find out which sellers have the best offers. View photos The advantages of comparing online car insurance quotes are the following: Online quotes can be obtained from anywhere and at any time. Unlike physical insurance agencies, websites don't have a specific schedule and they are available at any time. Drivers that have busy working schedules, can compare quotes from anywhere and at any time, even at midnight. Multiple choices. Almost all insurance providers, no matter if they are well-known brands or just local insurers, have an online presence. Online quotes will allow policyholders the chance to discover multiple insurance companies and check their prices. Drivers are no longer required to get quotes from just a few known insurance companies. Also, local and regional insurers can provide lower insurance rates for the same services. Accurate insurance estimates. Online quotes can only be accurate if the customers provide accurate and real info about their car models and driving history. Lying about past driving incidents can make the price estimates to be lower, but when dealing with an insurance company lying to them is useless. Usually, insurance companies will do research about a potential customer before granting him coverage. Online quotes can be sorted easily. Although drivers are recommended to not choose a policy just based on its price, drivers can easily sort quotes by insurance price. Using brokerage websites will allow drivers to get quotes from multiple insurers, thus making the comparison faster and easier. For additional info, money-saving tips, and free car insurance quotes, visit https://compare-autoinsurance.Org/ Compare-autoinsurance.Org is an online provider of life, home, health, and auto insurance quotes. This website is unique because it does not simply stick to one kind of insurance provider, but brings the clients the best deals from many different online insurance carriers. In this way, clients have access to offers from multiple carriers all in one place: this website. On this site, customers have access to quotes for insurance plans from various agencies, such as local or nationwide agencies, brand names insurance companies, etc. "Online quotes can easily help drivers obtain better car insurance deals. All they have to do is to complete an online form with accurate and real info, then compare prices", said Russell Rabichev, Marketing Director of Internet Marketing Company. CONTACT: Company Name: Internet Marketing CompanyPerson for contact Name: Gurgu CPhone Number: (818) 359-3898Email: [email protected]: https://compare-autoinsurance.Org/ SOURCE: Compare-autoinsurance.Org View source version on accesswire.Com:https://www.Accesswire.Com/595055/What-Are-The-Main-Benefits-Of-Comparing-Car-Insurance-Quotes-Online View photos
picture credit
to request, modification Contact us at Here or [email protected]