Liam Cook: The Englishman who coaches the Brazilian women's cricket team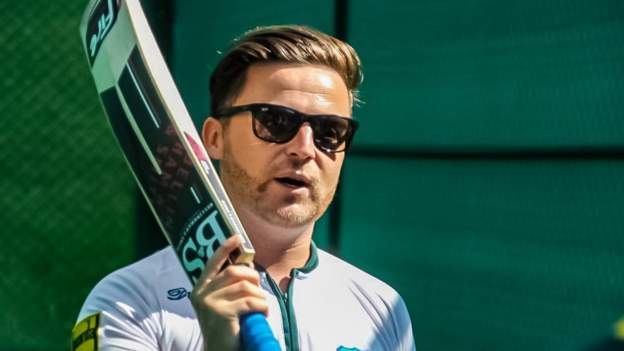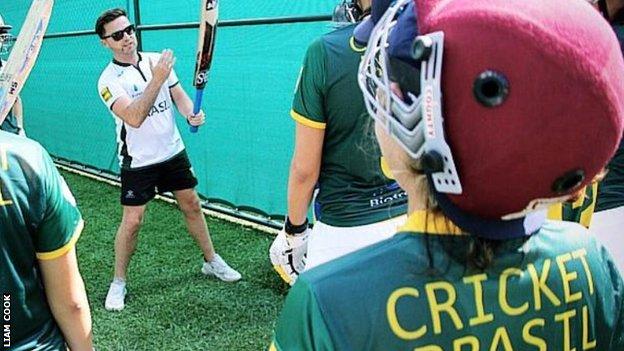 Liam Cook had only been in Brazil for a few hours when he realized that interest in cricket may have been greater than he first thought.
"I was in a coffee shop and I saw a Somerset cricket shirt come over the road," he says. "I thought, 'There can't be a Somerset shirt in Pocos de Caldas.'
The man nodded at me. He had 'C Overton' on the back of his shirt. I thought, 'Please, I have arrived from Devon and there is a Devon boy's name on the back of a cricket shirt. In Brazil . '"
Working with the Brazilian women's team would not have been high on the list of likely results when Cook, a club cricket player, quit his job at an energy company at the age of 26 in an attempt to pursue a career as a coach.
The opportunity came from a street cricket tournament in London during the 2019 World Cup for men. It's what brought Cook, now 32 with experience setting up his own coaching business and working with the women's organization in Kent, to Brazil for the first time in February.
His maiden voyage was cut short by the coronavirus pandemic, but he returned at the end of the British summer. While the rough idea is to split the time evenly between his business at home and Brazil, plans to leave have been delayed.
Cook's only prior knowledge of Brazilian cricket was meeting Roberta Moretti Avery, the women's captain, who requested coaching sessions while on holiday in the UK.
"I knew Roberta was a good player, but I had no idea what the others would be like," said Cook. "When I saw them play I was very surprised. They were very raw. Their bowling moves were different and they all knew how to hit a ball from afar.
"They didn't look perfect, but the game is moving from what looks good to what is effective."
Brazil's women are 27th in the world rankings – except for the West Indies, they are America's highest-placed team.
In January 2019 there were 14 players given central contracts by Cricket Brazil. They train in Pocos de Caldas, a small town 250 km north of Sao Paulo, where the mayor likes to invest in cricket and boasts that it has more players than football.
Some players are recruited for their excellence in other sports. Others have been introduced to the game through projects in schools and community centers. It's not all about the elite level either, with kids from all backgrounds being encouraged to play.
"Kids who may be doing things they shouldn't continue to play cricket after school," Cook said. "The more they get in there, the more chances they get to play, the less likely they are to go the wrong way.
"One of the boys, Derek, aged about 16 or 17, comes from a difficult background. His parents have been in and out of prison and he tries to avoid school as much as possible.
The only time he wants to go to school is if he knows he has cricket in the afternoon. He came to a game last weekend. In those three hours, he had something that really mattered to him. '
As for the Brazilian national side, they are working towards the US leg of qualifying for the 2022 Women's T20 World Cup.
They were helped by South African legend Jonty Rhodes, who has been appointed coach of the Swedish men's team.
"He followed us on social media and commented on a number of posts," Cook explains.
"I messaged him saying I had told the girls how important it is to be the best fielders we can be. I asked if there was a chance we could make a Zoom call to talk about his experiences and his values ​​as a field player.
He talked about playing for South Africa after their exclusion from apartheid – how they had nothing in front of them, because no one on that team had done it before. They were able to do it their own way, with their own values, to be the best and fittest they could be.
"He told Brazil. We're going to T20 qualifiers next year and no one on our team will have done that before, so let's do it our way and create our own culture."
While Cook negotiates the barriers of coaching in Portuguese with the help of some translations from fellow coaches and players who can speak English, there is also the adjustment to life in Brazil. Pocos de Caldas doesn't attract many foreign tourists, so Cook may attract curiosity among the locals.
"I was eating in a restaurant and someone overheard me speaking English," he says. "He asked if I was playing football and invited me to a five-on-five with his friends. I was hit left, right and in the middle – the football can be quite crowded.
"Then it's a social occasion – they have beer and a barbecue. They asked about cricket. They had no idea, but they knew what it was. Then when they tell people about it, the game gets spread.
"In Pocos, people are genuinely proud that the cricket center is in town. They say things like, 'When we qualify for the World Cup, everyone knows about Pocos.'
"Locals see the good that is happening. Walking through the city center you are guaranteed to run into a child with a Warwickshire top or an Essex top as the Lord's Taverners sent a sea container full of equipment. "
Cook admits that the impression he had of Brazil – the sun, the beaches, and parties – softened the deal when he decided to take the plunge into the unknown cricket.
Now the dream of the carnival lifestyle has been overtaken by the desire to leave Brazil's mark on the global cricket landscape.
"The real life of the dream will be going to the T20 World Cup qualifiers next year, wearing our kit and putting everything we've worked on into action," said Cook. "Hopefully we'll surprise a few people."
Brazil is the current South American champion and has won a tournament in 2019 with Argentina, Chile, Peru and Mexico.
To make progress they will have to overcome the power of the US, but all nations on the fringes of the women's elite have drawn inspiration from Thailand, who came together with the best at this year's T20 World Cup.
"The players from England and Australia are so well known here," said Cook. "The dream for our players would be to take to the field with Heather Knight or Meg Lanning.
"I want to help them achieve that. If we make that our goal, that's a good place to start."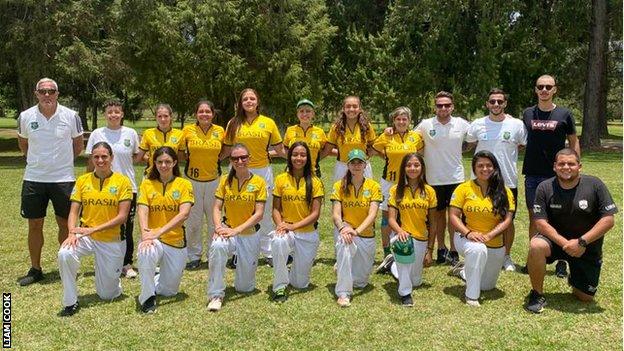 What Are The Main Benefits Of Comparing Car Insurance Quotes Online
LOS ANGELES, CA / ACCESSWIRE / June 24, 2020, / Compare-autoinsurance.Org has launched a new blog post that presents the main benefits of comparing multiple car insurance quotes. For more info and free online quotes, please visit https://compare-autoinsurance.Org/the-advantages-of-comparing-prices-with-car-insurance-quotes-online/ The modern society has numerous technological advantages. One important advantage is the speed at which information is sent and received. With the help of the internet, the shopping habits of many persons have drastically changed. The car insurance industry hasn't remained untouched by these changes. On the internet, drivers can compare insurance prices and find out which sellers have the best offers. View photos The advantages of comparing online car insurance quotes are the following: Online quotes can be obtained from anywhere and at any time. Unlike physical insurance agencies, websites don't have a specific schedule and they are available at any time. Drivers that have busy working schedules, can compare quotes from anywhere and at any time, even at midnight. Multiple choices. Almost all insurance providers, no matter if they are well-known brands or just local insurers, have an online presence. Online quotes will allow policyholders the chance to discover multiple insurance companies and check their prices. Drivers are no longer required to get quotes from just a few known insurance companies. Also, local and regional insurers can provide lower insurance rates for the same services. Accurate insurance estimates. Online quotes can only be accurate if the customers provide accurate and real info about their car models and driving history. Lying about past driving incidents can make the price estimates to be lower, but when dealing with an insurance company lying to them is useless. Usually, insurance companies will do research about a potential customer before granting him coverage. Online quotes can be sorted easily. Although drivers are recommended to not choose a policy just based on its price, drivers can easily sort quotes by insurance price. Using brokerage websites will allow drivers to get quotes from multiple insurers, thus making the comparison faster and easier. For additional info, money-saving tips, and free car insurance quotes, visit https://compare-autoinsurance.Org/ Compare-autoinsurance.Org is an online provider of life, home, health, and auto insurance quotes. This website is unique because it does not simply stick to one kind of insurance provider, but brings the clients the best deals from many different online insurance carriers. In this way, clients have access to offers from multiple carriers all in one place: this website. On this site, customers have access to quotes for insurance plans from various agencies, such as local or nationwide agencies, brand names insurance companies, etc. "Online quotes can easily help drivers obtain better car insurance deals. All they have to do is to complete an online form with accurate and real info, then compare prices", said Russell Rabichev, Marketing Director of Internet Marketing Company. CONTACT: Company Name: Internet Marketing CompanyPerson for contact Name: Gurgu CPhone Number: (818) 359-3898Email: [email protected]: https://compare-autoinsurance.Org/ SOURCE: Compare-autoinsurance.Org View source version on accesswire.Com:https://www.Accesswire.Com/595055/What-Are-The-Main-Benefits-Of-Comparing-Car-Insurance-Quotes-Online View photos
picture credit
to request, modification Contact us at Here or [email protected]