Texas-Kansas football postponed to December 12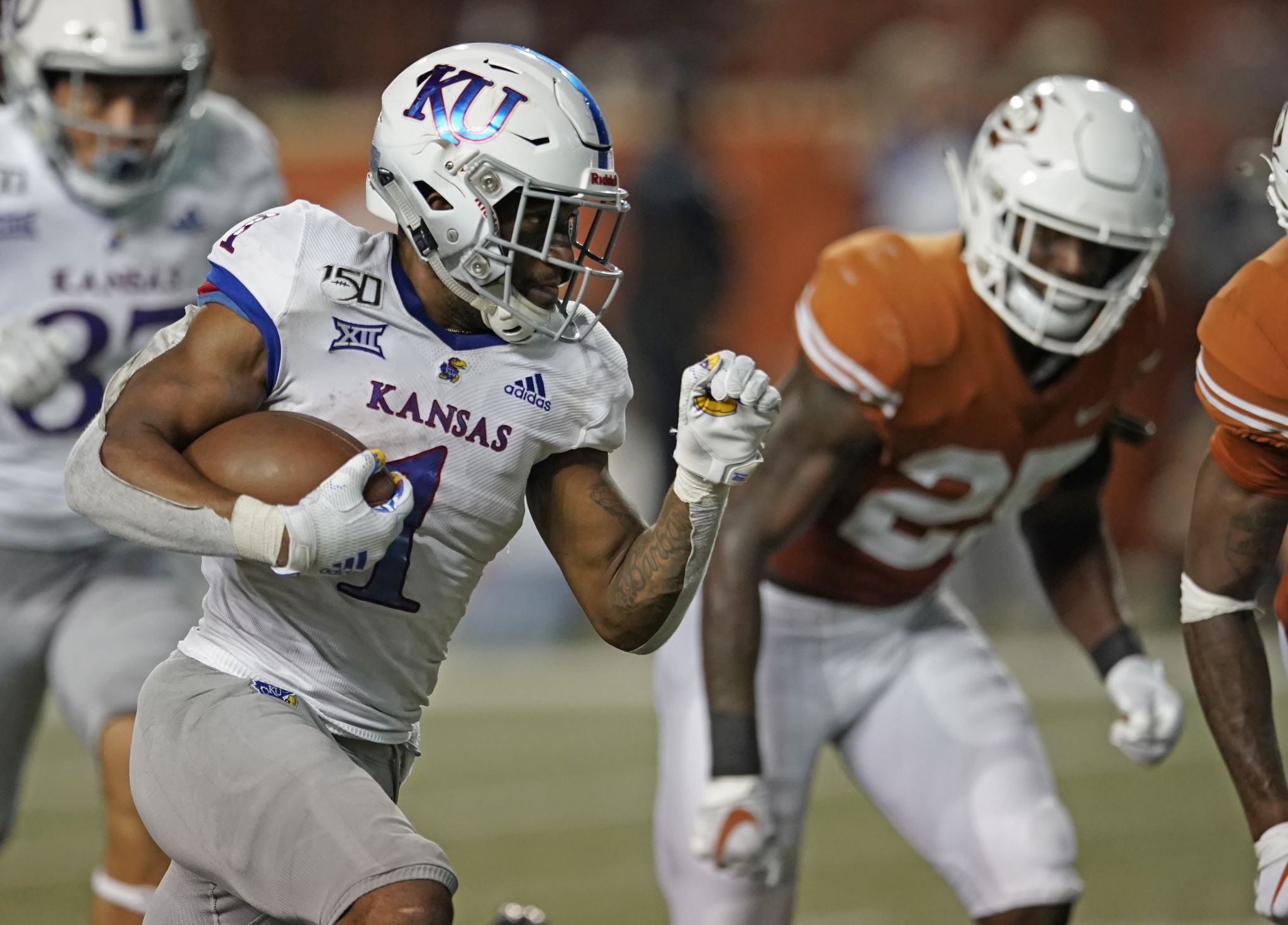 AUSTIN – Texas football game No. 22 in Kansas on Saturday has been postponed to December 12, the Big 12 announced.
It is the first game of the season to be affected by COVID-19 for Texas.
Big 12 officials were forced to postpone the game due to Kansas's inability to meet the minimum position requirements set by the conference. Ahead of the season, the Big 12 set the minimum number of players required to play a game at 53, with minimum thresholds for offensive linemen (seven), inner defensive linemen (four), and quarterback (one).
The affected Kansas position group has a combination of injuries and contact tracking, KU announced in a statement. As of Nov. 8, Jayhawks' football program has conducted 825 COVID-19 tests, five of which returned positive on various test days during that period.
With a second consecutive open week, albeit unexpectedly, the Longhorns (5-2, 4-2 Big 12) will now prepare to host No. 17 Iowa State (5-2, 5-1 Big 12) at 27 November.
Earlier this week, the Big 12 announced it would host its championship game on December 19 at AT&T Stadium. Texas will now have a road race with Kansas a week before that event.
So far this season, 81 games have been canceled or postponed, with 80 FBS teams affected. Five Big 12 teams have games canceled or postponed: Texas, Kansas, TCU, Baylor and Oklahoma State.
This delay completely changes what the latter part of the regular season will look like for Texas.
Rather than starting a game on the road against one of the worst Power Five teams in the country, the Longhorns will now spend this second week at leisure to prepare for a more engaging match against the Big 12 leading Cyclones .
If the pandemic permits, Texas will play its last two regular season games in Kansas. A December 5 game against Kansas State (4-3, 4-2) at Bill Snyder Family Stadium would lead to the scheduled final against the Jayhawks.
Of course, nothing is certain in 2020. And while Texas football has not reported positive or active cases of COVID-19 since June 18, when the athletics department announced that 23 players had to be quarantined or isolated after 13 positive COVID-19 tests, there is an increase in positive cases and hospital admissions across the country.
On Tuesday, the Texas Department of State Health Services (DSHS) reported 117 fatalities and 10,826 new cases, bringing the total fatalities to 19,696 and confirmed cases to 1,039,513. And the seven-day moving average of positive tests is up 12.1 percent after a drop of just 5.1 percent in September, according to statistics from Johns Hopkins University.
"I hate to even talk about it because I don't want to screw it up," Herman said in September of the team's luck in avoiding an outbreak. 'I don't know if anyone has a secret formula.
"But I think they (the players) are really, really bought. I think they understand that diligence is needed. I don't know if we're doing anything magical. I think part of it is we get our results out pretty early. I think that certainly helped. "
While the athletic program hasn't released any new numbers, the University of Texas at Austin's COVID-19 dashboard reports 1,362 cases since Aug. 26, the start of the fall semester. There are an estimated 130 active cases on Nov. 18, and the seven-day moving average reached 1.6 percent after dropping below 1.0 percent from Sept. 29 to Nov. 11.
"For the most part, our boys have remained diligent again, believing and understanding that they need to move forward this year to have a successful season," said Herman. "And so far they have, and it's up to us to make sure we continue with that level of commitment."
What Are The Main Benefits Of Comparing Car Insurance Quotes Online
LOS ANGELES, CA / ACCESSWIRE / June 24, 2020, / Compare-autoinsurance.Org has launched a new blog post that presents the main benefits of comparing multiple car insurance quotes. For more info and free online quotes, please visit https://compare-autoinsurance.Org/the-advantages-of-comparing-prices-with-car-insurance-quotes-online/ The modern society has numerous technological advantages. One important advantage is the speed at which information is sent and received. With the help of the internet, the shopping habits of many persons have drastically changed. The car insurance industry hasn't remained untouched by these changes. On the internet, drivers can compare insurance prices and find out which sellers have the best offers. View photos The advantages of comparing online car insurance quotes are the following: Online quotes can be obtained from anywhere and at any time. Unlike physical insurance agencies, websites don't have a specific schedule and they are available at any time. Drivers that have busy working schedules, can compare quotes from anywhere and at any time, even at midnight. Multiple choices. Almost all insurance providers, no matter if they are well-known brands or just local insurers, have an online presence. Online quotes will allow policyholders the chance to discover multiple insurance companies and check their prices. Drivers are no longer required to get quotes from just a few known insurance companies. Also, local and regional insurers can provide lower insurance rates for the same services. Accurate insurance estimates. Online quotes can only be accurate if the customers provide accurate and real info about their car models and driving history. Lying about past driving incidents can make the price estimates to be lower, but when dealing with an insurance company lying to them is useless. Usually, insurance companies will do research about a potential customer before granting him coverage. Online quotes can be sorted easily. Although drivers are recommended to not choose a policy just based on its price, drivers can easily sort quotes by insurance price. Using brokerage websites will allow drivers to get quotes from multiple insurers, thus making the comparison faster and easier. For additional info, money-saving tips, and free car insurance quotes, visit https://compare-autoinsurance.Org/ Compare-autoinsurance.Org is an online provider of life, home, health, and auto insurance quotes. This website is unique because it does not simply stick to one kind of insurance provider, but brings the clients the best deals from many different online insurance carriers. In this way, clients have access to offers from multiple carriers all in one place: this website. On this site, customers have access to quotes for insurance plans from various agencies, such as local or nationwide agencies, brand names insurance companies, etc. "Online quotes can easily help drivers obtain better car insurance deals. All they have to do is to complete an online form with accurate and real info, then compare prices", said Russell Rabichev, Marketing Director of Internet Marketing Company. CONTACT: Company Name: Internet Marketing CompanyPerson for contact Name: Gurgu CPhone Number: (818) 359-3898Email: [email protected]: https://compare-autoinsurance.Org/ SOURCE: Compare-autoinsurance.Org View source version on accesswire.Com:https://www.Accesswire.Com/595055/What-Are-The-Main-Benefits-Of-Comparing-Car-Insurance-Quotes-Online View photos
picture credit
to request, modification Contact us at Here or [email protected]