Rajasthan Cricketers To Train Out Of State In Case Of Delay In Government Approval: Gehlot | Cricket News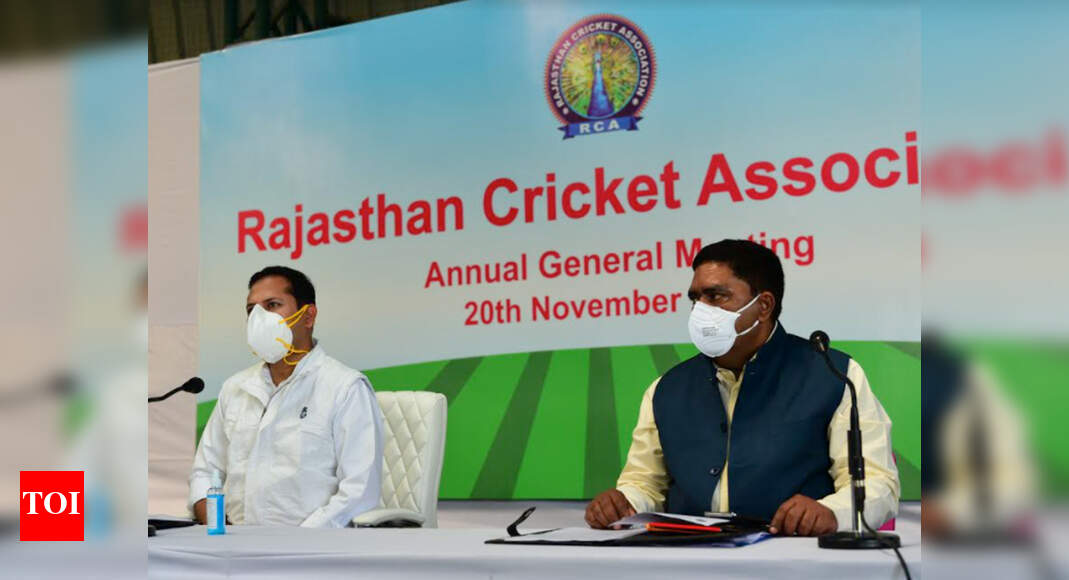 JAIPUR: With the Coronavirus confusing all cricket activity, President of the Board of Control for Cricket in India (BCCI) Sourav Ganguly announced last month his intention to provisionally host domestic tournaments starting January 1, 2021.
On that basis, Rajasthan Cricket Association (RCA) will send their cricketers to train outside the state in case there is a delay in getting approval from the health ministry to resume cricket. RCA chairman Vaibhav Gehlot announced this after the annual general meeting of the associations here on Friday.
"We wrote to the state government a few times along with copies of SOPs issued by BCCI to get approval to restart cricket, but have not yet received a response. A committee under the Department of Health is empowered to review the extent of the restrictions for a certain activity in the state, such as the closing of movie theaters. So it is not up to us to decide. I cannot give a provisional date for this. We hope the state government nods soon … In case the State government or health ministry will not give us permission (on time), we will organize practice sessions and training camps for our cricketers in other states where restrictions are lifted. We don't want them to be left behind because of a lack of match fitness, "Gehlot told reporters.
Interestingly, the state associations of Karnataka and Tamil Nadu have allowed cricketers to train in a bio-secured bubble, while Jharkhand, Andhra Pradesh, West Bengal and Madhya Pradesh also host 2020 tournaments in addition to the union territory of Pondicherry.
"We cannot compare two states as each state has a different topography, pollution level and weather conditions. Each state has a unique mechanism built in to combat Covid-19, taking into account all of the above," argued Gehlot.
The AGM was attended by Vice President Amin Pathan, Secretary Mahendra Sharma, Joint Secretary Mahendra Nahar, Executive Committee member Devaram Chaudhary in addition to representatives from various district cricket associations.
A large number of decisions were taken during the AGM, including the appointment of various committees and approval of audit reports. The RCA retained both the ombudsman and the ethics officer, retired judge Shiv Kirti Singh and retired judge Ram Chandra Singh Jhala respectively.
Furthermore, the RCA chief announced that cricket will be one of the disciplines during the second edition of the State Games aside from the announcement of the first-ever state awards to motivate top performers among junior, senior and female cricketers representing Rajasthan at the national level.
By 2022, there will be a number of Indian Premier League (IPL) matches at Barkatullah Khan Stadium in Jodhpur, Gehlot confirmed.
"We have led the Urban Development & Housing (UDH) Department of Rajasthan Government to sanction Rs 9 crore for the renovation of Barkatullah Stadium and if all goes to plan and Covid-19 is not playing a bummer it will be 2- 3 IPL will certainly match in 2022, "he said.
The 40-year-old also said the Jaipur Development Authority (JDA) and the UDH department have approved about 100 bigha (about 33 acre), more than twice the size of previously sanctioned land (43 bigha), for the new cricket stadium. on the Delhi highway at Chonp. But the construction works will only start after the BCCI releases the full quota from the state associations in the amount of Rs 150 crore.
What Are The Main Benefits Of Comparing Car Insurance Quotes Online
LOS ANGELES, CA / ACCESSWIRE / June 24, 2020, / Compare-autoinsurance.Org has launched a new blog post that presents the main benefits of comparing multiple car insurance quotes. For more info and free online quotes, please visit https://compare-autoinsurance.Org/the-advantages-of-comparing-prices-with-car-insurance-quotes-online/ The modern society has numerous technological advantages. One important advantage is the speed at which information is sent and received. With the help of the internet, the shopping habits of many persons have drastically changed. The car insurance industry hasn't remained untouched by these changes. On the internet, drivers can compare insurance prices and find out which sellers have the best offers. View photos The advantages of comparing online car insurance quotes are the following: Online quotes can be obtained from anywhere and at any time. Unlike physical insurance agencies, websites don't have a specific schedule and they are available at any time. Drivers that have busy working schedules, can compare quotes from anywhere and at any time, even at midnight. Multiple choices. Almost all insurance providers, no matter if they are well-known brands or just local insurers, have an online presence. Online quotes will allow policyholders the chance to discover multiple insurance companies and check their prices. Drivers are no longer required to get quotes from just a few known insurance companies. Also, local and regional insurers can provide lower insurance rates for the same services. Accurate insurance estimates. Online quotes can only be accurate if the customers provide accurate and real info about their car models and driving history. Lying about past driving incidents can make the price estimates to be lower, but when dealing with an insurance company lying to them is useless. Usually, insurance companies will do research about a potential customer before granting him coverage. Online quotes can be sorted easily. Although drivers are recommended to not choose a policy just based on its price, drivers can easily sort quotes by insurance price. Using brokerage websites will allow drivers to get quotes from multiple insurers, thus making the comparison faster and easier. For additional info, money-saving tips, and free car insurance quotes, visit https://compare-autoinsurance.Org/ Compare-autoinsurance.Org is an online provider of life, home, health, and auto insurance quotes. This website is unique because it does not simply stick to one kind of insurance provider, but brings the clients the best deals from many different online insurance carriers. In this way, clients have access to offers from multiple carriers all in one place: this website. On this site, customers have access to quotes for insurance plans from various agencies, such as local or nationwide agencies, brand names insurance companies, etc. "Online quotes can easily help drivers obtain better car insurance deals. All they have to do is to complete an online form with accurate and real info, then compare prices", said Russell Rabichev, Marketing Director of Internet Marketing Company. CONTACT: Company Name: Internet Marketing CompanyPerson for contact Name: Gurgu CPhone Number: (818) 359-3898Email: [email protected]: https://compare-autoinsurance.Org/ SOURCE: Compare-autoinsurance.Org View source version on accesswire.Com:https://www.Accesswire.Com/595055/What-Are-The-Main-Benefits-Of-Comparing-Car-Insurance-Quotes-Online View photos
picture credit
to request, modification Contact us at Here or [email protected]