Home of Cricket comes back to life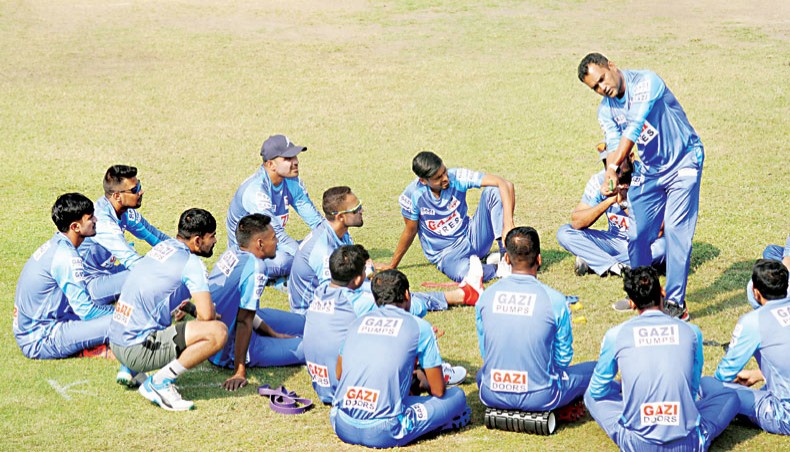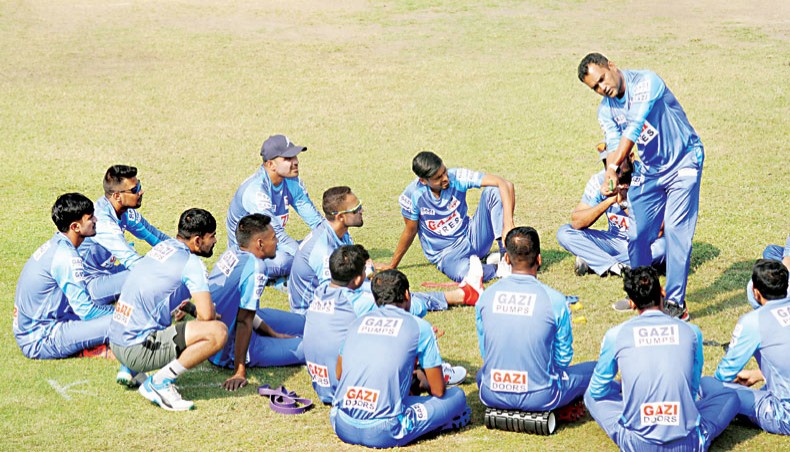 Gazi Group Chattogram coach Mohamamd Salahuddin (R) gives some tips about his charge during a training session at the Sher-e-Bangla National Stadium on Sunday. New Age photo
Commonly known as the 'Home of Cricket' for Bangladesh, the Sher-e-Bangla National Stadium in Mirpur is gradually coming back to life after a long forced sabbatical with the Bangabandhu Twenty20 Cup knocking at the door.
The small rectangular strip of land next to the academy of the Bangladesh Cricket Board has now become the training ground for all five teams in the upcoming tournament and the sweet sound of bats hitting balls makes the early winter morning more lively.
The BCB President's Cup in October marked the return of cricket to the field in a bio-safe environment, but only a limited number of cricketers were allowed to participate.
In the Bangabandhu Twenty20 Cup, a total of 80 cricketers, divided over five teams, will participate in a tournament of almost a month, starting Tuesday.
Gemcon Khulna secured the service of two 'A' players, Shakib Al Hasan and Mahmudullah, from the players' team and has other seasoned campaigners like Imrul Kayes, Jahurul Islam, making them a strong contender for the title , said Khulna opener Anamul Haque.
'Our team is even our favorite. The way we've bonded as a team, grown as a unit regardless of seniors and juniors, I think that's the main reason behind our team spirit. That's why we too have high hopes, "Anamul told reporters on Sunday.
'The team has players Shakib, Imrul, Riyadh [Mahmudullah]which is a great joy and it is always wonderful to be on the same team with them. It's always a pleasure to be with them and learn from them, 'he added.
Group Minister Rajshahi started the day on bad news when Mohammad Saifuddin, their first pick from the players' line-up, twisted his ankle while playing football during the morning warm-up and left the field on crutches.
Mohammad Ashraful, who plays for Rajshahi and is looking forward to an international return at this T20 tournament, witnessed the incident firsthand.
'He hurt himself while playing football. I saw him fall. Maybe he hurt his ankle. '
Rajshahi team manager and former cricket player Hannan Sarkar said the all-rounder is currently under observation.
During training, he sustained an ankle injury. He is now under the supervision of BCB's team physio and medical team. The treatment takes place under BCB medical protocol. Physio will provide further updates on its progress tomorrow [today], 'Hannan said.
Fortune Barishal players were the only ones to train without wearing their team's practice jerseys because they hadn't arrived yet, their skipper Tamim Iqbal and pacemaker Abu Jayed informed.
Barishal is the only team in this tournament to host a lavish logo unveiling ceremony, including a theme song and even rope in a movie star as the brand's ambassador, but failed to get practice jerseys two days before the first match. manage.
Gazi Group Chattogram batsman Mahmudul Hasan Joy was the only player to find positive for COViD-19 in the pre-tournament tests.
Mahmudul was part of the Under-19 World Cup winning team and impressed in the BCB President's Cup, but his Chattogram teammate Soumya Sarkar downplayed the effects of his absence.
'Like the news [of Mahmudul's COVID-19 infection] had come out after we started training, it would have been a different scenario. But since we already started without him, we arranged everything that way. '
What Are The Main Benefits Of Comparing Car Insurance Quotes Online
LOS ANGELES, CA / ACCESSWIRE / June 24, 2020, / Compare-autoinsurance.Org has launched a new blog post that presents the main benefits of comparing multiple car insurance quotes. For more info and free online quotes, please visit https://compare-autoinsurance.Org/the-advantages-of-comparing-prices-with-car-insurance-quotes-online/ The modern society has numerous technological advantages. One important advantage is the speed at which information is sent and received. With the help of the internet, the shopping habits of many persons have drastically changed. The car insurance industry hasn't remained untouched by these changes. On the internet, drivers can compare insurance prices and find out which sellers have the best offers. View photos The advantages of comparing online car insurance quotes are the following: Online quotes can be obtained from anywhere and at any time. Unlike physical insurance agencies, websites don't have a specific schedule and they are available at any time. Drivers that have busy working schedules, can compare quotes from anywhere and at any time, even at midnight. Multiple choices. Almost all insurance providers, no matter if they are well-known brands or just local insurers, have an online presence. Online quotes will allow policyholders the chance to discover multiple insurance companies and check their prices. Drivers are no longer required to get quotes from just a few known insurance companies. Also, local and regional insurers can provide lower insurance rates for the same services. Accurate insurance estimates. Online quotes can only be accurate if the customers provide accurate and real info about their car models and driving history. Lying about past driving incidents can make the price estimates to be lower, but when dealing with an insurance company lying to them is useless. Usually, insurance companies will do research about a potential customer before granting him coverage. Online quotes can be sorted easily. Although drivers are recommended to not choose a policy just based on its price, drivers can easily sort quotes by insurance price. Using brokerage websites will allow drivers to get quotes from multiple insurers, thus making the comparison faster and easier. For additional info, money-saving tips, and free car insurance quotes, visit https://compare-autoinsurance.Org/ Compare-autoinsurance.Org is an online provider of life, home, health, and auto insurance quotes. This website is unique because it does not simply stick to one kind of insurance provider, but brings the clients the best deals from many different online insurance carriers. In this way, clients have access to offers from multiple carriers all in one place: this website. On this site, customers have access to quotes for insurance plans from various agencies, such as local or nationwide agencies, brand names insurance companies, etc. "Online quotes can easily help drivers obtain better car insurance deals. All they have to do is to complete an online form with accurate and real info, then compare prices", said Russell Rabichev, Marketing Director of Internet Marketing Company. CONTACT: Company Name: Internet Marketing CompanyPerson for contact Name: Gurgu CPhone Number: (818) 359-3898Email: [email protected]: https://compare-autoinsurance.Org/ SOURCE: Compare-autoinsurance.Org View source version on accesswire.Com:https://www.Accesswire.Com/595055/What-Are-The-Main-Benefits-Of-Comparing-Car-Insurance-Quotes-Online View photos
picture credit
to request, modification Contact us at Here or [email protected]