Insulin Patch Testing Biotech Company Moves to Frederick to Start Clinical Trial | Services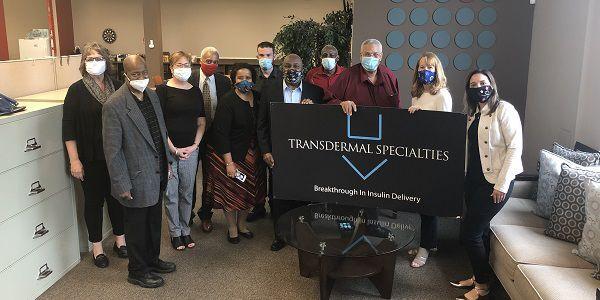 Bruce Redding is the inventor of ultrasonic microcapsule technology that helped build space shuttles, flavored fruit roll-ups and, in his own words, " didn't make the Hamburger Helper taste like cardboard. "
Now that microcapsule technology is doing something completely new: delivering insulin to diabetics through a transdermal patch.
Transdermal Specialties Global (TSG), a Frederick company of which Redding is the CEO, is currently in the third stage of the Food and Drug Administration's approval of their transdermal insulin patch. If approved, it can help up to 30 million type 2 diabetics in the United States alone.
There is currently no way to deliver insulin to diabetics other than injections, as insulin is a large molecule. Therefore, insulin cannot be taken in the form of a digestible pill or patch, such as a nicotine or contraceptive patch. Transdermal Specialties Global's U-STRIP would be the first product of its kind.
TSG moved to Frederick in mid-March, just before they had to close due to the COVID-19 pandemic. Redding's friend had a lab space they didn't use and offered half of it to TSG, giving them more space than before in their Philadelphia base.
TSG's patch uses ultrasound to open the pores of the skin and push the drug in. Unlike usual ultrasound, it will not burn the skin or the medicine.
"Our ultrasound is unique. We have two waveforms: a sawtooth wave that opens your pores. And a square wave that pushes the drug into the skin," said Redding. So it's a combined ultrasound waveform. You don't feel it … Most people can't hear it. '
However, Redding said dogs can hear the device when they are around.
Using a small beeper-sized device that can be worn on a belt, diabetics can easily set their weight and glucose meters, then press a button when they plan to eat. The patch will deliver four units of insulin before or after their meal to counteract the carbohydrates in the food.
This differs from the current process of calculating meal carbohydrate intake in advance.
"No one remembers doing that. In reality, you should go forward 20 minutes and inject yourself with insulin," said Redding. "In this case, you just press the so-called bolus button and a dose will be delivered automatically."
The coronavirus has changed the way some drugs are tested, throwing a loop in TSG's plan to get FDA approval. Typically, a phase three test would require a 90-day trial period. But because a trial of that length requires volunteers to enter and exit testing facilities multiple times, potentially spreading COVID, the FDA has lowered that requirement to a 14-day "time-in-range" test, which involves volunteers in one facility. stay.
The company decided to build their own clinic on Thomas Johnson Drive to conduct their first trial, before taking it to medical institutions such as Johns Hopkins and Harvard. The first trial involves six men with diabetes and will be conducted in January.
All volunteers must undergo a negative COVID test before participating in the study. They will have to stay in the facility for 14 days, with meals and a nurse provided in case of an emergency.
"We even have table tennis in one of the side rooms and a pool table, you know everything to keep them busy while they stay there," said Redding.
Volunteers are paid for their time.
Later in the spring, TSG will travel to Korea to test their product there. They can have the patch approved by the end of 2021.
"I think less than 500 people have died from COVID in Korea in the last year, so this is the place to be for clinical trials now because you don't have to worry about COVID infections," said Redding. He and his team will be quarantined after arrival in the country and after departure.
Redding estimates a 2022 launch of the insulin patch in the United States.
The company also plans to use the same patch technology to deliver the Parkinson's drug apomorphine. Currently, Parkinson's patients should inject their medication when they feel a tremor coming on. With the new technology, they could simply press the button on their patch to administer the drug.
"He felt a vibration coming up, he would be wearing this device, he would press one button, which would turn it on," said Redding. "The second button delivers a dose of medicine called apamorphine that suppresses the vibrations in the first hour. Then it goes to a lower dose every hour thereafter."
Redding is pleased to offer not only an easier option for diabetics, but a much cheaper and safer option than products such as needles and the pump. Needles cost about $ 4.50 / day, dial-in needles cost about $ 16 / day, and the pump costs about $ 28 / day. The patch is on par with needles for $ 4.50 / day.
"The problem with the needle is remembering when to take your dose, with the strip, you just have to take it, it will do it automatically," said Redding. "And you don't risk any infection because it's a band-aid with no needles in you."
If you are interested in participating in the January insulin patch study, please visit tginsulintrials.com For more information.
Follow Erika Riley on Twitter: @ej_riley
What Are The Main Benefits Of Comparing Car Insurance Quotes Online
LOS ANGELES, CA / ACCESSWIRE / June 24, 2020, / Compare-autoinsurance.Org has launched a new blog post that presents the main benefits of comparing multiple car insurance quotes. For more info and free online quotes, please visit https://compare-autoinsurance.Org/the-advantages-of-comparing-prices-with-car-insurance-quotes-online/ The modern society has numerous technological advantages. One important advantage is the speed at which information is sent and received. With the help of the internet, the shopping habits of many persons have drastically changed. The car insurance industry hasn't remained untouched by these changes. On the internet, drivers can compare insurance prices and find out which sellers have the best offers. View photos The advantages of comparing online car insurance quotes are the following: Online quotes can be obtained from anywhere and at any time. Unlike physical insurance agencies, websites don't have a specific schedule and they are available at any time. Drivers that have busy working schedules, can compare quotes from anywhere and at any time, even at midnight. Multiple choices. Almost all insurance providers, no matter if they are well-known brands or just local insurers, have an online presence. Online quotes will allow policyholders the chance to discover multiple insurance companies and check their prices. Drivers are no longer required to get quotes from just a few known insurance companies. Also, local and regional insurers can provide lower insurance rates for the same services. Accurate insurance estimates. Online quotes can only be accurate if the customers provide accurate and real info about their car models and driving history. Lying about past driving incidents can make the price estimates to be lower, but when dealing with an insurance company lying to them is useless. Usually, insurance companies will do research about a potential customer before granting him coverage. Online quotes can be sorted easily. Although drivers are recommended to not choose a policy just based on its price, drivers can easily sort quotes by insurance price. Using brokerage websites will allow drivers to get quotes from multiple insurers, thus making the comparison faster and easier. For additional info, money-saving tips, and free car insurance quotes, visit https://compare-autoinsurance.Org/ Compare-autoinsurance.Org is an online provider of life, home, health, and auto insurance quotes. This website is unique because it does not simply stick to one kind of insurance provider, but brings the clients the best deals from many different online insurance carriers. In this way, clients have access to offers from multiple carriers all in one place: this website. On this site, customers have access to quotes for insurance plans from various agencies, such as local or nationwide agencies, brand names insurance companies, etc. "Online quotes can easily help drivers obtain better car insurance deals. All they have to do is to complete an online form with accurate and real info, then compare prices", said Russell Rabichev, Marketing Director of Internet Marketing Company. CONTACT: Company Name: Internet Marketing CompanyPerson for contact Name: Gurgu CPhone Number: (818) 359-3898Email: [email protected]: https://compare-autoinsurance.Org/ SOURCE: Compare-autoinsurance.Org View source version on accesswire.Com:https://www.Accesswire.Com/595055/What-Are-The-Main-Benefits-Of-Comparing-Car-Insurance-Quotes-Online View photos
picture credit
to request, modification Contact us at Here or [email protected]