WCHA Helps Launch 'College Hockey for Diversity, Equality and Inclusion'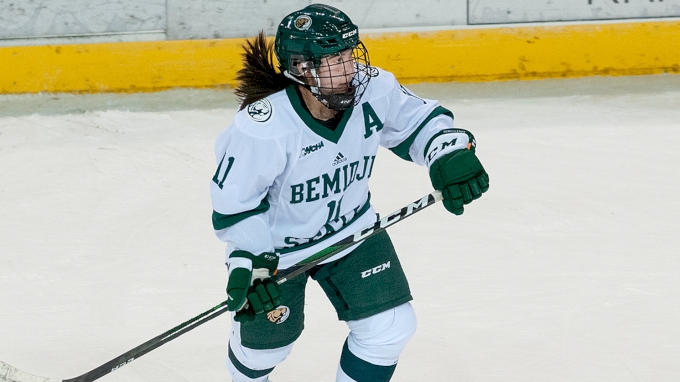 A 27-member group representing all 11 men's and women's NCAA Division I hockey conferences chose Black History Month to roll out a new initiative titled College Hockey for Diversity, Equity and Inclusion.
WCHA Women's Commissioner Jennifer Flowers chairs the committee and helped organize meetings and discussions last summer. One of the most vocal student athletes in the group is the deputy captain of the Bemidji State woman Tina Kampa, a native of Colombia. Earlier this month, Tina spoke to Bemidji broadcaster Kelly Schultz about the mission of the new initiative.
SCHULTZ: How did you get involved?
Kampa: I was talking to Jen [WCHA commissioner Flowers] at one of our leading WCHA meetings and we talked about many of the events and events that happened this summer, and when it came to social justice, that's just something I've been passionate about for a long time. So she asked me to be part of this group. We weren't quite sure what it would be as a whole, but we had some goals, and I said why not?
Take us back to when you grew up in Minnesota and were born in Colombia.
I was adopted as a baby, so I don't really remember much about that. I've always known Maple Grove and Minnesota and that's where I've spent all my childhood. I grew up in a white community and a white family, so I had a lot of opportunities that way. My dad was the hockey man in the family, he was the one who introduced me to the game.
I started figure skating, didn't like it that much, eventually got into hockey skating and never wanted to leave the ice. Ultimately, I loved hockey, put a lot of effort into it and had many great opportunities to be successful and work my way up.
What do you hope to achieve with this initiative?
I hope it achieves a lot. It's not going to happen overnight and we recognize that, but I think a few things are clearly the diversity aspect of hockey, it's a predominantly white sport. We just want to provide a lot of help to different communities and areas and states and countries and things that might not know what hockey is, or that don't have much access to the game or just want to learn more. That is something that I am passionate about because I am a non-white hockey player.
But also equity. It doesn't matter who you are, your background, where you're from, who you love, what you identify, it should be a game for everyone. It shouldn't matter, all of those things, we have to be inclusive to all people, and those are just a few areas that we've touched on, and we want to keep improving.
I think this group of leaders is 100% in the right direction on the initiative, and I am very excited.
What can the rest of us do on the hockey side?
As a hockey community, mostly white, especially at Bemidji, I am the only person of color in the locker room, in the arena. I think the most important thing that allies and people who are not people of color can do is to understand that they have a chance. If they want to see positive change, if they want hockey to be a better sport, it's up to them.
It will educate itself, it will have those awkward conversations, it will admit that they may not know much, or may be afraid to say the wrong thing. But that's okay, you have to start somewhere. What I've learned this year by speaking up, and perhaps going against the grain with advocacy, has been difficult because I often feel alone. That does not mean that I am not supported. I think people who have privileges and have this platform, as a women's hockey player at the Division I level, can do a lot.
It starts with teaching, it starts with listening, it starts with advocating and using our privilege and speaking out. Don't let racism and discrimination just happen. Not only does it happen in the game of hockey, but it happens everywhere. The more we can educate ourselves and listen and speak about the things that apply to us, that will not only make the hockey world a better place, but it will also make the world a better place.
People may say that they want to support, and that they listen and they care, but if you say one thing and you don't do the other, are you really creating positive change? It will take a lot of work, a lot of persistence. It's just compassion and love and empathy, people try to understand. At the end of the day, if that was you or someone you loved, would you want those things to happen to those people? And if not, what are you going to do about it? To be privileged, frankly, is the best opportunity you can get.
I have learned that I have privilege in myself. I'm trying to do what I can with my platform here. It's not an easy path, but positive change won't happen if those with privileges don't care enough to do something about it.
---
Tim Rappleye is the author of two books: Jack Parker's Wiseguys and Hobey Baker, on closer examinationYou can find him on Twitter
What Are The Main Benefits Of Comparing Car Insurance Quotes Online
LOS ANGELES, CA / ACCESSWIRE / June 24, 2020, / Compare-autoinsurance.Org has launched a new blog post that presents the main benefits of comparing multiple car insurance quotes. For more info and free online quotes, please visit https://compare-autoinsurance.Org/the-advantages-of-comparing-prices-with-car-insurance-quotes-online/ The modern society has numerous technological advantages. One important advantage is the speed at which information is sent and received. With the help of the internet, the shopping habits of many persons have drastically changed. The car insurance industry hasn't remained untouched by these changes. On the internet, drivers can compare insurance prices and find out which sellers have the best offers. View photos The advantages of comparing online car insurance quotes are the following: Online quotes can be obtained from anywhere and at any time. Unlike physical insurance agencies, websites don't have a specific schedule and they are available at any time. Drivers that have busy working schedules, can compare quotes from anywhere and at any time, even at midnight. Multiple choices. Almost all insurance providers, no matter if they are well-known brands or just local insurers, have an online presence. Online quotes will allow policyholders the chance to discover multiple insurance companies and check their prices. Drivers are no longer required to get quotes from just a few known insurance companies. Also, local and regional insurers can provide lower insurance rates for the same services. Accurate insurance estimates. Online quotes can only be accurate if the customers provide accurate and real info about their car models and driving history. Lying about past driving incidents can make the price estimates to be lower, but when dealing with an insurance company lying to them is useless. Usually, insurance companies will do research about a potential customer before granting him coverage. Online quotes can be sorted easily. Although drivers are recommended to not choose a policy just based on its price, drivers can easily sort quotes by insurance price. Using brokerage websites will allow drivers to get quotes from multiple insurers, thus making the comparison faster and easier. For additional info, money-saving tips, and free car insurance quotes, visit https://compare-autoinsurance.Org/ Compare-autoinsurance.Org is an online provider of life, home, health, and auto insurance quotes. This website is unique because it does not simply stick to one kind of insurance provider, but brings the clients the best deals from many different online insurance carriers. In this way, clients have access to offers from multiple carriers all in one place: this website. On this site, customers have access to quotes for insurance plans from various agencies, such as local or nationwide agencies, brand names insurance companies, etc. "Online quotes can easily help drivers obtain better car insurance deals. All they have to do is to complete an online form with accurate and real info, then compare prices", said Russell Rabichev, Marketing Director of Internet Marketing Company. CONTACT: Company Name: Internet Marketing CompanyPerson for contact Name: Gurgu CPhone Number: (818) 359-3898Email: [email protected]: https://compare-autoinsurance.Org/ SOURCE: Compare-autoinsurance.Org View source version on accesswire.Com:https://www.Accesswire.Com/595055/What-Are-The-Main-Benefits-Of-Comparing-Car-Insurance-Quotes-Online View photos
picture credit
to request, modification Contact us at Here or [email protected]