Chameera and Ishara come to winners | Printed edition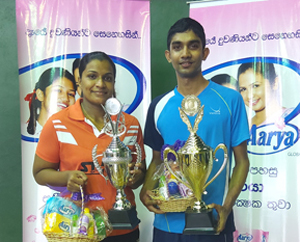 WPTTA Table tennis tournament on all islands
Views):
Favorites Chameera Ginige of Sri Jayewardenepura University and Ishara Madurangi of Sri Lanka Ports Authority annexed the Dhanasiri Amaratunga Challenge Trophy after claiming the men's and women's titles respectively at the
Chameera Ginige became the tournament's only paddler to play three crucial full-set matches, but as in the semi-finals and quarter-finals, he managed to beat young Senura Silva 3-2. After a tough fight, Chameera won the title with scores of 7/11, 11/9, 11/5, 9/11 and 11/8.
In the women's final, Ishara Madurangi faced a tough challenge from Muthumali Priyadarshani, but she managed to finish the match in three sets. The match ended with scores of 11/6, 11/9 and 11/7.
In the men's semi-finals, Chameera Ginige had to fight a tough battle to beat KrishanWickramaratne in a match that went to the bone. Chameera recorded a 3-2 win with scores of 11/8, 3/11, 11/7, 10/12 and 11/7 while Senura Silva defeated Supun Warasuwithana 3-1 in another difficult affair with scores of 11/7 , 11/9, 10/12 and 12/10.
In the quarter-finals, Krishan Wickramaratne from VOBSC defeated Imandtha Udanjaya from Sri Lanka Army in straight sets 11 / 5.11 / 7 and 11/5, while Chameera Ginige from University of Sri Jayewardenepura struggled against Prasad de Silva of Road. Development Authority before nailing a 3-2 finish. The match ended with a set of scores of 5/11, 8/11, 11/9, 11/4 and 11/9. Supun Warasuwithana from the University of Moratuwa defeated Chanul Dulsen from Dharmasoka College, Ambalangoda 3-1 with scores of 11/5, 11/6, 5/11 and 12/10, while aspiring paddler Senura Silva from Ananda College defeated Milinda Lakshitha from OMBC 3 -1 with scores of 10/12, 11/5, 11/8 and 11/9.
In the semi-finals of the Womens event, Ishara Madurangi saw an easy win against Erandi Warusavithana with fixed scores of 11/1, 11/3 and 11/4, while Muthumali Priyadarshani beat Hansani Piyumala 3-1 after a thrilling challenge. The scores were 11/8, 11/13, 11/5 and 11/5.
In the quarter finals of the Ladies category, Ishara Madurangi of Sri Lanka Ports Authority defeated Ayla Chitty of Ladies College, Colombo 3-1. The sets ended as 11/8, 7/11, 11/9 and 11/6 in favor of the national champions. Erandi Warusavithana, representative of Raigam Marketing, defeated Bimandi Bandara of Hilwood College, Kandy, 3-1 with set scores of 11/8, 4/11, 11/8 and 11/7. Hansani Piyumala, who now represents the Sri Lankan Navy, similarly beat Ladies College's Jithara Warnakulasuriya 3-1 with scores of 4/11, 11/7, 11/9 and 11/2. Muthumali Priyadarshani of Sri Lanka Navy had an easy passage to the next level, beating Thanushi Rodrigo in straight sets –11/6, 11/7 and 11/9.
The finals were contested for the Dhanasiri Amarathunga Challenge Trophy, the former Mayor of Dehiwala / Mt. Lavinia City Council.
The Table Tennis Association of Sri Lanka (TTSL) hosted its second All-Island Ranking Tournament for the 2020 calendar which was postponed due to the COVID-19 pandemic. Organized by the Western Province Table Tennis Association (WPTTA), the championship attracted 170 participants, consisting of 100 male and 70 female players.
It was originally planned to host both boys and girls categories under 18 and under 15 in addition to the Open Men's and Women's Events, but the tournament organizers were unable to proceed with the events as planned and had to postpone them due to the huge number of registrations. received and due to a limitation imposed by the Inspector of Public Health with regard to the number of players who occupy the room at any given time. Both events will be worked out at a later date after the situation has been reviewed and approved by the Area Health Inspector. The venue organizers of S. Thomas College Indoor Stadium along with the WPTTA followed all safety protocols before players were allowed to enter the venue alone.
In the Womens Open category, 54 players competed in the qualifying rounds, where 16 paddlers continued to play in the main tournament and compete against the 16 nationally seeded players. In the Mens Open category, 84 players competed in the qualifying rounds and 16 qualified to play in the playoff of the main event with the 16 nationally seeded players.
All matches were split equally by the players, who had previously had match exposure at the championships held in Kegalle two weeks ago.
All players who reached the quarter finals received certificates. The main guest at the awards ceremony was Nilushi Theodore, the Brand Executive of Raigam Marketing Services, who gave away gift packs to the winners. The finalists received the champion and second trophy from TTASL Secretary General Srinath Wijethunga. Cash prizes were presented by Anura Lal, the general manager of Githmi Sports, Ambalangoda.
The champions and runners-up received their awards from Srinath Wijethunga (Secretary General of the TTASL), Nilushi Theodore (Brand Executive, Raigam Marketing Services), Madushani Perera (VP TTASL) and Chandana Perera (Secretary Western Province TTA).
What Are The Main Benefits Of Comparing Car Insurance Quotes Online
LOS ANGELES, CA / ACCESSWIRE / June 24, 2020, / Compare-autoinsurance.Org has launched a new blog post that presents the main benefits of comparing multiple car insurance quotes. For more info and free online quotes, please visit https://compare-autoinsurance.Org/the-advantages-of-comparing-prices-with-car-insurance-quotes-online/ The modern society has numerous technological advantages. One important advantage is the speed at which information is sent and received. With the help of the internet, the shopping habits of many persons have drastically changed. The car insurance industry hasn't remained untouched by these changes. On the internet, drivers can compare insurance prices and find out which sellers have the best offers. View photos The advantages of comparing online car insurance quotes are the following: Online quotes can be obtained from anywhere and at any time. Unlike physical insurance agencies, websites don't have a specific schedule and they are available at any time. Drivers that have busy working schedules, can compare quotes from anywhere and at any time, even at midnight. Multiple choices. Almost all insurance providers, no matter if they are well-known brands or just local insurers, have an online presence. Online quotes will allow policyholders the chance to discover multiple insurance companies and check their prices. Drivers are no longer required to get quotes from just a few known insurance companies. Also, local and regional insurers can provide lower insurance rates for the same services. Accurate insurance estimates. Online quotes can only be accurate if the customers provide accurate and real info about their car models and driving history. Lying about past driving incidents can make the price estimates to be lower, but when dealing with an insurance company lying to them is useless. Usually, insurance companies will do research about a potential customer before granting him coverage. Online quotes can be sorted easily. Although drivers are recommended to not choose a policy just based on its price, drivers can easily sort quotes by insurance price. Using brokerage websites will allow drivers to get quotes from multiple insurers, thus making the comparison faster and easier. For additional info, money-saving tips, and free car insurance quotes, visit https://compare-autoinsurance.Org/ Compare-autoinsurance.Org is an online provider of life, home, health, and auto insurance quotes. This website is unique because it does not simply stick to one kind of insurance provider, but brings the clients the best deals from many different online insurance carriers. In this way, clients have access to offers from multiple carriers all in one place: this website. On this site, customers have access to quotes for insurance plans from various agencies, such as local or nationwide agencies, brand names insurance companies, etc. "Online quotes can easily help drivers obtain better car insurance deals. All they have to do is to complete an online form with accurate and real info, then compare prices", said Russell Rabichev, Marketing Director of Internet Marketing Company. CONTACT: Company Name: Internet Marketing CompanyPerson for contact Name: Gurgu CPhone Number: (818) 359-3898Email: [email protected]: https://compare-autoinsurance.Org/ SOURCE: Compare-autoinsurance.Org View source version on accesswire.Com:https://www.Accesswire.Com/595055/What-Are-The-Main-Benefits-Of-Comparing-Car-Insurance-Quotes-Online View photos
picture credit
to request, modification Contact us at Here or [email protected]