Division bell rings as county cricket seems to make up for lost time | County Championship
T.The last time we saw the County Championship, in 2019, Nottinghamshire was relegated from Division One with a meager 67 points, while Lancashire, Northamptonshire and Gloucestershire were promoted from Division Two.
I'm looking forward to the challenge now and I know the players are excited about it, excited Gloucestershires head coach Richard Dawson. It's been a humble championship campaign and we're all in real pain, grumbled Peter Moores, whose Notts side had come to terms with relegation. Now, after a fallow year in 2020, his back and it turns out none of that mattered.
Instead, the match starting on Thursday is more like last year's Bob Willis Trophy, with counties split into three divisions, this time categorized based on performance over the past two summers rather than geographically grouped. Results in this early group stage, most of which will be played in April and May, will split the teams for a second stage scheduled for September, from which the champions will eventually emerge.
This means that teams destined to miss the top two places in their first pool will not have much to play for from then on, but also that for the first time since 1999, when the championship was split in two, each province in the season with a chance of winning the title.
I think division cricket has its ups and downs, said Paul Downton, Kent's director of cricket. The idea of ​​the best versus the best is great, but it almost leaves half of the sides in a twilight zone. I think it's exciting that all 18 counties are starting the year with the potential to win the championship.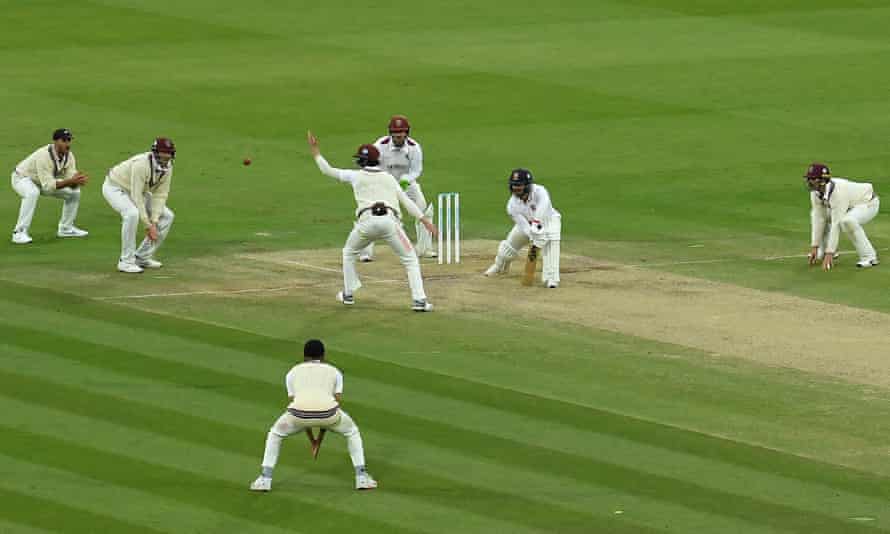 I think we should really try this. A year would be too short. At this stage, I am in favor of continuing this format for two or three years and seeing how it turns out. Many cricketers were ignored in the old Second Division and this should be equal.
Others are much less enthusiastic. I'm not a big fan if I'm honest, says Anthony McGrath, head coach at Essex. I think it was better with two divisions. I think the best teams should play the best teams. I think that's how you get the best competition and the best development.
Jason Kerr, Somersets' head coach, agrees. I know how hard we had to work to get out of Division Two. We had to develop skills and develop players, and I think all 18 countries should have that mindset, he says. You must earn the right to win the County Championship. When you watch football, the guys outside the Premier League don't have the chance to win the Premier League. They must earn the right to be there.
The England and Wales Cricket Board will assess the initial impact of the formats before deciding whether to keep, change or discard them.
There are other changes for this season, including the return of the coin toss and the reward for a draw that has been increased from five to eight points. The latter was one of the ideas suggested by Joe Root in the aftermath of England Test series defeat in India, as a means of stretching games in four days, encouraging batsmen to build long innings and bringing spinners into play.
The impact of those extra three points remains to be seen, but Downton is concerned it could lead to some pretty defensive cricket. Vikram Solanki, head coach at Surrey, is more welcoming: I think it's a good thing because if you have to work harder for your wins, or if you are able to save a situation where you might be behind in a match , I think that instills good qualities in players, both for our country and for those guys lucky enough to play for England.
The ongoing impact of Covid-19 on the game is more certain, not least due to the absence of fans for most of the first group stage, while players will have to get used to regular lateral flow tests and restrictions on how they get to the court. travel and behave once. in them. But not all consequences of pandemics are completely negative, as problems with international travel have led many players to spend their winters exercising instead of sunbathing.
I'm sure it was a frustration for many of them that they didn't get the sun on their backs in the winter, says Kerr, but for me it was a fantastic opportunity to really develop players and I certainly hope that works out well.
After finishing second in four of the past five years (including last year's Bob Willis Trophy), Kerrs Somerset will be looking to take the final step towards silverware this summer, although Surrey and Hampshire both hope to complicate their progress from Group Two .
Essex, winners in three of the past four years (again including last year), should make it through Group One safely and Yorkshire is the favorite to win Group Three, but as any supporter of the county game knows, long-term predictions are wildly unreliable.
In this of all years it is difficult to say with certainty on whom the sun will shine in September.
What Are The Main Benefits Of Comparing Car Insurance Quotes Online
LOS ANGELES, CA / ACCESSWIRE / June 24, 2020, / Compare-autoinsurance.Org has launched a new blog post that presents the main benefits of comparing multiple car insurance quotes. For more info and free online quotes, please visit https://compare-autoinsurance.Org/the-advantages-of-comparing-prices-with-car-insurance-quotes-online/ The modern society has numerous technological advantages. One important advantage is the speed at which information is sent and received. With the help of the internet, the shopping habits of many persons have drastically changed. The car insurance industry hasn't remained untouched by these changes. On the internet, drivers can compare insurance prices and find out which sellers have the best offers. View photos The advantages of comparing online car insurance quotes are the following: Online quotes can be obtained from anywhere and at any time. Unlike physical insurance agencies, websites don't have a specific schedule and they are available at any time. Drivers that have busy working schedules, can compare quotes from anywhere and at any time, even at midnight. Multiple choices. Almost all insurance providers, no matter if they are well-known brands or just local insurers, have an online presence. Online quotes will allow policyholders the chance to discover multiple insurance companies and check their prices. Drivers are no longer required to get quotes from just a few known insurance companies. Also, local and regional insurers can provide lower insurance rates for the same services. Accurate insurance estimates. Online quotes can only be accurate if the customers provide accurate and real info about their car models and driving history. Lying about past driving incidents can make the price estimates to be lower, but when dealing with an insurance company lying to them is useless. Usually, insurance companies will do research about a potential customer before granting him coverage. Online quotes can be sorted easily. Although drivers are recommended to not choose a policy just based on its price, drivers can easily sort quotes by insurance price. Using brokerage websites will allow drivers to get quotes from multiple insurers, thus making the comparison faster and easier. For additional info, money-saving tips, and free car insurance quotes, visit https://compare-autoinsurance.Org/ Compare-autoinsurance.Org is an online provider of life, home, health, and auto insurance quotes. This website is unique because it does not simply stick to one kind of insurance provider, but brings the clients the best deals from many different online insurance carriers. In this way, clients have access to offers from multiple carriers all in one place: this website. On this site, customers have access to quotes for insurance plans from various agencies, such as local or nationwide agencies, brand names insurance companies, etc. "Online quotes can easily help drivers obtain better car insurance deals. All they have to do is to complete an online form with accurate and real info, then compare prices", said Russell Rabichev, Marketing Director of Internet Marketing Company. CONTACT: Company Name: Internet Marketing CompanyPerson for contact Name: Gurgu CPhone Number: (818) 359-3898Email: [email protected]: https://compare-autoinsurance.Org/ SOURCE: Compare-autoinsurance.Org View source version on accesswire.Com:https://www.Accesswire.Com/595055/What-Are-The-Main-Benefits-Of-Comparing-Car-Insurance-Quotes-Online View photos
picture credit
to request, modification Contact us at Here or [email protected]