Advice taken from other cricketers to prepare for Test against England: Mithali Raj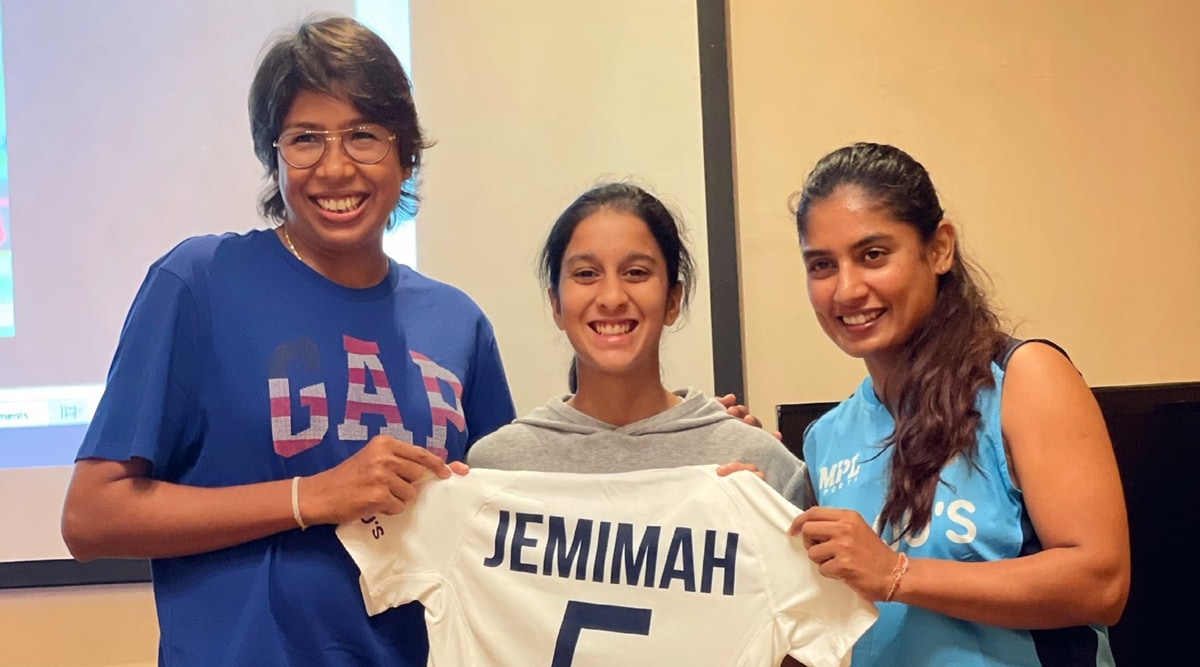 Mithali Raj said on Tuesday she had taken advice from other cricketers to better prepare for the longest format ahead of the one-off test against England.
From left to right: Jhulan Goswami, Jemimah Rodrigues and Mithali Raj posing with the jersey. (Twitter/Jemi Rodrigues)
India's women's team captain Mithali Raj said on Tuesday she was taking advice from other cricketers to better prepare for the longest format for the one-off Test against England starting on Wednesday.
Test matches in the women's game are rare and 38-year-old Mithali has only played 10 longest games in a 12-year career so far. She last played a test in 2014.
I've played fewer Tests than ODI and T20, I would have liked more Test matches. I wouldn't really start thinking about whether my game has evolved in this format, but the preparation was very similar, Raj said at the virtual press conference on game night.
And probably talking to a lot of other cricketers trying to understand how they are preparing for the longer format has helped me prepare for this test match, said Mithali, without mentioning the names of the cricketers with whom they are had spoken.
Raj said she wouldn't want to burden rookie players with expectations and would advise them to enjoy the game.
Well, we've briefed them (players) on how the long format is played and it's clear that for someone debuting, you don't want to burden them with expectations and responsibility.
So it's just that as a team I would brief together, support them on the pitch and they should just enjoy playing this format, the skipper added.
Raj also slammed for having all three formats in a bilateral series that continues, saying the tests against England and Australia are just the beginning. India will also play a test, a day-night match, when they tour Australia later in the year.
Yes, I have a feeling that this test match (against England) and even the pink ball test in Australia in the coming months, is just the start of a bilateral series in three formats.
It will probably open the channel to add another format to the bilateral series and that will obviously help the overall standard of women's cricket.
She said any modern cricketer would want to play Test cricket as it is the format that really tests a player's skills.
We have one day T20s so maybe it could lead to a World Testing Championship in the coming years as well, you never know.
So this is just the beginning, let's hope we continue to have the bilateral series where all three formats are present, the righthanded batter said.
According to Raj, the batters and bowlers tried to get as many sessions as possible to get used to the red ball.
We are looking forward to this test match and series. Yes, 2017 was the last time we were (on) English soil. It was quite an experience for the team and most of them were part of the squad, so they got that exposure, experience.
Also for the first time we have points for the series, so it is clearly going to be an exciting series and we are all looking forward to that, she signed.
The Indian Express is now on Telegram. Click here to join our channel (@indianexpress) and stay up to date with the latest headlines
For all the latest sports news, download Indian Express app.
Indian Express's website has been rated GREEN for its credibility and reliability by Newsguard, a global service that rates news sources against their journalistic standards.
What Are The Main Benefits Of Comparing Car Insurance Quotes Online
LOS ANGELES, CA / ACCESSWIRE / June 24, 2020, / Compare-autoinsurance.Org has launched a new blog post that presents the main benefits of comparing multiple car insurance quotes. For more info and free online quotes, please visit https://compare-autoinsurance.Org/the-advantages-of-comparing-prices-with-car-insurance-quotes-online/ The modern society has numerous technological advantages. One important advantage is the speed at which information is sent and received. With the help of the internet, the shopping habits of many persons have drastically changed. The car insurance industry hasn't remained untouched by these changes. On the internet, drivers can compare insurance prices and find out which sellers have the best offers. View photos The advantages of comparing online car insurance quotes are the following: Online quotes can be obtained from anywhere and at any time. Unlike physical insurance agencies, websites don't have a specific schedule and they are available at any time. Drivers that have busy working schedules, can compare quotes from anywhere and at any time, even at midnight. Multiple choices. Almost all insurance providers, no matter if they are well-known brands or just local insurers, have an online presence. Online quotes will allow policyholders the chance to discover multiple insurance companies and check their prices. Drivers are no longer required to get quotes from just a few known insurance companies. Also, local and regional insurers can provide lower insurance rates for the same services. Accurate insurance estimates. Online quotes can only be accurate if the customers provide accurate and real info about their car models and driving history. Lying about past driving incidents can make the price estimates to be lower, but when dealing with an insurance company lying to them is useless. Usually, insurance companies will do research about a potential customer before granting him coverage. Online quotes can be sorted easily. Although drivers are recommended to not choose a policy just based on its price, drivers can easily sort quotes by insurance price. Using brokerage websites will allow drivers to get quotes from multiple insurers, thus making the comparison faster and easier. For additional info, money-saving tips, and free car insurance quotes, visit https://compare-autoinsurance.Org/ Compare-autoinsurance.Org is an online provider of life, home, health, and auto insurance quotes. This website is unique because it does not simply stick to one kind of insurance provider, but brings the clients the best deals from many different online insurance carriers. In this way, clients have access to offers from multiple carriers all in one place: this website. On this site, customers have access to quotes for insurance plans from various agencies, such as local or nationwide agencies, brand names insurance companies, etc. "Online quotes can easily help drivers obtain better car insurance deals. All they have to do is to complete an online form with accurate and real info, then compare prices", said Russell Rabichev, Marketing Director of Internet Marketing Company. CONTACT: Company Name: Internet Marketing CompanyPerson for contact Name: Gurgu CPhone Number: (818) 359-3898Email: [email protected]: https://compare-autoinsurance.Org/ SOURCE: Compare-autoinsurance.Org View source version on accesswire.Com:https://www.Accesswire.Com/595055/What-Are-The-Main-Benefits-Of-Comparing-Car-Insurance-Quotes-Online View photos
picture credit
to request, modification Contact us at Here or [email protected]