How Albyn School encourages all students to exercise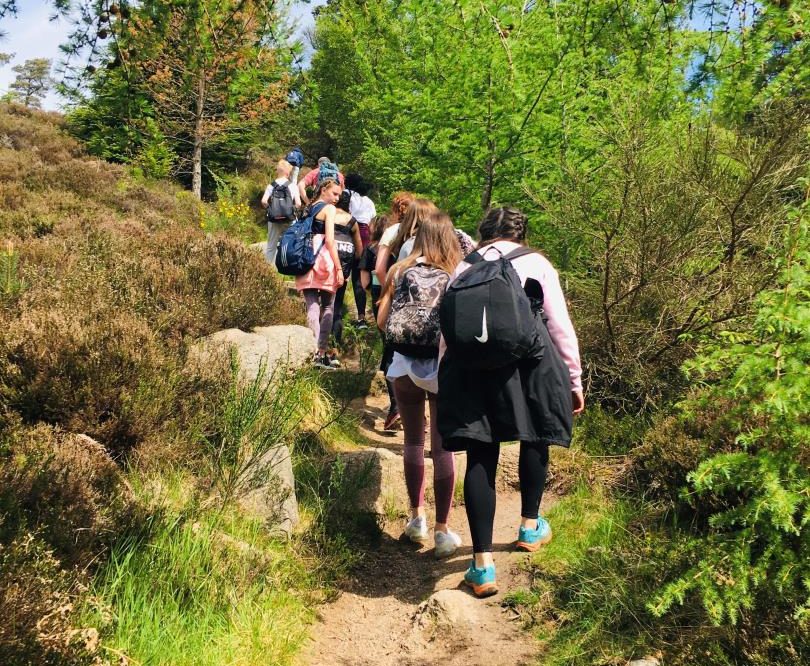 Physical education and sport are part of everyday life at Albyn School and have always been known as a sporting school.
PE and games are prioritized so that the entire school community can enjoy the many benefits that sport can bring.
Through Albyns curriculum and co-curricular sports programs, it strives to maintain a high standard of physical education and promote it at all levels to help students stay fit and healthy.
Staff and older students act as role models for younger students and inspire them to take the next step in their sporting journey.
The overall goal Albyn School is to ensure that all students have an equal opportunity to participate, equipping them for a healthy lifestyle and lifelong enjoyment of exercise and sport.
Children who participate in gym and sports will enjoy better physical, social, mental and emotional health. Therefore, broad participation is always encouraged, even during the lockdowns and while restrictions are in place.
Albyn's PE and Games program is fun, diverse and of high quality, allowing children of all levels, from L1 to U6, to participate.
A rich co-curricular program and first-class facilities help the school maintain and increase participation, while also encouraging children to play and participate in competitive sports.
Albyn pupils can take part in a range of activities and popular sports, including football, netball, hockey, skiing, athletics, cricket, gymnastics, basketball and swimming.
The school also offers more unusual activities, such as table tennis and laser run/modern pentathlon, which the high school students love.
Academic success is only possible with good mental and physical well-being and since Covid-19 struck, students have been under enormous pressure.
Over the past year, Albyn has worked to get everyone to exercise to relieve stress and anxiety and provide an outlet for heavy emotions.
During the lockdowns, classes were taught virtually via Microsoft Teams. It held interactive live teacher-led circuits, triathlon challenges, sports quizzes, Olympic challenges and even juggling.
Staff and students stayed connected through live lessons and collaborated in Teams. This allowed them to maintain contact and monitor student engagement at the same time.
The school found it easier to give virtual lessons when the weather was nice and everyone wanted to go outside. Although it was more difficult to get the students outside in the winter, the school managed to maintain interest through inventive ways and the students adapted well to the fun challenges.
A school that gave a live virtual sports day for the first time, went like a rocket. The school presents challenges for students, their families and even former students.
During the morning of the events, it streamed live interviews from several sports stars, including former Scottish rugby player Kelly Brown.
This event was fantastic for bringing the whole Albyn community together at a time when families felt very isolated.
PE and games have helped everyone stay together and active, while also improving mental health and emotional well-being.
With everyone back to school it is still so important to promote the importance of health and fitness to the wider Albyn community and the school has a number of fun activities including a Family Fun Weekend.
Read more about the opportunities Albyn School has to offer your child online here.
What Are The Main Benefits Of Comparing Car Insurance Quotes Online
LOS ANGELES, CA / ACCESSWIRE / June 24, 2020, / Compare-autoinsurance.Org has launched a new blog post that presents the main benefits of comparing multiple car insurance quotes. For more info and free online quotes, please visit https://compare-autoinsurance.Org/the-advantages-of-comparing-prices-with-car-insurance-quotes-online/ The modern society has numerous technological advantages. One important advantage is the speed at which information is sent and received. With the help of the internet, the shopping habits of many persons have drastically changed. The car insurance industry hasn't remained untouched by these changes. On the internet, drivers can compare insurance prices and find out which sellers have the best offers. View photos The advantages of comparing online car insurance quotes are the following: Online quotes can be obtained from anywhere and at any time. Unlike physical insurance agencies, websites don't have a specific schedule and they are available at any time. Drivers that have busy working schedules, can compare quotes from anywhere and at any time, even at midnight. Multiple choices. Almost all insurance providers, no matter if they are well-known brands or just local insurers, have an online presence. Online quotes will allow policyholders the chance to discover multiple insurance companies and check their prices. Drivers are no longer required to get quotes from just a few known insurance companies. Also, local and regional insurers can provide lower insurance rates for the same services. Accurate insurance estimates. Online quotes can only be accurate if the customers provide accurate and real info about their car models and driving history. Lying about past driving incidents can make the price estimates to be lower, but when dealing with an insurance company lying to them is useless. Usually, insurance companies will do research about a potential customer before granting him coverage. Online quotes can be sorted easily. Although drivers are recommended to not choose a policy just based on its price, drivers can easily sort quotes by insurance price. Using brokerage websites will allow drivers to get quotes from multiple insurers, thus making the comparison faster and easier. For additional info, money-saving tips, and free car insurance quotes, visit https://compare-autoinsurance.Org/ Compare-autoinsurance.Org is an online provider of life, home, health, and auto insurance quotes. This website is unique because it does not simply stick to one kind of insurance provider, but brings the clients the best deals from many different online insurance carriers. In this way, clients have access to offers from multiple carriers all in one place: this website. On this site, customers have access to quotes for insurance plans from various agencies, such as local or nationwide agencies, brand names insurance companies, etc. "Online quotes can easily help drivers obtain better car insurance deals. All they have to do is to complete an online form with accurate and real info, then compare prices", said Russell Rabichev, Marketing Director of Internet Marketing Company. CONTACT: Company Name: Internet Marketing CompanyPerson for contact Name: Gurgu CPhone Number: (818) 359-3898Email: [email protected]: https://compare-autoinsurance.Org/ SOURCE: Compare-autoinsurance.Org View source version on accesswire.Com:https://www.Accesswire.Com/595055/What-Are-The-Main-Benefits-Of-Comparing-Car-Insurance-Quotes-Online View photos
picture credit
to request, modification Contact us at Here or [email protected]