Civil Air Patrol Team Participates in National Drone Contest | News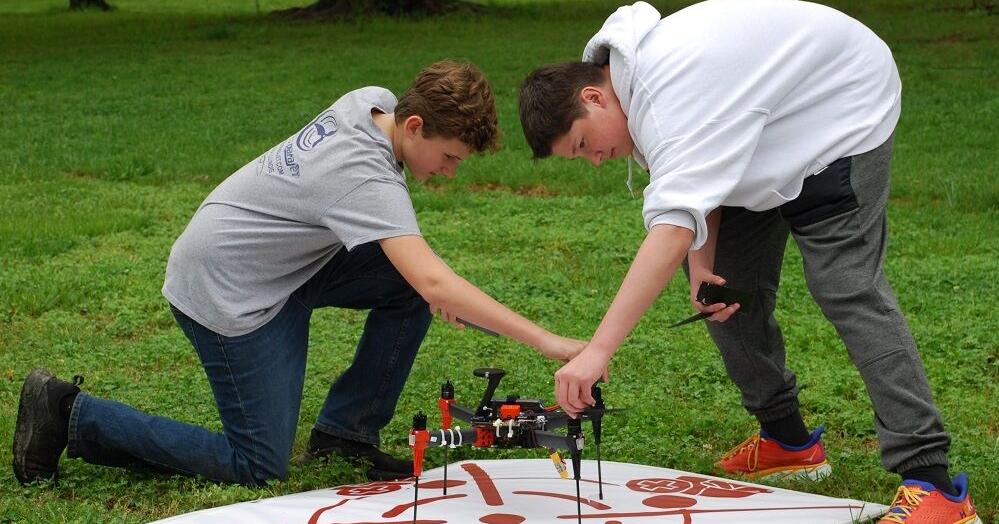 Two Northern Alabama Civil Air Patrol teams have earned a chance to compete in this summer's UAS4STEM National Championship.
The Redstone Composite Advanced Team and Redstone/Mountain Lakes Composite Beginners Team successfully completed the qualifying rounds and were named the top scoring teams. The championship will take place July 24-26 at the Experimental Aircraft Association AirVenture in Oshkosh, Wisconsin.
For cadets, this opportunity is the culmination of over six months of preparation. The advanced team will participate in the national competition for the third consecutive year following last year's runner-up. This is the first time that a tournament for beginners will be held.
Advanced team drones employ high-tech automation powered by artificial intelligence and machine vision. Their mission requires drones to locate objects, pick them up, and deliver them to specific locations. The more automation you have, the higher your score.
The novice team assembled and tested the drone and prepared it for an aerial reconnaissance mission. This mission requires the team to identify letters on target boards around the field and use drones to report the coordinates of those targets.
The Academy of Model Aeronautics is sponsoring the UAS4STEM competition with drone manufacturer Skydio.
UAS4STEM is designed for students to learn, practice and demonstrate professional unmanned aerial system knowledge, mission planning, flight skills, data collection, analysis and safety practices in a competitive environment, the Academy said. stated in the release. This is a drone competition that anyone can participate in, from beginners to advanced users.
Both teams are led by Alabama Wings Director of Aerospace Education, Capt. Dan Anderson. Senior team cadets also provided coaching to the novice team, passing on helpful tips they learned.
The Redstone Composite Advanced UAS4STEM team includes Team Captain Candidate Tech Sgt. Brody Stokes, Cadet Lt. Col. Aidan Anderson, Cadet Lt. Col. Eileen Anderson, Cadet Captain Ben Lambertson, Cadet Christianna Berger, Cadet Lt. Greyston Harper, Cadet Airman First Class Jeremy Fielding Jr., Midshipman Airman First Class Thomas Fleming.
Combining Redstone Composite and Mountain Lakes Composite Beginners, the UAS4STEM team includes a Team Captain Candidate Staff Sergeant. Emily Boutella, Cadet Chief Master Sergeant. Jonathan Drake, Cadet Chief Master Sergeant. Judah Covert, Cadet Staff Sergeant. Benjamin Booth, Cadet Lara Valkalcel, Cadet Paul Valkalcel, Cadet Jacob Graham, Cadet Airman Elizabeth Palacal, Cadet Airman Christopher Palacal.
Sources
2/ https://www.theredstonerocket.com/news/article_7adf5fc4-eef3-11ed-8373-178d261873f7.html
The mention sources can contact us to remove/changing this article
What Are The Main Benefits Of Comparing Car Insurance Quotes Online
LOS ANGELES, CA / ACCESSWIRE / June 24, 2020, / Compare-autoinsurance.Org has launched a new blog post that presents the main benefits of comparing multiple car insurance quotes. For more info and free online quotes, please visit https://compare-autoinsurance.Org/the-advantages-of-comparing-prices-with-car-insurance-quotes-online/ The modern society has numerous technological advantages. One important advantage is the speed at which information is sent and received. With the help of the internet, the shopping habits of many persons have drastically changed. The car insurance industry hasn't remained untouched by these changes. On the internet, drivers can compare insurance prices and find out which sellers have the best offers. View photos The advantages of comparing online car insurance quotes are the following: Online quotes can be obtained from anywhere and at any time. Unlike physical insurance agencies, websites don't have a specific schedule and they are available at any time. Drivers that have busy working schedules, can compare quotes from anywhere and at any time, even at midnight. Multiple choices. Almost all insurance providers, no matter if they are well-known brands or just local insurers, have an online presence. Online quotes will allow policyholders the chance to discover multiple insurance companies and check their prices. Drivers are no longer required to get quotes from just a few known insurance companies. Also, local and regional insurers can provide lower insurance rates for the same services. Accurate insurance estimates. Online quotes can only be accurate if the customers provide accurate and real info about their car models and driving history. Lying about past driving incidents can make the price estimates to be lower, but when dealing with an insurance company lying to them is useless. Usually, insurance companies will do research about a potential customer before granting him coverage. Online quotes can be sorted easily. Although drivers are recommended to not choose a policy just based on its price, drivers can easily sort quotes by insurance price. Using brokerage websites will allow drivers to get quotes from multiple insurers, thus making the comparison faster and easier. For additional info, money-saving tips, and free car insurance quotes, visit https://compare-autoinsurance.Org/ Compare-autoinsurance.Org is an online provider of life, home, health, and auto insurance quotes. This website is unique because it does not simply stick to one kind of insurance provider, but brings the clients the best deals from many different online insurance carriers. In this way, clients have access to offers from multiple carriers all in one place: this website. On this site, customers have access to quotes for insurance plans from various agencies, such as local or nationwide agencies, brand names insurance companies, etc. "Online quotes can easily help drivers obtain better car insurance deals. All they have to do is to complete an online form with accurate and real info, then compare prices", said Russell Rabichev, Marketing Director of Internet Marketing Company. CONTACT: Company Name: Internet Marketing CompanyPerson for contact Name: Gurgu CPhone Number: (818) 359-3898Email: [email protected]: https://compare-autoinsurance.Org/ SOURCE: Compare-autoinsurance.Org View source version on accesswire.Com:https://www.Accesswire.Com/595055/What-Are-The-Main-Benefits-Of-Comparing-Car-Insurance-Quotes-Online View photos
to request, modification Contact us at Here or [email protected]