5 Powerful Ways to Leverage Google Alert Settings for Your Company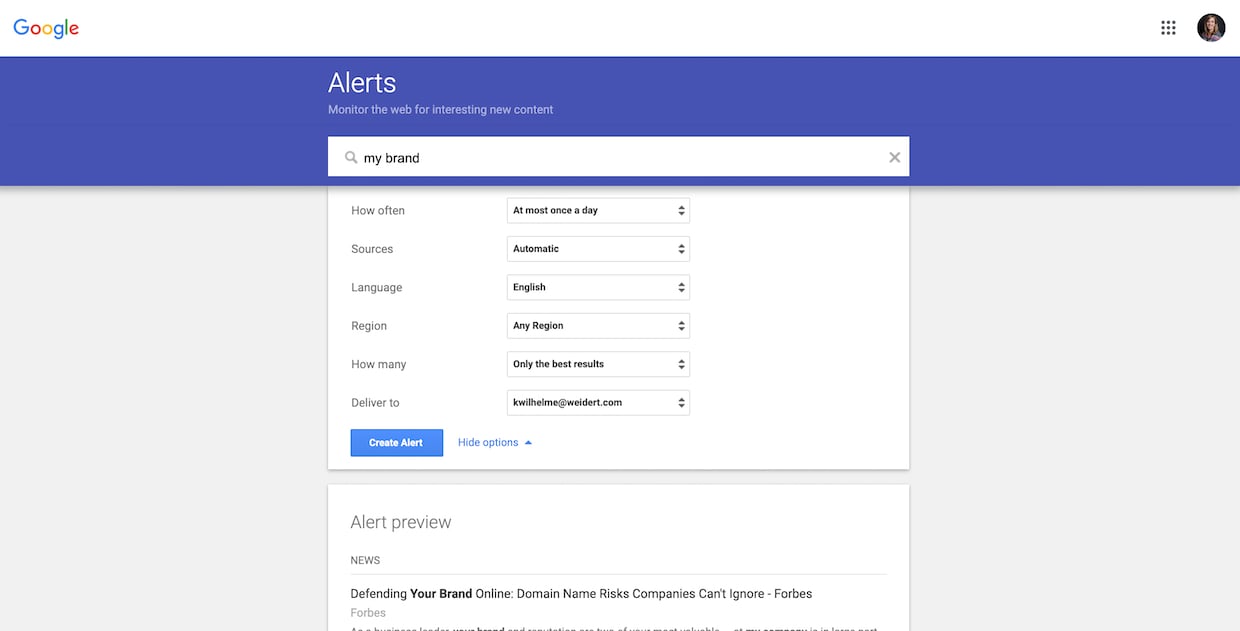 I can use it. Simple. free. You won't find a better chance on the web.
Quick and easy for individuals and businesses alike, Google Alerts is one of many free and useful online tools Google offers. After easily setting up Google Alerts for your company, monitor your online presence and keep a close eye on the topics, search terms, and queries that matter most to you and your business.
Stay on top of real-time mentions, media coverage, new content and competitors without investing in expensive monitoring services.
A surprising number of B2B marketers and salespeople don't know how to take advantage of this simple but powerful tool, or even how to set up Google Alerts for their businesses.
Benefits of setting up Google Alerts
Later in this blog, we'll show you how to get started with Google Alerts in a few easy steps and with minimal effort. Before doing so, it's wise to understand how to apply what you've learned from alert emails to get the most out of this underutilized monitoring tool.
How can Google Alerts help me develop and inform my B2B marketing strategy? This tool provides insight into the actual terms and queries users enter into the search engine. Creating Google Alerts allows you to:
Monitor mentions of your brand and products Respond quickly and effectively to negative online reviews Add and share links to positive press and product and service reviews Stay on the lookout for media coverage of your business Stay up-to-date on the most important industry topics impacting your closest competitors
From basic basics to creating in-demand content, here are five of the most effective ways to leverage Google Alerts across your B2B inbound marketing program.
1. Monitor newly indexed content
Any savvy marketer knows that the online content they create builds the foundation of any inbound growth marketing program. It's the best way to be found in organic search. Setting up Google Alerts for your company will show you exactly when newly published content was indexed by Google's search bots.
To do this, simply track your company name, web page URL, or new blog post title. We'll cover how to complete the list later in this blog.
2. Social monitoring and listening
Invest time and effort in establishing and maintaining a social media presence. However, it's not a complete conversation if you're not listening.
Set up Google Alerts to see your brand's mentions across the internet and stay on top of important conversations and reputation.
By monitoring industry forum sites and social sites like LinkedIn and Quora, you can identify opportunities to engage in your area of ​​interest. Increase brand awareness and demonstrate your industry thought leadership by leaving thoughtful comments on our forums (or on other people's blogs) or by answering relevant questions in industry groups on our social media sites.
Immediately loop in when an alert pops up.
Company name and subsidiaries, divisions, strategic partners Professional services with product brand names and service marks Executives and key personnel (such as spokespersons) Targeted competitors Significant new business and sales objectives 3. Links construction of
Link building is a basic practice for businesses that run blogs. Tracking which sites link to her content can help her understand which sites and organizations contribute to generating traffic for her website.
For example, if you track the title of a blog post and receive a Google alert, check to see if your company is getting proper credit for the content. Also, make sure you link to the original article. Without links, you can't get the full SEO value.
4. Keyword monitoring
Creating Google alerts for your most important keyword queries can help you monitor how your competitors are using your keywords. This helps you track keyword evolution, secondary and related keywords, as well as new industries and niches that may present new business opportunities.
This alert preview for inbound marketing shows occurrences of keyword phrases in Google News alerts.
5. Content Ideas
Getting Google alerts on relevant industry news articles, keyword trends, online conversations, brand mentions, and more is worth starting your new content idea to-do list.
You may recognize the need for new pillar pages or advanced content to answer recurring questions in circulation. Regulations and other news related to your industry can generate new ideas for blogs and social media posts.
Google Alerts helps you make the most of a nearly endless source of relevant content ideas to help your inbound program.
How to set up Google Alerts
Setting up Google Alerts is easy. Just follow the simple steps below. But please note that you need a Google account before you start.
Go to google.com/alerts. Enter a search operator, the search term for which you want to be notified (e.g. company name, executive name, product, industry topic, competitor, etc.).[表示オプション]Choose. Select the desired frequency. Receive the notification and fill in any other requested information. Populate your Google inbox or turn it into an RSS feed.[アラートの作成]Press the button.You can also select a specific delivery time for alerts or batch them into a single email by clicking the gear icon (top right of alert box)
Pro Tip: If you already use a Google email address, we recommend setting up a separate inbox to automatically sort and deliver alert emails. That way, your regular work emails each day won't get in the way.
Hacks, insider tips and tricks
Similar to prompts in AI tools like ChatGPT, using the right words can optimize the value of Google Alerts. These search parameter refinement tips can help you fine-tune your search queries and ignore notifications that aren't relevant to you or your company.
Add quotation marks () around your desired search query to tell Google to use the exact terms in the order that gives the best results. Type a minus sign (-) in front of the word or phrase you want to exclude (for example, Charles Schulz -Snoopy) ). This tells Google which alerts to track and which to avoid. Include common misspellings of search terms. Google detects and automatically corrects many misspelled words, but why not cover the basics, especially if the term is very specific? To find synonyms related to your topic, add a tilde sign (~) before your query. Add an asterisk.
Including in your query will give you more diverse results that may be relevant to your subject
Google Alerts is another tool in a company's marketing toolbox, with great potential for informing marketing strategies, understanding buyer personas, interacting with target audiences, and more.
Complex Industries Want to find out how B2B companies are using social media in their inbound marketing, sales, and service strategies? Check out this page: Social Media for Business: A Guide for Complex Industries. Click the link below.
Sources
2/ https://www.weidert.com/blog/google-alerts-setup-for-companies
The mention sources can contact us to remove/changing this article
What Are The Main Benefits Of Comparing Car Insurance Quotes Online
LOS ANGELES, CA / ACCESSWIRE / June 24, 2020, / Compare-autoinsurance.Org has launched a new blog post that presents the main benefits of comparing multiple car insurance quotes. For more info and free online quotes, please visit https://compare-autoinsurance.Org/the-advantages-of-comparing-prices-with-car-insurance-quotes-online/ The modern society has numerous technological advantages. One important advantage is the speed at which information is sent and received. With the help of the internet, the shopping habits of many persons have drastically changed. The car insurance industry hasn't remained untouched by these changes. On the internet, drivers can compare insurance prices and find out which sellers have the best offers. View photos The advantages of comparing online car insurance quotes are the following: Online quotes can be obtained from anywhere and at any time. Unlike physical insurance agencies, websites don't have a specific schedule and they are available at any time. Drivers that have busy working schedules, can compare quotes from anywhere and at any time, even at midnight. Multiple choices. Almost all insurance providers, no matter if they are well-known brands or just local insurers, have an online presence. Online quotes will allow policyholders the chance to discover multiple insurance companies and check their prices. Drivers are no longer required to get quotes from just a few known insurance companies. Also, local and regional insurers can provide lower insurance rates for the same services. Accurate insurance estimates. Online quotes can only be accurate if the customers provide accurate and real info about their car models and driving history. Lying about past driving incidents can make the price estimates to be lower, but when dealing with an insurance company lying to them is useless. Usually, insurance companies will do research about a potential customer before granting him coverage. Online quotes can be sorted easily. Although drivers are recommended to not choose a policy just based on its price, drivers can easily sort quotes by insurance price. Using brokerage websites will allow drivers to get quotes from multiple insurers, thus making the comparison faster and easier. For additional info, money-saving tips, and free car insurance quotes, visit https://compare-autoinsurance.Org/ Compare-autoinsurance.Org is an online provider of life, home, health, and auto insurance quotes. This website is unique because it does not simply stick to one kind of insurance provider, but brings the clients the best deals from many different online insurance carriers. In this way, clients have access to offers from multiple carriers all in one place: this website. On this site, customers have access to quotes for insurance plans from various agencies, such as local or nationwide agencies, brand names insurance companies, etc. "Online quotes can easily help drivers obtain better car insurance deals. All they have to do is to complete an online form with accurate and real info, then compare prices", said Russell Rabichev, Marketing Director of Internet Marketing Company. CONTACT: Company Name: Internet Marketing CompanyPerson for contact Name: Gurgu CPhone Number: (818) 359-3898Email: [email protected]: https://compare-autoinsurance.Org/ SOURCE: Compare-autoinsurance.Org View source version on accesswire.Com:https://www.Accesswire.Com/595055/What-Are-The-Main-Benefits-Of-Comparing-Car-Insurance-Quotes-Online View photos
to request, modification Contact us at Here or [email protected]