High-level forum calls for stronger science and technology ties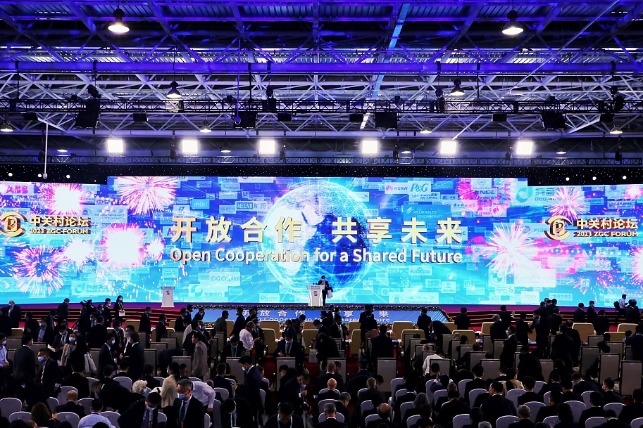 The opening ceremony of the 2023 Zhongguancun Forum will be held in Beijing on May 25, 2023. [Photo/VCG]
Greater global cooperation in science and technology is needed if the world is to foster economic recovery, promote green development, and address growing uncertainties such as decoupling and potential risks of regional conflict. officials and experts said on Friday.
The two leaders stressed the importance of technology in promoting innovation, and said China could make unique contributions to solving challenges by sharing technology and experience.
The comments came after President Xi Jinping said China is willing to work with countries around the world to promote technological innovation to better benefit the people of all countries. He made the remarks in his congratulatory address for the 2023 Zhongguancun Forum, which opened in Beijing on Thursday and runs through Tuesday.
Science and Technology Minister Wang Zhigang said at the Zhongguancun Forum meeting on Friday that China aims to partner with countries around the world in promoting global economic transformation, green development and poverty eradication.
"We will optimize the open innovation ecosystem to provide a broader arena for international science and technology institutions, scientists, entrepreneurs and investors to come to China for innovation and innovation, We will make further efforts to facilitate the smooth flow of knowledge, technology and talents, "business expansion," Wang said.
He also said the two countries would strengthen joint research in key areas, establish a global scientific research fund, and promote science and technology cooperation between governments.
Microsoft co-founder Bill Gates said in a videolink speech at the forum that more global cooperation is needed to meet the challenges facing humanity.
Gates remains optimistic about the future, believing humanity will be back on the right track despite challenges such as the COVID-19 pandemic, climate change and regional conflicts. said.
Gates said China has an amazing mix of expertise, experience and investment in science, technology and innovation, saying, "China could make a unique contribution in sharing its technology and lessons learned." added.
He said China is already playing a key role in meeting the challenges, and that its drug and vaccine R&D resources and production capacity could help the world prepare for future pandemics.
Chinese Academy of Sciences President Hou Jianguo said that open cooperation is the key to global technological progress, and that Chinese scientists' contributions to the global science and technology community are increasing.
Hou said China's international science and technology cooperation papers will account for 23.4% of the country's total research papers in 2022, up from about 14% in 2013.
According to the latest data from the Nature Index, China will top the share of articles published in top journals in 2022, replacing the United States as the largest contributor to high-quality natural science research for the first time.
In an interview with the China Daily, Dennis Simon, chairman of the Alliance for Global Talent Organizations, said that Xi's remarks were a sign of efforts to promote international cooperation in key areas despite uncertainties such as the potential risks of decoupling. He said it would send a clear signal that it could.
"We see both competition and cooperation. I think that's the hallmark of this era. Just because we're competing doesn't mean we can't work with each other," Simon said.
Sources
2/ http://global.chinadaily.com.cn/a/202305/27/WS64713e82a310b6054fad5571.html
The mention sources can contact us to remove/changing this article
What Are The Main Benefits Of Comparing Car Insurance Quotes Online
LOS ANGELES, CA / ACCESSWIRE / June 24, 2020, / Compare-autoinsurance.Org has launched a new blog post that presents the main benefits of comparing multiple car insurance quotes. For more info and free online quotes, please visit https://compare-autoinsurance.Org/the-advantages-of-comparing-prices-with-car-insurance-quotes-online/ The modern society has numerous technological advantages. One important advantage is the speed at which information is sent and received. With the help of the internet, the shopping habits of many persons have drastically changed. The car insurance industry hasn't remained untouched by these changes. On the internet, drivers can compare insurance prices and find out which sellers have the best offers. View photos The advantages of comparing online car insurance quotes are the following: Online quotes can be obtained from anywhere and at any time. Unlike physical insurance agencies, websites don't have a specific schedule and they are available at any time. Drivers that have busy working schedules, can compare quotes from anywhere and at any time, even at midnight. Multiple choices. Almost all insurance providers, no matter if they are well-known brands or just local insurers, have an online presence. Online quotes will allow policyholders the chance to discover multiple insurance companies and check their prices. Drivers are no longer required to get quotes from just a few known insurance companies. Also, local and regional insurers can provide lower insurance rates for the same services. Accurate insurance estimates. Online quotes can only be accurate if the customers provide accurate and real info about their car models and driving history. Lying about past driving incidents can make the price estimates to be lower, but when dealing with an insurance company lying to them is useless. Usually, insurance companies will do research about a potential customer before granting him coverage. Online quotes can be sorted easily. Although drivers are recommended to not choose a policy just based on its price, drivers can easily sort quotes by insurance price. Using brokerage websites will allow drivers to get quotes from multiple insurers, thus making the comparison faster and easier. For additional info, money-saving tips, and free car insurance quotes, visit https://compare-autoinsurance.Org/ Compare-autoinsurance.Org is an online provider of life, home, health, and auto insurance quotes. This website is unique because it does not simply stick to one kind of insurance provider, but brings the clients the best deals from many different online insurance carriers. In this way, clients have access to offers from multiple carriers all in one place: this website. On this site, customers have access to quotes for insurance plans from various agencies, such as local or nationwide agencies, brand names insurance companies, etc. "Online quotes can easily help drivers obtain better car insurance deals. All they have to do is to complete an online form with accurate and real info, then compare prices", said Russell Rabichev, Marketing Director of Internet Marketing Company. CONTACT: Company Name: Internet Marketing CompanyPerson for contact Name: Gurgu CPhone Number: (818) 359-3898Email: [email protected]: https://compare-autoinsurance.Org/ SOURCE: Compare-autoinsurance.Org View source version on accesswire.Com:https://www.Accesswire.Com/595055/What-Are-The-Main-Benefits-Of-Comparing-Car-Insurance-Quotes-Online View photos
to request, modification Contact us at Here or [email protected]