The best Apple accessories on the CES2021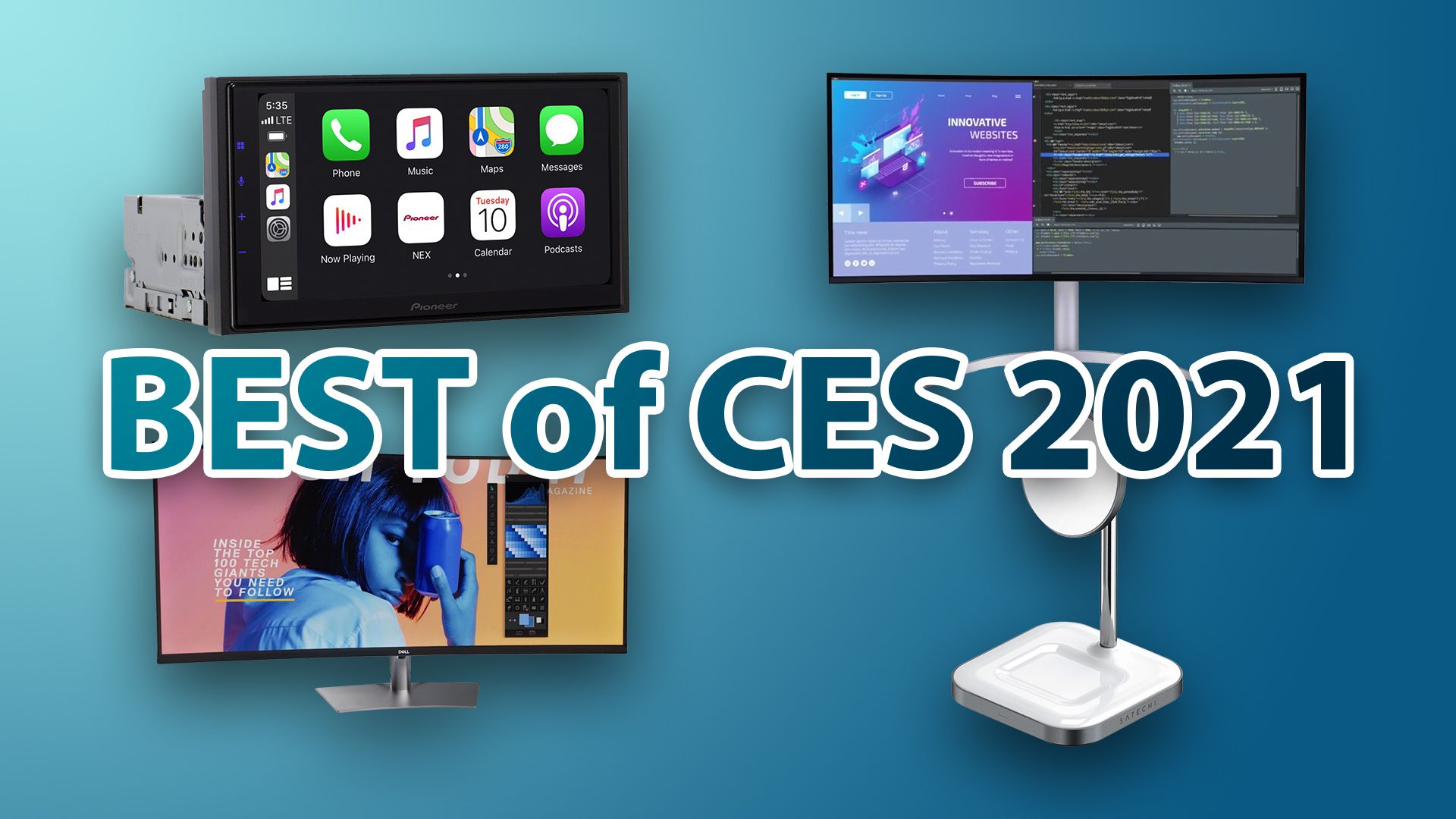 CES 2021 was held digitally this year and wasn't as exciting as it was in the last few years, as many vendors have opted out. That said, some companies are still showing off some interesting Apple-related accessories coming out this year, which will be interesting for Mac, iPad, and iPhone users.
With wireless CarPlay in the spotlight, Pioneer has debuted a new DMH-WC5700NEX receiver that supports both wired and wireless "CarPlay". The updated receiver features a 6.8-inch touch screen and a hideaway control unit for installation flexibility. It's this summer, but the prices haven't been explained in detail yet.
LG unveiled the new UltraFine Display OLED Pro with a 31.5-inch display, over 8 million pixels, and HDR individual pixel dimming. This is LG's first OLED monitor and, like any other UltraFine display, is compatible with Apple's Mac. LG also unveiled the new 39.7-inch 5K2K Ultra Wide monitor. Pricing and availability have not yet been announced.
Satechi's Dock 5 is a simple charging station that can accommodate up to 5 devices at once with 2 20W USB-C ports, 2 12W USB-A ports, and a Qi-based wireless charger that supports up to 10W. .. It's reasonably priced at $ 60 and can be purchased from the Satechi website.
StudioDock is an iPad Pro docking station with built-in wireless charging for your iPhone and AirPods. You can also use the optional Apple Watch Charger to charge many Apple devices at once. It has three USB-A ports, one USB-C port, an HDMI 2.0 port, a 3.5mm headphone jack, an SD card reader, and a Gigabit Ethernet port. Kensington has not yet shared the price or release date.
Dell unveiled the UltraSharp 40 Curved WUHD Monitor with a 40-inch curved display with a resolution of 5120×2160. It has a 21: 9 aspect ratio and a built-in Thunderbolt 3 connection, so it works on Apple Macs. The UltraSharp 40 will be available on January 28th, starting at $ 2,100.
JBL has debuted the JBL Bar 5.0 Multibeam, a sound bar with AirPlay 2, ideal for Apple users. With support for ‌AirPlay‌2, sound can be streamed wirelessly directly from ‌iPhone‌, ‌iPad‌, and Mac to the soundbar. JBL will release a soundbar in the spring of 2021 for $ 400.
Belkin has announced the Boost Charge Pro 2-in-1 Wireless Charging Stand with another MagSafe charging option, MagSafe. It works with Apple's iPhone 12 lineup. You can charge your iPhone 12 and other devices via a wireless charging base, which is more affordable at $ 99.95 than the three-in-one version. It will be available in March or April.
Belkin's Soundform branded wire-free Freedom True Wireless earphones are the first third-party earphones to offer integration with the FindMy app. These headphones can be tracked with your Apple device and offer an additional 8 hours of playback time, environmental noise canceling, and Qi-based wireless charging. The price is unknown, but Belkin plans to release earphones in March or April.
Are there any other favorite Apple-related accessories announced at ‌CES2021‌? Please let us know in the comments.
What Are The Main Benefits Of Comparing Car Insurance Quotes Online
LOS ANGELES, CA / ACCESSWIRE / June 24, 2020, / Compare-autoinsurance.Org has launched a new blog post that presents the main benefits of comparing multiple car insurance quotes. For more info and free online quotes, please visit https://compare-autoinsurance.Org/the-advantages-of-comparing-prices-with-car-insurance-quotes-online/ The modern society has numerous technological advantages. One important advantage is the speed at which information is sent and received. With the help of the internet, the shopping habits of many persons have drastically changed. The car insurance industry hasn't remained untouched by these changes. On the internet, drivers can compare insurance prices and find out which sellers have the best offers. View photos The advantages of comparing online car insurance quotes are the following: Online quotes can be obtained from anywhere and at any time. Unlike physical insurance agencies, websites don't have a specific schedule and they are available at any time. Drivers that have busy working schedules, can compare quotes from anywhere and at any time, even at midnight. Multiple choices. Almost all insurance providers, no matter if they are well-known brands or just local insurers, have an online presence. Online quotes will allow policyholders the chance to discover multiple insurance companies and check their prices. Drivers are no longer required to get quotes from just a few known insurance companies. Also, local and regional insurers can provide lower insurance rates for the same services. Accurate insurance estimates. Online quotes can only be accurate if the customers provide accurate and real info about their car models and driving history. Lying about past driving incidents can make the price estimates to be lower, but when dealing with an insurance company lying to them is useless. Usually, insurance companies will do research about a potential customer before granting him coverage. Online quotes can be sorted easily. Although drivers are recommended to not choose a policy just based on its price, drivers can easily sort quotes by insurance price. Using brokerage websites will allow drivers to get quotes from multiple insurers, thus making the comparison faster and easier. For additional info, money-saving tips, and free car insurance quotes, visit https://compare-autoinsurance.Org/ Compare-autoinsurance.Org is an online provider of life, home, health, and auto insurance quotes. This website is unique because it does not simply stick to one kind of insurance provider, but brings the clients the best deals from many different online insurance carriers. In this way, clients have access to offers from multiple carriers all in one place: this website. On this site, customers have access to quotes for insurance plans from various agencies, such as local or nationwide agencies, brand names insurance companies, etc. "Online quotes can easily help drivers obtain better car insurance deals. All they have to do is to complete an online form with accurate and real info, then compare prices", said Russell Rabichev, Marketing Director of Internet Marketing Company. CONTACT: Company Name: Internet Marketing CompanyPerson for contact Name: Gurgu CPhone Number: (818) 359-3898Email: [email protected]: https://compare-autoinsurance.Org/ SOURCE: Compare-autoinsurance.Org View source version on accesswire.Com:https://www.Accesswire.Com/595055/What-Are-The-Main-Benefits-Of-Comparing-Car-Insurance-Quotes-Online View photos
picture credit
to request, modification Contact us at Here or [email protected]