Samaritan's Purse rushes to Haiti after the earthquake |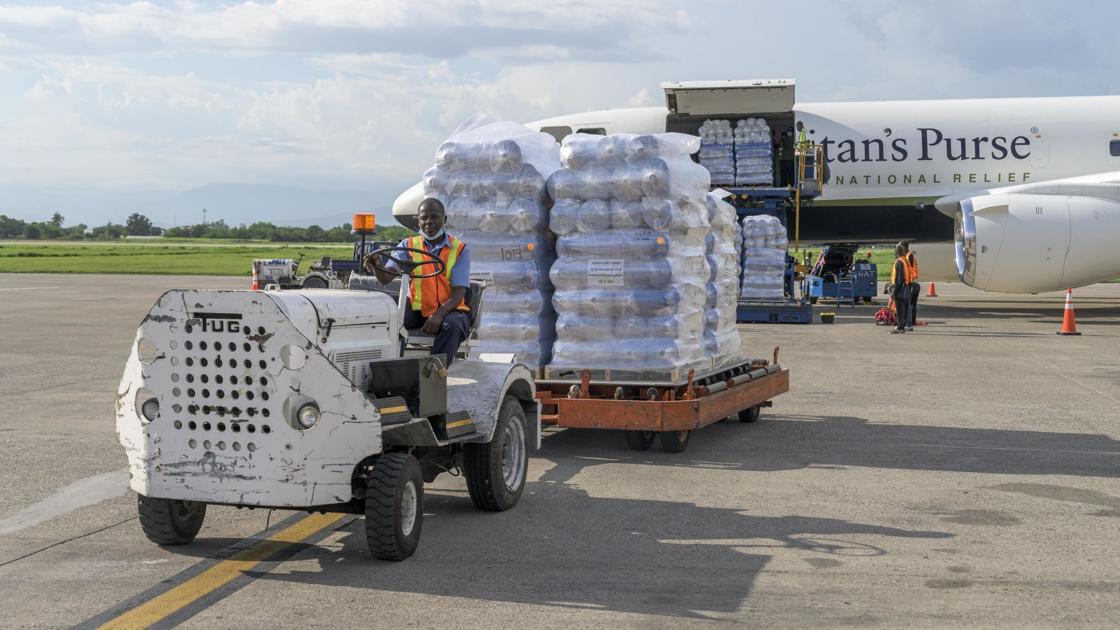 At the request of the Haitian government's health ministry, Samaritan's Purse deployed an emergency field hospital in southern Haiti on August 17.
MSF teams continue to provide emergency shelter and clean water to affected communities in the hardest-hit areas of southern Haiti in the wake of the 7.2-magnitude earthquake on August 14.
Christian Relief International mobilized more than 15 people on Saturday.
A team of responders landed in Saint-Louis-de-Sud, Haiti, around 4 p.m., August 15, according to Ken Isaacs, vice president of programs and government relations at Samaritan's Purse.
Isaacs said at least five other people from the organization's disaster response team based in Port-au-Prince responded to the disaster.
The earthquake caused extensive damage, destroying homes and trapping people under the rubble. The organization fears that there will be heavy casualties as search and rescue efforts continue.
"It's hard to fully determine the damage," Isaac said. "We don't know how many homes have been destroyed or buildings that have fallen and we want to do everything we can,"
Samaritan's Purse's DC-8 freighter airlifted disaster response specialists and 31 tons of emergency relief supplies, including shelter materials and two community water purification units, to Haiti on August 16. Each unit is able to provide clean water to 3,500 people per day.
Shelter and clean water are among the immediate needs of Haitians as the country prepares for Tropical Depression Grace, Isaac said.
He was also on the ground with Samaritan's Purse right after the 2010 earthquake in Haiti. Within an hour of the earthquake, he said, he received text messages that the city's water had stopped.
A medical team will also be deployed to provide basic medical care and initiate health assessments. The team will arrive in Port-au-Prince around 9am tomorrow. Isaacs estimates that this part of the relief effort could take three to four weeks, although they are still working on the logistics of moving supplies from Port-au-Prince to the affected area.
"This massive earthquake has devastated Haiti – it has left many families homeless and looking for loved ones," said Franklin Graham, president of Samaritan's Purse. "We are responding to help meet needs in Jesus name. Please pray for Haiti and all who are suffering,"
Isaac said Samaritan's Purse is closely coordinating with Customs, Immigration, the Ministry of Health and the Prime Minister's Office to quickly manage the aid.
Samaritan's Purse has worked in Haiti for over a decade – responding to disasters and maintaining a permanent country office based in Port-au-Prince. In 2010, Christian Relief International responded to the 7.0 earthquake and the subsequent outbreak of cholera.
.
Sources
2/ https://www.wataugademocrat.com/samaritans-purse-rushes-aid-to-haiti-after-earthquake/article_71dda186-5366-5328-91c1-ec73759548d2.html
The mention sources can contact us to remove/changing this article
What Are The Main Benefits Of Comparing Car Insurance Quotes Online
LOS ANGELES, CA / ACCESSWIRE / June 24, 2020, / Compare-autoinsurance.Org has launched a new blog post that presents the main benefits of comparing multiple car insurance quotes. For more info and free online quotes, please visit https://compare-autoinsurance.Org/the-advantages-of-comparing-prices-with-car-insurance-quotes-online/ The modern society has numerous technological advantages. One important advantage is the speed at which information is sent and received. With the help of the internet, the shopping habits of many persons have drastically changed. The car insurance industry hasn't remained untouched by these changes. On the internet, drivers can compare insurance prices and find out which sellers have the best offers. View photos The advantages of comparing online car insurance quotes are the following: Online quotes can be obtained from anywhere and at any time. Unlike physical insurance agencies, websites don't have a specific schedule and they are available at any time. Drivers that have busy working schedules, can compare quotes from anywhere and at any time, even at midnight. Multiple choices. Almost all insurance providers, no matter if they are well-known brands or just local insurers, have an online presence. Online quotes will allow policyholders the chance to discover multiple insurance companies and check their prices. Drivers are no longer required to get quotes from just a few known insurance companies. Also, local and regional insurers can provide lower insurance rates for the same services. Accurate insurance estimates. Online quotes can only be accurate if the customers provide accurate and real info about their car models and driving history. Lying about past driving incidents can make the price estimates to be lower, but when dealing with an insurance company lying to them is useless. Usually, insurance companies will do research about a potential customer before granting him coverage. Online quotes can be sorted easily. Although drivers are recommended to not choose a policy just based on its price, drivers can easily sort quotes by insurance price. Using brokerage websites will allow drivers to get quotes from multiple insurers, thus making the comparison faster and easier. For additional info, money-saving tips, and free car insurance quotes, visit https://compare-autoinsurance.Org/ Compare-autoinsurance.Org is an online provider of life, home, health, and auto insurance quotes. This website is unique because it does not simply stick to one kind of insurance provider, but brings the clients the best deals from many different online insurance carriers. In this way, clients have access to offers from multiple carriers all in one place: this website. On this site, customers have access to quotes for insurance plans from various agencies, such as local or nationwide agencies, brand names insurance companies, etc. "Online quotes can easily help drivers obtain better car insurance deals. All they have to do is to complete an online form with accurate and real info, then compare prices", said Russell Rabichev, Marketing Director of Internet Marketing Company. CONTACT: Company Name: Internet Marketing CompanyPerson for contact Name: Gurgu CPhone Number: (818) 359-3898Email: [email protected]: https://compare-autoinsurance.Org/ SOURCE: Compare-autoinsurance.Org View source version on accesswire.Com:https://www.Accesswire.Com/595055/What-Are-The-Main-Benefits-Of-Comparing-Car-Insurance-Quotes-Online View photos
to request, modification Contact us at Here or [email protected]