Deadly earthquake in Ecuador brings sadness and fear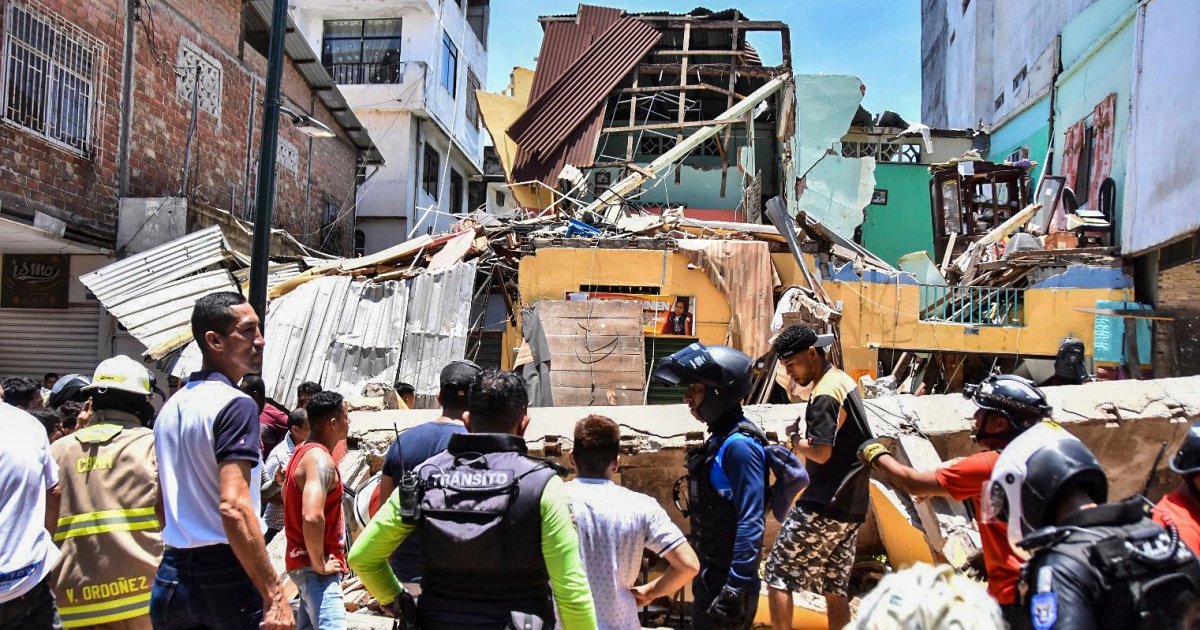 Quito, Ecuador – Some call Machala the "Banana Capital of the World." This port community on Ecuador's Pacific coast is home to about a quarter of a million people and is usually bustling with commercial activity. But not this weekend, not after the deadly earthquake.
Sorrow was in the air Sunday, the day after a powerful earthquake shook this city, toppling homes and buildings along the coast and as far away as the Ecuadorian Highlands and even parts of Peru.
Some of Machala's streets were covered in rubble. Neighbors held simple funerals to bury the dead. There is no dock anymore. And a day after the earthquake claimed the lives of nine single residents along this badly damaged coast, many in Machala were worried and uncomfortable.
"The city is quiet, the fear and sadness are felt," said resident Luis Becerra. "You feel the pain and the drama wherever you go. Everyone is on alert, with great fear in case of a major 'aftershock.
The quake, which the USGS reported as a magnitude of 6.8, killed at least 15 people and injured more than 445 others. 14 died in Ecuador and one in Peru.
The earthquake devastated and destroyed hundreds of homes and buildings in vastly different communities, both in the coastal areas and in the highlands. But in Ecuador, regardless of geography, many of the homes that collapsed had a lot in common: many were old, did not meet modern building standards for an earthquake-prone country and many of its residents were poor.
Yajira Albarracín, Graciela Chila, Silvina Zambrano Chila and two children perished under the rubble of their home in a low-income neighborhood of Machala. On Sunday, a few neighbors stopped by a tent where women's coffins with flower arrangements and a crucifix hang out. Some relatives said that rescuers found the bodies of women and children as if they were holding each other when the disaster struck.
The epicenter was off the Pacific coast, about 50 miles (80 kilometers) south of Guayaquil, Ecuador's second-largest city. Of the 14 victims in the country, 12 died in the southwestern coastal state of El Oro, which includes Machala, and two in the highland state of Azuay.
Ecuador is particularly prone to earthquakes. In 2016, an earthquake centered farther north on the Pacific coast killed more than 600 people.
Residents look at a building that collapsed after Saturday's earthquake
Machala resident Hamilton Cedillo said Sunday that he and his family had barely slept in the hours that followed, afraid of deadly aftershocks. They came up with an evacuation plan and watched videos on how to protect themselves in case of another earthquake.
"I am afraid of leaving and of leaving my family here alone at home," Kidillo said.
Pope Francis offered a prayer for the victims during his weekly Sunday afternoon blessing.
"I am close to the Ecuadorian people and assure them of my prayers for the dead and the suffering," said Francis.
The government of Ecuador has issued an emergency declaration covering roads in Azuay, where earthquake debris has blocked many roads and already bad conditions have been worsened by rainy winter storms. One of the victims was a passenger in a car that was smashed by the rubble of a house in the Cuenca region.
In El Oro, according to the Secretariat of Risk Management, Ecuador's emergency response agency, many people were trapped under rubble or in damaged buildings.
People at a funeral for earthquake victims in Puerto Bolivar, Ecuador, on Sunday.
Quito-based architect German Narváez said the hardest-hit homes tend to be poorly built, lack solid foundations, and lack structure and technical design. He added that the most vulnerable homes are often old and built with materials such as adobe, which were once used in the area.
"At critical moments for seismic movements, they tend to collapse," he said.
Juan Vera lost three relatives when the earthquake destroyed his niece's house. The government has offered to pay for the woman's funeral and that of her child and partner.
Now, Vera questions why the local authorities allowed his relatives to live there from the start, saying the municipality should better regulate building conditions and ensure that only those who are truly safe are rented or occupied.
"Because of its age, this building should have already been demolished," Vera said of the place where his relatives died.
Sources
2/ https://www.nbcnews.com/news/latino/deadly-earthquake-ecuador-brings-grief-fear-rcna75761
The mention sources can contact us to remove/changing this article
What Are The Main Benefits Of Comparing Car Insurance Quotes Online
LOS ANGELES, CA / ACCESSWIRE / June 24, 2020, / Compare-autoinsurance.Org has launched a new blog post that presents the main benefits of comparing multiple car insurance quotes. For more info and free online quotes, please visit https://compare-autoinsurance.Org/the-advantages-of-comparing-prices-with-car-insurance-quotes-online/ The modern society has numerous technological advantages. One important advantage is the speed at which information is sent and received. With the help of the internet, the shopping habits of many persons have drastically changed. The car insurance industry hasn't remained untouched by these changes. On the internet, drivers can compare insurance prices and find out which sellers have the best offers. View photos The advantages of comparing online car insurance quotes are the following: Online quotes can be obtained from anywhere and at any time. Unlike physical insurance agencies, websites don't have a specific schedule and they are available at any time. Drivers that have busy working schedules, can compare quotes from anywhere and at any time, even at midnight. Multiple choices. Almost all insurance providers, no matter if they are well-known brands or just local insurers, have an online presence. Online quotes will allow policyholders the chance to discover multiple insurance companies and check their prices. Drivers are no longer required to get quotes from just a few known insurance companies. Also, local and regional insurers can provide lower insurance rates for the same services. Accurate insurance estimates. Online quotes can only be accurate if the customers provide accurate and real info about their car models and driving history. Lying about past driving incidents can make the price estimates to be lower, but when dealing with an insurance company lying to them is useless. Usually, insurance companies will do research about a potential customer before granting him coverage. Online quotes can be sorted easily. Although drivers are recommended to not choose a policy just based on its price, drivers can easily sort quotes by insurance price. Using brokerage websites will allow drivers to get quotes from multiple insurers, thus making the comparison faster and easier. For additional info, money-saving tips, and free car insurance quotes, visit https://compare-autoinsurance.Org/ Compare-autoinsurance.Org is an online provider of life, home, health, and auto insurance quotes. This website is unique because it does not simply stick to one kind of insurance provider, but brings the clients the best deals from many different online insurance carriers. In this way, clients have access to offers from multiple carriers all in one place: this website. On this site, customers have access to quotes for insurance plans from various agencies, such as local or nationwide agencies, brand names insurance companies, etc. "Online quotes can easily help drivers obtain better car insurance deals. All they have to do is to complete an online form with accurate and real info, then compare prices", said Russell Rabichev, Marketing Director of Internet Marketing Company. CONTACT: Company Name: Internet Marketing CompanyPerson for contact Name: Gurgu CPhone Number: (818) 359-3898Email: [email protected]: https://compare-autoinsurance.Org/ SOURCE: Compare-autoinsurance.Org View source version on accesswire.Com:https://www.Accesswire.Com/595055/What-Are-The-Main-Benefits-Of-Comparing-Car-Insurance-Quotes-Online View photos
to request, modification Contact us at Here or [email protected]