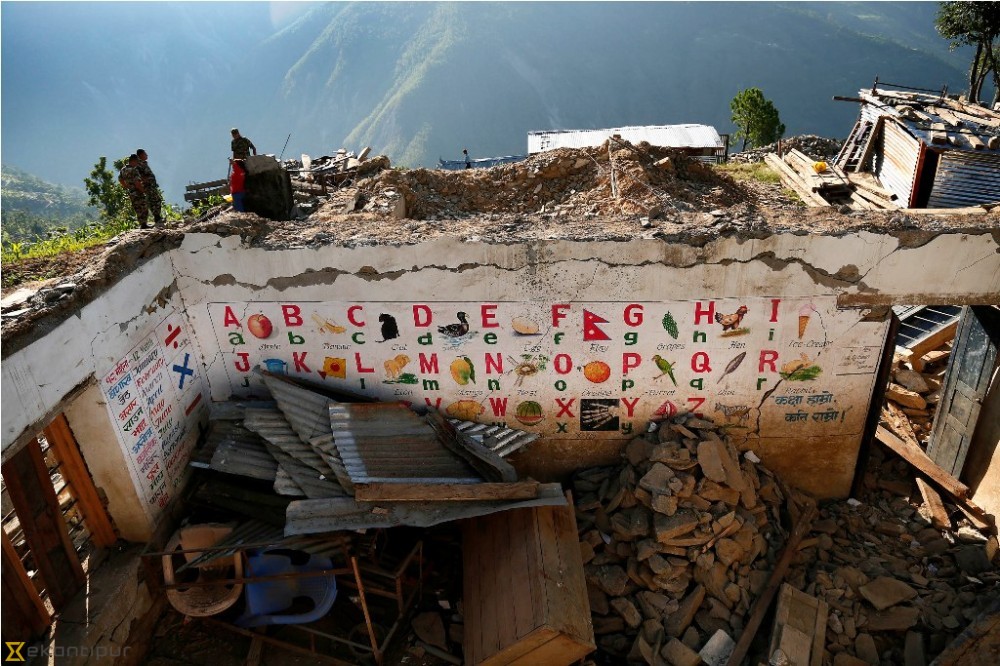 The 2015 earthquake was a tragic event that caused injury, damage and devastation in Nepal. Post-earthquake response from around the world has helped Nepal go through a very difficult time in its history. Almost six years later, here are five lessons we can learn from the Gorka earthquake to continue building safer and more resilient societies.
First, pre-2015 efforts to improve earthquake safety were mostly confined to urban areas and to a limited extent. Traditional buildings and rural areas have not improved enough in terms of earthquake safety despite their known weakness. As a result, traditional buildings were affected disproportionately, causing thousands of casualties in the Gorkha earthquake. The vast majority of new buildings rebuilt in earthquake-affected areas can be considered earthquake-resistant because they are constructed in accordance with the building code, but this is not the standard in the rest of the country. Unfortunately, there are a large number of unsafe buildings. Complete replacement of these buildings at risk or modification to fully meet building code at scale is not economically and technically viable. Hence, we need a pragmatic approach to improving the safety of these buildings.
Adaptive approach
A New Zealand approach may be appropriate here, as all existing buildings (other than small homes) must meet at least 34 percent of their building code requirements, or must be modified within a certain time frame. In this way, buildings can withstand moderate-intensity earthquakes and be economically viable. An approach such as the New Zealand Practical approach in the Nepal context will help to improve existing building safety and protect our communities. In addition, the policy framework will be necessary to highlight the roles of the different levels of government and motivate stakeholders from the public and private sectors to modernize their buildings.
Second, despite our weak infrastructure, it sustained relatively less damage during the Gorkha earthquake because the earthquake intensity was mild where most of the infrastructure is located. Nepal invests heavily in infrastructure, which is an ideal opportunity to build it more safely and resiliently, and improve existing ones. Insecure infrastructure will lead to catastrophic damage and financial losses in future earthquakes and significantly disrupt Nepal's growth and prosperity. Roads in and out of Kathmandu Valley should be safer and more resilient from earthquakes. Due to financial and technological constraints, in certain situations, we may not be able to have resilient infrastructure, and in these cases, alternative backup plans to mitigate disruptions and reduce losses will be necessary.
Third, Nepal is known for its architecture, culture and traditions – and the presence of seven UNESCO World Heritage Sites in the Kathmandu Valley is evidence of this. This gives Nepal a special status and identity on a global scale to promote tourism in our country. Their survival is essential to preserving our cultural identity, and they must be passed on to the next generation. Despite only slight shaking, the Gorka earthquake damaged and destroyed many temples, palaces, rest houses and other structures and cultural sites in the Kathmandu Valley.
A comprehensive framework must be developed for their documentation, seismic assessment, strengthening and restoration. All of this will require research. In some cases, it may not be possible to strengthen heritage structures, but comprehensive documentation will aid their restoration if they are damaged or destroyed in future earthquakes. This will avoid conflict and delay in recovery as seen after the Gorkha earthquake.
Fourth, we need to improve our research environment and facilities to address earthquake safety issues that are unique to Nepal. For years, we have adopted and adapted from other countries resulting in less-than-perfect safety measures from earthquakes while not addressing the uniqueness of the Nepal context. Ongoing efforts to improve safety require an understanding of the multidimensional interaction between technology, social economy, culture and politics. As citizens of this country, we have a deep understanding of these complexities, and we need to take the lead in addressing these issues.
For example, more than 60 percent of buildings in Nepal were constructed using stone and bricks in clay mortar, which is highly susceptible to earthquakes. These buildings are constructed from locally sourced materials that are readily available, usable and affordable. These types of buildings are sustainable, but most of them are not earthquake resistant. We need to research and create practical, affordable and reproducible ways to improve the resilience of these traditional buildings. This requires building innovative research facilities and tools within our financial and logistical limits.
A similar example is seen at the Institute of Technology, Roorky, India where they built a shock table in the 1970s using railway carriers. The recommendations made by the Indian Building Code regarding earthquake resistant construction of stone and mud buildings are based on pilot tests completed on this shock schedule, which are still in use to this day. Such facilities are currently under development in Nepal and need to be linked to engineering education.
Coordination and cooperation
Finally, the most important lesson learned from the earthquake is an awareness of the importance of coordination and cooperation between government, national and international organizations, the private sector and all other relevant stakeholders. Nepal has moved from a quantitative approach to safety to a proactive and informed approach. As a result, we have come a long way in implementing and adjusting policy measures to improve disaster risk management. The National Disaster Risk Reduction and Management Authority was established to provide leadership and coordination to maintain our momentum in disaster risk reduction. This is a difficult task because earthquakes are rare, but our efforts to mitigate them must be continuous to realize benefits during future earthquakes. Going forward, the authorities in Nepal must develop coordinated and practical short, medium and long-term plans, envisioning where we should be in the coming years.
We must understand that there is no absolute safety because it depends on factors such as technology, resources, and perception of risk. Improving safety is a gradual process and will take time. Achieving safety levels in developed countries and technology-driven in Nepal on a large scale is not possible due to the vast differences between countries. What we need to do is prioritize and take small but confident and coordinated steps. Our focus must be on improving earthquake safety for all of our communities, given Nepal's unique limitations and strengths.
What Are The Main Benefits Of Comparing Car Insurance Quotes Online
LOS ANGELES, CA / ACCESSWIRE / June 24, 2020, / Compare-autoinsurance.Org has launched a new blog post that presents the main benefits of comparing multiple car insurance quotes. For more info and free online quotes, please visit https://compare-autoinsurance.Org/the-advantages-of-comparing-prices-with-car-insurance-quotes-online/ The modern society has numerous technological advantages. One important advantage is the speed at which information is sent and received. With the help of the internet, the shopping habits of many persons have drastically changed. The car insurance industry hasn't remained untouched by these changes. On the internet, drivers can compare insurance prices and find out which sellers have the best offers. View photos The advantages of comparing online car insurance quotes are the following: Online quotes can be obtained from anywhere and at any time. Unlike physical insurance agencies, websites don't have a specific schedule and they are available at any time. Drivers that have busy working schedules, can compare quotes from anywhere and at any time, even at midnight. Multiple choices. Almost all insurance providers, no matter if they are well-known brands or just local insurers, have an online presence. Online quotes will allow policyholders the chance to discover multiple insurance companies and check their prices. Drivers are no longer required to get quotes from just a few known insurance companies. Also, local and regional insurers can provide lower insurance rates for the same services. Accurate insurance estimates. Online quotes can only be accurate if the customers provide accurate and real info about their car models and driving history. Lying about past driving incidents can make the price estimates to be lower, but when dealing with an insurance company lying to them is useless. Usually, insurance companies will do research about a potential customer before granting him coverage. Online quotes can be sorted easily. Although drivers are recommended to not choose a policy just based on its price, drivers can easily sort quotes by insurance price. Using brokerage websites will allow drivers to get quotes from multiple insurers, thus making the comparison faster and easier. For additional info, money-saving tips, and free car insurance quotes, visit https://compare-autoinsurance.Org/ Compare-autoinsurance.Org is an online provider of life, home, health, and auto insurance quotes. This website is unique because it does not simply stick to one kind of insurance provider, but brings the clients the best deals from many different online insurance carriers. In this way, clients have access to offers from multiple carriers all in one place: this website. On this site, customers have access to quotes for insurance plans from various agencies, such as local or nationwide agencies, brand names insurance companies, etc. "Online quotes can easily help drivers obtain better car insurance deals. All they have to do is to complete an online form with accurate and real info, then compare prices", said Russell Rabichev, Marketing Director of Internet Marketing Company. CONTACT: Company Name: Internet Marketing CompanyPerson for contact Name: Gurgu CPhone Number: (818) 359-3898Email: [email protected]ngcompany.BizWebsite: https://compare-autoinsurance.Org/ SOURCE: Compare-autoinsurance.Org View source version on accesswire.Com:https://www.Accesswire.Com/595055/What-Are-The-Main-Benefits-Of-Comparing-Car-Insurance-Quotes-Online View photos
Picture Credit!
to request, modification Contact us at Here or [email protected]