'The world changed that day' | SPORTS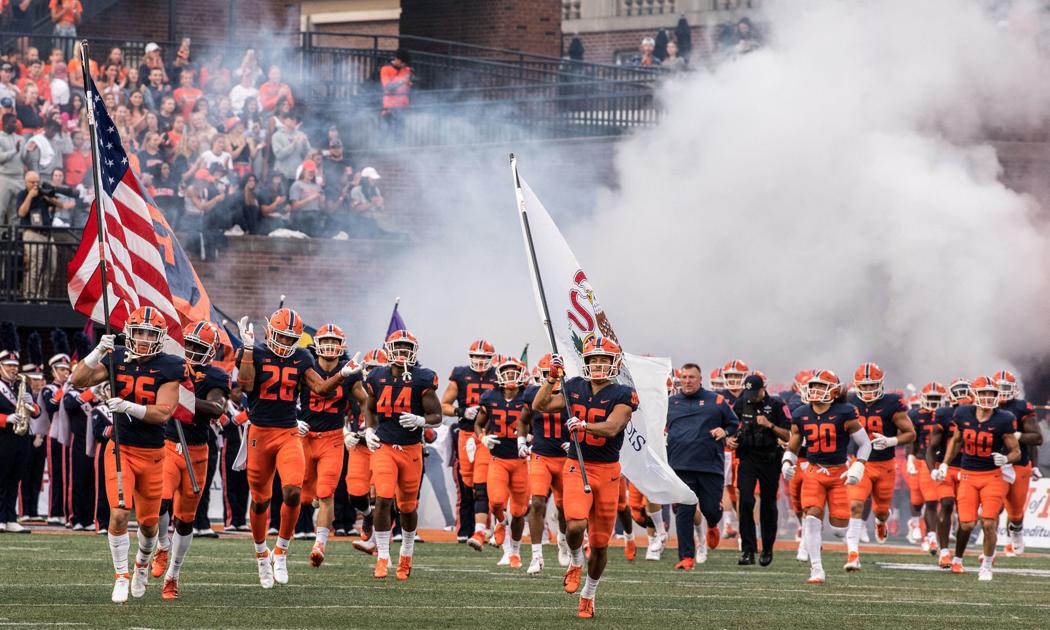 FIELDS Where were you on September 11th? evolved as a young man Where were you when President Kennedy was shot? when it comes to touching historical stones for the tragedy in the United States. Different generations, different seismic events on the world stage.
So Bart Miller did not have to think twice about his answer.
The Illinois offensive line coach was in high school on September 11, 2001. On a field trip that morning for his sports management and marketing class at Elk Grove High School. He was heading to the Sears Tower in downtown Chicago when the planes crashed into the towers of the World Trade Center in New York.
We turned right after entering the Loop, Miller said. That was before smartphones. We had cell phones but it was not updated directly on social media or any of them. We did not know what was going on. We went back to school and when we got back, the plane had hit the Pentagon. At the time, they did not know what the fourth target was, and Flight 93, which apparently crashed, had speculations that it could be headed for Chicago and, most importantly, for the Sears Tower,
Professional and college sports stopped that week. High school football continued in Illinois. Miller and Elk Grove led Palatine 31-14. But Miller recalls it was an emotional week, and of course not everything was the same.
Elk Grove High School is located less than 10 miles west of OHare International Airport.
It was the first time Id had not seen planes in the sky, Miller said. There were planes flying constantly over Elk Grove High School and it was extremely silent.
Illinois will continue its 2021 football season Saturday in Virginia on the 20th anniversary of the September 11 terrorist attacks. Illini coaches have memories of that day 20 years ago. The oldest player from Illinois had not yet reached kindergarten. Many of them had not even been born.
I remember the whole world stopped, said 24-year-old security Prather Hudson. I'm from Columbus, Ga, and Fort Benning, the infantry base, is right there. Columbus was very much on the verge of who knows what might happen. I do not remember much because I was so young, but it was very tragic and we must continue to remember it.
This is what Illinois coaches have been trying to achieve this week. Education beyond the football field has been part of Bret Bielema's goal since he was hired last December. Each of his assistant coaches gave a presentation to the team in the last eight months. Numerous topics. None of them is football.
Taking a break for a few weeks this week to discuss 9/11 was simply part of Illinis' continuing education.
"One of the things we've been trying to do since I was here is to realize that this is more than just a football game," Bielema said. Talk well about the holidays. Speak well for memorials. I will ask the children to explain it or put it on the board.
Bielema was in a defensive meeting in Iowa on 9/11, preparing for the Cy-Hawk rivalry match against Iowa State. Graduate assistant Robb Smith, now Rutgers's defensive coordinator, kept the Hawkeyes's defensive staff up to date as best they could on everything that was happening.
I do not even know if we took a coffee break, said Bielema. Maybe we didn't even understand the scope of what was said. When the games were canceled, there were a number of different emotions that went through your mind. You are dealing with small children. We did not know what this meant in the larger picture of global politics and everything involved in it. It was a really surreal time.
I remember that weekend being canceled. I think they actually allowed the recruitment that weekend and Kirk saying something in my memory a strong reminder of whether or not we want to travel. If you do not want to travel by plane, he was fine with that. I remember that moment as if it were yesterday.
Ben Miller has very clear memories of 9/11 as well. Now Illinois coach and special teams coordinator Miller was in his senior year at the Air Force Academy in 2001.
When you were in the Air Force Academy, or really any military installation during that time, you did not know what to think, Miller said. It was a very peaceful time, and then there was chaos. The world changed that day. I had a lot of friends who played football with me at the academy and flew planes in that war the last 20 years.
Most of the boys who played for us were now babies. They do not remember. We need to keep that story alive, so we do not repeat it or let it repeat itself. We need to teach these young boys a little bit from the outside world beyond football.
Scott Richey is a reporter covering college basketball at The News-Gazette. His email is [email protected], and you can follow him on Twitter (@srrichey).
Sources
2/ https://www.news-gazette.com/sports/the-world-changed-that-day/article_4552e93a-f264-5580-8b5d-39b6be2e6414.html
The mention sources can contact us to remove/changing this article
What Are The Main Benefits Of Comparing Car Insurance Quotes Online
LOS ANGELES, CA / ACCESSWIRE / June 24, 2020, / Compare-autoinsurance.Org has launched a new blog post that presents the main benefits of comparing multiple car insurance quotes. For more info and free online quotes, please visit https://compare-autoinsurance.Org/the-advantages-of-comparing-prices-with-car-insurance-quotes-online/ The modern society has numerous technological advantages. One important advantage is the speed at which information is sent and received. With the help of the internet, the shopping habits of many persons have drastically changed. The car insurance industry hasn't remained untouched by these changes. On the internet, drivers can compare insurance prices and find out which sellers have the best offers. View photos The advantages of comparing online car insurance quotes are the following: Online quotes can be obtained from anywhere and at any time. Unlike physical insurance agencies, websites don't have a specific schedule and they are available at any time. Drivers that have busy working schedules, can compare quotes from anywhere and at any time, even at midnight. Multiple choices. Almost all insurance providers, no matter if they are well-known brands or just local insurers, have an online presence. Online quotes will allow policyholders the chance to discover multiple insurance companies and check their prices. Drivers are no longer required to get quotes from just a few known insurance companies. Also, local and regional insurers can provide lower insurance rates for the same services. Accurate insurance estimates. Online quotes can only be accurate if the customers provide accurate and real info about their car models and driving history. Lying about past driving incidents can make the price estimates to be lower, but when dealing with an insurance company lying to them is useless. Usually, insurance companies will do research about a potential customer before granting him coverage. Online quotes can be sorted easily. Although drivers are recommended to not choose a policy just based on its price, drivers can easily sort quotes by insurance price. Using brokerage websites will allow drivers to get quotes from multiple insurers, thus making the comparison faster and easier. For additional info, money-saving tips, and free car insurance quotes, visit https://compare-autoinsurance.Org/ Compare-autoinsurance.Org is an online provider of life, home, health, and auto insurance quotes. This website is unique because it does not simply stick to one kind of insurance provider, but brings the clients the best deals from many different online insurance carriers. In this way, clients have access to offers from multiple carriers all in one place: this website. On this site, customers have access to quotes for insurance plans from various agencies, such as local or nationwide agencies, brand names insurance companies, etc. "Online quotes can easily help drivers obtain better car insurance deals. All they have to do is to complete an online form with accurate and real info, then compare prices", said Russell Rabichev, Marketing Director of Internet Marketing Company. CONTACT: Company Name: Internet Marketing CompanyPerson for contact Name: Gurgu CPhone Number: (818) 359-3898Email: [email protected]: https://compare-autoinsurance.Org/ SOURCE: Compare-autoinsurance.Org View source version on accesswire.Com:https://www.Accesswire.Com/595055/What-Are-The-Main-Benefits-Of-Comparing-Car-Insurance-Quotes-Online View photos
to request, modification Contact us at Here or [email protected]