Recent REACT-1 study shows that SARS-CoV-2 infection levels increase in young people but remain generally stable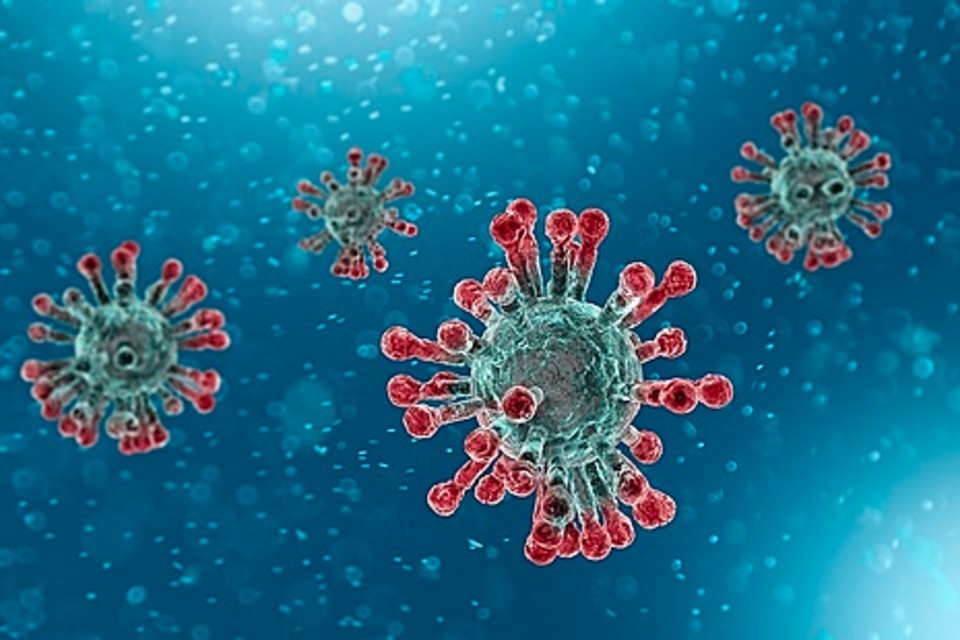 Findings from the latest REACT-1 report, one of the country's largest studies on coronavirus infections (COVID-19) in England, were published today by Imperial College London and Ipsos MORI.
Over 100,000 volunteers participated in the study in England between 9 and 27 September 2021 to examine COVID-19 levels in the general population. Recent data show that the prevalence of SARS-CoV-2 (the virus that causes COVID-19) in the population in England has increased to 0.83%.
During the period of this round of study, the report found that the prevalence was stable or slightly increasing in all combined age groups.
The main findings from the 14th round of the REACT-1 study were as follows.
The report found 764 positives out of 100,527 swabs giving a weighted prevalence of 0.83%.
However, there was a difference between the age groups. The prevalence was increasing in those aged 17 and under with an R number of 1.18, while the prevalence was decreasing in those aged 18 to 54 with an R of 0.81.
At the regional level, the prevalence ranged from 0.57% in the Southeast to 1.25% in Yorkshire and The Humber. There was evidence of growth in the East Midlands and London with R respectively 1.36 and 1.59.
In people of Black ethnicity, the prevalence was higher at 1.41% compared to white participants at 0.78%.
The prevalence was highest among smaller households, ranging from 0.33% for single-person households to 1.75% for households with 6 or more persons.
Among households with one or more children, the prevalence was also higher at 1.37% compared to 0.40% in households without children.
In those who reported 2 vaccine doses, the prevalence was 0.56% compared to 1.73% in unvaccinated people.
Among people who were in contact with a confirmed COVID-19 case, the prevalence was 7.35% compared to 0.43% among those without such contact.
In rounds 13 and 14 of the REACT-1 study, the weighted prevalence analysis by time since receiving the second dose of the vaccine showed a higher prevalence of 0.55% (0.50%, 0.61%) for those who received their dose of second 3 to 6 months before their onset. swab compared to 0.35% (0.31%, 0.40%) for those whose second dose was within 3 months. The prevalence rate was uncertain for those whose second dose was more than 6 months ago.
However, the prevalence was higher for unvaccinated individuals, at 1.73% (1.60%, 1.95%), than for participants who had received one or 2 doses of vaccine.
The study also examined the effectiveness of the vaccine against infection, comparing those who received 2 doses of a vaccine against those who were not vaccinated. For all participants and all combined vaccines, the effectiveness of the infection vaccine was estimated to be 62.8% when adjusted for district, age, gender, multiple deprivation index, region, and ethnicity. Among the subgroup of participants who reported symptoms, the effectiveness of the vaccine was 66.4% overall.
This is in line with the estimates of the UK Health and Safety Agency (UKHSA) that after 2 doses, the effectiveness of the vaccine against symptomatic disease with the Delta variant is approximately 65 to 70% with AstraZeneca and 80 to 95% with Pfizer-BioNTech.
UKHSA estimates that the vaccination program in England has prevented hundreds of thousands of hospitalizations and deaths. The vaccination program has also been successful in weakening the link between infection, hospitalization and death.
Today's data demonstrates the need to stay vigilant and follow government guidelines to get both doses of the vaccine when you are right and follow good public health behaviors to minimize the spread of infection, to ensure that we we continue to reduce the risk.
Dr. Jenny Harries, Chief Executive Officer i UKHSA, tha:
These data show that while our vaccination program continues to make a big difference, the pandemic is not over. As we move toward winter, it is just as important as ever to continue to act responsibly to avoid transmission.

While cases remain high, the vaccination program is ensuring that this does not translate into an equally high number of hospitalizations and deaths. We are calling on everyone who has the right to apply for vaccination. It's the best way to reduce transmission and protect ourselves and those we love.
Secretary of Health and Social Welfare Sajid Javid said:
The phenomenal progress of our vaccination program has built a strong defensive wall across the country, allowing us to live safe with this virus.

These findings show how important it is for young people to receive the stroke to protect themselves from COVID-19, and for those eligible to receive their booster vaccine to extend their existing protection.

I urge anyone who needs a kick as soon as possible, it is essential to keep you and your family safe this winter.
Professor Paul Elliott, director of the REACT program at the Imperials School of Public Health, said:
Our latest data show that infections are high and increasing in school-age children. Families with children also had a higher prevalence of the infection, suggesting that children could transmit the virus to those with whom they live. These tendencies reinforce how important it is for children 12 years of age and older to be vaccinated and to help curb the spread of infection, and to minimize disruptions in education.
Kelly Beaver, Managing Director, Public Affairs at Ipsos MORI said:
While the increase since our last round of REACT-1 prevalence is worrying, it is encouraging that there has not been a proportional increase in hospitalizations and deaths from COVID-19. The R number for under 18s is particularly encouraging, allowing children to spend more time in school learning.

Ipsos MORI is extremely grateful to all those who have participated in the REACT studies since April last year, who have played a vital role in helping the government understand the virus and how it has spread.
This report is the latest from the REACT-1 study commissioned by the Department of Health and Social Welfare (DHSC) and conducted by a world-class team of scientists, physicians and researchers at Imperial College London, Imperial College Healthcare NHS Trust and Ipsos MORI.
Powerful population surveillance studies like this are essential to understanding the extent of COVID-19 infection, how the virus is spreading across the country, and the impact of measures taken to contain the virus in order to inform current and future actions. next.
Sources
2/ https://www.gov.uk/government/news/latest-react-1-study-shows-sars-cov-2-infection-rates-rising-in-young-people-but-remaining-stable-overall
The mention sources can contact us to remove/changing this article
What Are The Main Benefits Of Comparing Car Insurance Quotes Online
LOS ANGELES, CA / ACCESSWIRE / June 24, 2020, / Compare-autoinsurance.Org has launched a new blog post that presents the main benefits of comparing multiple car insurance quotes. For more info and free online quotes, please visit https://compare-autoinsurance.Org/the-advantages-of-comparing-prices-with-car-insurance-quotes-online/ The modern society has numerous technological advantages. One important advantage is the speed at which information is sent and received. With the help of the internet, the shopping habits of many persons have drastically changed. The car insurance industry hasn't remained untouched by these changes. On the internet, drivers can compare insurance prices and find out which sellers have the best offers. View photos The advantages of comparing online car insurance quotes are the following: Online quotes can be obtained from anywhere and at any time. Unlike physical insurance agencies, websites don't have a specific schedule and they are available at any time. Drivers that have busy working schedules, can compare quotes from anywhere and at any time, even at midnight. Multiple choices. Almost all insurance providers, no matter if they are well-known brands or just local insurers, have an online presence. Online quotes will allow policyholders the chance to discover multiple insurance companies and check their prices. Drivers are no longer required to get quotes from just a few known insurance companies. Also, local and regional insurers can provide lower insurance rates for the same services. Accurate insurance estimates. Online quotes can only be accurate if the customers provide accurate and real info about their car models and driving history. Lying about past driving incidents can make the price estimates to be lower, but when dealing with an insurance company lying to them is useless. Usually, insurance companies will do research about a potential customer before granting him coverage. Online quotes can be sorted easily. Although drivers are recommended to not choose a policy just based on its price, drivers can easily sort quotes by insurance price. Using brokerage websites will allow drivers to get quotes from multiple insurers, thus making the comparison faster and easier. For additional info, money-saving tips, and free car insurance quotes, visit https://compare-autoinsurance.Org/ Compare-autoinsurance.Org is an online provider of life, home, health, and auto insurance quotes. This website is unique because it does not simply stick to one kind of insurance provider, but brings the clients the best deals from many different online insurance carriers. In this way, clients have access to offers from multiple carriers all in one place: this website. On this site, customers have access to quotes for insurance plans from various agencies, such as local or nationwide agencies, brand names insurance companies, etc. "Online quotes can easily help drivers obtain better car insurance deals. All they have to do is to complete an online form with accurate and real info, then compare prices", said Russell Rabichev, Marketing Director of Internet Marketing Company. CONTACT: Company Name: Internet Marketing CompanyPerson for contact Name: Gurgu CPhone Number: (818) 359-3898Email: [email protected]: https://compare-autoinsurance.Org/ SOURCE: Compare-autoinsurance.Org View source version on accesswire.Com:https://www.Accesswire.Com/595055/What-Are-The-Main-Benefits-Of-Comparing-Car-Insurance-Quotes-Online View photos
to request, modification Contact us at Here or [email protected]