Smart and sustainable maritime transport critical to global recovery: UNCTAD |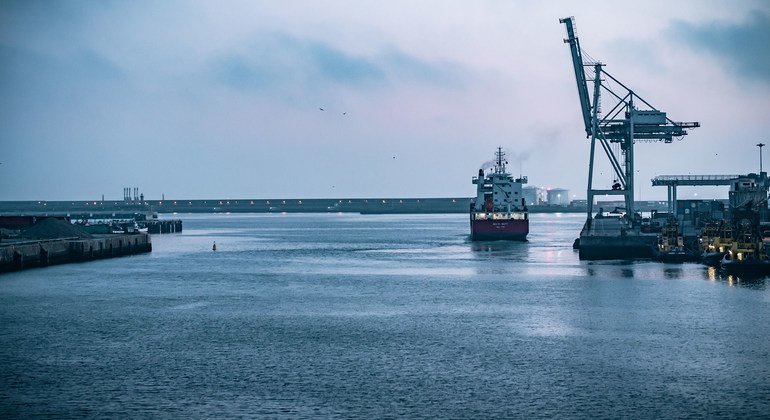 Maritime trade shrank by 3.8 percent in 2020, but later recovered and is estimated to grow by 4.3 percent this year, according to the report.
UNCTADs Maritime Transport Review 2021 reveals that the medium-term outlook remains positive but subject to growing risks and uncertainties, such as unprecedented pressures on global supply chains, dramatic increases in freight tariffs, and rising prices affecting consumers and importers.
Vaccine delivery is critical
The agency said the global socio-economic recovery will depend on smart, resilient and sustainable shipping, and a COVID-19 vaccination efforts that see developing countries have fairer access to doses.
A sustained recovery will depend on the pandemic route and largely depends on the ability to tame adverse winds and on a worldwide spread of the vaccine. said Rebeca Grynspan, UNCTAD Secretary General.
The impacts of the COVID-19 crisis will hit small developing island states (SIDS) and least developed countries (LDCs) the hardest. she added.
As UN chief Antnio Guterres has repeatedly pointed out, COVID-19 has highlighted numerous social inequalities.
Existing challenges exposed
UNCTAD said the pandemic has also exposed and exacerbated existing challenges in the shipping industry, particularly labor shortages and infrastructure needs.
The agency has called for urgent action to resolve the situation of hundreds of thousands of seafarers who remain stranded at sea due to the pandemic, as blockages, border closures and lack of international flights have affected crew replacements and repatriations.
The report said industry, governments and international organizations should ensure that seafarers are designated as key workers and vaccinated as a matter of priority.
The report examines the factors that are raising consumer prices.
Logistical challenges, increasing rates
The return to maritime trade has been marked by logistical challenges posed by the pandemic, such as lack of equipment and containers, less reliable services, and overcrowded ports. The resulting narrow supply chain bottlenecks have hampered economic recovery.
Challenges also exist on the supply side. Although orders for new container vessels fell 16 percent last year, continuing a previous downward trend, shipping companies have increased orders for new vessels this year amid current capacity constraints.
Transportation lines have benefited from rising freight tariffs, the report said.
Extra tariffs, tariffs and tariffs were temporarily raised even higher after the blockade of Ever Given, the largest container ship that blocked the Suez Canal last March, disrupting global trade.
UNCTAD warned that import and consumer prices would rise significantly if the increase in container shipping tariffs continued.
Monitor market behavior
Its analysis showed that global import price levels will increase by an average of 11 percent and up to 24 percent for SIDS, which mainly depend on maritime transport for imports.
If the situation continues, consumer prices could be 1.5 percent higher in 2023. Growth is expected to be 7.5 percent in SIDS and 2.2 percent in the LDC.
UNCTAD stressed the need to monitor market behavior and ensure transparency when it comes to setting tariffs, tariffs and surcharges.
The report also examines how the pandemic has accelerated megatrends that could transform shipping, such as digitalization and automation, which should lead to efficiency and cost savings.
Build climate resilience
The shipping industry is also facing climate adaptation and resilience, although the urgent need to decarbonize and find alternative fuels to reduce emissions will come at a cost.
Exposing the weaknesses of existing supply chains, the discontinuation of COVID-19 has sharpened the need to build resilience and revived the debate over globalization and supply chains of the future, said Shamika N. Sirimanne, director of technology and logistics at UNCTAD.
Sources
2/ https://news.un.org/en/story/2021/11/1106082
The mention sources can contact us to remove/changing this article
What Are The Main Benefits Of Comparing Car Insurance Quotes Online
LOS ANGELES, CA / ACCESSWIRE / June 24, 2020, / Compare-autoinsurance.Org has launched a new blog post that presents the main benefits of comparing multiple car insurance quotes. For more info and free online quotes, please visit https://compare-autoinsurance.Org/the-advantages-of-comparing-prices-with-car-insurance-quotes-online/ The modern society has numerous technological advantages. One important advantage is the speed at which information is sent and received. With the help of the internet, the shopping habits of many persons have drastically changed. The car insurance industry hasn't remained untouched by these changes. On the internet, drivers can compare insurance prices and find out which sellers have the best offers. View photos The advantages of comparing online car insurance quotes are the following: Online quotes can be obtained from anywhere and at any time. Unlike physical insurance agencies, websites don't have a specific schedule and they are available at any time. Drivers that have busy working schedules, can compare quotes from anywhere and at any time, even at midnight. Multiple choices. Almost all insurance providers, no matter if they are well-known brands or just local insurers, have an online presence. Online quotes will allow policyholders the chance to discover multiple insurance companies and check their prices. Drivers are no longer required to get quotes from just a few known insurance companies. Also, local and regional insurers can provide lower insurance rates for the same services. Accurate insurance estimates. Online quotes can only be accurate if the customers provide accurate and real info about their car models and driving history. Lying about past driving incidents can make the price estimates to be lower, but when dealing with an insurance company lying to them is useless. Usually, insurance companies will do research about a potential customer before granting him coverage. Online quotes can be sorted easily. Although drivers are recommended to not choose a policy just based on its price, drivers can easily sort quotes by insurance price. Using brokerage websites will allow drivers to get quotes from multiple insurers, thus making the comparison faster and easier. For additional info, money-saving tips, and free car insurance quotes, visit https://compare-autoinsurance.Org/ Compare-autoinsurance.Org is an online provider of life, home, health, and auto insurance quotes. This website is unique because it does not simply stick to one kind of insurance provider, but brings the clients the best deals from many different online insurance carriers. In this way, clients have access to offers from multiple carriers all in one place: this website. On this site, customers have access to quotes for insurance plans from various agencies, such as local or nationwide agencies, brand names insurance companies, etc. "Online quotes can easily help drivers obtain better car insurance deals. All they have to do is to complete an online form with accurate and real info, then compare prices", said Russell Rabichev, Marketing Director of Internet Marketing Company. CONTACT: Company Name: Internet Marketing CompanyPerson for contact Name: Gurgu CPhone Number: (818) 359-3898Email: [email protected]: https://compare-autoinsurance.Org/ SOURCE: Compare-autoinsurance.Org View source version on accesswire.Com:https://www.Accesswire.Com/595055/What-Are-The-Main-Benefits-Of-Comparing-Car-Insurance-Quotes-Online View photos
to request, modification Contact us at Here or [email protected]