Hurry to diversify Australia's international student body according to the new government plan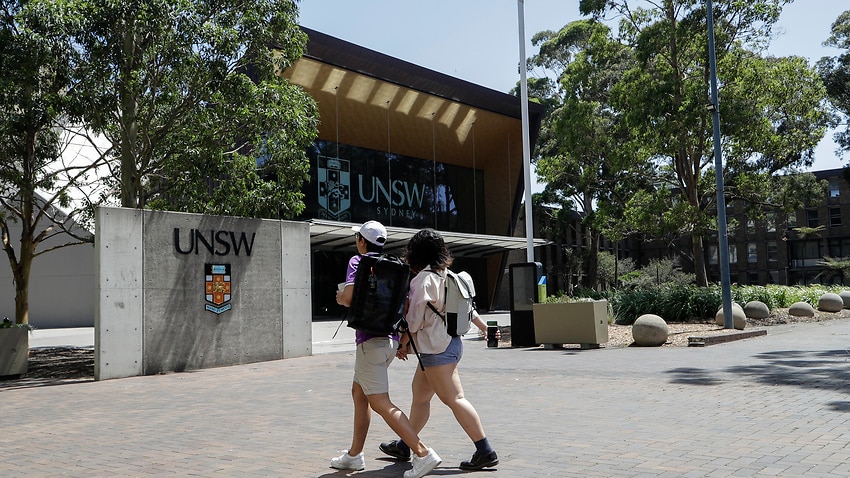 The COVID-19 pandemic has severely disrupted the sector, with borders closing as student enrollments fall by up to 70 per cent to pre-pandemic levels in some parts.
Education Minister Alan Tudge told SBS Hindi that the new strategy aims to outline the government's objectives for the next decade – starting with the recovery from COVID-19 and "getting the international student market back to where it was".
"We have done so well, and in some respects, we have opened the borders and put some accelerators in there as well to encourage people to come," he said.
"The second step is more medium-term and what we can do to make international education more resilient. Having greater diversity of international students is a [way]. "
Education Minister Alan Tudge discussed the strategy in an interview with SBS Hindi. Source: SBS News
---
He said diversifying student groups would reduce financial risk for institutions and maximize student experience.
Government data showed that the top five markets at Australian universities last year accounted for 72 per cent of enrollments, including 37 per cent from China, 21 per cent from India and 14 per cent from the next three major markets. The remaining 28 percent came from other markets.
This compares to key competing markets such as the United States, the United Kingdom and Canada, where the strategy states that "diversification is increasingly a strategy to support sustainable growth in international enrollment in education".
In the US, 36 per cent of registrations came from China and 14 per cent from India, while 39 per cent came from other markets last year. The share coming from other markets was up to 55 percent in the UK.
The government will introduce new transparency measures around student diversity, including a diversification index.
The strategy says Australia "will continue to cultivate strong relationships with key partner countries, including India and China, as they remain valuable partners in international education".
"I am not saying that we want someone to reduce [their share], they were just saying, 'let's think about other markets as well,' "Mr. Tudge said.
The strategy also outlines ways to diversify courses in online and offshore delivery. While 58 per cent of UK international students study offshore, Australia's share is 20 per cent.
"There is a great opportunity to grow our international student market through high quality offshore courses, similar to what the UK has done," Tudge said in a statement.
"We can potentially educate 10 million students this way in a decade or two, supporting the development of our neighbors as well as providing a source of income for our universities."
The CEO of the International Education Association of Australia, Phil Honeywood is the meeting of the International Education Council, which has overseen the strategy.
He told SBS News that it is essential that the sector now has a plan to work with.
"Likewise, the strategy will always work better if the form can be done in partnership with the government," he said.
"With seven federal ministers now signing this 10-year national strategy, we look forward to working with them to achieve outcomes that will be beneficial – not only for education providers, but also for student welfare."
"This is a key part of the strategy."
Mr Honeywood said the strategy has a strong emphasis on the need to improve mental health support, the safe and affordable accommodation of faculty students and integration between local and international students.
It also aims to provide international education that "meets Australia's skills needs".
Currently, almost half of Australia's international university enrollments are focused on business and commerce, while areas of skills such as engineering, math, technology and health have a much lower percentage than the OECD average.
Mr Tudge described the current range between what students are studying and the country's lack of skills as a "mismatch".
"With strong English language skills and Australian qualifications, international graduates are well positioned to fill skills gaps and apply for residential and employment trails, including the Skills Migration program," the strategy says.
The strategy follows an earlier announcement by the government this week, with international students who were unable to travel to Australia during the pandemic able to apply for replacement visas.
The government will also increase the length of stay for temporary graduation visas from two to three years.
Immigration Minister Alex Hawke said the visa changes would put Australia on an internationally competitive footing.
Sources
2/ https://www.sbs.com.au/news/push-to-diversify-australia-s-international-student-cohort-under-new-government-plan/e13b2eb5-a50d-48b8-bf5a-20c3a62c653b
The mention sources can contact us to remove/changing this article
What Are The Main Benefits Of Comparing Car Insurance Quotes Online
LOS ANGELES, CA / ACCESSWIRE / June 24, 2020, / Compare-autoinsurance.Org has launched a new blog post that presents the main benefits of comparing multiple car insurance quotes. For more info and free online quotes, please visit https://compare-autoinsurance.Org/the-advantages-of-comparing-prices-with-car-insurance-quotes-online/ The modern society has numerous technological advantages. One important advantage is the speed at which information is sent and received. With the help of the internet, the shopping habits of many persons have drastically changed. The car insurance industry hasn't remained untouched by these changes. On the internet, drivers can compare insurance prices and find out which sellers have the best offers. View photos The advantages of comparing online car insurance quotes are the following: Online quotes can be obtained from anywhere and at any time. Unlike physical insurance agencies, websites don't have a specific schedule and they are available at any time. Drivers that have busy working schedules, can compare quotes from anywhere and at any time, even at midnight. Multiple choices. Almost all insurance providers, no matter if they are well-known brands or just local insurers, have an online presence. Online quotes will allow policyholders the chance to discover multiple insurance companies and check their prices. Drivers are no longer required to get quotes from just a few known insurance companies. Also, local and regional insurers can provide lower insurance rates for the same services. Accurate insurance estimates. Online quotes can only be accurate if the customers provide accurate and real info about their car models and driving history. Lying about past driving incidents can make the price estimates to be lower, but when dealing with an insurance company lying to them is useless. Usually, insurance companies will do research about a potential customer before granting him coverage. Online quotes can be sorted easily. Although drivers are recommended to not choose a policy just based on its price, drivers can easily sort quotes by insurance price. Using brokerage websites will allow drivers to get quotes from multiple insurers, thus making the comparison faster and easier. For additional info, money-saving tips, and free car insurance quotes, visit https://compare-autoinsurance.Org/ Compare-autoinsurance.Org is an online provider of life, home, health, and auto insurance quotes. This website is unique because it does not simply stick to one kind of insurance provider, but brings the clients the best deals from many different online insurance carriers. In this way, clients have access to offers from multiple carriers all in one place: this website. On this site, customers have access to quotes for insurance plans from various agencies, such as local or nationwide agencies, brand names insurance companies, etc. "Online quotes can easily help drivers obtain better car insurance deals. All they have to do is to complete an online form with accurate and real info, then compare prices", said Russell Rabichev, Marketing Director of Internet Marketing Company. CONTACT: Company Name: Internet Marketing CompanyPerson for contact Name: Gurgu CPhone Number: (818) 359-3898Email: [email protected]: https://compare-autoinsurance.Org/ SOURCE: Compare-autoinsurance.Org View source version on accesswire.Com:https://www.Accesswire.Com/595055/What-Are-The-Main-Benefits-Of-Comparing-Car-Insurance-Quotes-Online View photos
to request, modification Contact us at Here or [email protected]