Coronavirus: Italy expands quarantine measures nationwide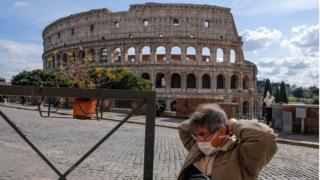 Italy is extending its quarantine measures against coronaviruses, which include banning public gatherings, to the whole country.
Prime Minister Giuseppe Conte said people would only be allowed to travel for work or family reasons.
He said the measures, which take effect on Tuesday, are aimed at defending the most vulnerable members of society.
The death toll from coronaviruses in Italy jumped from 97 to 463 on Monday. It is the most affected country after China.
The number of confirmed infections also rose to 9,172 from 7,375 on Sunday, according to official figures.
Virus cases have been confirmed in the 20 Italian regions.
What did Mr. Conte say?
In a televised address on Monday, Conte said "Italian customs need to change" and the best thing is for people to stay at home.
"We are experiencing significant growth in infections … and deaths," he said.
"We all have to give up something for the good of Italy. We have to do it now, and we can only do it if we collaborate and we all adapt to these tougher measures.
"This is why I decided to adopt even stronger and more severe measures to contain the advance … and protect the health of all citizens."
The Prime Minister added that all sporting events – including football matches – were suspended across the country.
In a previous interview with La Repubblica newspaper, Mr. Conte said about the epidemic: "These days, I have been thinking about (Winston) Churchill's old speeches – it is our darkest hour, but we'll get there. "
What are the restrictions?
Conte described the measures as "I'm staying at home" – with people prohibited from meeting in public.
"No more nightlife; we can no longer allow that because these are opportunities for contagion," he said.
The restrictions are similar to those previously applied to the most affected region of Lombardy and to 14 other provinces.
The government has stated that only those with valid work or family reasons that cannot be postponed will be allowed to travel.
Passengers departing by plane, with the exception of temporary visitors, will have to justify themselves, like all those arriving by plane.
There are checks at stations to check temperatures.
Cruise ships are not allowed to dock in various ports.
What else is going on in Italy?
Earlier on Monday, six detainees died in riots in prisons across the country after authorities suspended all visits as part of attempts to control the spread of the disease.
The problems began in the northern city of Modena after detainees in Sant Anna prison were informed that all visits had been suspended.
Three people reportedly died in prison, while three others died after their transfer.
At least two of the dead are believed to have lost their lives due to drug overdoses after visiting a prison hospital for methadone, a heroin substitute.
At San Vittore prison in Milan, inmates burned a cell block on one of the institution's six wings, then climbed on the roof through the windows and began to wave banners said officials.
In a prison in the town of Foggia in the south of the country, around 20 detainees managed to get out of the building during the demonstrations. Many were quickly picked up, reported Italian news agency Ansa.
Riots also broke out in several other prisons in northern Italy and in establishments in Naples and the capital, Rome.
What is the situation elsewhere?
The number of infections worldwide now exceeds 111,000, with approximately 3,890 deaths.
Anyone arriving in Israel will have to self-quarantine for 14 days, Prime Minister Benjamin Netanyahu announced.
I ran reported 43 new illness-related deaths in the past 24 hours. At least 237 people died and 7,161 were infected across the country since mid-February, although the actual numbers are considered to be much higher.
China, which recorded the highest number of deaths, reported only 40 new cases of Covid-19, the lowest since January 20.
While this indicates that spread is slowing, senior officials have warned against reducing vigilance.
In other developments:
the World Health Organization (WHO) has warned that the threat of a pandemic is "very real"
Canada confirms first virus-related death – elderly male patient in nursing home in Vancouver, British Columbia
In France, Minister of Culture Franck Riester has become the first member of the government to be infected with the virus. His team said he spent several days last week in Parliament, where a number of other cases have been confirmed
in the WE, the number of confirmed cases now exceeds 500
Cruise ship carrying thousands of people stranded for days due to a coronavirus outbreak reportedly docked at the port of Oakland near San Francisco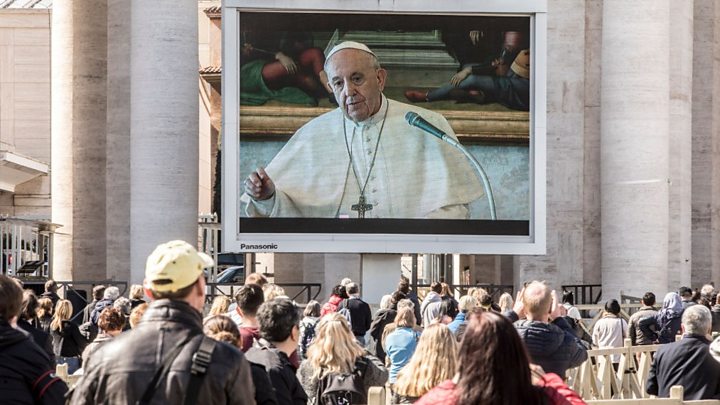 ---
Have you, or someone you know, been affected by a coronavirus? Share your experiences by email [email protected].
Please include a contact number if you wish to speak to a BBC reporter. You can also contact us in the following ways:
What Are The Main Benefits Of Comparing Car Insurance Quotes Online
LOS ANGELES, CA / ACCESSWIRE / June 24, 2020, / Compare-autoinsurance.Org has launched a new blog post that presents the main benefits of comparing multiple car insurance quotes. For more info and free online quotes, please visit https://compare-autoinsurance.Org/the-advantages-of-comparing-prices-with-car-insurance-quotes-online/ The modern society has numerous technological advantages. One important advantage is the speed at which information is sent and received. With the help of the internet, the shopping habits of many persons have drastically changed. The car insurance industry hasn't remained untouched by these changes. On the internet, drivers can compare insurance prices and find out which sellers have the best offers. View photos The advantages of comparing online car insurance quotes are the following: Online quotes can be obtained from anywhere and at any time. Unlike physical insurance agencies, websites don't have a specific schedule and they are available at any time. Drivers that have busy working schedules, can compare quotes from anywhere and at any time, even at midnight. Multiple choices. Almost all insurance providers, no matter if they are well-known brands or just local insurers, have an online presence. Online quotes will allow policyholders the chance to discover multiple insurance companies and check their prices. Drivers are no longer required to get quotes from just a few known insurance companies. Also, local and regional insurers can provide lower insurance rates for the same services. Accurate insurance estimates. Online quotes can only be accurate if the customers provide accurate and real info about their car models and driving history. Lying about past driving incidents can make the price estimates to be lower, but when dealing with an insurance company lying to them is useless. Usually, insurance companies will do research about a potential customer before granting him coverage. Online quotes can be sorted easily. Although drivers are recommended to not choose a policy just based on its price, drivers can easily sort quotes by insurance price. Using brokerage websites will allow drivers to get quotes from multiple insurers, thus making the comparison faster and easier. For additional info, money-saving tips, and free car insurance quotes, visit https://compare-autoinsurance.Org/ Compare-autoinsurance.Org is an online provider of life, home, health, and auto insurance quotes. This website is unique because it does not simply stick to one kind of insurance provider, but brings the clients the best deals from many different online insurance carriers. In this way, clients have access to offers from multiple carriers all in one place: this website. On this site, customers have access to quotes for insurance plans from various agencies, such as local or nationwide agencies, brand names insurance companies, etc. "Online quotes can easily help drivers obtain better car insurance deals. All they have to do is to complete an online form with accurate and real info, then compare prices", said Russell Rabichev, Marketing Director of Internet Marketing Company. CONTACT: Company Name: Internet Marketing CompanyPerson for contact Name: Gurgu CPhone Number: (818) 359-3898Email: [email protected]: https://compare-autoinsurance.Org/ SOURCE: Compare-autoinsurance.Org View source version on accesswire.Com:https://www.Accesswire.Com/595055/What-Are-The-Main-Benefits-Of-Comparing-Car-Insurance-Quotes-Online View photos
picture credit
to request, modification Contact us at Here or [email protected]