Israeli police to investigate 'events' over Palestinian journalist Shireen Abu Akleh's funeral: Minister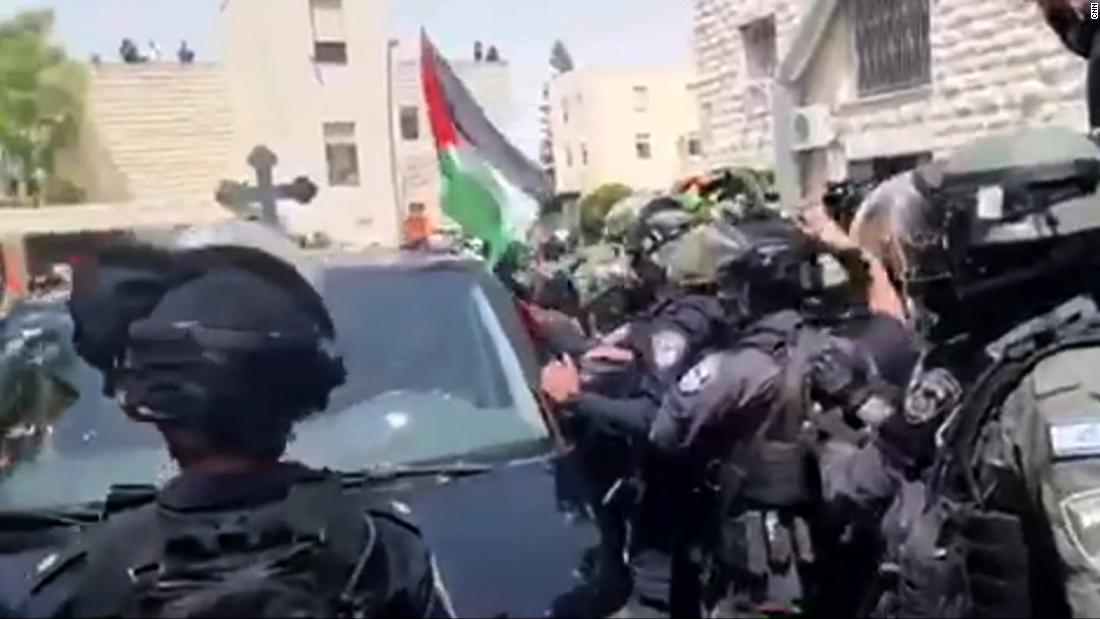 "Unfortunately, during the course of the funeral, serious violent incidents were unveiled by the participants which worsened the situation on the ground," Israeli Public Safety Minister Omer Bar-Lev said in a statement to CNN.
"The investigative team appointed by Police Commissioner Kobi Shabtai and led by Brigadier General Anna Ben Mordechai – an experienced commander who is familiar with the area where the funeral took place – will conduct a comprehensive investigation into what happened "During the funeral the next day to learn lessons from the event. These lessons will be presented to the police commissariat and then to me," he added.
Israeli police were criticized after Friday's procession, in which television footage showed officers hitting mourners with batons, forcibly lowering Palestinian flags and arresting individuals holding the flag. A video released by Israeli police shows officers tearing down Palestinian flags from a buried car holding Abu Akleh's coffin.
The Jerusalem Magistrates' Court ruled in September 2021 that waving the Palestinian flag is not a criminal offense in Israel. However, CNN witnessed the arrest of at least two individuals holding a flag during the Abu Akleh procession.
"Flying the Palestinian flag is not a violation of Israeli law," Israeli Knesset member Ahmad Tibi told CNN on Friday.
"When Omar Bar-Lev was appointed Israeli Minister of Public Security, he issued a directive restricting the confiscation of Palestinian flags by demonstrators in cases where there is an immediate risk of disturbing the peace. But what the police are doing is directly opposing the orders. "What we see is the phobia of the flag against the Palestinian flag," he added.
When asked by CNN to explain the reason for the fall of the Palestinian flags and the arrest of the individuals holding the flag, the Israeli police forces responded with a statement, which was also publicly shared on its Twitter account.
"Israeli police prepared yesterday to facilitate a peaceful and dignified funeral for journalist Shireen Abu Akleh and coordinated the organization of the funeral with her family. Unfortunately, hundreds of protesters tried to sabotage the ceremony and harm the police," the statement said. .
"Israeli police support its police officers, but as a professional organization seeking to learn and improve, it will also draw lessons from the incident," she added.
On Friday, mourners took Abu Akleh's coffin from St. Joseph Hospital in East Jerusalem, where her body remained until burial, but met strong resistance from Israeli police, who forced them to transport the body by car. According to CNN reporters, a flash bomb and tear gas were thrown.
The 51-year-old Palestinian-American Al Jazeera journalist was a prominent voice throughout the Arab world, delivering what many said was the "voice of Palestinian suffering" and "their aspirations for freedom."
"She made a huge impact on Palestine and all the people. She left her fingerprints on everyone's heart," Lareen Abu Akleh, Shireen's granddaughter, told CNN.
Nafisa Khwais, a Palestinian woman who considered herself a mother figure for Shireen, told CNN that she had spent the whole night at the funeral home where people came to mourn for the veteran journalist.
"Shireen is my daughter. Her parents died, but we are all her parents. We are all her family," Khwais said.
"Two weeks ago, she hid behind my back when clashes broke out at the gate of Damascus, and said to me, 'Mother, come here. "I'm very worried about you" and he gave me a bottle of water. I loved Shire. She was the voice of all Palestinians, "she said.
Friday's events sparked global reactions from various officials who said they were "shocked" by what they had seen.
"We were deeply concerned by images of Israeli police interfering in the funeral procession of Palestinian American Shireen Abu Akleh. Every family deserves to receive their loved ones in a dignified and unhindered manner," said US Secretary of State Antony Blinken. a. post on Twitter on Friday.
A senior State Department official later said Blinken had spoken to the journalist's family and expressed his condolences on the way to an informal meeting of NATO foreign ministers in Berlin, Germany.
Blinken offered "his deepest condolences for their loss," the official said. Blinken also offered the ongoing support of the State Department team in Jerusalem to their family and noted the importance of a free and independent press, the official said.
Norwegian Ambassador to Israel Kre R. Aas said in a Twitter post that he was "shocked by the violent behavior of Israeli police forces during the funeral procession" adding that "such a disproportionate force is inappropriate and unacceptable. ".
Sources
2/ https://www.cnn.com/2022/05/14/middleeast/israeli-police-to-investigate-funeral-palestinian-journalist-shireen-abu-akleh-intl/index.html
The mention sources can contact us to remove/changing this article
What Are The Main Benefits Of Comparing Car Insurance Quotes Online
LOS ANGELES, CA / ACCESSWIRE / June 24, 2020, / Compare-autoinsurance.Org has launched a new blog post that presents the main benefits of comparing multiple car insurance quotes. For more info and free online quotes, please visit https://compare-autoinsurance.Org/the-advantages-of-comparing-prices-with-car-insurance-quotes-online/ The modern society has numerous technological advantages. One important advantage is the speed at which information is sent and received. With the help of the internet, the shopping habits of many persons have drastically changed. The car insurance industry hasn't remained untouched by these changes. On the internet, drivers can compare insurance prices and find out which sellers have the best offers. View photos The advantages of comparing online car insurance quotes are the following: Online quotes can be obtained from anywhere and at any time. Unlike physical insurance agencies, websites don't have a specific schedule and they are available at any time. Drivers that have busy working schedules, can compare quotes from anywhere and at any time, even at midnight. Multiple choices. Almost all insurance providers, no matter if they are well-known brands or just local insurers, have an online presence. Online quotes will allow policyholders the chance to discover multiple insurance companies and check their prices. Drivers are no longer required to get quotes from just a few known insurance companies. Also, local and regional insurers can provide lower insurance rates for the same services. Accurate insurance estimates. Online quotes can only be accurate if the customers provide accurate and real info about their car models and driving history. Lying about past driving incidents can make the price estimates to be lower, but when dealing with an insurance company lying to them is useless. Usually, insurance companies will do research about a potential customer before granting him coverage. Online quotes can be sorted easily. Although drivers are recommended to not choose a policy just based on its price, drivers can easily sort quotes by insurance price. Using brokerage websites will allow drivers to get quotes from multiple insurers, thus making the comparison faster and easier. For additional info, money-saving tips, and free car insurance quotes, visit https://compare-autoinsurance.Org/ Compare-autoinsurance.Org is an online provider of life, home, health, and auto insurance quotes. This website is unique because it does not simply stick to one kind of insurance provider, but brings the clients the best deals from many different online insurance carriers. In this way, clients have access to offers from multiple carriers all in one place: this website. On this site, customers have access to quotes for insurance plans from various agencies, such as local or nationwide agencies, brand names insurance companies, etc. "Online quotes can easily help drivers obtain better car insurance deals. All they have to do is to complete an online form with accurate and real info, then compare prices", said Russell Rabichev, Marketing Director of Internet Marketing Company. CONTACT: Company Name: Internet Marketing CompanyPerson for contact Name: Gurgu CPhone Number: (818) 359-3898Email: [email protected]: https://compare-autoinsurance.Org/ SOURCE: Compare-autoinsurance.Org View source version on accesswire.Com:https://www.Accesswire.Com/595055/What-Are-The-Main-Benefits-Of-Comparing-Car-Insurance-Quotes-Online View photos
to request, modification Contact us at Here or [email protected]