G7 warns of wheat crisis in Ukraine, urges China not to help Russia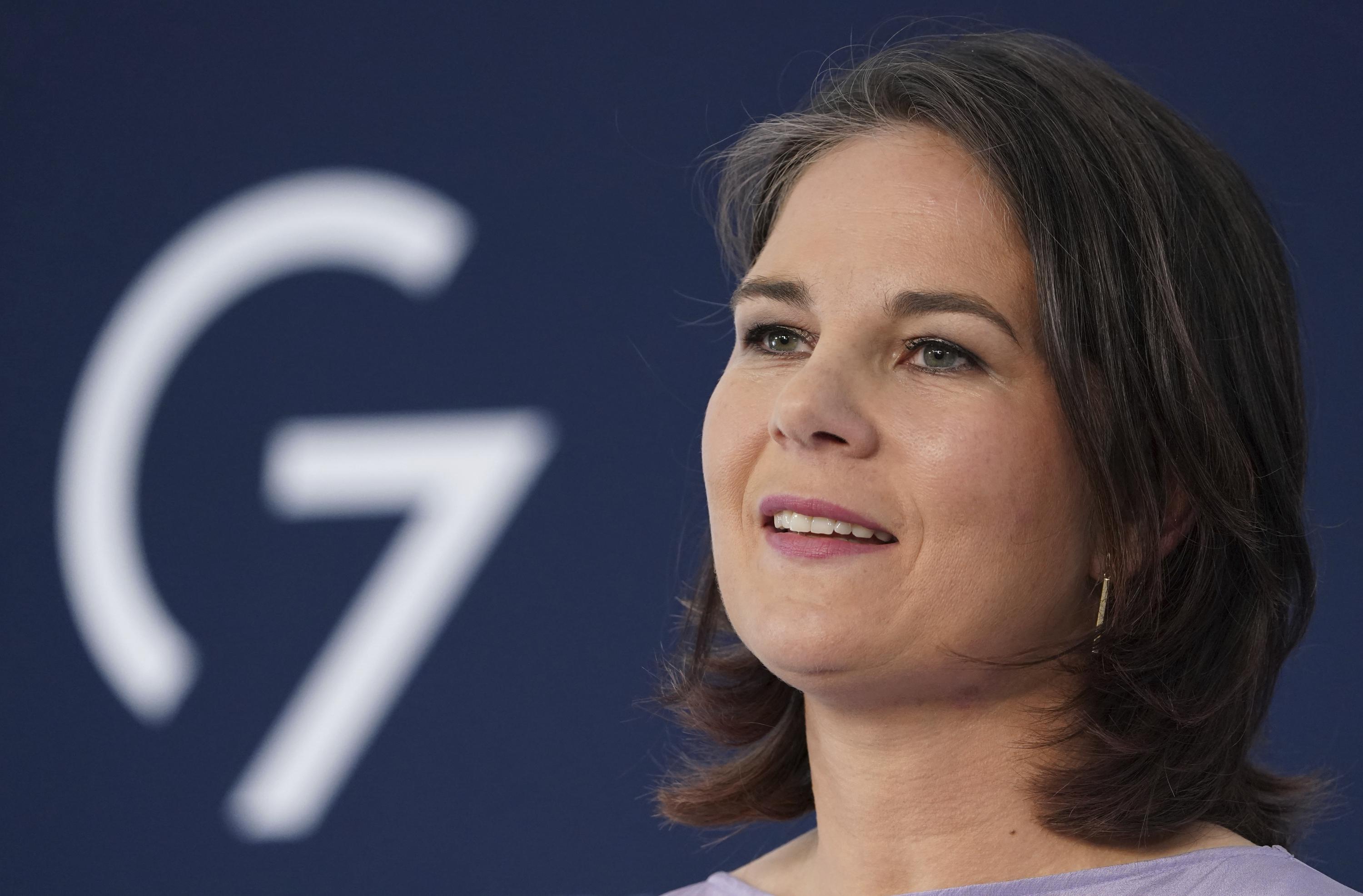 WEISSENHAUS, Germany (AP) The Group of Seven major economies warned on Saturday that the war in Ukraine is fueling a global food and energy crisis which threatens poor countries and urgent measures are needed to unlock grain reserves that Russia is preventing from leaving Ukraine.
German Foreign Minister Annalena Baerbock, who hosted a meeting of senior G-7 diplomats, said the war had turned into a global crisis.
She said up to 50 million people, especially in Africa and the Middle East, would face starvation in the coming months if ways were not found to liberate Ukrainian wheat, which accounts for a significant portion of worldwide supplies.
In statements issued at the end of the three-day meeting on the German shore of the Baltic Sea, the G-7 pledged to provide further humanitarian assistance to the most vulnerable.
Russia's war of aggression has generated one of the worst food and energy crises in recent history, which now threatens those most vulnerable across the globe, the group said.
We are determined to accelerate a coordinated multilateral response to maintain global food security and to stand by our most vulnerable partners in this regard, he added.
Canada's Foreign Minister Melanie Joly said her country, another major agricultural exporter, was ready to send ships to European ports so that Ukrainian wheat could be brought to those in need.
We must make sure that these cereals are sent to the world, she told reporters. If not, millions of people will face famine.
Russia has denied that it was responsible for worsening global hunger and rising food prices.
Prices are rising because of sanctions imposed by the West under US pressure, said Russian Foreign Ministry spokeswoman Maria Zakharova. Failure to do so is a sign of either stupidity or deliberate deception of the public.
The G-7 nations also called on China not to help Russia, including undermining international sanctions or justifying Moscow's actions in Ukraine.
Beijing should support Ukraine's sovereignty and independence, not help Russia in its fight against aggression, they said.
The G-7 urged China to refrain from engaging in information manipulation, misinformation and other means to legitimize Russia's war of aggression against Ukraine.
The group, which consists of Britain, Canada, France, Germany, Italy, Japan and the United States, also reiterated its position that territories captured by Russian forces should be returned to Ukraine.
We will never recognize the borders that Russia has tried to change with military aggression, they said.
The meeting in Weissenhaus, northeast of Hamburg, was billed as an opportunity for officials to discuss the wider implications of the war on geopolitics, energy and food security, and ongoing international efforts to tackle climate change and the pandemic.
In a series of concluding statements, the G-7 countries also addressed a wide range of global issues from the situation in Afghanistan to tensions in the Middle East.
On Friday, Ukrainian Foreign Minister Dmytro Kuleba called on friendly countries to provide more military support to Kiev and increase pressure on Russia, including seizing its assets abroad to pay for Ukraine's reconstruction.
Kuleba says his country remains ready to talk to Russia about unblocking grain supplies stranded in Ukrainian silos and also for reaching a political agreement to end the war itself, but so far had not received any positive reaction from Moscow.
German Chancellor Olaf Scholz said in an interview published Saturday that he had not revealed any change in Putin's stance recently.
Scholz, who spoke at length on the phone with the Russian leader on Friday, told the German t-online news portal that Putin had failed to achieve the military objectives he had set at the start of the war, while losing more Russian soldiers than the Union did. Soviet during its ten-year campaign in Afghanistan.
"Putin must slowly begin to realize that the only way out of this situation is through an agreement with Ukraine," Scholz was quoted as saying.
One idea discussed at the G-7 meeting was whether Russian state assets frozen abroad could be used to pay for Ukraine's reconstruction.
Russia bears responsibility for the massive damage resulting from this war, Baerbock said. And that's why it's a matter of justice that Russia has to pay for this damage.
But she added that, unlike Canada where legislation allows sequestered funds to be reused, the legal basis for doing so in Germany is uncertain.
But that's exactly what such meetings are about, to have an exchange of how to resolve these legal issues, Baerbock said.
Many of the foreign ministers traveled straight to an informal meeting of NATO diplomats in Berlin on Saturday and Sunday.
That meeting will consider moves by Finland and Sweden to join the military alliance amid concerns about the threat from Russia, as well as ways in which NATO can support Ukraine without getting involved in the conflict.
US Secretary of State Antony Blinken, who was unable to attend the G-7 summit after recovering from a COVID-19 infection, was expected to attend the NATO summit.
___
Follow AP coverage of the war at https://apnews.com/hub/russia-ukraine
Sources
2/ https://apnews.com/article/russia-ukraine-beijing-moscow-1a3eb11085ae9b8fb958d29d2f13bef3
The mention sources can contact us to remove/changing this article
What Are The Main Benefits Of Comparing Car Insurance Quotes Online
LOS ANGELES, CA / ACCESSWIRE / June 24, 2020, / Compare-autoinsurance.Org has launched a new blog post that presents the main benefits of comparing multiple car insurance quotes. For more info and free online quotes, please visit https://compare-autoinsurance.Org/the-advantages-of-comparing-prices-with-car-insurance-quotes-online/ The modern society has numerous technological advantages. One important advantage is the speed at which information is sent and received. With the help of the internet, the shopping habits of many persons have drastically changed. The car insurance industry hasn't remained untouched by these changes. On the internet, drivers can compare insurance prices and find out which sellers have the best offers. View photos The advantages of comparing online car insurance quotes are the following: Online quotes can be obtained from anywhere and at any time. Unlike physical insurance agencies, websites don't have a specific schedule and they are available at any time. Drivers that have busy working schedules, can compare quotes from anywhere and at any time, even at midnight. Multiple choices. Almost all insurance providers, no matter if they are well-known brands or just local insurers, have an online presence. Online quotes will allow policyholders the chance to discover multiple insurance companies and check their prices. Drivers are no longer required to get quotes from just a few known insurance companies. Also, local and regional insurers can provide lower insurance rates for the same services. Accurate insurance estimates. Online quotes can only be accurate if the customers provide accurate and real info about their car models and driving history. Lying about past driving incidents can make the price estimates to be lower, but when dealing with an insurance company lying to them is useless. Usually, insurance companies will do research about a potential customer before granting him coverage. Online quotes can be sorted easily. Although drivers are recommended to not choose a policy just based on its price, drivers can easily sort quotes by insurance price. Using brokerage websites will allow drivers to get quotes from multiple insurers, thus making the comparison faster and easier. For additional info, money-saving tips, and free car insurance quotes, visit https://compare-autoinsurance.Org/ Compare-autoinsurance.Org is an online provider of life, home, health, and auto insurance quotes. This website is unique because it does not simply stick to one kind of insurance provider, but brings the clients the best deals from many different online insurance carriers. In this way, clients have access to offers from multiple carriers all in one place: this website. On this site, customers have access to quotes for insurance plans from various agencies, such as local or nationwide agencies, brand names insurance companies, etc. "Online quotes can easily help drivers obtain better car insurance deals. All they have to do is to complete an online form with accurate and real info, then compare prices", said Russell Rabichev, Marketing Director of Internet Marketing Company. CONTACT: Company Name: Internet Marketing CompanyPerson for contact Name: Gurgu CPhone Number: (818) 359-3898Email: [email protected]: https://compare-autoinsurance.Org/ SOURCE: Compare-autoinsurance.Org View source version on accesswire.Com:https://www.Accesswire.Com/595055/What-Are-The-Main-Benefits-Of-Comparing-Car-Insurance-Quotes-Online View photos
to request, modification Contact us at Here or [email protected]