Hate speech dehumanizes individuals and communities: Guterres |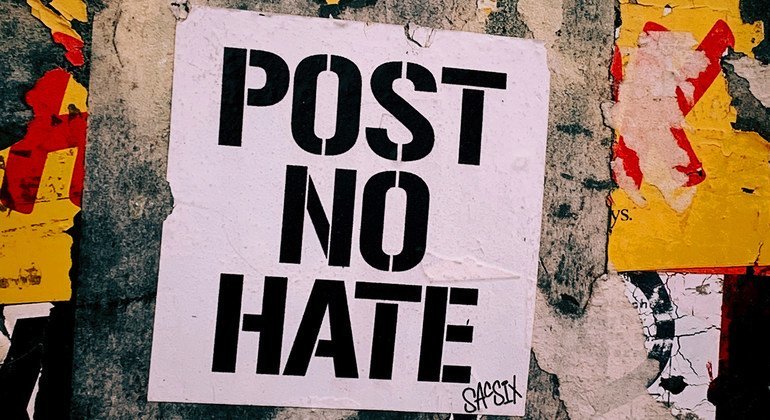 It promotes racism, xenophobia and misogyny; dehumanizes individuals and communities; and has a serious impact on our efforts to promote peace and security, human rights and sustainable development, underlined Secretary General Antonio Guterres.
Dangerous words
He explained it words can be used with weapons and cause physical harm.
Escalation from hate speech to violence has played an important role in the most horrific and tragic crimes of the modern era, from the anti-Semitism that caused the Holocaust to the 1994 genocide against the Tutsis in Rwanda, he said.
The internet and social media have fueled hate speech, allowing it to spread like wildfire across borders, the UN chief added.
Fighting against
Spreading hate speech against minorities over COVID-19 The pandemic has further shown that many societies are highly vulnerable to the stigma, discrimination and conspiracies it promotes.
In response to this growing threat, three years ago, Mr. Guterres launched the UNHate speech strategy and action plan– a new framework to support member states in dealing with the wound, while also respecting freedom of expression and opinion.
It was undertaken in collaboration with civil society, media, technology companies and social media platforms.
And last year, the UN General Assembly adopted a resolution calling for intercultural and interfaith dialogue to combat hate speech and declared International Day.
Hate speech is a danger to everyone and fighting it is a job for everyonesaid the UN chief.
The first international day against hate speech isa call to action. Let us commit ourselves to doing everything in our power to prevent and end hate speech by promoting respect for diversity and inclusion.
Hatred incites hostility
In a sign of how the phenomenon is becoming a growing problem, UN human rights chief Michelle Bachelet and UN Special Adviser on Genocide Prevention Alice Nderitu voiced their deepest concern on Friday over the language of hatred that is fueling violence against civilians. long clashes between the M23 rebel group and government forces in the Democratic Republic of the Congo (DRC).
The two senior officials demanded that attacks on civilians be stopped immediately.
"We call on all parties to respect international human rights law and international humanitarian law," they said.
Senior UN officials noted that hate speech and incitement to discrimination, hostility or violence across the country – specifically directed against kinyarwanda speakers – was a significant factor, as the DRC government accused Rwanda of supporting M23.
Hate speech fosters conflict by exacerbating mistrust between communitiesthey said.
It focuses on aspects that have previously been less important, fosters a discourse between us towards them, and erodes social cohesion between communities that have previously lived together.
Spreading hatred
To date, the UN has documented eight cases of hate speech and incitement to discrimination, hostility or violence and has been spread by political party figures, community leaders, civil society actors, and the Congolese diaspora.
Times of political tension and armed conflict tend to be linked to increased use of hate speech and incitement to discrimination, hostility or violence, the two senior officials said.
Hate messages increase the risk of violence, including atrocities targeting specific groups of people [and] should be severely punished by the highest national authorities and restrained.
Both women encouraged Parliament to speed up the passage of the bill on racism, xenophobia and tribalism to strengthen the legal framework to address and combat hate speech.
Sources
2/ https://news.un.org/en/story/2022/06/1120742
The mention sources can contact us to remove/changing this article
What Are The Main Benefits Of Comparing Car Insurance Quotes Online
LOS ANGELES, CA / ACCESSWIRE / June 24, 2020, / Compare-autoinsurance.Org has launched a new blog post that presents the main benefits of comparing multiple car insurance quotes. For more info and free online quotes, please visit https://compare-autoinsurance.Org/the-advantages-of-comparing-prices-with-car-insurance-quotes-online/ The modern society has numerous technological advantages. One important advantage is the speed at which information is sent and received. With the help of the internet, the shopping habits of many persons have drastically changed. The car insurance industry hasn't remained untouched by these changes. On the internet, drivers can compare insurance prices and find out which sellers have the best offers. View photos The advantages of comparing online car insurance quotes are the following: Online quotes can be obtained from anywhere and at any time. Unlike physical insurance agencies, websites don't have a specific schedule and they are available at any time. Drivers that have busy working schedules, can compare quotes from anywhere and at any time, even at midnight. Multiple choices. Almost all insurance providers, no matter if they are well-known brands or just local insurers, have an online presence. Online quotes will allow policyholders the chance to discover multiple insurance companies and check their prices. Drivers are no longer required to get quotes from just a few known insurance companies. Also, local and regional insurers can provide lower insurance rates for the same services. Accurate insurance estimates. Online quotes can only be accurate if the customers provide accurate and real info about their car models and driving history. Lying about past driving incidents can make the price estimates to be lower, but when dealing with an insurance company lying to them is useless. Usually, insurance companies will do research about a potential customer before granting him coverage. Online quotes can be sorted easily. Although drivers are recommended to not choose a policy just based on its price, drivers can easily sort quotes by insurance price. Using brokerage websites will allow drivers to get quotes from multiple insurers, thus making the comparison faster and easier. For additional info, money-saving tips, and free car insurance quotes, visit https://compare-autoinsurance.Org/ Compare-autoinsurance.Org is an online provider of life, home, health, and auto insurance quotes. This website is unique because it does not simply stick to one kind of insurance provider, but brings the clients the best deals from many different online insurance carriers. In this way, clients have access to offers from multiple carriers all in one place: this website. On this site, customers have access to quotes for insurance plans from various agencies, such as local or nationwide agencies, brand names insurance companies, etc. "Online quotes can easily help drivers obtain better car insurance deals. All they have to do is to complete an online form with accurate and real info, then compare prices", said Russell Rabichev, Marketing Director of Internet Marketing Company. CONTACT: Company Name: Internet Marketing CompanyPerson for contact Name: Gurgu CPhone Number: (818) 359-3898Email: [email protected]: https://compare-autoinsurance.Org/ SOURCE: Compare-autoinsurance.Org View source version on accesswire.Com:https://www.Accesswire.Com/595055/What-Are-The-Main-Benefits-Of-Comparing-Car-Insurance-Quotes-Online View photos
to request, modification Contact us at Here or [email protected]