Transcript: World Bank Group President David Malpass in "Face the Nation", June 26, 2022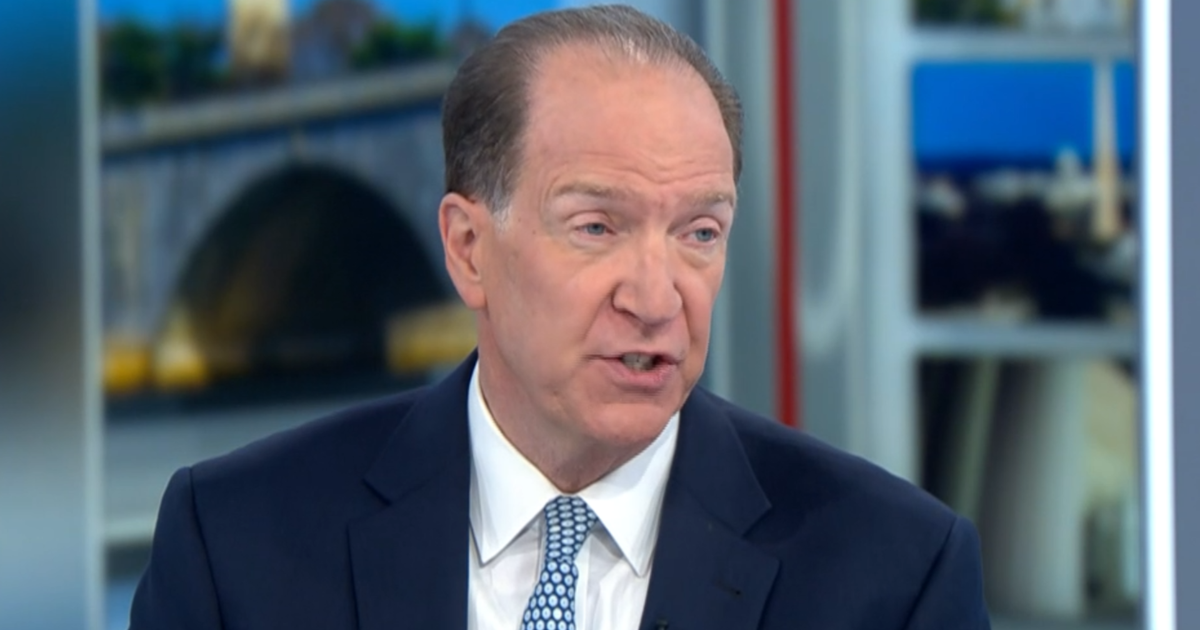 Below is a transcript of an interview with World Bank Group President David Malpass that aired on Sunday, June 26, 2022, on "Face the Nation."
---
MARGARET BRENNAN: Now we want to welcome David Malpass, President of the World Bank. Welcome back to Face The Nation.
WORLD BANK GROUP PRESIDENT DAVID MALPASS: Thank you very much.
MARGARET BRENNAN: There are many stressors in the global economic system right now, how do you describe where we are?
MALPASS: It is a sharp slowdown, including in China. So we have seen world growth halved since January in terms of GDP growth. But there are also shortages, there is inflation. And food shortages for poorer countries are becoming a major concern, they already are.
MARGARET BRENNAN: I mean, global inflation is not just the US, but other rich countries around the world. But you are also describing a recipe for global instability.
MALPASS: It feeds when there is not enough food that – for the weakest countries, the poorest countries, which causes instability. And it's a big factor in the turnover of governments that has happened in quite a few countries. And then there has to be a lot more discussion of what needs to be done about the fiscal challenges you know, running out of money for government as well as food. And so all of this goes together in fragility, very disturbing.
MARGARET BRENNAN: COVID triggered the deepest global recession since World War II. Now, the world economy is in danger because of this Russian invasion of Ukraine. How to avoid a global recession with all these factors?
MALPASS: Some countries, it will be very difficult to do that. I think leadership from the strongest countries is very important. There are many opportunities, assets, for example, central banks have much more assets than in 2008. You know, there have been, there are regulatory assets they have, they now have large bond portfolios, they can be – all of these are financed from bank money. So if there is a reduction in bond portfolios, this frees up the capital that can be used for these supply chains that are so strained. The bottom line is that there should be a lot more output and that is more available to the strongest countries. The US is the largest economy in the world and can increase production more than anyone else. And so it becomes one of the main variables in opinion. What are you doing today, to increase the production of everything, the world needs practically everything the US does and there has to be a process to really increase that production.
MARGARET BRENNAN: So if you were to talk to Jerome Powell, the chairman of the US Federal Reserve, you would say focus less on interest rates, focus more on what?
MALPASS: He has many tools. One is regulatory policy, the Fed is a kind of important regulator of banks. So let the banks lend more. But then also on the bond side, lowering the bond portfolio would return more money to the banks, all the money used to maintain the bond portfolio comes from the banks. And if they had more, they could lend and also the non-banking sector of the US economy. This is one of the most innovative and can invest more money in the supply chain.
MARGARET BRENNAN: It's interesting, you say, banks, I heard something from an American official talking about this as a hindrance to oil companies right now, and that President Biden is urging them to produce more energy. Is this a problem, you see?
MALPASS: Big problem, and really world markets look ahead, and they look at what regulatory policy will be in the future. So if you are an oil company, you hear the message from everyone around, that politicians do not want your oil. And so – so then you – you drill less you decide, you do less of your R&D plans. You know, R&D is research and development is essential for innovation in any sector. In developing countries, they are not even producing energy because they are limited by banking regulations due to lack of funding.
MARGARET BRENNAN: But even at this meeting of the biggest global economies, you know, the West at the G7, there will be a focus on sustainability, there will be a focus on climate change, the message is moving away from fossil fuels. But at the same time, you are listening to Germany, building a coal burning once again, the United States again demanding the production of oil and gas, because of the crisis with Russia. So how do all these parts fit together without adversely affecting growth?
MALPASS: There is a discrepancy and it is a moment in time that the world is trying to reduce its dependence on Russia and also on China. And it must keep markets open and not restrict exports and finance the new investments needed, and there is no clarity in Europe. You know, some of the countries want nuclear power, some want natural gas, and they're talking about importing natural gas, but they're doing it slowly. So for the poorest countries in the world, this is also – it is an enigma, how will we move forward when Europe is attracting so much natural gas to the world.
MARGARET BRENNAN: So a State Department official said, a few days ago, the food crisis would be at least a three-year problem. What time horizon do you set for the food crisis and the energy crisis?
MALPASS: I will say one thing, it is possible to produce enough to mitigate that crisis. But with the speed we are going now, fertilizers are not being made, you know, fertilizer comes a giant source of fertilizer is from natural gas, through the ammonium channel to the most useful fertilizer. And it is also used to make electricity that converts minerals into fertilizer, and that just isn't happening. So a large part of the world is being shut down due to lack of fertilizers, and then those crop shortages will last for many years. We need to break that cycle and do it very forcefully now, through announcements. Markets listen to what governments say. And I think if governments were to say, if central banks were to say there would be currency stability, which means years and years from now, currencies would not have depreciated, they would not have caused inflation, they would have to be strong and stable in the long run, that would go a long way and the same thing on this side of producing economies, say you want your strong economies to produce twice as much as they are now. This is achievable for many of these innovative techniques.
MARGARET BRENNAN: The chairman of the Federal Reserve said this week in this country, that recession is certainly a possibility, partly due to higher interest rates. Citigroup sets the chances for a recession at 50%. What is your forecast here for the most important economy in the world?
MALPASS: We published a report three weeks ago that did not have the US in recession. But we said in negative scenarios that there may be and so I do not agree with those assessments you are seeing there. And I would say the key variable is what you do today to deliver more output that tackles the problem of recession and also the problem of inflation because you – just push the goods into the market and make it clear to the world, we are going to produce so much so, you will not be able to get that price.
MARGARET BRENNAN: So do you agree with Fed officials when they say it will take at least two years, a few years before we turn inflation back to 2%?
MALPASS: It will take time to sit down, but again, it depends on what we do – what is your forecast for oil prices, for natural gas prices, for fertilizers? I think – it is clear – it will take months and months and maybe two years to lower inflation again. However, markets respond to signals. And so I think the important question is, can there be enough signals from the US, but also from other advanced countries – the big economies, that they will provide more output. And the reason I keep going back to central banks has a lot to do with whether businesses think they can borrow more money. It is regulatory policy, also this control of so many bonds, you know, in Japan, they have bought a large part of the national debt, so the central bank, but takes money from the banking system and buys government bonds. . This is not increasing supply in Japan.
MARGARET BRENNAN: So finally, before I let you go, you have previously warned in this program about a debt crisis in these developing countries, emerging markets, with high interest rates, is that where now are we, are we in crisis?
MALPASS: We are in crisis, and we see more countries falling one by one, we have seen that Sri Lanka in very severe difficulties there. But there will be many countries because as you say, interest rates will rise and also their GDP will fall in this slow growing environment in the world. The solution is much more the goal of production from advanced economies.
MARGARET BRENNAN: A dangerous moment for the global economy, David.
MALPASS: Dangerous, and I just hope we can go strong and confident.
MARGARET BRENNAN: Thank you very much for your time. We will be back immediately.
Sources
2/ https://www.cbsnews.com/news/david-malpass-president-world-bank-group-transcript-face-the-nation-2022-06-26/
The mention sources can contact us to remove/changing this article
What Are The Main Benefits Of Comparing Car Insurance Quotes Online
LOS ANGELES, CA / ACCESSWIRE / June 24, 2020, / Compare-autoinsurance.Org has launched a new blog post that presents the main benefits of comparing multiple car insurance quotes. For more info and free online quotes, please visit https://compare-autoinsurance.Org/the-advantages-of-comparing-prices-with-car-insurance-quotes-online/ The modern society has numerous technological advantages. One important advantage is the speed at which information is sent and received. With the help of the internet, the shopping habits of many persons have drastically changed. The car insurance industry hasn't remained untouched by these changes. On the internet, drivers can compare insurance prices and find out which sellers have the best offers. View photos The advantages of comparing online car insurance quotes are the following: Online quotes can be obtained from anywhere and at any time. Unlike physical insurance agencies, websites don't have a specific schedule and they are available at any time. Drivers that have busy working schedules, can compare quotes from anywhere and at any time, even at midnight. Multiple choices. Almost all insurance providers, no matter if they are well-known brands or just local insurers, have an online presence. Online quotes will allow policyholders the chance to discover multiple insurance companies and check their prices. Drivers are no longer required to get quotes from just a few known insurance companies. Also, local and regional insurers can provide lower insurance rates for the same services. Accurate insurance estimates. Online quotes can only be accurate if the customers provide accurate and real info about their car models and driving history. Lying about past driving incidents can make the price estimates to be lower, but when dealing with an insurance company lying to them is useless. Usually, insurance companies will do research about a potential customer before granting him coverage. Online quotes can be sorted easily. Although drivers are recommended to not choose a policy just based on its price, drivers can easily sort quotes by insurance price. Using brokerage websites will allow drivers to get quotes from multiple insurers, thus making the comparison faster and easier. For additional info, money-saving tips, and free car insurance quotes, visit https://compare-autoinsurance.Org/ Compare-autoinsurance.Org is an online provider of life, home, health, and auto insurance quotes. This website is unique because it does not simply stick to one kind of insurance provider, but brings the clients the best deals from many different online insurance carriers. In this way, clients have access to offers from multiple carriers all in one place: this website. On this site, customers have access to quotes for insurance plans from various agencies, such as local or nationwide agencies, brand names insurance companies, etc. "Online quotes can easily help drivers obtain better car insurance deals. All they have to do is to complete an online form with accurate and real info, then compare prices", said Russell Rabichev, Marketing Director of Internet Marketing Company. CONTACT: Company Name: Internet Marketing CompanyPerson for contact Name: Gurgu CPhone Number: (818) 359-3898Email: [email protected]: https://compare-autoinsurance.Org/ SOURCE: Compare-autoinsurance.Org View source version on accesswire.Com:https://www.Accesswire.Com/595055/What-Are-The-Main-Benefits-Of-Comparing-Car-Insurance-Quotes-Online View photos
to request, modification Contact us at Here or [email protected]