SBU seniors explore international journalism in Italian practice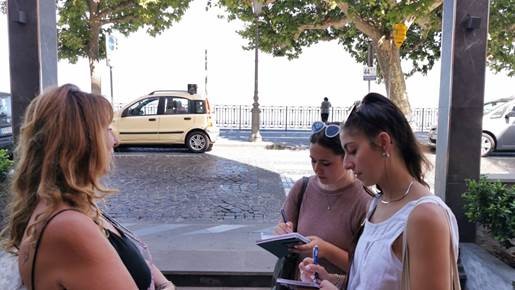 05 August 2022
By Tyler Carro, '22
Two young journalism students at the University of St. Bonaventure have completed their fourth week of internship at Positano News in Piano di Sorrento, Italy.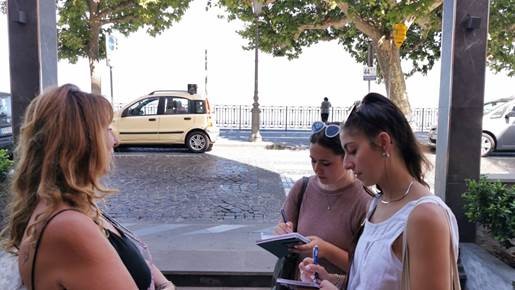 Marnique Olivieri-Panepento and Elizabeth Egan received their internships through the Sant'Anna Institute, where they and 11 other Bonaventure students are taking classes this summer as part of the study abroad program in Sorrento, Italy.
Olivieri-Panepento, of Buffalo, and Egan, of Rochester, have enjoyed their new adventures and learned to adapt to the Italian journalistic culture and process.
During the internment in Positano Newsan online newspaper of the Amalfi Coast and the Sorrento Peninsula, Olivieri-Panepento and Egan have focused on tourism within the neighboring villages.
Stories they have written include:
Almost every day they take a train two cities over and experience the passions of European culture.
Positano News Director Michele Cinque takes Olivieri-Panepento and Egan to meet individuals and explore places most aspiring journalists will never encounter. The unscheduled nature of interviews is something both students are mastering.
Learning to communicate without words is another skill the two women are learning as they go. Working in an office and conducting interviews where English is not commonly spoken is teaching them to pay attention to what people are saying, even if it is in a different language. Attention to tone, hand gestures and facial expressions have helped them achieve this.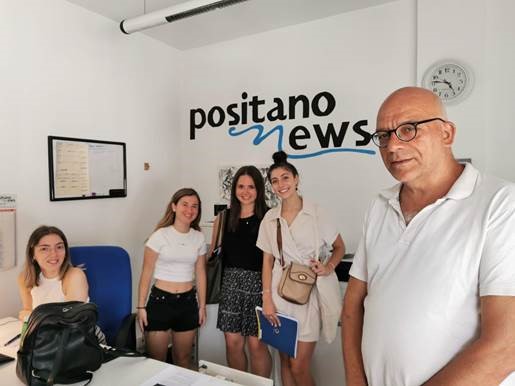 Olivieri-Panepento and Egan began working together as students at St. John's Jandoli School of Communication. Bonaventure, where they joined to write articles for PolitiFact New Yorkworked together as editor-in-chief and senior editor for Her campus, and shared ideas for their classrooms. They are grateful to that foundation and to their professors at Jandoli School who prepared them with knowledge and encouragement.
Olivieri-Panepento admits that the opportunity to work in a foreign country is rare for a college student, and says she learned professional skills that she will carry throughout her career.
"The pace of the Italian workplace has defined a new approach to how I see success and has shaped many new values," said Olivieri-Panepento.
"Positano News forces its interns to become courageous journalists – to never stop asking questions. Our boss tells us: 'Ask, ask, ask. This is journalism. You ask and take pictures. You are journalists. Because of the language barrier, we have to listen differently and process what is being said carefully. Although different countries around the world define journalism differently, there is a shared commitment to an undeniable work ethic at the root of all journalists."
For Egan, the internship has exceeded her expectations.
"While our boss's surprised face when he found out we didn't speak Italian on the first day left me quite nervous, a little bit of my Italian, a little bit of his English and a lot of hand gestures allowed us to quickly develop our communication system," she said.
"Blindly following our boss on a fishing boat to Positano, snooping on a private tour of an ancient Roman villa, crashing two weddings and being showered by locals with free espresso and limoncello, all in the name of journalism, are just a few of many. incredible experiences that I will never forget from this internship," added Egan. "Most importantly, the experience has taught me important lessons about listening, courage in interviewing, and that the key to being a good journalist is walking the walk."
At the end of the five weeks, Egan and Olivieri-Panepento will present at the Sant'Anna Institute and summarize their internship experience through an e-portfolio that will be shared with other interns, staff and News Director Cinque.
Sources
2/ https://www.sbu.edu/news/news-items/2022/08/05/sbu-seniors-explore-international-journalism-in-italian-internship
The mention sources can contact us to remove/changing this article
What Are The Main Benefits Of Comparing Car Insurance Quotes Online
LOS ANGELES, CA / ACCESSWIRE / June 24, 2020, / Compare-autoinsurance.Org has launched a new blog post that presents the main benefits of comparing multiple car insurance quotes. For more info and free online quotes, please visit https://compare-autoinsurance.Org/the-advantages-of-comparing-prices-with-car-insurance-quotes-online/ The modern society has numerous technological advantages. One important advantage is the speed at which information is sent and received. With the help of the internet, the shopping habits of many persons have drastically changed. The car insurance industry hasn't remained untouched by these changes. On the internet, drivers can compare insurance prices and find out which sellers have the best offers. View photos The advantages of comparing online car insurance quotes are the following: Online quotes can be obtained from anywhere and at any time. Unlike physical insurance agencies, websites don't have a specific schedule and they are available at any time. Drivers that have busy working schedules, can compare quotes from anywhere and at any time, even at midnight. Multiple choices. Almost all insurance providers, no matter if they are well-known brands or just local insurers, have an online presence. Online quotes will allow policyholders the chance to discover multiple insurance companies and check their prices. Drivers are no longer required to get quotes from just a few known insurance companies. Also, local and regional insurers can provide lower insurance rates for the same services. Accurate insurance estimates. Online quotes can only be accurate if the customers provide accurate and real info about their car models and driving history. Lying about past driving incidents can make the price estimates to be lower, but when dealing with an insurance company lying to them is useless. Usually, insurance companies will do research about a potential customer before granting him coverage. Online quotes can be sorted easily. Although drivers are recommended to not choose a policy just based on its price, drivers can easily sort quotes by insurance price. Using brokerage websites will allow drivers to get quotes from multiple insurers, thus making the comparison faster and easier. For additional info, money-saving tips, and free car insurance quotes, visit https://compare-autoinsurance.Org/ Compare-autoinsurance.Org is an online provider of life, home, health, and auto insurance quotes. This website is unique because it does not simply stick to one kind of insurance provider, but brings the clients the best deals from many different online insurance carriers. In this way, clients have access to offers from multiple carriers all in one place: this website. On this site, customers have access to quotes for insurance plans from various agencies, such as local or nationwide agencies, brand names insurance companies, etc. "Online quotes can easily help drivers obtain better car insurance deals. All they have to do is to complete an online form with accurate and real info, then compare prices", said Russell Rabichev, Marketing Director of Internet Marketing Company. CONTACT: Company Name: Internet Marketing CompanyPerson for contact Name: Gurgu CPhone Number: (818) 359-3898Email: [email protected]: https://compare-autoinsurance.Org/ SOURCE: Compare-autoinsurance.Org View source version on accesswire.Com:https://www.Accesswire.Com/595055/What-Are-The-Main-Benefits-Of-Comparing-Car-Insurance-Quotes-Online View photos
to request, modification Contact us at Here or [email protected]