From Hiroshima, UN chief calls for global nuclear disarmament |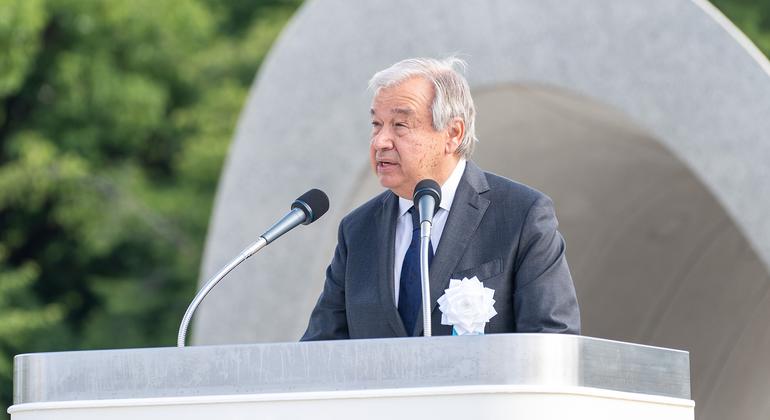 Nuclear weapons are stupid. Three quarters of a century later, we must ask what we have learned from the mushroom cloud that blew over this city in 1945, he asked during the solemn event at Hiroshima's Peace Memorial Park, attended by dozens of people, including hibakushayoung peace activists, the Japanese Prime Minister and other local authorities.
of Secretary General of the UN warned that a new arms race is gathering pace and world leaders are increasing stockpiles at a cost of hundreds of billions of dollars with almost 13,000 nuclear weapons currently held in arsenals around the world.
Crises with heavy nuclear undertones are spreading rapidly from the Middle East to the Korean peninsula, to the Russian occupation of Ukraine, he warned, humanity is playing with a loaded gun.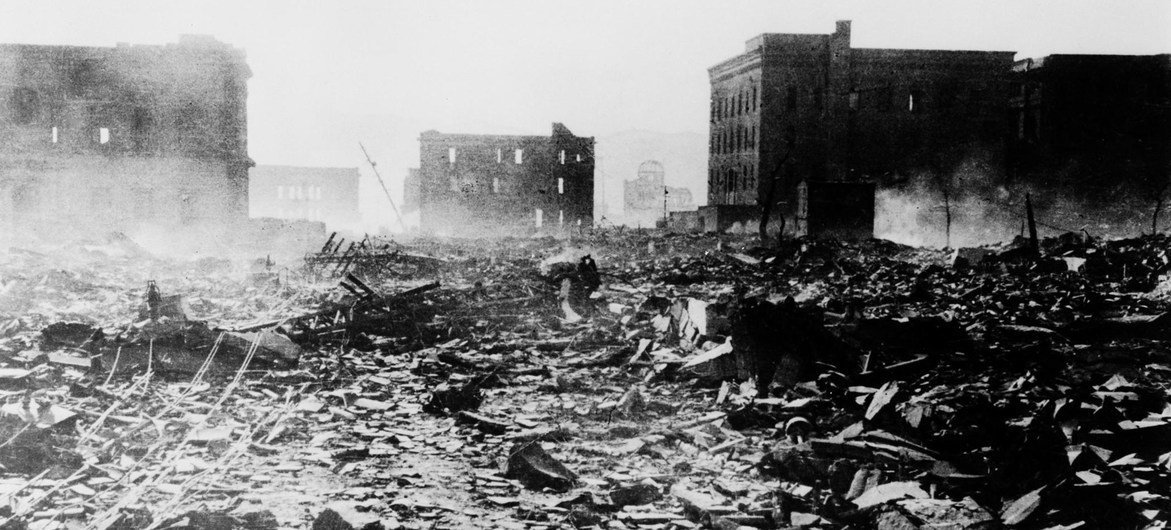 UN photo/Mitsugu Kishida
Hiroshima, shortly after a nuclear bomb was dropped on the city in August 1945.
Signs of hope
Mr. Guterres called the current Nuclear Non-Proliferation Treaty Review Conference in New York a sign of hope.
Today, from this sacred space, I appeal to the members of this Treaty to work urgently to eliminate the stocks that threaten our futureto strengthen dialogue, diplomacy and negotiations and to support my disarmament agenda by eliminating these means of destruction, he stressed.
In Hiroshima today, I paid tribute to the tens of thousands of people killed by the atomic bomb 77 years ago.

We cannot forget the lessons of Hiroshima and Nagasaki.

We must act in their memory and wipe nuclear weapons off the face of the earth once and for all. pic.twitter.com/taMQFAjD92

— Antonio Guterres (@antonioguterres) August 6, 2022
He underlined that countries with nuclear weapons must commit to not using them first and to assure other states that they will not use or threaten to use nuclear weapons against them.
We must bear in mind the horrors of Hiroshima at all times, recognizing that there is only one solution to the nuclear threat: no nuclear weapons at all, the UN chief said.
Time to spread peace
Guterres emphasized that leaders cannot hide from their responsibilities.
Take the nuclear option off the table for good. It's time to spread peace. Pay attention to the hibakusha's message: No more Hiroshima! No more Nagasakis!, he said, acknowledging that in 1945, two atomic bombs were exploded over Japan, first on Hiroshima on August 6 and Nagasaki three days later on August 9.
Mr. Guterres also sent a message to the youth asking them to finish the work that the hibakusha started.
The world must never forget what happened here. The memory of those who died and the legacy of those who survived will never fadehe concluded.
The UN Secretary-General will be in Japan over the weekend, where he will meet with several senior Japanese officials, including Prime Minister Fumio Kishida.
He will also meet a group of survivors of the atomic bombings of Hiroshima and Nagasaki and participate in a dialogue with young activists who are leading initiatives on nuclear disarmament, non-proliferation and other global issues.
The world must never forget
Later in the day, the Secretary-General met five surviving victims of the atomic bombs in Hiroshima and Nagasaki, known as Hibakusha, and heard their stories.
He expressed his admiration for them, acknowledging that they have suffered immensely but have overcome the trauma with great courage and resilience.
Mr Guterres also called them an example to the world and told the three women and two men reunited with him that they have the moral authority to tell leaders that nuclear weapons are senseless.
The UN is committed to keeping alive the memory of what happened and making sure your stories resonate forever, he said.
The hibakusha told the UN chief how they have remained engaged in peace and disarmament issues for most of their lives: for example, one of them wrote a song to raise awareness and another illustrated the experiences of her in the photo.
All expressed the wish that even young people understand the raw reality of nuclear weapons.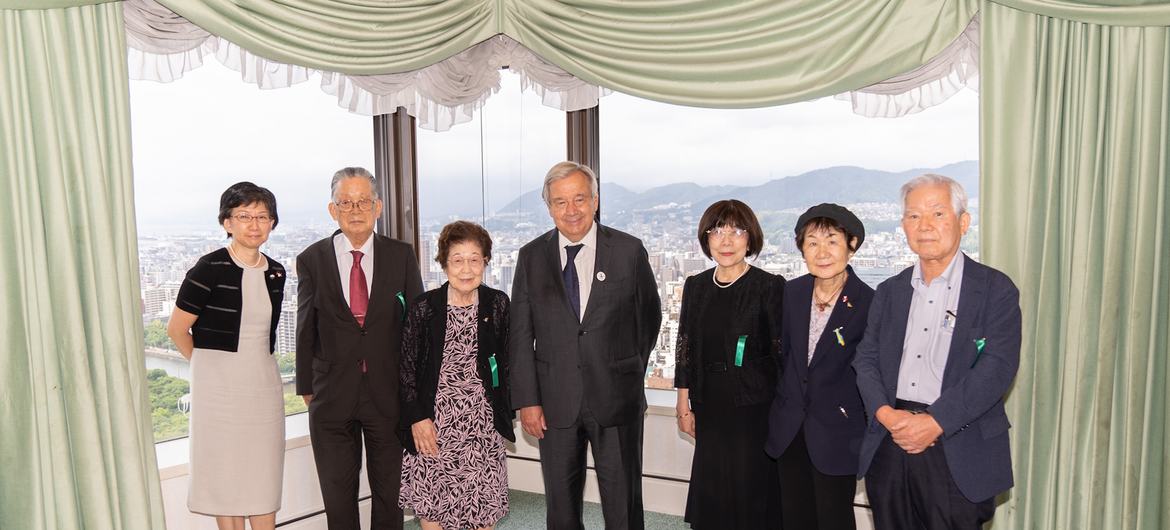 UN photos/Ichiro Mae
In Japan, Guterres had a meeting with hibakusha.
The Power of Youth from Hiroshima
Antnio Guterres was also part of an informal dialogue session with young Japanese activists currently leading initiatives on nuclear disarmament, non-proliferation and other global issues.
I would like to apologize on behalf of my generation for the state of the world we are leaving to your generation, he said, repeating an apology he has previously made to young people around the world.
He spoke about the current state of the world, including the triple planetary crisis, rampant inequality and widespread armed conflict.
Our generations must work together and then you will take the responsibilities, and you must be prepared and in very good shape, he told the young participants.
Honorary citizen
The UN chief also met with the mayor of Hiroshima and the vice mayor of Nagasaki and was given honorary Hiroshima citizenship.
I accept this great honor on behalf of all the women and men of the United Nations who are working for peace around the world. I accept it on behalf of diplomats and negotiators who are meeting this week in New York to stop the spread of nuclear weapons, he said.
Sources
2/ https://news.un.org/en/story/2022/08/1124112
The mention sources can contact us to remove/changing this article
What Are The Main Benefits Of Comparing Car Insurance Quotes Online
LOS ANGELES, CA / ACCESSWIRE / June 24, 2020, / Compare-autoinsurance.Org has launched a new blog post that presents the main benefits of comparing multiple car insurance quotes. For more info and free online quotes, please visit https://compare-autoinsurance.Org/the-advantages-of-comparing-prices-with-car-insurance-quotes-online/ The modern society has numerous technological advantages. One important advantage is the speed at which information is sent and received. With the help of the internet, the shopping habits of many persons have drastically changed. The car insurance industry hasn't remained untouched by these changes. On the internet, drivers can compare insurance prices and find out which sellers have the best offers. View photos The advantages of comparing online car insurance quotes are the following: Online quotes can be obtained from anywhere and at any time. Unlike physical insurance agencies, websites don't have a specific schedule and they are available at any time. Drivers that have busy working schedules, can compare quotes from anywhere and at any time, even at midnight. Multiple choices. Almost all insurance providers, no matter if they are well-known brands or just local insurers, have an online presence. Online quotes will allow policyholders the chance to discover multiple insurance companies and check their prices. Drivers are no longer required to get quotes from just a few known insurance companies. Also, local and regional insurers can provide lower insurance rates for the same services. Accurate insurance estimates. Online quotes can only be accurate if the customers provide accurate and real info about their car models and driving history. Lying about past driving incidents can make the price estimates to be lower, but when dealing with an insurance company lying to them is useless. Usually, insurance companies will do research about a potential customer before granting him coverage. Online quotes can be sorted easily. Although drivers are recommended to not choose a policy just based on its price, drivers can easily sort quotes by insurance price. Using brokerage websites will allow drivers to get quotes from multiple insurers, thus making the comparison faster and easier. For additional info, money-saving tips, and free car insurance quotes, visit https://compare-autoinsurance.Org/ Compare-autoinsurance.Org is an online provider of life, home, health, and auto insurance quotes. This website is unique because it does not simply stick to one kind of insurance provider, but brings the clients the best deals from many different online insurance carriers. In this way, clients have access to offers from multiple carriers all in one place: this website. On this site, customers have access to quotes for insurance plans from various agencies, such as local or nationwide agencies, brand names insurance companies, etc. "Online quotes can easily help drivers obtain better car insurance deals. All they have to do is to complete an online form with accurate and real info, then compare prices", said Russell Rabichev, Marketing Director of Internet Marketing Company. CONTACT: Company Name: Internet Marketing CompanyPerson for contact Name: Gurgu CPhone Number: (818) 359-3898Email: [email protected]: https://compare-autoinsurance.Org/ SOURCE: Compare-autoinsurance.Org View source version on accesswire.Com:https://www.Accesswire.Com/595055/What-Are-The-Main-Benefits-Of-Comparing-Car-Insurance-Quotes-Online View photos
to request, modification Contact us at Here or [email protected]