Monkeypox is a global health emergency: What you need to know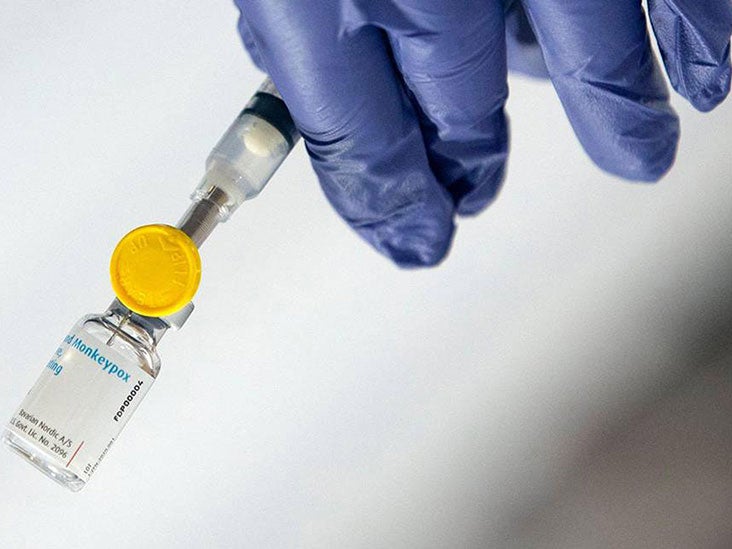 Earlier this month, the World Health Organization (WHO) declared the latest monkeypox outbreak a global health emergency.
There are more than 16,000 reported cases of monkeypox in 75 countries and territories.
Monkeypox has a current mortality rate of 3-6%.
A recent study found that 95% of monkeypox cases between April and June 2022 occurred during sex between men.
Two vaccines are currently available to help protect against monkeypox.
On July 23, 2022, WHO Director-General Tedros Adhanom Ghebreyesus stated recent outbreak of monkeypox a public health emergency of international interest (PHEIC).
According to the official press statement of Dr. Tedros, this decision stems from the current outbreak of monkeypox growing in more than 16,000 cases reported within 75 countries and territories, along with five deaths.
I welcome the WHO director's decision to declare the current global monkeypox outbreak a PHEIC, comments dr. Boghuma K. Titanji, assistant professor of medicine at Emory University. For several weeks, the criteria to make monkeypox a PHEIC had been met.
I hope this will raise the level of international priority for monkeypox and encourage a more coordinated global response, which has unfortunately been lacking so far, she continues.
It is also an opportunity to get things right for global health equity and access to resources such as testing, vaccination, antiviral drugs, etc., which are areas where we have historically seen many failures, resulting in countries with limited resources left behind.

dr. Boghuma K. Titanji
Monkeypox is one zoonotic virus, which means it is transferred from animals to humans. some animals that can carry monkeypox include various species of monkeys, giant pouched rats, African dormouse and several species of squirrels.
The disease belongs to him The genus of orthopoxviruses, which includes smallpox. Because of this, its symptoms are generally similar but not as severe as those of smallpox.
Medical clinicians found the first cases of monkeypox in 1958 during two outbreaks in monkeys kept for research.
The researchers recorded first human case of the disease in 1970 in the Democratic Republic of the Congo. Since then, 11 African countries have reported cases of monkeypox.
The first outbreak of monkeypox occurred outside of Africa in the United States in 2003. Scientists linked this incident to prairie dogs infected with monkeypox.
As previously mentioned, monkeypox is a virus that is transmitted from infected animals to humans. The transfer of the virus from an animal to a human occurs through:
bite or scratch from an infected animal
eating meat or using products from an animal with monkeypox
coming into contact with the body fluids of the infected animal.
Once a person is infected with monkeypox, they can transfer the virus to another person through:
breath points during prolonged face-to-face contact
intimate physical contact, including kissing and intercourse
by directly touching the infectious rash or body fluids of an infected person
touching clothing, bedding and other materials that have been in contact with an infected person's rash or body fluids.
Because monkeypox is spread between humans through close contact, the Centers for Disease Control (CDC) provides. instruction for people who are sexually active to protect themselves and their partners from contracting the virus.
A study recently published in New England Journal of Medicine found that, between April and June 2022, 98% of people with monkeypox infection were gay or bisexual men, and 95% of monkeypox cases occurred through sexual transmission.
Is monkeypox, then, a sexually transmitted disease (STD)?
According to Prof. Piero Olliarodirector of clinical research at the Oxford Epidemic Diseases Research Group (ERGO) and the International Consortium for Severe and Emerging Respiratory Infections (ISARIC), not so.
He emphasized that it is important to remember that monkeypox is transmitted through close contact through a variety of means. This includes sexual intercourse, but it is not the only mode of transmission.
While the virus does not only circulate through sexual intercourse, the fact that it can be transmitted through respiratory droplets may mean that it can be transmitted more easily between members of close-knit communities, such as LGBTQIA+ communities.
The fact that the current outbreak in non-endemic countries so far essentially involves men who have sex with men means that inclusion and acceptance of the LGBTQ+ community is essential, Prof. Olliaro Medical News Today.
This has proven to work in other similar circumstances to help identify what would work and make breaking chains of transmission happen, he added.
If a person is infected with monkeypox, the incubation period before symptoms begin is anywhere from 5 to 21 days.
Most people experience two sets of monkeypox symptoms. The first symptoms appear in about 5 days and include:
A few days after the fever, a rash usually appears in the person infected with monkeypox. The rash looks similar to pimples or blisters and can appear on many parts of the body, including:
face
his chest
clapping hands
the soles of the feet
inside the mouth
genitals and/or anus.
Symptoms usually last two to four weeks. Monkeypox currently has a fatality rate of 3% to 6%.
Treatment of the disease usually involves medication to treat certain symptoms.
The developments (TPOXX) is an antiviral drug developed by SIGA Technologies for the treatment of smallpox and related diseases. According to Dr. Dennis Hrubychief scientific officer at SIGA Technologies, TPOXX is the only antiviral approved for the treatment of monkeypox.
The public health agencies that have so far approved TPOXX for the treatment of monkeypox infection are European Medicines Agency (Big Medicines and Healthcare products Regulatory Agency (MHRA) in the United Kingdom.
In the United States, the Food and Drug Administration (FDA) approved Tecovirimat for smallpox treatmentbut currently not monkeypox.
For this reason, the CDC maintains a non-investigational expanded access protocol for investigational new drugs (EA-IND) that allows physicians to use tecovirim to treat all orthopoxvirus infectionsincluding monkeypox, in both children and adults.
The US has 1.7 million TPOXX courses in the national strategic stocksaid Dr. Hruby MNT. It is distributed by the CDC under an EA-IND for the treatment of monkeypox. SIGA has donated small amounts of tecovirimat to the UK for use in the most severe cases.
two vaccine are currently available for monkeypox.
of FDA APPROVED JYNNEOS vaccine also known as Imvanex for the prevention of smallpox and monkeypox in individuals 18 years of age and older. The US Health and Human Services announced in early July the ordering of 2.5 million additional doses of the JYNNEOS vaccine.
On August 9, the FDA issued further emergency use authorization (EUA) for JYNNEOS in an effort to increase the supply of vaccines to those at risk from monkeypox. The EUA extends the distribution of the JYNNEOS vaccine to individuals under 18 years of age if doctors consider them to be at high risk of infection.
EMA recently is recommended using Imvanex to help protect adults from monkeypox.
The JYNNEOS vaccine includes two shots, with people considered fully vaccinated about 2 weeks after the second shot.
The second vaccine, ACAM2000it is approved for the prevention of smallpox in the US and there is one extended access IND for monkeypox.
The ACAM2000 vaccine includes only one shot and considers a person vaccinated about 4 weeks after. Additionally, clinicians recommend that certain populations not receive the ACAM2000 vaccine, including:
While vaccination is important, Prof. Olliaro emphasized that it may not be the complete solution.
Vaccination alone may not work if it is not supported by other measures, including the ability to diagnose and treat early, he stressed.
Medical professionals suggest people take the following steps to help prevent the spread of monkeypox:
avoid intimate and skin-to-skin contact with a person who has a monkeypox-like rash
try not to touch bedding, clothing, or other materials that may have touched a person with monkeypox
wash your hands often with soap and water
in some African regions, keep away from known animal carriers of monkeypox and do not touch sick or dead animals.
Sources
2/ https://www.medicalnewstoday.com/articles/monkeypox-why-it-is-now-a-health-emergency-and-how-to-avoid-infection
The mention sources can contact us to remove/changing this article
What Are The Main Benefits Of Comparing Car Insurance Quotes Online
LOS ANGELES, CA / ACCESSWIRE / June 24, 2020, / Compare-autoinsurance.Org has launched a new blog post that presents the main benefits of comparing multiple car insurance quotes. For more info and free online quotes, please visit https://compare-autoinsurance.Org/the-advantages-of-comparing-prices-with-car-insurance-quotes-online/ The modern society has numerous technological advantages. One important advantage is the speed at which information is sent and received. With the help of the internet, the shopping habits of many persons have drastically changed. The car insurance industry hasn't remained untouched by these changes. On the internet, drivers can compare insurance prices and find out which sellers have the best offers. View photos The advantages of comparing online car insurance quotes are the following: Online quotes can be obtained from anywhere and at any time. Unlike physical insurance agencies, websites don't have a specific schedule and they are available at any time. Drivers that have busy working schedules, can compare quotes from anywhere and at any time, even at midnight. Multiple choices. Almost all insurance providers, no matter if they are well-known brands or just local insurers, have an online presence. Online quotes will allow policyholders the chance to discover multiple insurance companies and check their prices. Drivers are no longer required to get quotes from just a few known insurance companies. Also, local and regional insurers can provide lower insurance rates for the same services. Accurate insurance estimates. Online quotes can only be accurate if the customers provide accurate and real info about their car models and driving history. Lying about past driving incidents can make the price estimates to be lower, but when dealing with an insurance company lying to them is useless. Usually, insurance companies will do research about a potential customer before granting him coverage. Online quotes can be sorted easily. Although drivers are recommended to not choose a policy just based on its price, drivers can easily sort quotes by insurance price. Using brokerage websites will allow drivers to get quotes from multiple insurers, thus making the comparison faster and easier. For additional info, money-saving tips, and free car insurance quotes, visit https://compare-autoinsurance.Org/ Compare-autoinsurance.Org is an online provider of life, home, health, and auto insurance quotes. This website is unique because it does not simply stick to one kind of insurance provider, but brings the clients the best deals from many different online insurance carriers. In this way, clients have access to offers from multiple carriers all in one place: this website. On this site, customers have access to quotes for insurance plans from various agencies, such as local or nationwide agencies, brand names insurance companies, etc. "Online quotes can easily help drivers obtain better car insurance deals. All they have to do is to complete an online form with accurate and real info, then compare prices", said Russell Rabichev, Marketing Director of Internet Marketing Company. CONTACT: Company Name: Internet Marketing CompanyPerson for contact Name: Gurgu CPhone Number: (818) 359-3898Email: [email protected]: https://compare-autoinsurance.Org/ SOURCE: Compare-autoinsurance.Org View source version on accesswire.Com:https://www.Accesswire.Com/595055/What-Are-The-Main-Benefits-Of-Comparing-Car-Insurance-Quotes-Online View photos
to request, modification Contact us at Here or [email protected]