Scouting trip galvanizes weak International Team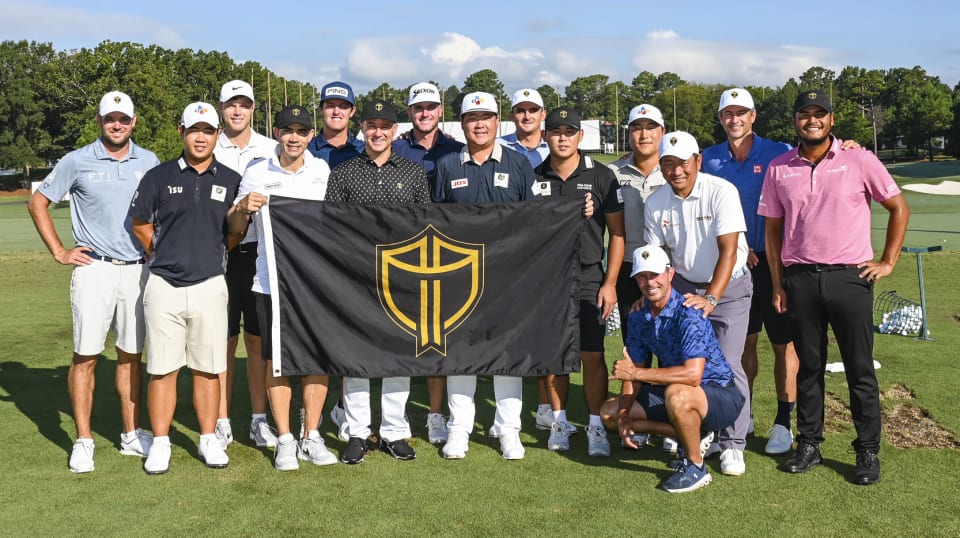 On paper, the American team wins this one. But that's how it always is. The Americans were heavily favored in 2019 as well, but it took a huge final-day rally led by captain Tiger Woods to come out on top.
That USA team will feature automatic qualifiers Patrick Cantlay, Justin Thomas, Xander Schauffele, Sam Burns, Scottie Scheffler and Tony Finau, plus six picks to be announced by U.S. captain Davis Love III on Wednesday morning. It's likely to resemble the team that destroyed Europe at the 2021 Ryder Cup. But that's not the only reason they'll be favored to beat Immelman and company.
Through just six qualifying appearances, Love III has 15 PGA TOUR wins this season. Add in wins from Jordan Spieth, Max Homa and Billy Horschel, who are expected to be the US team's captain picks, and the total goes to 19 wins this season. All 12 players on the International Team combined for just five wins this season.
And yet…
The International Team will head into Charlotte with some momentum after besting the Americans three out of four days last time out at Royal Melbourne. The internationals did very well and hope to take the lessons of 2019 to a win this time around.
Immelman assembled his team for a secret mission at Quail Hollow two days after the last TOUR Championship. All but Matsuyama, who was getting treatment for his neck in Japan, were on hand not only to see the course, but also to strengthen and cement relationships ahead of the competition.
"It was a great experience for all of us to spend some time together and get an early look at the golf course," Immelman said. "The thing that excites me the most is … I know now that we have 12 players that are hungry and we have 12 players that wanted to be there."
Team bonding was key at Royal Melbourne, where Immelman was assistant to international captain Ernie Els. It was a great team united under one banner—a newly created team crest—rather than a team of talented individuals flying their various flags. The previous international teams wouldn't get together until the end, and while this would make for some epic Sunday night parties, it was too late to affect the leaderboards. Els changed everything. He got rid of cliques.
By relying on analytics and data to create complimentary pairings regardless of which continent a player represented, Els was taking a gamble that ruined several friends who were expecting to play together. He knew he had to get buy-in from his players ahead of time. As such, the bonding sessions came thick and fast before the competition, and by tournament week the internationals were a tight-knit team.
While the final score in Melbourne was 16-14 for the American team, the proof was truly in the pudding. The Internationals led 4-1 after day one, 6.5-3.5 after day two and 9-5 after Saturday's morning session. Only some late heroics by the American players on Saturday night effectively saved the Cup, but the Internationals took the lead (10-8) in the Sunday Singles for the first time since 2003.
"We are definitely underdogs going into the next few weeks," captain's choice Bezuidenhout said on Tuesday. "But we've had a lot of team dinners over the last few months with a lot of guys vying to get the team together. It's a great atmosphere. It's a great group of guys on the team. All the guys who lost for a while, everyone has been so supportive over the last few months and weeks.
"Going back to last week, our training camp in Charlotte, the spirit of the team is high. Everyone is excited. It will be a tough challenge, but you never know. We'll give it our all and see what happens."
Sources
2/ https://www.pgatour.com/news/2022/09/06/scouting-trip-galvanizes-underdog-international-team-presidents-cup-quail-hollow-club-captains-pick.html
The mention sources can contact us to remove/changing this article
What Are The Main Benefits Of Comparing Car Insurance Quotes Online
LOS ANGELES, CA / ACCESSWIRE / June 24, 2020, / Compare-autoinsurance.Org has launched a new blog post that presents the main benefits of comparing multiple car insurance quotes. For more info and free online quotes, please visit https://compare-autoinsurance.Org/the-advantages-of-comparing-prices-with-car-insurance-quotes-online/ The modern society has numerous technological advantages. One important advantage is the speed at which information is sent and received. With the help of the internet, the shopping habits of many persons have drastically changed. The car insurance industry hasn't remained untouched by these changes. On the internet, drivers can compare insurance prices and find out which sellers have the best offers. View photos The advantages of comparing online car insurance quotes are the following: Online quotes can be obtained from anywhere and at any time. Unlike physical insurance agencies, websites don't have a specific schedule and they are available at any time. Drivers that have busy working schedules, can compare quotes from anywhere and at any time, even at midnight. Multiple choices. Almost all insurance providers, no matter if they are well-known brands or just local insurers, have an online presence. Online quotes will allow policyholders the chance to discover multiple insurance companies and check their prices. Drivers are no longer required to get quotes from just a few known insurance companies. Also, local and regional insurers can provide lower insurance rates for the same services. Accurate insurance estimates. Online quotes can only be accurate if the customers provide accurate and real info about their car models and driving history. Lying about past driving incidents can make the price estimates to be lower, but when dealing with an insurance company lying to them is useless. Usually, insurance companies will do research about a potential customer before granting him coverage. Online quotes can be sorted easily. Although drivers are recommended to not choose a policy just based on its price, drivers can easily sort quotes by insurance price. Using brokerage websites will allow drivers to get quotes from multiple insurers, thus making the comparison faster and easier. For additional info, money-saving tips, and free car insurance quotes, visit https://compare-autoinsurance.Org/ Compare-autoinsurance.Org is an online provider of life, home, health, and auto insurance quotes. This website is unique because it does not simply stick to one kind of insurance provider, but brings the clients the best deals from many different online insurance carriers. In this way, clients have access to offers from multiple carriers all in one place: this website. On this site, customers have access to quotes for insurance plans from various agencies, such as local or nationwide agencies, brand names insurance companies, etc. "Online quotes can easily help drivers obtain better car insurance deals. All they have to do is to complete an online form with accurate and real info, then compare prices", said Russell Rabichev, Marketing Director of Internet Marketing Company. CONTACT: Company Name: Internet Marketing CompanyPerson for contact Name: Gurgu CPhone Number: (818) 359-3898Email: [email protected]: https://compare-autoinsurance.Org/ SOURCE: Compare-autoinsurance.Org View source version on accesswire.Com:https://www.Accesswire.Com/595055/What-Are-The-Main-Benefits-Of-Comparing-Car-Insurance-Quotes-Online View photos
to request, modification Contact us at Here or [email protected]