Wales' viral video hinges on World Cup clash with England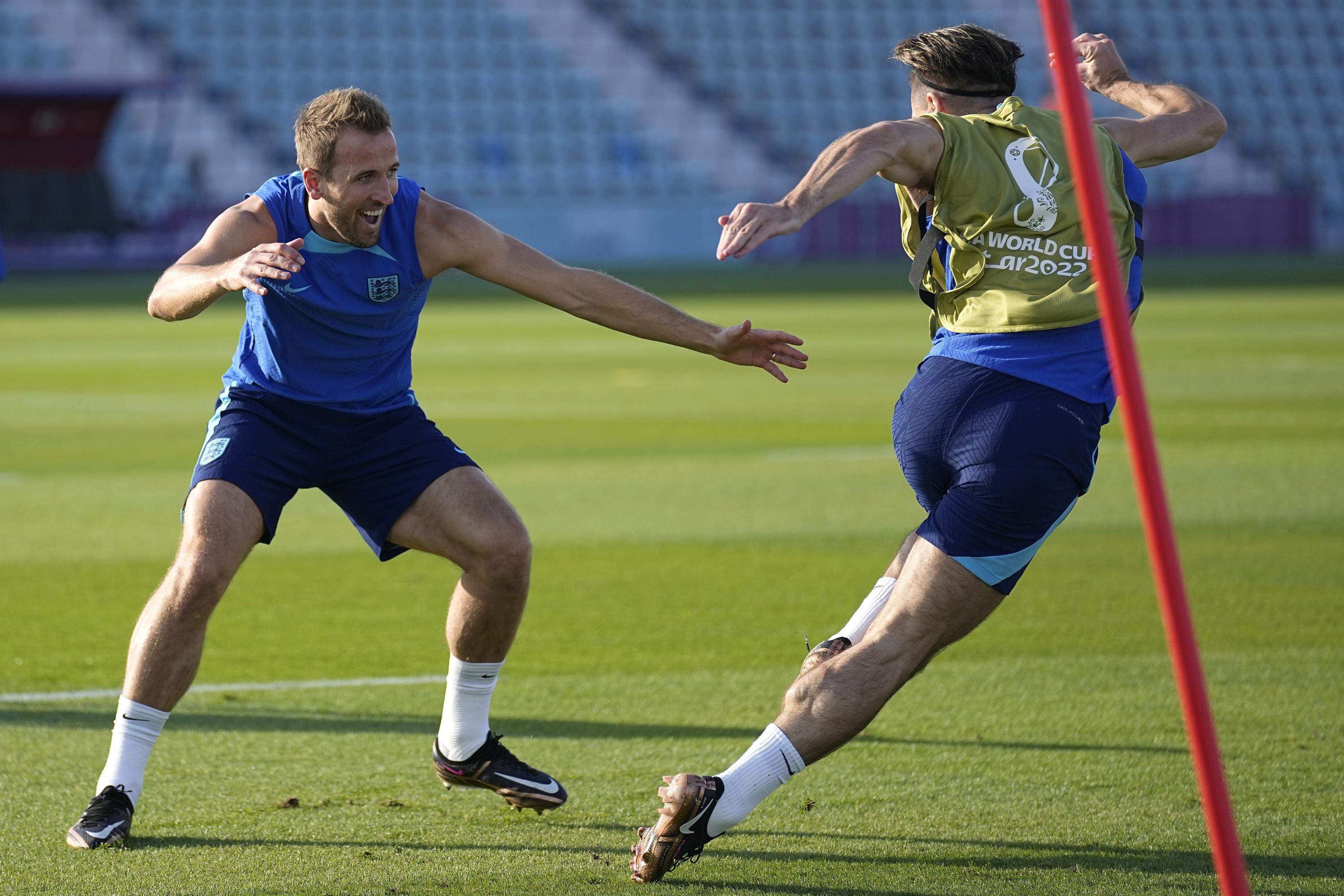 DOHA, Qatar (AP) If England need any extra motivation ahead of their World Cup final group game against Wales on Tuesday, one only has to watch a certain video from 2016.
Footage of Wales' players celebrating wildly as their British neighbors crashed out of the European Championships after losing to Iceland went viral at the time.
England was humiliated. Wales, who lost 2-1 to the Three Lions in the group stage but went all the way to the semi-finals, were jubilant.
A lot has changed since then, a point England striker Marcus Rashford made ahead of the Group B match.
I don't think it takes a genius to see how we've improved since 2016. It feels like a completely different team to me. We have come so far. We've learned a lot about ourselves along the way, he said.
In 2016, if you look at that performance when we were knocked out in the Euros, it's a million miles away from where we are now. You can't really compare the two situations.
That sentiment is backed up by England's tournament performances over the past four years, reaching the semi-finals of the World Cup in 2018 and the final of last years European Championship, which they lost on penalties to Italy.
England are among the favorites to triumph in Qatar and need just a point against Wales to guarantee qualification for the knockout stage. Depending on the goal difference, England could still progress even if they lose that match.
For Wales, the stakes are much higher.
Bottom of the group with a point from their first two games, Wales must win to have any chance of reaching the round of 16 in their first World Cup since 1958.
That's the injury right now, midfielder Joe Allen said. It's a sense of missed opportunities in the first two games.
Our focus now goes to getting on the training pitch, working and preparing for the performance of our lives against England, he added.
Wales will look to Gareth Bale for inspiration if they are to win against England for the first time since 1984.
The Los Angeles FC forward came into the tournament after just one game since the start of October and has looked troubled in his performances.
Meanwhile, England's Harry Kane is yet to score at this World Cup and was off the pace in his side's 0-0 draw with the United States after taking a heavy challenge in the previous game against Iran.
The 2018 Golden Boot winner is just three goals away from surpassing Wayne Rooney's 53 to become his nation's all-time top scorer.
Manager Gareth Southgate confirmed that Kane is fit to start against Wales.
With Harry, we will obviously pick a team that we believe can win the game. This is our priority as always, he said.
He is good in terms of the shot he had. He is well trained.
___
James Robson is at https://twitter.com/jamesalanrobson
___
AP World Cup coverage: https://apnews.com/hub/world-cup and https://twitter.com/AP_Sports
Sources
2/ https://apnews.com/article/world-cup-sports-soccer-international-middle-east-df56b79029e7278ed85ebc7fee4c67c2
The mention sources can contact us to remove/changing this article
What Are The Main Benefits Of Comparing Car Insurance Quotes Online
LOS ANGELES, CA / ACCESSWIRE / June 24, 2020, / Compare-autoinsurance.Org has launched a new blog post that presents the main benefits of comparing multiple car insurance quotes. For more info and free online quotes, please visit https://compare-autoinsurance.Org/the-advantages-of-comparing-prices-with-car-insurance-quotes-online/ The modern society has numerous technological advantages. One important advantage is the speed at which information is sent and received. With the help of the internet, the shopping habits of many persons have drastically changed. The car insurance industry hasn't remained untouched by these changes. On the internet, drivers can compare insurance prices and find out which sellers have the best offers. View photos The advantages of comparing online car insurance quotes are the following: Online quotes can be obtained from anywhere and at any time. Unlike physical insurance agencies, websites don't have a specific schedule and they are available at any time. Drivers that have busy working schedules, can compare quotes from anywhere and at any time, even at midnight. Multiple choices. Almost all insurance providers, no matter if they are well-known brands or just local insurers, have an online presence. Online quotes will allow policyholders the chance to discover multiple insurance companies and check their prices. Drivers are no longer required to get quotes from just a few known insurance companies. Also, local and regional insurers can provide lower insurance rates for the same services. Accurate insurance estimates. Online quotes can only be accurate if the customers provide accurate and real info about their car models and driving history. Lying about past driving incidents can make the price estimates to be lower, but when dealing with an insurance company lying to them is useless. Usually, insurance companies will do research about a potential customer before granting him coverage. Online quotes can be sorted easily. Although drivers are recommended to not choose a policy just based on its price, drivers can easily sort quotes by insurance price. Using brokerage websites will allow drivers to get quotes from multiple insurers, thus making the comparison faster and easier. For additional info, money-saving tips, and free car insurance quotes, visit https://compare-autoinsurance.Org/ Compare-autoinsurance.Org is an online provider of life, home, health, and auto insurance quotes. This website is unique because it does not simply stick to one kind of insurance provider, but brings the clients the best deals from many different online insurance carriers. In this way, clients have access to offers from multiple carriers all in one place: this website. On this site, customers have access to quotes for insurance plans from various agencies, such as local or nationwide agencies, brand names insurance companies, etc. "Online quotes can easily help drivers obtain better car insurance deals. All they have to do is to complete an online form with accurate and real info, then compare prices", said Russell Rabichev, Marketing Director of Internet Marketing Company. CONTACT: Company Name: Internet Marketing CompanyPerson for contact Name: Gurgu CPhone Number: (818) 359-3898Email: [email protected]: https://compare-autoinsurance.Org/ SOURCE: Compare-autoinsurance.Org View source version on accesswire.Com:https://www.Accesswire.Com/595055/What-Are-The-Main-Benefits-Of-Comparing-Car-Insurance-Quotes-Online View photos
to request, modification Contact us at Here or [email protected]