Illinois International News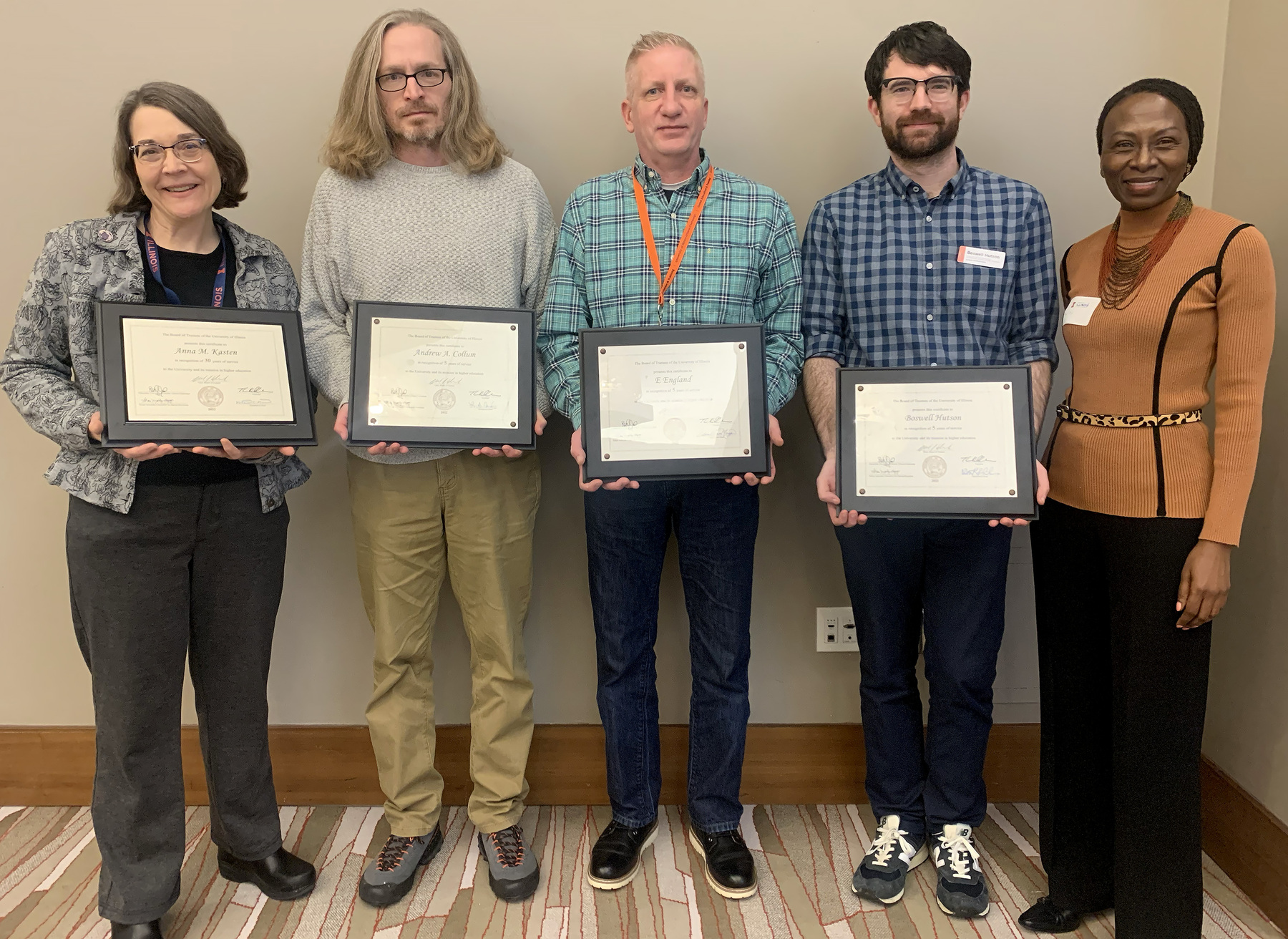 Champaign, Ill. Four Illinois International colleagues received service recognition awards on March 22.
Anna Kasten, Boswell Hutson, Ben England and Andrew Collum were honored for their time at the University of Illinois Urbana-Champaign.
Hutson, England and Collum were recognized for five years of service, and Kasten was recognized for 30 years of service to UIUC.
Anna Kasten
Kasten is the program manager for the King Abdullah University of Science and Technology (KAUST) Talented Students Program.
She is also a senior lecturer for the Intensive English Institute (IEI).
Kasten joined the Global Education and Training (GET) team in fall 2019 after working at IEI since 1993.
In her current role, she is the primary point of contact for day-to-day student advising and management of the KAUST Gifted Student Program activities.
She has an MA in Teaching ESL from UIUC and has taught abroad at universities in Japan and Venezuela.
As a Senior Lecturer at IEI, Kastens' duties included coordinating student services, supervising instructors, advising and teaching students, liaising with partner institutions such as Fulbright-IIE, and serving as PDSO for SEVP.
Kasten is passionate about her work with international students and she enjoys her role as part of the students' support system as they assimilate into their new culture.
Boswell Hutson
Hutson is assistant director of media and marketing on the Global Communications team for Illinois International.
He joined the team in November 2021, and in his role, he serves in an embedded role at Illinois Abroad and Global Exchange (IAG) to collaborate on communications with off-campus study offices and Illinois international units.
Prior to joining the team, Hutson served as a communications specialist for the National Center for Supercomputing Applications (NCSA) at UIUC. There, he was tasked with communicating extensively for the Center and as manager of external relations with the National Science Foundation-funded XSEDE Project.
He holds a degree in Classics from UIUC, during which time he studied abroad at University College London.
Ben England
England is an office support specialist under Shared Administrative Services at Illinois International.
In his role, he provides specialized administrative support to a variety of operational functions that are designed to execute effective and efficient procedures and workflow.
England first joined GET in July 2020 as a Support Office Associate where he performed a variety of office support functions and assisted in the day-to-day operations of GET.
Originally joining the University of Illinois Grounds Department in 2014, he later secured an Office Support Associate role for the Office of Dining Services in 2017 before finding his home at GET.
Andrew Neck
Collum is director of International Safety and Security at Illinois International.
He joined in 2017 as Associate Director of International Security and then assumed the role of Director in 2020.
It develops and coordinates policies and procedures that support the safety and well-being of Illinois students, faculty, and staff while traveling abroad for study or university business.
Before working for Illinois International, Collum served in the US Army as a political-military specialist in Africa. He holds an MA in African Studies from Ohio University and a BS in International Relations from the United States Military Academy at West Point, New York.
Thanks and congratulations Kasten, Hutson, England and Collum!
Sources
2/ https://blogs.illinois.edu/view/6758/2001705703
The mention sources can contact us to remove/changing this article
What Are The Main Benefits Of Comparing Car Insurance Quotes Online
LOS ANGELES, CA / ACCESSWIRE / June 24, 2020, / Compare-autoinsurance.Org has launched a new blog post that presents the main benefits of comparing multiple car insurance quotes. For more info and free online quotes, please visit https://compare-autoinsurance.Org/the-advantages-of-comparing-prices-with-car-insurance-quotes-online/ The modern society has numerous technological advantages. One important advantage is the speed at which information is sent and received. With the help of the internet, the shopping habits of many persons have drastically changed. The car insurance industry hasn't remained untouched by these changes. On the internet, drivers can compare insurance prices and find out which sellers have the best offers. View photos The advantages of comparing online car insurance quotes are the following: Online quotes can be obtained from anywhere and at any time. Unlike physical insurance agencies, websites don't have a specific schedule and they are available at any time. Drivers that have busy working schedules, can compare quotes from anywhere and at any time, even at midnight. Multiple choices. Almost all insurance providers, no matter if they are well-known brands or just local insurers, have an online presence. Online quotes will allow policyholders the chance to discover multiple insurance companies and check their prices. Drivers are no longer required to get quotes from just a few known insurance companies. Also, local and regional insurers can provide lower insurance rates for the same services. Accurate insurance estimates. Online quotes can only be accurate if the customers provide accurate and real info about their car models and driving history. Lying about past driving incidents can make the price estimates to be lower, but when dealing with an insurance company lying to them is useless. Usually, insurance companies will do research about a potential customer before granting him coverage. Online quotes can be sorted easily. Although drivers are recommended to not choose a policy just based on its price, drivers can easily sort quotes by insurance price. Using brokerage websites will allow drivers to get quotes from multiple insurers, thus making the comparison faster and easier. For additional info, money-saving tips, and free car insurance quotes, visit https://compare-autoinsurance.Org/ Compare-autoinsurance.Org is an online provider of life, home, health, and auto insurance quotes. This website is unique because it does not simply stick to one kind of insurance provider, but brings the clients the best deals from many different online insurance carriers. In this way, clients have access to offers from multiple carriers all in one place: this website. On this site, customers have access to quotes for insurance plans from various agencies, such as local or nationwide agencies, brand names insurance companies, etc. "Online quotes can easily help drivers obtain better car insurance deals. All they have to do is to complete an online form with accurate and real info, then compare prices", said Russell Rabichev, Marketing Director of Internet Marketing Company. CONTACT: Company Name: Internet Marketing CompanyPerson for contact Name: Gurgu CPhone Number: (818) 359-3898Email: [email protected]: https://compare-autoinsurance.Org/ SOURCE: Compare-autoinsurance.Org View source version on accesswire.Com:https://www.Accesswire.Com/595055/What-Are-The-Main-Benefits-Of-Comparing-Car-Insurance-Quotes-Online View photos
to request, modification Contact us at Here or [email protected]