Jewish New Year: Virus restrictions deter pilgrims on Ukraine-Belarus border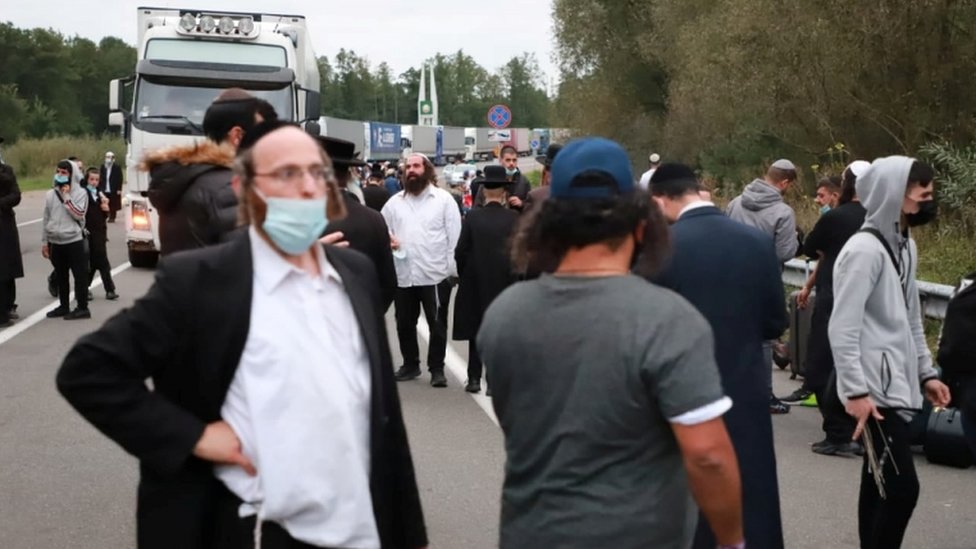 Hundreds of Hasidic Jews are stranded on the border between Ukraine and Belarus as coronavirus restrictions hamper an annual pilgrimage.
Pilgrims were traveling to the central Ukrainian city of Uman to visit the tomb of Rabbit Nahman, the founder of the Hasidic Breslov movement.
Every year thousands make the journey to mark the Jewish New Year, which runs from September 18-20 to 2020.
As pilgrims attempted to enter Ukraine this week, border guards stopped them.
The pilgrims left though last month the Ukrainian and Israeli governments urged them not to travel to Uman this year, for fear of a rise in coronavirus infections.
Ukraine has restricted entry to foreigners from August 28 to September 28 to curb the spread of the coronavirus.
Meanwhile,
Israel has imposed a new national blockade to contain the coronavirus, with severe restrictions taking effect in the Jewish New Year.
Despite this, Ukrainian authorities said hundreds more pilgrims are expected to arrive at the country's borders in the coming days.
On Tuesday, estimates changed as to how many of them were already on Ukraine's borders.
Belarusian and Ukrainian authorities put the number at around 700, but
The Times of Israel reported
that there were at least 1,000 pilgrims stranded at the border.
Photos from the border show dozens of Jews dressed in traditional clothing and carrying luggage as they wandered along a road full of trucks.
On Monday night, Ukrainian guards said they had to stop traffic at the Novi Yarylovychi checkpoint because pilgrims were on the road.
Some pilgrims had set up makeshift tents, while others slept in their luggage in front of trucks.
"I spent the night on the bus, but most of them spent the night on the streets, some gathered branches in the woods and lit fires," a pilgrim told Reuters news agency. "We have neither food nor water."
The Belarusian Red Cross Association said the pilgrims did not have "sufficient resources to provide for their basic needs" and aid was being provided.
Belarussian President Alexander Lukashenko has told officials to provide assistance to pilgrims, accusing Ukraine of "closing its borders" and leaving hundreds of people in neutral territory.
The Ukrainian government has insisted it will not waive travel restrictions.
"I do not know to whom the passage of 3,000 citizens was promised," Ukrainian border guard chief Serhiy Deyneko told pilgrims at the border. "You were deceived."
On Tuesday, Ukrainian President Volodymyr Zelensky discussed the situation with Mr Deyneko, his office said. Ukraine had full control of the situation, he added.
Meanwhile, many pilgrims remain stationed at the border, hoping Ukrainian authorities will allow them to enter the country before the Jewish New Year, Belta reported.
What Are The Main Benefits Of Comparing Car Insurance Quotes Online
LOS ANGELES, CA / ACCESSWIRE / June 24, 2020, / Compare-autoinsurance.Org has launched a new blog post that presents the main benefits of comparing multiple car insurance quotes. For more info and free online quotes, please visit https://compare-autoinsurance.Org/the-advantages-of-comparing-prices-with-car-insurance-quotes-online/ The modern society has numerous technological advantages. One important advantage is the speed at which information is sent and received. With the help of the internet, the shopping habits of many persons have drastically changed. The car insurance industry hasn't remained untouched by these changes. On the internet, drivers can compare insurance prices and find out which sellers have the best offers. View photos The advantages of comparing online car insurance quotes are the following: Online quotes can be obtained from anywhere and at any time. Unlike physical insurance agencies, websites don't have a specific schedule and they are available at any time. Drivers that have busy working schedules, can compare quotes from anywhere and at any time, even at midnight. Multiple choices. Almost all insurance providers, no matter if they are well-known brands or just local insurers, have an online presence. Online quotes will allow policyholders the chance to discover multiple insurance companies and check their prices. Drivers are no longer required to get quotes from just a few known insurance companies. Also, local and regional insurers can provide lower insurance rates for the same services. Accurate insurance estimates. Online quotes can only be accurate if the customers provide accurate and real info about their car models and driving history. Lying about past driving incidents can make the price estimates to be lower, but when dealing with an insurance company lying to them is useless. Usually, insurance companies will do research about a potential customer before granting him coverage. Online quotes can be sorted easily. Although drivers are recommended to not choose a policy just based on its price, drivers can easily sort quotes by insurance price. Using brokerage websites will allow drivers to get quotes from multiple insurers, thus making the comparison faster and easier. For additional info, money-saving tips, and free car insurance quotes, visit https://compare-autoinsurance.Org/ Compare-autoinsurance.Org is an online provider of life, home, health, and auto insurance quotes. This website is unique because it does not simply stick to one kind of insurance provider, but brings the clients the best deals from many different online insurance carriers. In this way, clients have access to offers from multiple carriers all in one place: this website. On this site, customers have access to quotes for insurance plans from various agencies, such as local or nationwide agencies, brand names insurance companies, etc. "Online quotes can easily help drivers obtain better car insurance deals. All they have to do is to complete an online form with accurate and real info, then compare prices", said Russell Rabichev, Marketing Director of Internet Marketing Company. CONTACT: Company Name: Internet Marketing CompanyPerson for contact Name: Gurgu CPhone Number: (818) 359-3898Email: [email protected]: https://compare-autoinsurance.Org/ SOURCE: Compare-autoinsurance.Org View source version on accesswire.Com:https://www.Accesswire.Com/595055/What-Are-The-Main-Benefits-Of-Comparing-Car-Insurance-Quotes-Online View photos
picture credit
to request, modification Contact us at Here or [email protected]