George Bizos, who has died at the age of 92, was South Africa's best-known lawyer. To many, his bold and slightly flared figure represented all that was best for the law, a man who was apparently always there, attacking or defending when a mistake was made or human rights were violated.
His most famous client was Nelson Mandela. In the 1963-64 Rivonia trial in which the leadership of the African National Congress was tried for sabotage, a capital offense Bizos made a small but significant intervention that could have saved Mandela's life. It came as Mandela was preparing his famous doku statement with the help of lawyers and others. The statement ended with the words that it is an ideal for which I am prepared to die.
Bizos, who was the young councilor at the time, objected. As he would later say in his memoirs: I was shocked by his closing words; that he was about to die for what he had done. Surely this would be seen as an irresistible challenge for the prosecution, the judge and the government? I argued that surely Nelson wanted to live and fulfill what he and his organization strived for. The defense team and Mandela split into points, while Bizos proposed to enter the words if necessary.
What influenced me here was an argument that Socrates could have saved his life if he had not challenged the Athenian jury in such a firm way, said Bizos, who loved the ancients.
There was something very English about Bizos, and it would be an easy surprise for some to realize that he was Greek. He had to title his memoirs Odyssey to Freedom (2007), which was appropriate given the journey he made from his small native village, Vasilitsi, to the Peloponnese peninsula, on the southern tip of Africa, where he found friendship. with Mandela, who became the most famous prisoner in the world.
Bizos was the son of Vasilitsi Mayor Antonios, and his wife, Anastasia (from Tomaras). When George was 13, Antonios decided to help a group of seven New Zealand soldiers who had been hiding from the Nazis in the hills near Vasilitsi. He had bought a small boat to facilitate the escape and, after something of a family quarrel, George was allowed to go as well. However, after three days, they were taken by an Allied ship, the HMS Kimberley, and released at Alexandria.
From Egypt, George and his father sailed for Durban on the SS Ile de France, which was loaded with Allied troops suffering from tuberculosis and Italian PoW and accepted as refugees. They were sent to Johannesburg, where, speaking neither English nor African, George struggled to get into school and his father to get a job. But they were taken by the Greek community.
In 1948 Bizos was admitted to the University of Witwatersrand, studying law, he was rejected by the medical school because his grades were not good enough and in 1954 at the Johannesburg bar. In Wits he had met Mandela, a part-time student at the university. Bizos quickly found himself dealing with political issues and was regularly informed by Mandela and Oliver Tambolaw firm.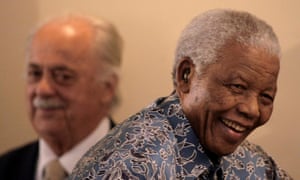 In the years that followed, he was involved in almost every case of political importance. In 1966, Bizos defended Bram Fischer QC, the leader of the Rivonia defense team and, unknown to most, also the leader of the Communist Party of South Africa, who was arrested shortly after the trial in Rivonia for violating the Communist Repression Act. He appeared in the Delmas treason trial, 1985-89, the trial for 22 activists. He was a lawyer in the investigation into the detention deaths of anti-apartheid activists Steve Biko and Ahmed Timol and Dr. Neil Aggett, arrested for his union activities. He also appeared for Winnie Mandela in very different circumstances and later for Zimbabwean opposition politician Morgan Tsvangirai.
To hear that collective roar of pleasure from a black audience in the public gallery as he asserted with a dry air against a right-wing politician accused of murder, or a police officer accused of torture would appreciate the value of the law as theater. He was Rumpole, not of Bailey, but of South Africa, and South Africa was happy about that.
Outside the courtroom Bizos played a part in the negotiations for the release of political prisoners, including Mandela in 1990; and he was one of the teams that drafted the new constitution that passed into law in 1996. In 1994 he was appointed by Mandela to Judicial Service Commission, who had the job of appointing and promoting judges and served until 2009.
After his release, Bizos could have had almost any judicial appointment, including seats on the bench or in the cabinet, but he was apparently content to remain as an adviser.
He met his wife, Arethe (e.g. Daflos), another Greek, on the upper deck of a city tram in Johannesburg while he was a student and they were married in 1948. She died in 2017. Bizos survive their three sons, Kimon, Damon and Alexi, and seven grandchildren.
George Bizos, lawyer, born November 14, 1927; died September 9, 2020
David Beresford died in 2016