Frequent, severe climate-induced disasters exacerbate humanitarian crises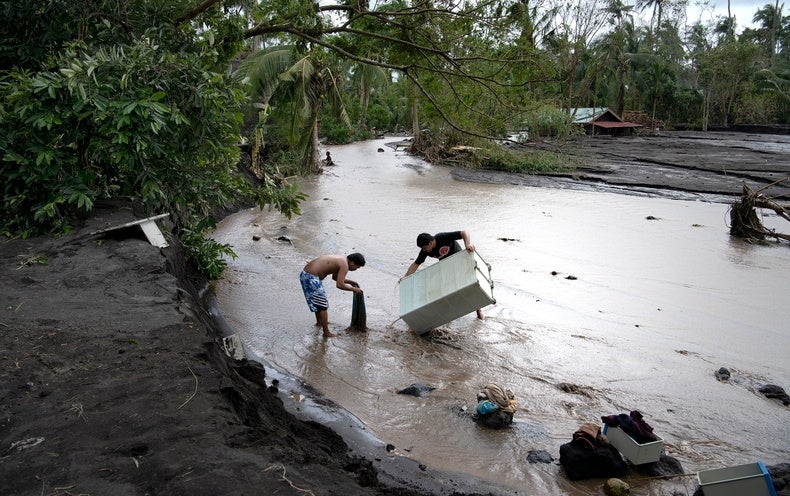 Extreme weather and climate-related disasters have killed 410,000 people since 2010, according to the International Federation of Red Cross and Red Crescent Societies.
The "World Disaster Report 2020" group released yesterday says the most frequent and severe disasters threaten to exacerbate humanitarian crises and lead to economic hardship even when the number of global deaths falls due to steps to improve resilience.
The aid organization warns that major disasters are occurring more and more one after another, such as the half-dozen typhoons and tropical storms that have hit Southeast Asia since early October.
Combining data on thousands of disasters the federation has responded to in the past decade, the IFRC says 83% of them were climate-related in some way, usually severe floods, violent storms and deadly heat waves.
"The number of such catastrophes caused by extreme weather and climate-related events has increased since the 1960s and has increased by almost 35% since the 1990s," the new report say
"These extreme weather and climate-related disasters have killed more than 410,000 people in the last ten years, the vast majority in low- and middle-income countries," says the IFRC. "The heat waves, then the storms, have been the biggest killers."
The group said 308 major natural disasters occurred in 2019. Of these, 237 could be related to weather and climate in some way. The most frequent were major floods, with 127 occurring last year. After the floods were great storms, diseases and earthquakes.
IFRC representative Alison Freebairn said not every event the group counted could be conclusively linked to man-made global warming. But she noted that researchers and the Intergovernmental Panel on Climate Change (IPCC) have uncovered strong evidence that greenhouse gases have made these weather-related disasters more occurring and more devastating when they occur.
She noted recent findings arguing climate change made the devastating 2019-2020 fire season in Australia 30% more likely.
"What we know about the impacts of climate change is from the IPCC reports, which give high, medium or low confidence that certain events were made more likely due to climate change. And then we also know that climate change makes extreme climate and weather events more frequent and intense and variable, "Freebairn explained.
"Statistics show that we had exactly that; more frequent and intense extreme climate and weather-related catastrophes in both real numbers and as a percentage of all catastrophes, "she added.
Ilan Noy, an economist at Victoria University of Wellington in New Zealand, specializes in researching the economic costs of climate change-related disasters. He said organizations like IFRC and insurance companies are increasingly capable of linking natural disasters to climate change given advances in attribute science.
"While it was previously hypothesized that they are related to climate change, we really did not have strong scientific evidence to prove it," Noy said. "Now I think in the last five years climate science has advanced and indeed they have much stronger statements, or by producing much stronger scientific statements about the links between weather events and climate change."
Noy's study argues that global warming is making rare natural disasters more likely and frequent. But he warns that while such estimates can be made for major disasters in specific countries or regions, it is difficult to do so for the world as a whole.
"For that, you have to determine the amount of probability change of all these extreme events that are happening globally, and science is not there yet," he said.
The IFRC report expresses concern about "simultaneous and successive catastrophes" that leave affected populations "with little time to recover before the next blow comes".
For example, the United Nations is still trying to provide emergency assistance to 675,000 people in Cambodia, Laos, the Philippines and Vietnam after Typhoon Goni and Typhoon Vamco. The storms followed nearly identical tracks within two weeks of each other this month, with Vamco hitting northern Vietnam on Sunday and Monday. The UN said Typhoon Goni was "the strongest tropical cyclone in the world this year so far".
The IFRC Freebairn said there is a bright spot in the bleak data.
"The big news is that deaths are falling even as the number and severity of events has increased and the population has increased," she said. "And that's a great sign that we hope it says disaster risk reduction and climate adaptation efforts are working."
But the IFRC argues that governments need to do much more in mitigating and adapting the climate, supporting the United Nations call for COVID-19 pandemic recovery funds aimed at reducing emissions and building resilience.
The report recommends designing all new infrastructure to "resist the predicted extremes of climate and weather and rising sea levels".
Reprinted from Climatewire with permission from E&E News. E&E provides daily coverage of essential energy and environmental news at www.eenews.net.
What Are The Main Benefits Of Comparing Car Insurance Quotes Online
LOS ANGELES, CA / ACCESSWIRE / June 24, 2020, / Compare-autoinsurance.Org has launched a new blog post that presents the main benefits of comparing multiple car insurance quotes. For more info and free online quotes, please visit https://compare-autoinsurance.Org/the-advantages-of-comparing-prices-with-car-insurance-quotes-online/ The modern society has numerous technological advantages. One important advantage is the speed at which information is sent and received. With the help of the internet, the shopping habits of many persons have drastically changed. The car insurance industry hasn't remained untouched by these changes. On the internet, drivers can compare insurance prices and find out which sellers have the best offers. View photos The advantages of comparing online car insurance quotes are the following: Online quotes can be obtained from anywhere and at any time. Unlike physical insurance agencies, websites don't have a specific schedule and they are available at any time. Drivers that have busy working schedules, can compare quotes from anywhere and at any time, even at midnight. Multiple choices. Almost all insurance providers, no matter if they are well-known brands or just local insurers, have an online presence. Online quotes will allow policyholders the chance to discover multiple insurance companies and check their prices. Drivers are no longer required to get quotes from just a few known insurance companies. Also, local and regional insurers can provide lower insurance rates for the same services. Accurate insurance estimates. Online quotes can only be accurate if the customers provide accurate and real info about their car models and driving history. Lying about past driving incidents can make the price estimates to be lower, but when dealing with an insurance company lying to them is useless. Usually, insurance companies will do research about a potential customer before granting him coverage. Online quotes can be sorted easily. Although drivers are recommended to not choose a policy just based on its price, drivers can easily sort quotes by insurance price. Using brokerage websites will allow drivers to get quotes from multiple insurers, thus making the comparison faster and easier. For additional info, money-saving tips, and free car insurance quotes, visit https://compare-autoinsurance.Org/ Compare-autoinsurance.Org is an online provider of life, home, health, and auto insurance quotes. This website is unique because it does not simply stick to one kind of insurance provider, but brings the clients the best deals from many different online insurance carriers. In this way, clients have access to offers from multiple carriers all in one place: this website. On this site, customers have access to quotes for insurance plans from various agencies, such as local or nationwide agencies, brand names insurance companies, etc. "Online quotes can easily help drivers obtain better car insurance deals. All they have to do is to complete an online form with accurate and real info, then compare prices", said Russell Rabichev, Marketing Director of Internet Marketing Company. CONTACT: Company Name: Internet Marketing CompanyPerson for contact Name: Gurgu CPhone Number: (818) 359-3898Email: [email protected]: https://compare-autoinsurance.Org/ SOURCE: Compare-autoinsurance.Org View source version on accesswire.Com:https://www.Accesswire.Com/595055/What-Are-The-Main-Benefits-Of-Comparing-Car-Insurance-Quotes-Online View photos
picture credit
to request, modification Contact us at Here or [email protected]