Duterte puts Luzo in a state of disaster
President Rodrigo Duterte has placed the entire island of Luzon under a state of disaster to enable national and local governments to deal more quickly with the widespread devastation caused by three consecutive typhoons and to respond quickly to requests for help from residents whose lives have been destroyed by the disaster.
In a televised speech Tuesday evening, Duterte said he signed the announcement Monday evening.
Malacaang, however, has not yet released the text of the proclamation.
But presidential spokesman Harry Roque said in a television interview Wednesday that there would be a freeze on commodity prices, especially food.
The proclamation will also allow local governments to spend their disaster funds without restrictions, he said.
[Places] under a state of disaster it will become the area of ​​top priority for all agencies in providing the necessary relief goods and, of course, the rehabilitation task, Roque said.
Typhoons Quinta (international name: Molave) and Rolly (Goni) hit Luzon in late October and early November, and Ulysses (Vamco) swept across the island last week, exacerbating damage in the provinces devastated by the previous two storms.
Three typhoons overloaded dams in the region, some of which spilled water to prevent catastrophic damage. The spill, however, exacerbated flooding in Metro Manila, Bulacan, Pangasinan, Benguet, Cagayan, Isabela, Rizal and other provinces in Luzon caused by Quinta and Rolly.
The Ulysses exploded across the island overnight on Nov. 12, heading the Magat Dam in Isabela province, forcing operators to open spill gates to release water and save the dam from the blast.
The dam held, but spilled water seeped into rivers in the region, which topped their banks and the flooded Isabela and Cagayan ponds near what officials called the heaviest flood they had seen in more than 40 years .
Lawmakers from both the Senate and the House of Representatives are watching the flood.
On Wednesday, the House Agriculture and Food Committee, acting on a resolution submitted by Speaker Lord Allan Velasco, Majority Leader
Martin Romualdez and Minority Leader Joseph Stephen Paduano on Tuesday, scheduled a flood hearing on Isabela and Cagayan for November 24th.
The committee will summon local officials from both provinces, as well as officials from the National Irrigation Administration (NIA), who will be questioned about the release of water from the Magat Dam at the height of Ulysses.
The instructions followed
Just to be honest with everyone too, it would be very difficult also to understand that maybe quite true, the NIA did their part, they were quite responsible in following their protocols, maybe local government officials did not received appropriate warnings. We will find out everything from this session, said Rep. I Quezon Mark Enverga, chairman of the committee.
NIA chief Ricardo Visaya said he was open to any investigation into the release of water from the dam. Speaking at a news conference Tuesday, Visaya said the NIA had always followed guidelines dating back to 2006 that allow water to be discharged from the dam on the recommendation of the Philippine State Weather Service, Atmospheric, Geophysical and Astronomical Services Administration (Pagasa). ).
Pagasa will tell us that we are at a preliminary level, so we have to release water, and that is about two to three days. . . before the typhoon arrived, Visaya said.
He said the NIA sent written communication to local officials about the water release on November 8, but as if our compatriots did not believe it.
The damage increases
However, he said, the NIA, along with Pagasa, the Department of the Interior and Local Government, National Power Corp. and the National Council for Disaster Risk Reduction and Management were reviewing the guidelines
On Wednesday, the Department of Agriculture said the combined crop and farm damage caused by the three typhoons had risen to P12.3 billion.
Quinta and Rolly had caused damage and losses totaling P8.46 billion and Ulysses P3.84 billion, the department said.
The agency's disaster council said 211,273 farmers and fishermen suffered losses, 325,676 hectares of agricultural land were damaged and 487,438 metric tonnes of produce were destroyed.
Destroyed by the three typhoons were Bicol, Calabarzon, Cordillera, Ilocos, Cagayan Valley, Central Luzon, Mimaropa, Western Visayas, Eastern Visayas and Zamboanga Peninsula.
In Bicol alone, Ulysses caused P2 billion in damage to agriculture and infrastructure, the region's Civil Defense Office said on Wednesday.
Gremil Alexis Naz, spokesman for the agency's regional office, said damage to crops, fisheries and livestock reached P128 million, with the province of Camarines Norte losing P82.2 million; Camarines Sur, P38.5 million; Colonel, P1.9 million; and Sorsogon, P308 million.
Infra damage
The office of the Department of Public Works and Highways in the region reported P1.9 billion damage on national roads and P495 million on bridges. It also recorded P334 million in damage to flood control facilities and P1.1 billion in government buildings and infrastructure.
Reports by Jerome Aning, Karl R. Ocampo, Julie M. Aurelio and Mar S. Arguelles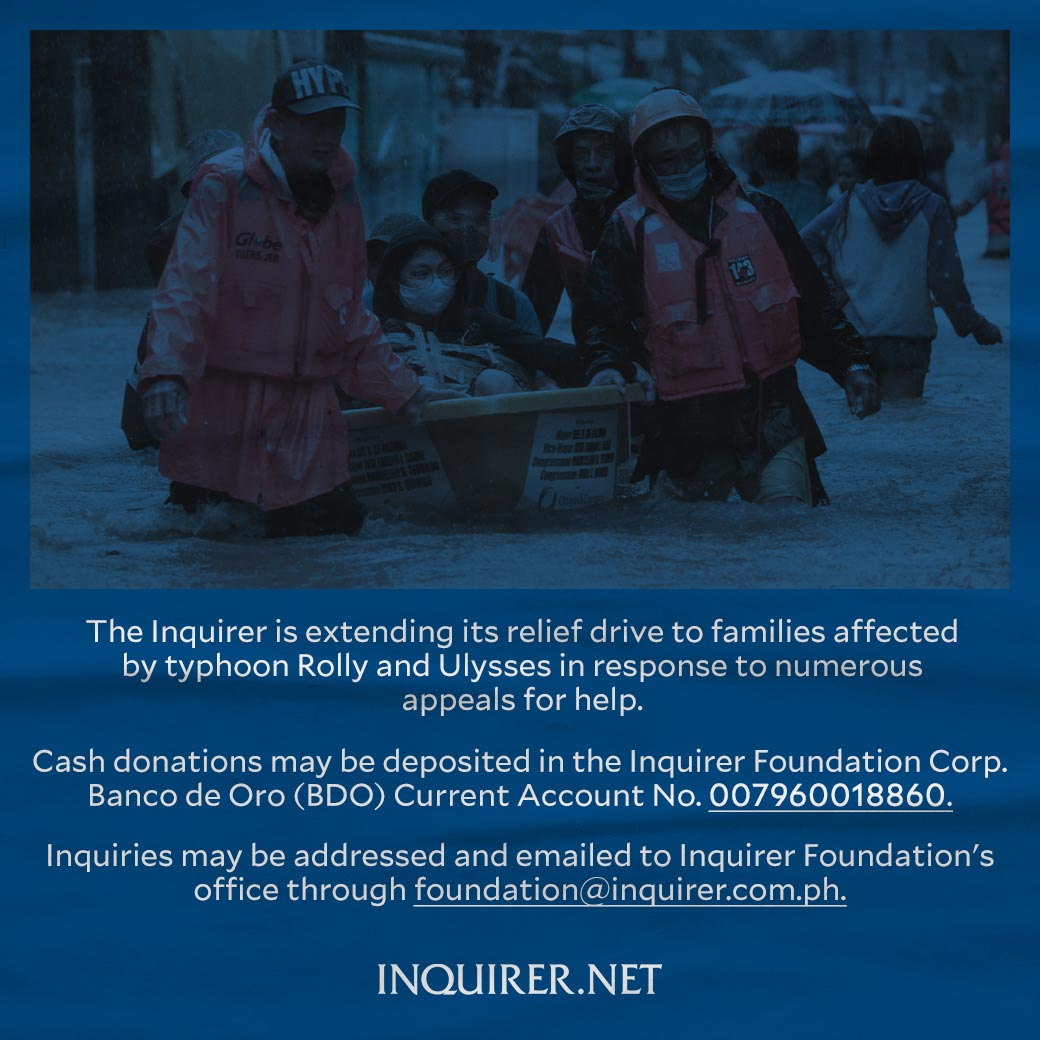 Read Next
Subscribe to ASK MORE to access The Philippine Daily Inquirer and over 70 other headlines, share up to 5 devices, listen to news, download as early as 4 a.m., and share social media articles Call 896 6000.
What Are The Main Benefits Of Comparing Car Insurance Quotes Online
LOS ANGELES, CA / ACCESSWIRE / June 24, 2020, / Compare-autoinsurance.Org has launched a new blog post that presents the main benefits of comparing multiple car insurance quotes. For more info and free online quotes, please visit https://compare-autoinsurance.Org/the-advantages-of-comparing-prices-with-car-insurance-quotes-online/ The modern society has numerous technological advantages. One important advantage is the speed at which information is sent and received. With the help of the internet, the shopping habits of many persons have drastically changed. The car insurance industry hasn't remained untouched by these changes. On the internet, drivers can compare insurance prices and find out which sellers have the best offers. View photos The advantages of comparing online car insurance quotes are the following: Online quotes can be obtained from anywhere and at any time. Unlike physical insurance agencies, websites don't have a specific schedule and they are available at any time. Drivers that have busy working schedules, can compare quotes from anywhere and at any time, even at midnight. Multiple choices. Almost all insurance providers, no matter if they are well-known brands or just local insurers, have an online presence. Online quotes will allow policyholders the chance to discover multiple insurance companies and check their prices. Drivers are no longer required to get quotes from just a few known insurance companies. Also, local and regional insurers can provide lower insurance rates for the same services. Accurate insurance estimates. Online quotes can only be accurate if the customers provide accurate and real info about their car models and driving history. Lying about past driving incidents can make the price estimates to be lower, but when dealing with an insurance company lying to them is useless. Usually, insurance companies will do research about a potential customer before granting him coverage. Online quotes can be sorted easily. Although drivers are recommended to not choose a policy just based on its price, drivers can easily sort quotes by insurance price. Using brokerage websites will allow drivers to get quotes from multiple insurers, thus making the comparison faster and easier. For additional info, money-saving tips, and free car insurance quotes, visit https://compare-autoinsurance.Org/ Compare-autoinsurance.Org is an online provider of life, home, health, and auto insurance quotes. This website is unique because it does not simply stick to one kind of insurance provider, but brings the clients the best deals from many different online insurance carriers. In this way, clients have access to offers from multiple carriers all in one place: this website. On this site, customers have access to quotes for insurance plans from various agencies, such as local or nationwide agencies, brand names insurance companies, etc. "Online quotes can easily help drivers obtain better car insurance deals. All they have to do is to complete an online form with accurate and real info, then compare prices", said Russell Rabichev, Marketing Director of Internet Marketing Company. CONTACT: Company Name: Internet Marketing CompanyPerson for contact Name: Gurgu CPhone Number: (818) 359-3898Email: [email protected]: https://compare-autoinsurance.Org/ SOURCE: Compare-autoinsurance.Org View source version on accesswire.Com:https://www.Accesswire.Com/595055/What-Are-The-Main-Benefits-Of-Comparing-Car-Insurance-Quotes-Online View photos
picture credit
to request, modification Contact us at Here or [email protected]