Pakistan, China to ensure CPEC security: Qureshi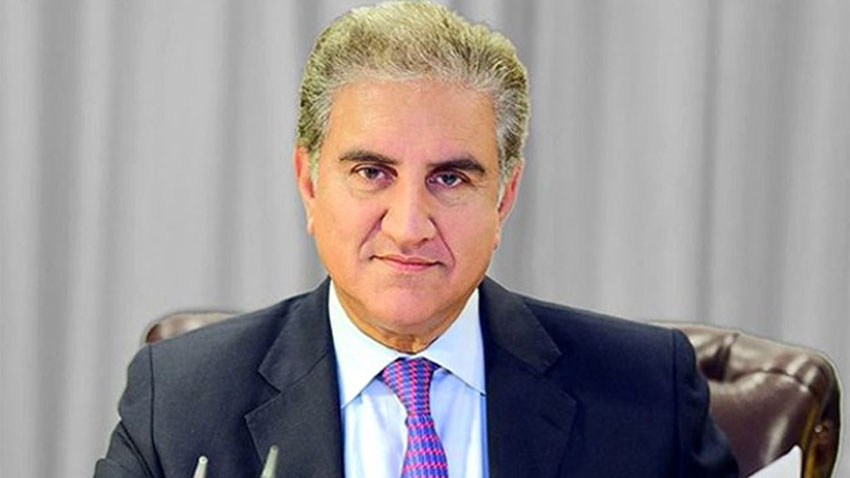 Multan:

A day after a Chinese official said all attempts to sabotage the China-Pakistan Economic Corridor (CPEC) project would fail, Pakistan's foreign minister said Islamabad has a determined commitment to protect the multi-billion dollar project.
"CPEC is a changing game for Pakistan. Some powers want to stop this project. [However] Pakistan and China will ensure its security, "said Foreign Minister Shah Mehmood Qureshi on Saturday as he spoke to people in his hometown of Multan.
"Our future as well as the future of the region is linked to the mega project. The government has a determined commitment to protect CPEC. China is also aware of its importance," he added.
Going to the micro-blogging website Twitter on Friday, Chinese Foreign Ministry spokesman Lijian Zhao said any attempt to sabotage the CPEC project would not succeed.
"China appreciates Pakistan 's positive contribution to the international cause against terrorism. It strongly supports Pakistan in cracking down on terrorist forces.
"Attempts to sabotage the CPEC are doomed to fail," Lijian said.
Earlier in Beijing, Lijian had expressed similar views during his regular press conference, while answering a question about a press conference co-chaired by Shah Mahmood Qureshi and Pakistani Army Chief Major General Babar Iftikhar in Islamabad this week. past.
At the press conference, Qureshi and Major General Iftikhar had unveiled a dossier, which contained "irrefutable evidence" of India sponsoring terrorism in Pakistan. Qureshi and Iftikhar had stated that India was trying to sabotage CPEC.
Chinese Foreign Ministry spokesman said any attempt to sabotage the main project would not succeed. "I have already given my answer on this issue. No attempt to sabotage CPEC will succeed."
He reiterated that CPEC is an important and pioneering project of the Belt and Roads Initiative (BRI) and is important not only for the joint development of the two countries but also for regional connectivity and prosperity.
"We are convinced that with the support of the international community, China and Pakistan can work together to ensure the success of CPEC," he added.
PML-N failure
Qureshi on Saturday also criticized the latest PML-N government and said it caused huge losses to the country by not appointing a full-time foreign minister for a period of four years. The recent government foreign policy was badly damaged as the country underwent global isolation, he said.
The Foreign Minister said that Prime Minister Imran Khan understands the importance of foreign policy and pays great attention to it. "Now, because of the successful foreign policy, Pakistan has achieved a higher status at the international level," he said.
Regarding the recent visit of Prime Minister Imran Khan to Afghanistan, the Foreign Minister said that Pakistan is doing its best to ensure peace in war-torn Afghanistan and stability throughout the region. "The Afghan peace process has entered its final phase as talks between stakeholders in Afghanistan are under way."
He said from the day Pakistan has been of the opinion that peace in Afghanistan can be restored through talks and not through the use of force. "Prime Minister Imran Khan has repeated the same message during his recent visit to Afghanistan," Qureshi said.
He said Pakistan would continue to provide assistance for lasting peace in Afghanistan. "We also focused on expanding the range of bilateral relations," the foreign minister said. At various sessions, he said, the two sides also expressed a desire to increase trade ties and regional co-ordination.
(WITH ADDITIONAL INPUT FROM APP)
What Are The Main Benefits Of Comparing Car Insurance Quotes Online
LOS ANGELES, CA / ACCESSWIRE / June 24, 2020, / Compare-autoinsurance.Org has launched a new blog post that presents the main benefits of comparing multiple car insurance quotes. For more info and free online quotes, please visit https://compare-autoinsurance.Org/the-advantages-of-comparing-prices-with-car-insurance-quotes-online/ The modern society has numerous technological advantages. One important advantage is the speed at which information is sent and received. With the help of the internet, the shopping habits of many persons have drastically changed. The car insurance industry hasn't remained untouched by these changes. On the internet, drivers can compare insurance prices and find out which sellers have the best offers. View photos The advantages of comparing online car insurance quotes are the following: Online quotes can be obtained from anywhere and at any time. Unlike physical insurance agencies, websites don't have a specific schedule and they are available at any time. Drivers that have busy working schedules, can compare quotes from anywhere and at any time, even at midnight. Multiple choices. Almost all insurance providers, no matter if they are well-known brands or just local insurers, have an online presence. Online quotes will allow policyholders the chance to discover multiple insurance companies and check their prices. Drivers are no longer required to get quotes from just a few known insurance companies. Also, local and regional insurers can provide lower insurance rates for the same services. Accurate insurance estimates. Online quotes can only be accurate if the customers provide accurate and real info about their car models and driving history. Lying about past driving incidents can make the price estimates to be lower, but when dealing with an insurance company lying to them is useless. Usually, insurance companies will do research about a potential customer before granting him coverage. Online quotes can be sorted easily. Although drivers are recommended to not choose a policy just based on its price, drivers can easily sort quotes by insurance price. Using brokerage websites will allow drivers to get quotes from multiple insurers, thus making the comparison faster and easier. For additional info, money-saving tips, and free car insurance quotes, visit https://compare-autoinsurance.Org/ Compare-autoinsurance.Org is an online provider of life, home, health, and auto insurance quotes. This website is unique because it does not simply stick to one kind of insurance provider, but brings the clients the best deals from many different online insurance carriers. In this way, clients have access to offers from multiple carriers all in one place: this website. On this site, customers have access to quotes for insurance plans from various agencies, such as local or nationwide agencies, brand names insurance companies, etc. "Online quotes can easily help drivers obtain better car insurance deals. All they have to do is to complete an online form with accurate and real info, then compare prices", said Russell Rabichev, Marketing Director of Internet Marketing Company. CONTACT: Company Name: Internet Marketing CompanyPerson for contact Name: Gurgu CPhone Number: (818) 359-3898Email: [email protected]: https://compare-autoinsurance.Org/ SOURCE: Compare-autoinsurance.Org View source version on accesswire.Com:https://www.Accesswire.Com/595055/What-Are-The-Main-Benefits-Of-Comparing-Car-Insurance-Quotes-Online View photos
picture credit
to request, modification Contact us at Here or [email protected]