Russia's Foreign Agents Bill Warns of Striking Civil Society | Europe Current news and issues from across the continent DW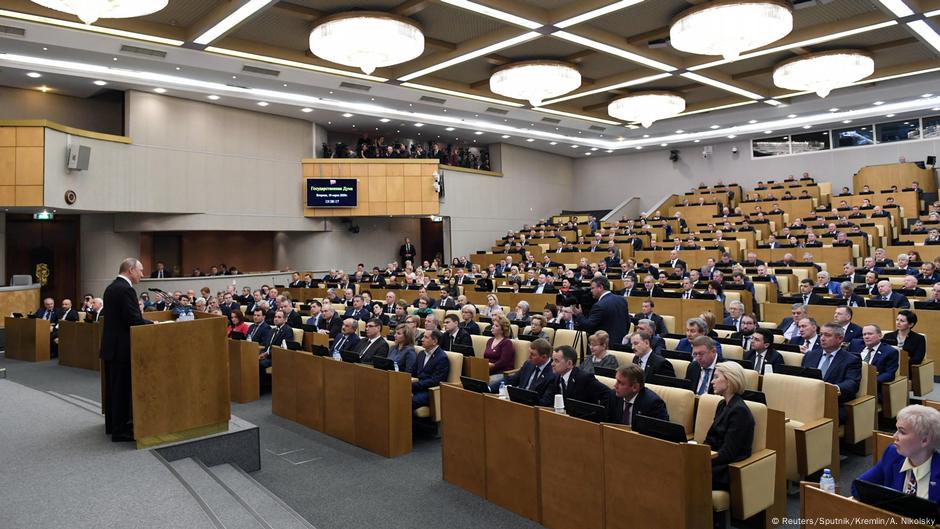 The general essence of some draft laws submitted to the Russian State Duma in recent days is that the country is facing threats from outside and the state must act quickly to avoid them.
Most of the proposals are aimed at further separating Russia from the rest of the world. And, like similar legislation in previous years, they will imply additional restrictions on civil society and opposition politicians.
Individuals also targeted
For years, people in Russia who are involved in politics and receive money from abroad have had to register as "foreign agents" with the relevant authorities. Any person or organization listed in this way is obliged to submit to the authorities regular reports on their activities and expenditures.
The controversial name "foreign agent" brings espionage associations. So far, it has been applied especially to NGOs and the international media. But now this regulation can be expanded at the initiative of the committee in the upper house of the Russian parliament that is responsible for protecting the sovereignty of the state from outside interference.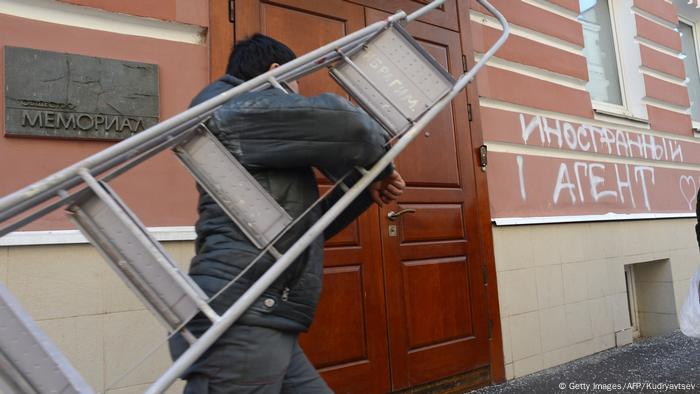 This entrance to the Moscow headquarters of the human rights organization Memorial has 'foreign agent' in graffiti next to it
All citizens and groups in Russia who are involved in political activities and receive financial support from abroad should be obliged to call themselves "foreign agents", according to the bill. This expands the scope of the current procedure to involve a large number of individual people.
It will mean that they may be barred from working as public servants or having access to confidential documents. If they run in the election, such candidates will need to publicly identify themselves as "foreign agents."
Another new aspect is that foreign journalists accredited in Russia may also be included in this category. Furthermore, the Russian media may be required to mention it when reporting on affected organizations.
Natalia Prilutskaya, an Amnesty International researcher in Russia, spoke of a "new hunt for witches by civil society groups and human rights defenders who stand up for justice and dignity." Other human rights activists have also criticized the planned move as another way of suppressing civil society.
Possible blocks on YouTube and Facebook
Other proposed new regulations target social platforms like Facebook, YouTube and Twitter. Parliamentarians say they intend to fight "internet censorship". If content from Russian media is restricted by foreign platforms, Russia will be able to impose fines or completely or partially block social media networks. Such sanctions would be imposed by the Russian public prosecutor after consultation with the Foreign Ministry.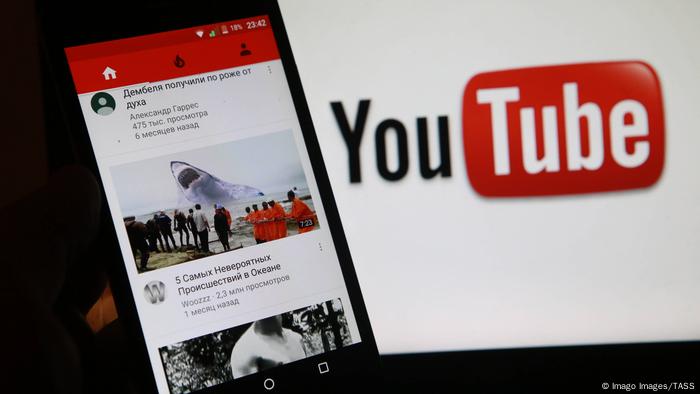 Can sites like YouTube really be blocked in Russia?
But it seems doubtful that a platform like YouTube could be completely blocked in Russia because the state would influence many of its citizens by doing so, explained Valery Fadeyev, chairman of the presidential human rights council.
However, Fadeyev agrees in principle with the proposed legislation and said a "serious debate" was needed on how to protect "Russian media and Russian users from censorship by US IT giants". Kremlin spokesman Dmitry Peskov also said decisive action had to be taken to combat "discriminatory actions by foreign internet platforms against Russian clients".
More state control in the education sector
Stronger restrictions are also envisaged for the education sector. According to a statement, more needs to be done to combat "anti-Russian propaganda" in schools and among students. International cooperation from Russian educational institutions may be affected.
Another proposal provides for the dismissal of teachers if they engage in "agitation" a term that is not clearly defined or promotes "unconstitutional" activities. Human rights activist and journalist Nikolai Svanidze said in an interview with the Interfax news agency that this would create "even more room for despotism" and denunciation.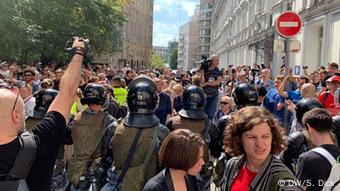 Opposition protests like this one in July 2019 may become more difficult to organize
Eyes on elections?
Finally, more restrictions need to be placed on freedom of assembly in Russia. Anyone who wants to organize demonstrations in Russia should not receive funding from abroad, according to the draft legislation. Individual protests, which have become an increasingly widespread method of expressing criticism, will be subject to new regulations that prevent several people from protesting one after another.
The proposed measures have surprised observers such as political scientist and DW columnist Ivan Preobrazhensky. "The Kremlin is in a hurry to follow these regulations," he said.
Perhaps Moscow is feeling pressured by anti-government protests in Belarus. But the Duma elections scheduled for fall 2021 could also help push for proposed new legislation.
This article is adapted from German.
What Are The Main Benefits Of Comparing Car Insurance Quotes Online
LOS ANGELES, CA / ACCESSWIRE / June 24, 2020, / Compare-autoinsurance.Org has launched a new blog post that presents the main benefits of comparing multiple car insurance quotes. For more info and free online quotes, please visit https://compare-autoinsurance.Org/the-advantages-of-comparing-prices-with-car-insurance-quotes-online/ The modern society has numerous technological advantages. One important advantage is the speed at which information is sent and received. With the help of the internet, the shopping habits of many persons have drastically changed. The car insurance industry hasn't remained untouched by these changes. On the internet, drivers can compare insurance prices and find out which sellers have the best offers. View photos The advantages of comparing online car insurance quotes are the following: Online quotes can be obtained from anywhere and at any time. Unlike physical insurance agencies, websites don't have a specific schedule and they are available at any time. Drivers that have busy working schedules, can compare quotes from anywhere and at any time, even at midnight. Multiple choices. Almost all insurance providers, no matter if they are well-known brands or just local insurers, have an online presence. Online quotes will allow policyholders the chance to discover multiple insurance companies and check their prices. Drivers are no longer required to get quotes from just a few known insurance companies. Also, local and regional insurers can provide lower insurance rates for the same services. Accurate insurance estimates. Online quotes can only be accurate if the customers provide accurate and real info about their car models and driving history. Lying about past driving incidents can make the price estimates to be lower, but when dealing with an insurance company lying to them is useless. Usually, insurance companies will do research about a potential customer before granting him coverage. Online quotes can be sorted easily. Although drivers are recommended to not choose a policy just based on its price, drivers can easily sort quotes by insurance price. Using brokerage websites will allow drivers to get quotes from multiple insurers, thus making the comparison faster and easier. For additional info, money-saving tips, and free car insurance quotes, visit https://compare-autoinsurance.Org/ Compare-autoinsurance.Org is an online provider of life, home, health, and auto insurance quotes. This website is unique because it does not simply stick to one kind of insurance provider, but brings the clients the best deals from many different online insurance carriers. In this way, clients have access to offers from multiple carriers all in one place: this website. On this site, customers have access to quotes for insurance plans from various agencies, such as local or nationwide agencies, brand names insurance companies, etc. "Online quotes can easily help drivers obtain better car insurance deals. All they have to do is to complete an online form with accurate and real info, then compare prices", said Russell Rabichev, Marketing Director of Internet Marketing Company. CONTACT: Company Name: Internet Marketing CompanyPerson for contact Name: Gurgu CPhone Number: (818) 359-3898Email: [email protected]: https://compare-autoinsurance.Org/ SOURCE: Compare-autoinsurance.Org View source version on accesswire.Com:https://www.Accesswire.Com/595055/What-Are-The-Main-Benefits-Of-Comparing-Car-Insurance-Quotes-Online View photos
picture credit
to request, modification Contact us at Here or [email protected]