Azerbaijanis fleeing the war seek to return home, if any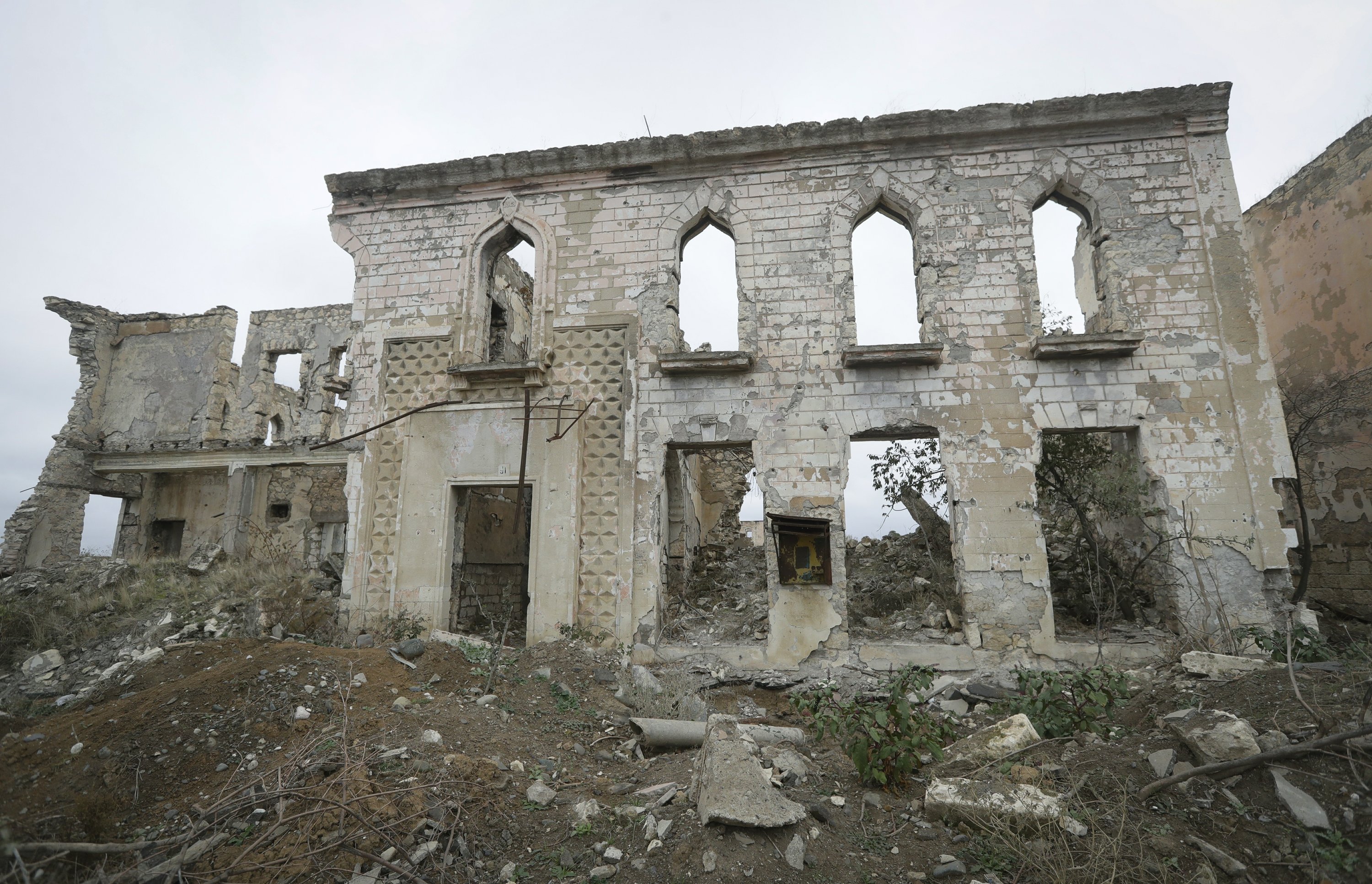 As Azerbaijan regains control of the land it lost to Armenian forces a quarter of a century ago, civilians who fled the fighting decades ago wonder if they can return home now and if there is still a home to return to.
Some 600,000 Azerbaijanis were displaced in the 1990s war that left the Nago-Karabakh region under the control of ethnic Armenian separatists and large neighboring territories in Armenian hands. During the six weeks of renewed fighting this fall that ended on November 10, Azerbaijan recaptured parts of Nago-Karabakh itself and significant parts of the peripheral areas.
More territory is being returned as part of the ceasefire agreement that halted recent fighting. But as Azerbaijani forces discovered when the first area, Aghdam, returned on Friday, most of the reclaimed land is uninhabitable. The city of Aghdam, once home to 50,000 people, is now in ruins.
Adil Sharifov, 62, who fled his hometown in 1992 during the first war and lives in the Azerbaijani capital, Baku, knows he will find similar destruction if he returns to the city of Jabrayil, which he wants to do.
Jabrayil is one of the suburban areas recaptured by Azerbaijani troops before the end of the last fighting. Shortly after he was taken, one of Sharifovs' cousins ​​went there and told him that the town had been destroyed, including the large house with an orchard where the Sharifovs family once lived.
However, the day I return will be the greatest happiness for me, he said.
For years, he said, his family had been following reports about Jabrayil online. They knew the devastation was terrible, but Sharifovs's late mother held out a desperate hope that their home had been spared and the keys held.
I will build an even better house, he vowed.
Ulviya Jumayeva, 50, could return to better, though not ideal, circumstances in her hometown of Shusha, a town that Azerbaijani forces took on the main offensive of the six-week war.
Her younger brother, Nasimi, took part in the battle and called her to tell her that the apartment their family had fled in 1992 was intact, although it had mostly been stripped of the family assets.
According to him, it is clear that the Armenians lived there behind us, and then they got everything. But our big mirror in the hallway, which we wanted to see as children, remains, Jumayeva said, adding: Maybe my grandchildren will look in this mirror.
"We all have houses in Baku, but everyone considers them non-permanent, because all these years we have lived with the hope that we will return to Shusha," she said. Our hearts, our thoughts have always been in our homeland.
But she acknowledged that her feelings towards Armenians have become more bitter.
My schoolmates were mostly Armenians. I never treated ordinary Armenians badly, believing that their criminal leaders who left the war were guilty of the massacre, war and grief they also brought to their people, Jumayeva said.
But after the current events, after the bombing of peaceful cities … because the Armenians who are now leaving our territories, which are also outside Karabakh, are burning the houses of the Azerbaijanis in which they lived illegally … something broken in me. I have changed my attitude towards them, she said. I realized that we, the Azerbaijanis, will not be able to live peacefully near the Armenians.
While Sharifov has less to return, he has a more moderate view, saying the two ethnic groups with different religious traditions still have the potential to live together in a friendly way.
"If the Armenians obey the laws of Azerbaijan and do not behave like bearded men who came to kill, then we will live in peace," he said. Time to shoot is over. Enough victims. We want peace, we do not want war.
___
Associated Press writers Aida Sultanova in London and Jim Heintz in Moscow contributed to this story.
What Are The Main Benefits Of Comparing Car Insurance Quotes Online
LOS ANGELES, CA / ACCESSWIRE / June 24, 2020, / Compare-autoinsurance.Org has launched a new blog post that presents the main benefits of comparing multiple car insurance quotes. For more info and free online quotes, please visit https://compare-autoinsurance.Org/the-advantages-of-comparing-prices-with-car-insurance-quotes-online/ The modern society has numerous technological advantages. One important advantage is the speed at which information is sent and received. With the help of the internet, the shopping habits of many persons have drastically changed. The car insurance industry hasn't remained untouched by these changes. On the internet, drivers can compare insurance prices and find out which sellers have the best offers. View photos The advantages of comparing online car insurance quotes are the following: Online quotes can be obtained from anywhere and at any time. Unlike physical insurance agencies, websites don't have a specific schedule and they are available at any time. Drivers that have busy working schedules, can compare quotes from anywhere and at any time, even at midnight. Multiple choices. Almost all insurance providers, no matter if they are well-known brands or just local insurers, have an online presence. Online quotes will allow policyholders the chance to discover multiple insurance companies and check their prices. Drivers are no longer required to get quotes from just a few known insurance companies. Also, local and regional insurers can provide lower insurance rates for the same services. Accurate insurance estimates. Online quotes can only be accurate if the customers provide accurate and real info about their car models and driving history. Lying about past driving incidents can make the price estimates to be lower, but when dealing with an insurance company lying to them is useless. Usually, insurance companies will do research about a potential customer before granting him coverage. Online quotes can be sorted easily. Although drivers are recommended to not choose a policy just based on its price, drivers can easily sort quotes by insurance price. Using brokerage websites will allow drivers to get quotes from multiple insurers, thus making the comparison faster and easier. For additional info, money-saving tips, and free car insurance quotes, visit https://compare-autoinsurance.Org/ Compare-autoinsurance.Org is an online provider of life, home, health, and auto insurance quotes. This website is unique because it does not simply stick to one kind of insurance provider, but brings the clients the best deals from many different online insurance carriers. In this way, clients have access to offers from multiple carriers all in one place: this website. On this site, customers have access to quotes for insurance plans from various agencies, such as local or nationwide agencies, brand names insurance companies, etc. "Online quotes can easily help drivers obtain better car insurance deals. All they have to do is to complete an online form with accurate and real info, then compare prices", said Russell Rabichev, Marketing Director of Internet Marketing Company. CONTACT: Company Name: Internet Marketing CompanyPerson for contact Name: Gurgu CPhone Number: (818) 359-3898Email: [email protected]: https://compare-autoinsurance.Org/ SOURCE: Compare-autoinsurance.Org View source version on accesswire.Com:https://www.Accesswire.Com/595055/What-Are-The-Main-Benefits-Of-Comparing-Car-Insurance-Quotes-Online View photos
picture credit
to request, modification Contact us at Here or [email protected]